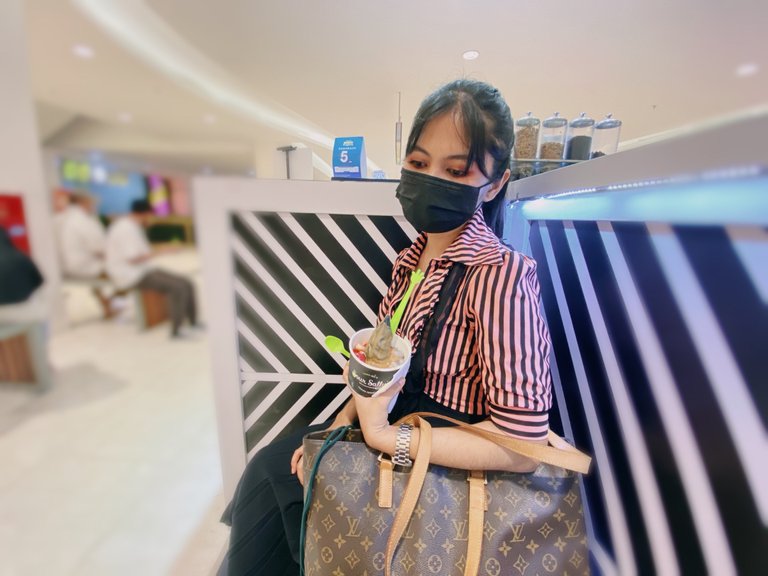 Hello guys..
Long time no posting a content about food.
Here i want to share about something that i actually often buy but this time, i purchased it in different way.
What is it the difference between this time and before?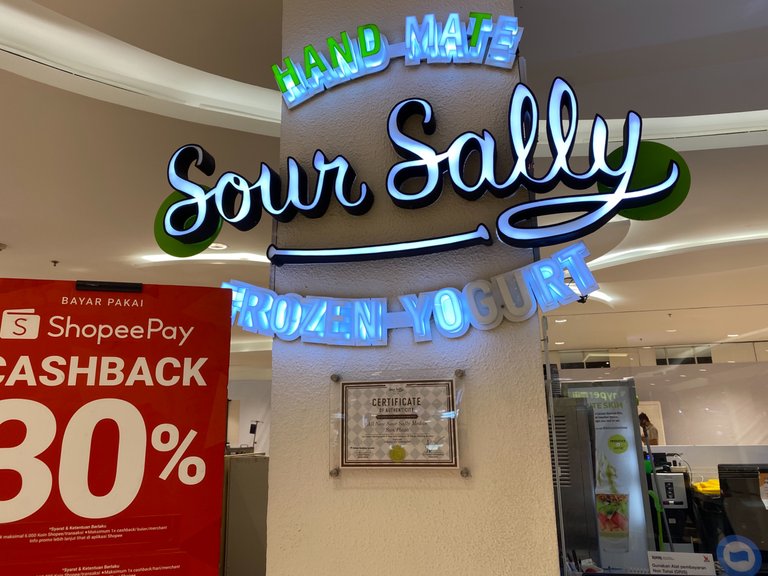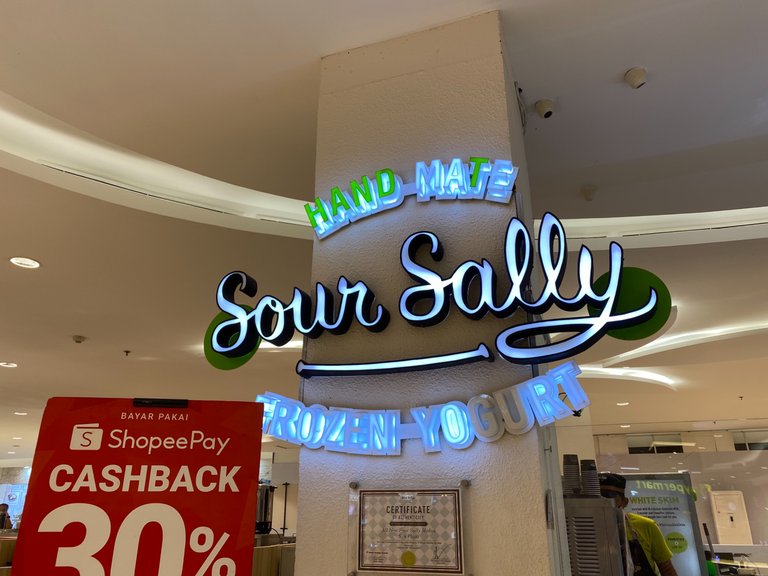 This is Sour Sally.
The last time i ate frozen yoghurt, llaollao, i did not satisfied.
Because i did not satisfied with my frozen yoghurt at the time, it makes me craving Sour Sally more than ever.
Then, i have a chance when i went to the mall with my siblings few days ago.
My brothers has never taste Sour Sally before because dfrozen yoghurt is not something that easy to take home because it will melt immediately on the way and that is why i never bring the frozen yoghurt home for my brothers to try.
Now that we went to the mall together, i am so happy that i got a chane to introduce this favorite frzen yoghurt of mine to them.
Thankfully, they enjoy them very much.
Yes thats because Sour Sally taste is really really good.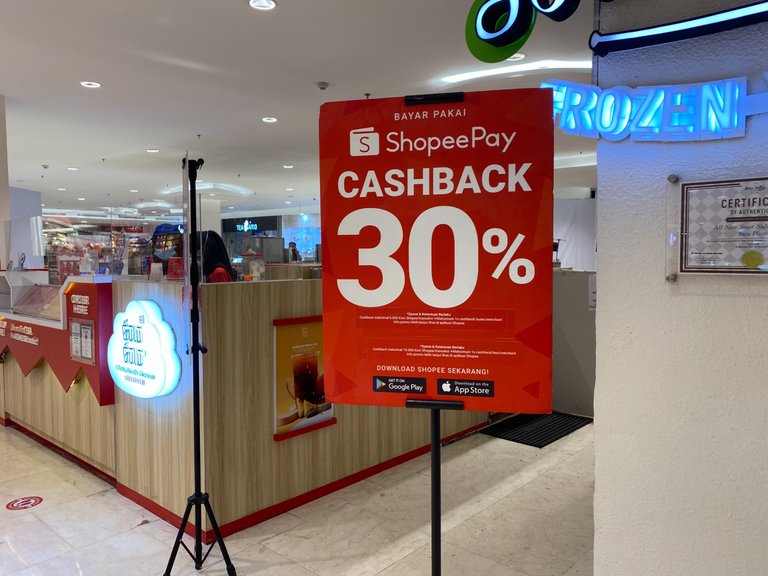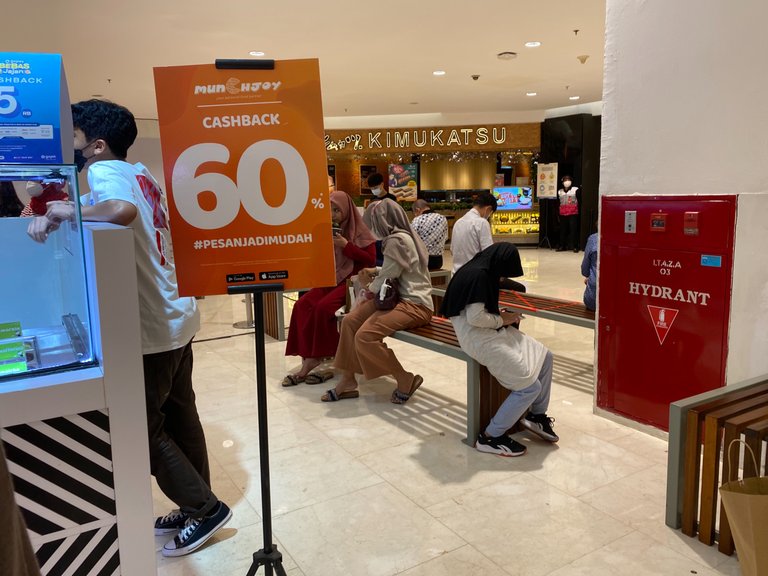 This is the promotion that they hae at the time.
When i am buying food in somewhere, i always try to look for the promotion first to see if it is possible for me to gain some discounts or other benefit from that.
Maybe because when we went there it was not the weekend so they dont have many promotions going on.
\but still, i choose to get the promotion of paying with Shopee pay.
If we're paying our orders with Shopee pay we wll get 30% cashback.
They say that its 30% cashback but in reality it is not 30% at all because the maximum cashback that we can get is 5.000 idr.
Meanwhile the cheapest item we can get from them is 45.000 idr.
I always feel this kind of promotion is very tricky and not really honest.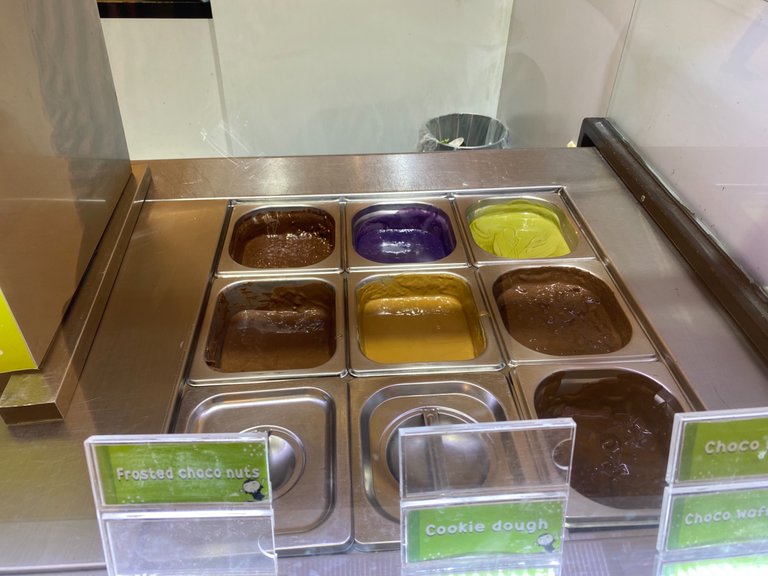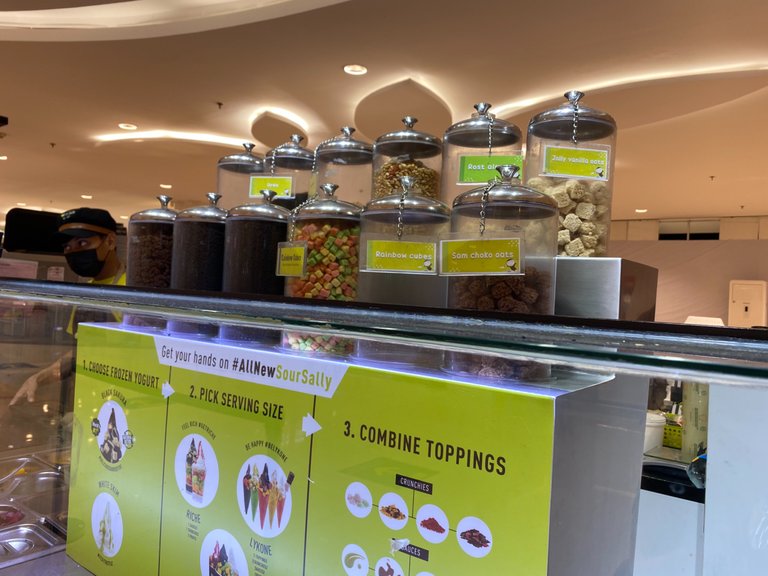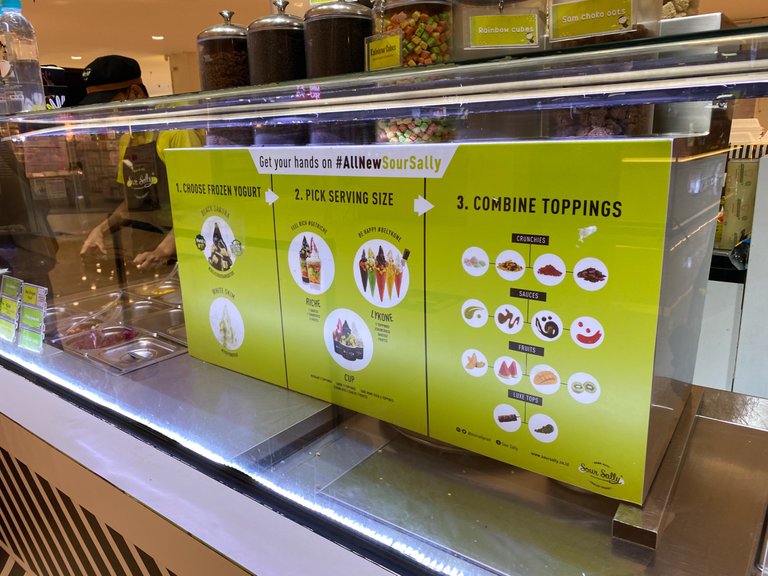 These are their toppings.
I love their sauce so much and honestly i like Sour Sally the most is because of thei Cookie Doh sauce.
I have never taste that kind of sauce in y life or something similar with it.
The saucse is sticky and sweet so it realy suits the taste of frozen yoghurt.
For me, Cookie Doh sauce and frozen yoghurt is a match made in heaven.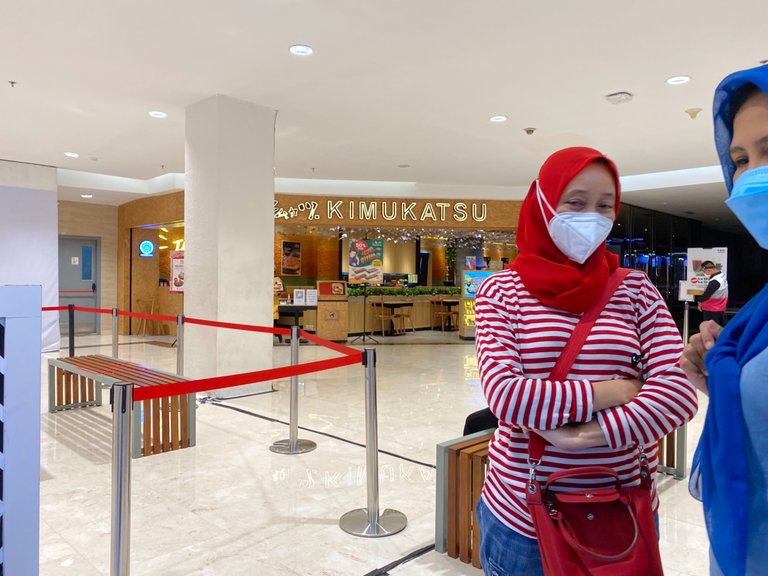 Here is where me and my siblings waiting till our order is finished.
Honestly i am a bit surprised because they put more chair in beside of their stall.
Usually its only a 2 or 3 people seater like what shown in my first picture in this post.
This is good because there're so many customers of Sour Sally and usually we need to standing waiting for our ordere and need to go out immediately.
Me and my friends always getting so confused when we bought Sour Sally because we need to find a place to sit ad enjoy them and most of the time we wil go to coffee shop that allow us to bring food from outside.
But still, it means that we need to spend more money to buying more drinks in the coffee shop.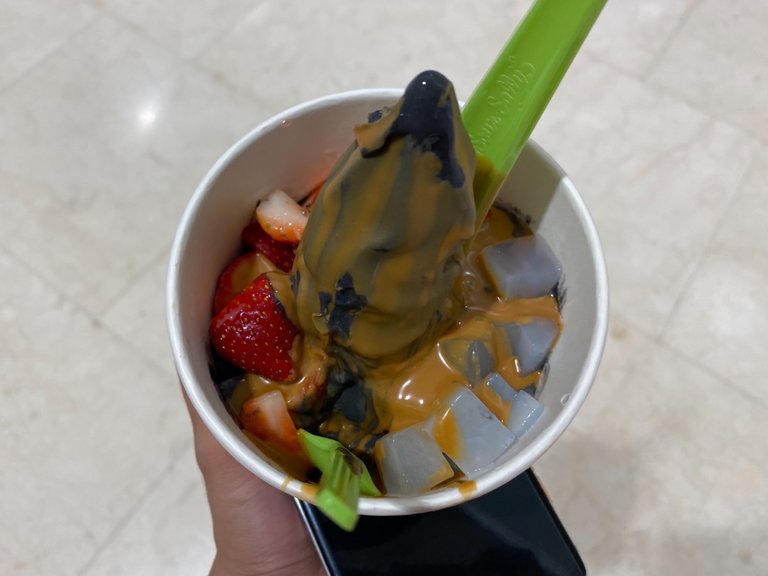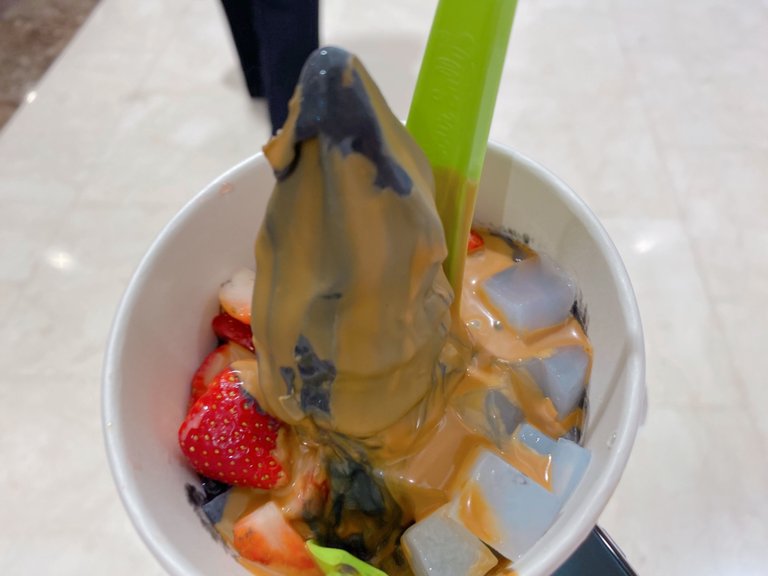 Here is my order.
So, i said in the beginning of my post that there is a difference of my order this time from the usual order of mine right?
The difference of it is that this time i choose to buy the larger isize of the frozen yoghurt meanwhile usually i will jut order the regular one.
The reason why i did that because usually i will buy for myself or at least sharing with one of my friend, so one regular is enough for two people.
But this time, its 4 of us.
In the beginning i was thinking of buying just two regular cups of the frozen yoghurt but i changed my mind because i know that my brthers never try this before and i dont know if they want to eat it or not.
Just to be safe and not wasting money, in the end i just order the larger size of the yoghurt.
The size of the yoghurt is different, the difference of the weight between the regular and the large size is by almost 100 gr.
The frozen yoghurt that i choose is the black sakura one because i like it more than the white one.
For the topping too, in the regular we can just choose two toppings but in the larger one we can choose three toppings.
For the toppings, i was thinking and choosing with my siblings preference in mind.
The sauce is obviously the cookie doh because that is what the most important from Sour Sally for me, and i believe that my sibling will all enjoy and love them.
For my brothers, i know that they like coconut jelly so i choose coconut jelly as the second topping.
For the third and the last topping i choose strawberry because my sister really like strawberry.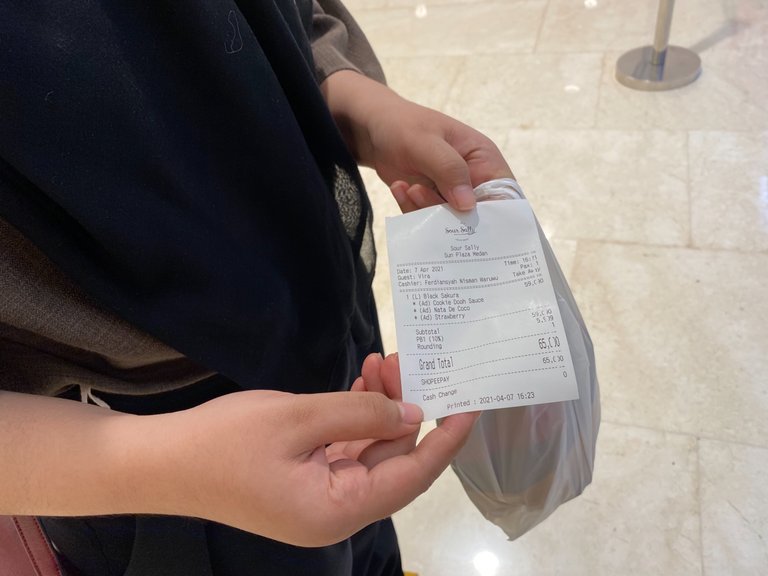 This is the bill.
I need to pay 65.000 for the large black sakura frozen yoghurt.