Bienvenidos sean todos los amantes de la buena cocina
Welcome to all lovers of good cuisine
---
Hola queridos amantes de la buena cocina, en esta oportunidad, quiero compartir con ustedes, unos de los platos tradicionales de mi querida tierra venezolana. Cada vez que lo preparo me traslada a esos felices años de infancia, en mi natal Carúpano. Se trata de un sancocho de Lagarto con hueso u Osobuco, este es uno de los platos perteneciente a la cocina del oriente venezolano. Tradicionalmente se cocina en leña, en el calor de una reunión familiar de fin de semana, lo que le otorga un sabor muy especial. Pero preparándola en la cocina normal como les mostraré, queda igualmente deliciosa.
Hello dear lovers of good cuisine, in this opportunity, I want to share with you, some of the traditional dishes of my beloved Venezuelan land. Every time I prepare it, it takes me back to those happy childhood years in my native Carúpano. It is a Osobuco Sancocho, this is one of the dishes belonging to the eastern Venezuelan cuisine. It is traditionally cooked on wood, in the heat of a weekend family gathering, which gives it a very special flavor. But preparing it in the normal kitchen as I will show you, it is equally delicious.
---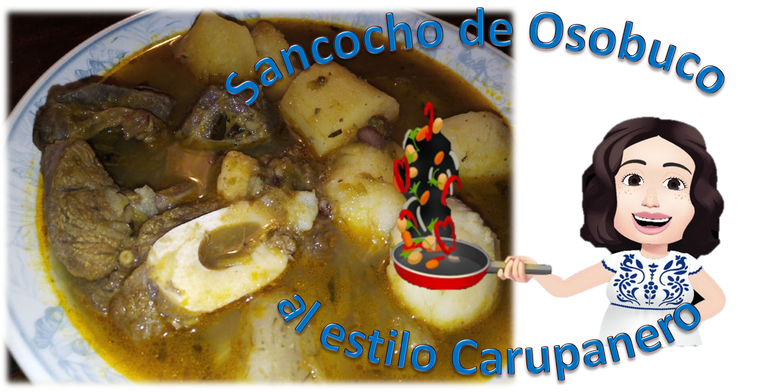 Osobuco "Sancocho" Carupanero style

El Proceso de preparación es relativamente simple, aunque tiene unos cuantos ingredientes, pero no son difíciles de conseguir normalmente lo tenemos en casa, a continuación se los detallo, y seguidamente le explicaré como preparo, yo el Sancocho de Lagarto con Hueso u Osobuco, al estilo Carupanero:
The preparation process is relatively simple, although it has a few ingredients, but they are not difficult to get normally we have it at home, then I detail them, and then I will explain how I prepare, I the Osobuco Sancocho, Carupanero style: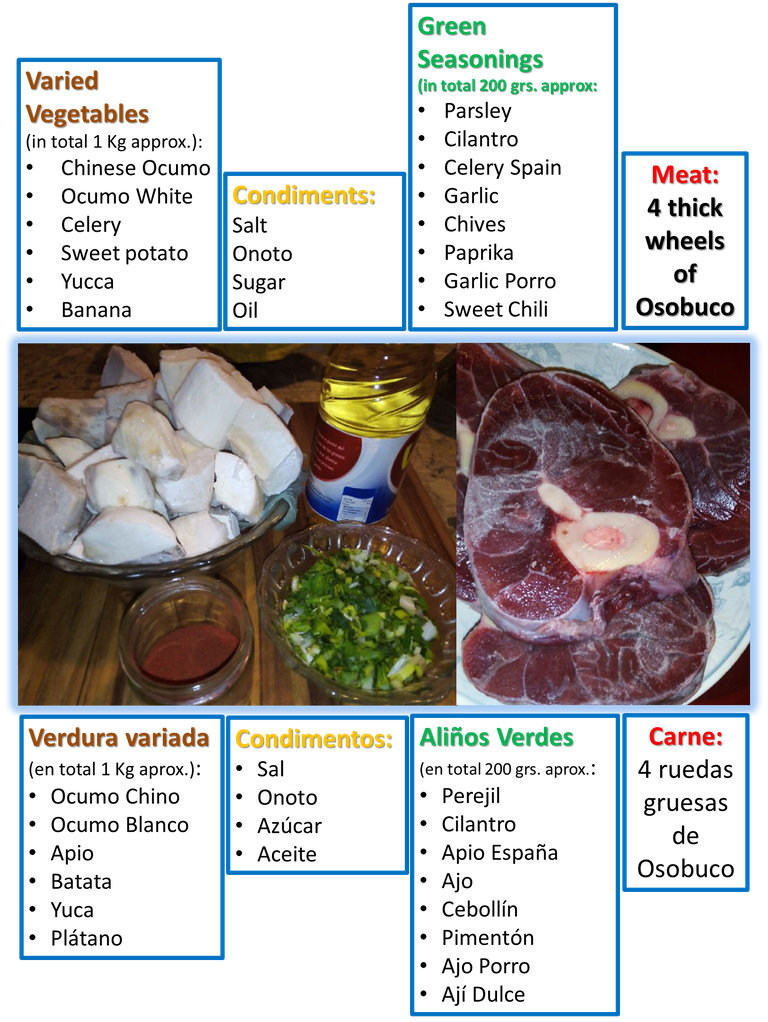 Ingredientes para 4 Comensales Aproximadamente || Ingredients for Approximately 4 Diners

Paso 1: El Sofrito
---
Lo primero que debemos hacer es picar todos los condimentos verdes en Brunoise, o en términos logos, en trocitos muy pequeñitos. Antes de seguir les comparto un secreto, yo normalmente cuando compro mis aliños o vegetales verdes, los corto todos de una vez, los mezclo y los guardo en contenedores, en el congelador. De esa forma, no se me dañas y los tengo disponibles listo para agregarlo a las distintas preparaciones. Seguidamente, colocamos aceite a calentar en la olla de cocción, agregamos una cucharadita de onoto molido. Esperamos a que se caliente un poco para que tiña bien de rojo el aceite y agregamos los vegetales para que se empiecen a sofreír.
Step 1: The "Sofrito"
---
The first thing we must do is chop all the green condiments in Brunoise, or in logo terms, into very small pieces. Before I go any further I'll share a secret with you, normally when I buy my seasonings or green vegetables, I cut them all at once, mix them up and put them in containers, in the freezer. That way, they don't get damaged and I have them available ready to add to the different preparations. Next, we put some oil to heat in the cooking pot, add a teaspoon of ground "onoto". We wait for it to heat up a little bit so that the oil turns red and we add the vegetables so that they start frying.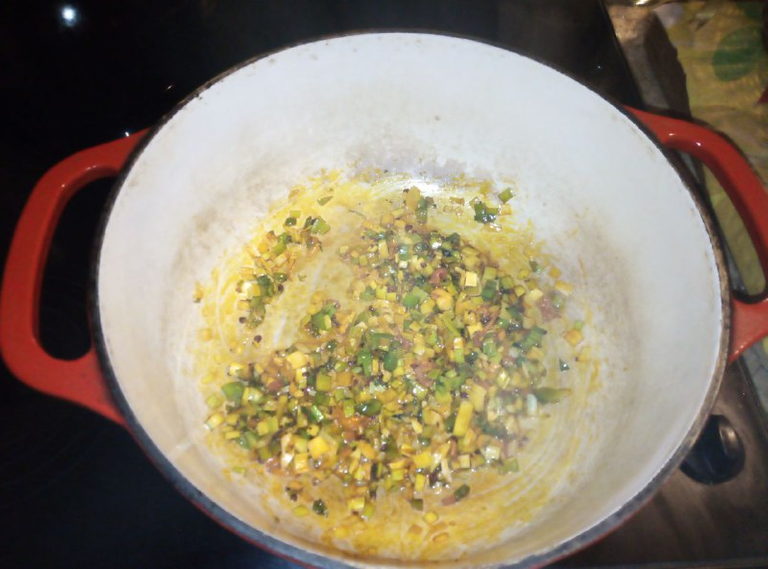 Paso 2: Sellado de la Carne
---
Cuando los vegetales ya se han empezado amortecer, agregamos la carne para sellarla, en este punto debemos estar muy pendientes para que no se nos quemen los vegetales.
Step 2: Sealing the Flesh
---
When the vegetables have started to brown, we add the meat to seal it, at this point we must be very careful not to burn the vegetables.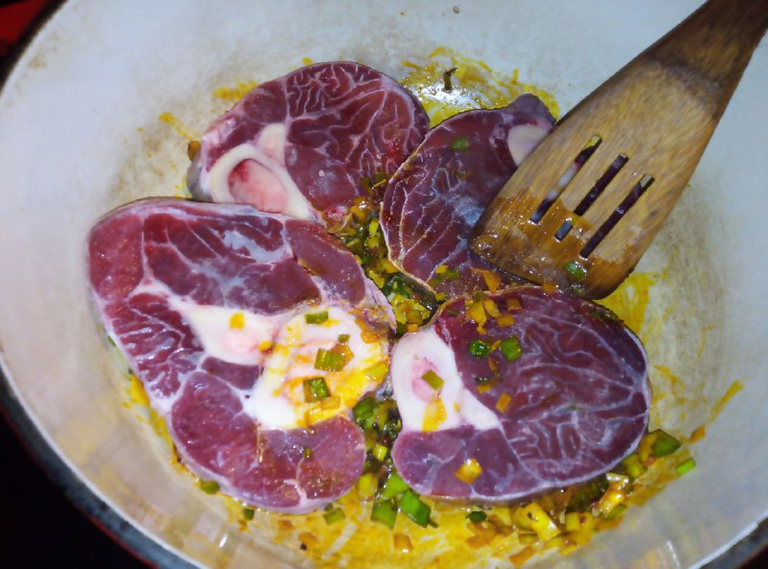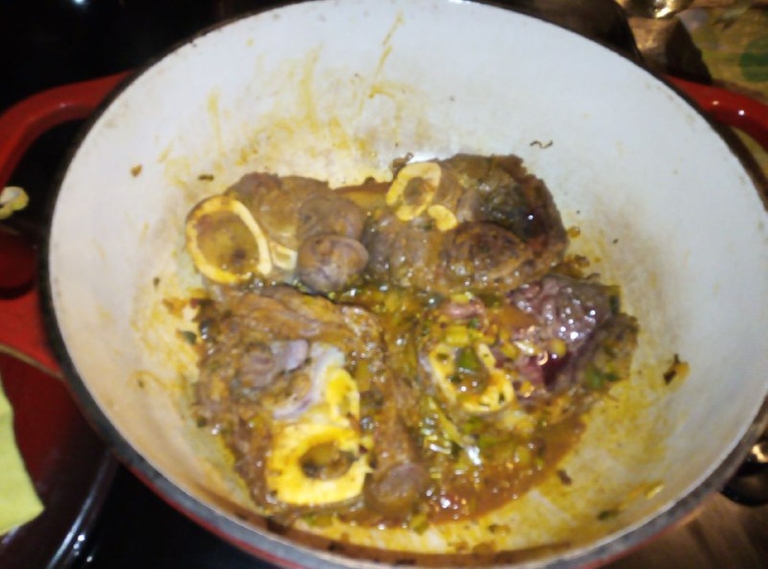 Una vez que la carne está sellada por ambos lados le agregamos agua fría hasta cubrir toda la carne y revolvemos tratando de remover todos los residuos que se pegaron de la olla. Este es el momento de agregar la sal, un pequeño toque de azúcar, solo para realzar los sabores y si es su gusto le puede colocar algún sazonador para carnes.
Once the meat is sealed on both sides we add cold water until it covers all the meat and stir trying to remove all the residues that stuck to the pot. This is the moment to add the salt, a small touch of sugar, just to enhance the flavors and if it is your taste you can add some meat seasoning.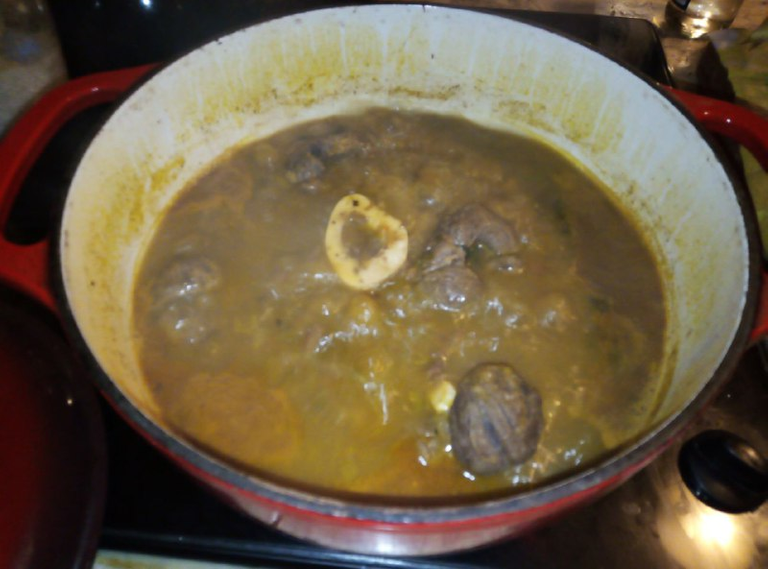 Paso 3: Ablandado de la carne
---
Seguidamente, tapamos la olla, bajamos a llama media y dejamos cocinar por entre 30 y 40 min, para que la carne se ablande. Claro si estamos usando una olla a presión este tiempo de cocción se reduce a 15 o 20 min aproximadamente. Debemos de vez en cuando, revisar y revolver nuestra preparación, para prevenir que no se nos pegue en el fondo y vigilar que no se evapore mucho el líquido, en cuyo caso le agregamos más líquido.
Step 3: Softening the meat
---
Next, we cover the pot, lower it to a medium flame and let it cook for between 30 and 40 minutes, so that the meat softens. Of course, if we are using a pressure stove, this cooking time is reduced to approximately 15 or 20 minutes. We should check and stir our preparation from time to time, to prevent it from sticking to the bottom and to watch that the liquid does not evaporate too much, in which case we add more liquid.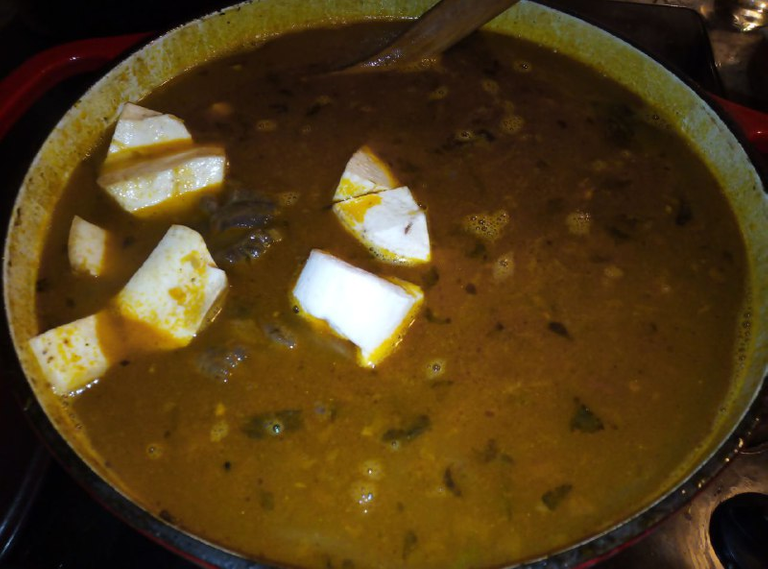 Paso 4:
---
Cuando la carne ya está blandita, es el momento de completar el agua de nuestro sancocho, rellenamos la olla hasta ¾ aproximadamente, por supuesto, es el momento de corregir los sabores. En mi caso yo dejo que hierva el agua nuevamente antes de agregar las verduras ahora les explico la razón. Resulta, que al igual que los aliños yo guardo la verdura congelada, al comprarla, les retiro a todas la concha y la pico en dados medianos. Luego la separo en bolsas plásticas en porciones para tenerlas lista para cada sopa. Cuando toca agregarla a la sopa, simplemente la saco del congelador, le doy unos golpecito contra la mesada para que se separen y las agrego, así mismo congeladas. Por ello, es indispensable que el agua este hirviendo, de lo contrario la verdura queda con una textura gomosa y desagradable.
Step 4:
---
When the meat is already soft, it is time to complete the water of our "sancocho" we fill the pot until ¾ approximately, of course, it is time to correct the flavors. In my case I let the water boil again before adding the vegetables, now I explain the reason. It turns out, that just like the seasonings I keep the vegetables frozen, when I buy them, I remove all the shell and beak in medium cubes. Then I separate them into plastic bags in portions to have them ready for each soup. When it is time to add it to the soup, I simply take it out of the freezer, tap it against the counter so that it separates and I add it, frozen as well. For this reason, it is essential that the water is boiling, otherwise the vegetable will have a rubbery and unpleasant texture.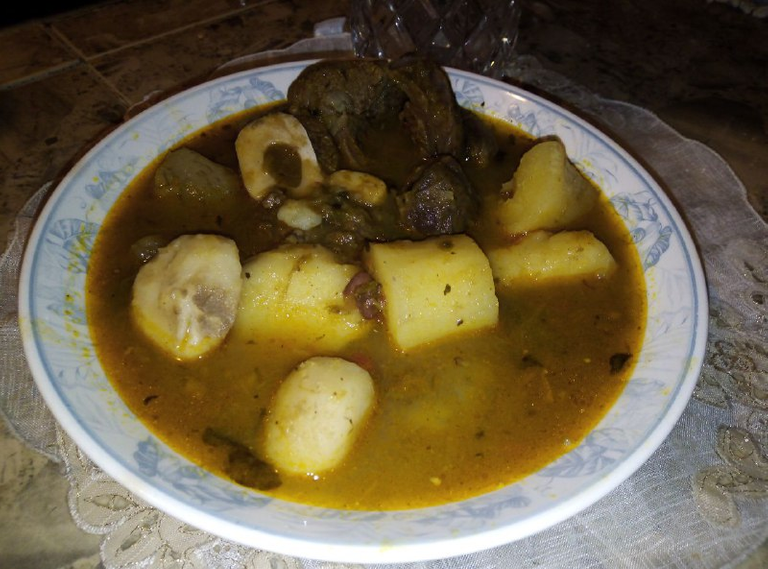 Nuestro delicioso Sancocho al estilo Carupanero || Our delicious "Sancocho" Carupanero style

Paso 5:
---
Una vez agregada la verdura la dejamos que se ablande, cuando este casi lista la verdura corregimos el sabor, porque las verduras tal cocinarse adsorben los sabores del caldo. En algunas ocasiones es necesario corregir el sabor, para que no quede insípido nuestro sancocho. Una vez que la verdura ya este cocida, nuestro rico sancocho estará listo para degustar, lo servimos y si tenemos aguacate o cazabe, serían los complementos ideales para nuestro delicioso almuerzo.
Step 5:
---
Once the vegetable is added we let it soften, when it is almost ready we correct the flavor, because the vegetables such cooking adsorb the flavors of the broth. Sometimes it is necessary to correct the flavor, so that our "sancocho" does not remain insipid. Once the vegetables are cooked, our rich "sancocho" will be ready to taste, we serve it and if we have avocado or "cazabe", they would be the ideal complements for our delicious lunch.

Contenido y fotografías de mi propiedad intelectual
Información Técnica
| Cámara | Pentax * istDL |
| --- | --- |
| Lente | * Pentax 18-55 |
| Iluminación | Luz Natural |
| Locación | Barcelona, Estado Anzoátegui, Venezuela |
Content and photographs of my intellectual property
Technical information
| Camera | Pentax * istDL |
| --- | --- |
| Lens | * Pentax 18-55 |
| Lighting | Natural Light |
| Location | Barcelona, Anzoátegui State, Venezuela |
---