Bienvenidos a mi blog/Welcome to my blog

---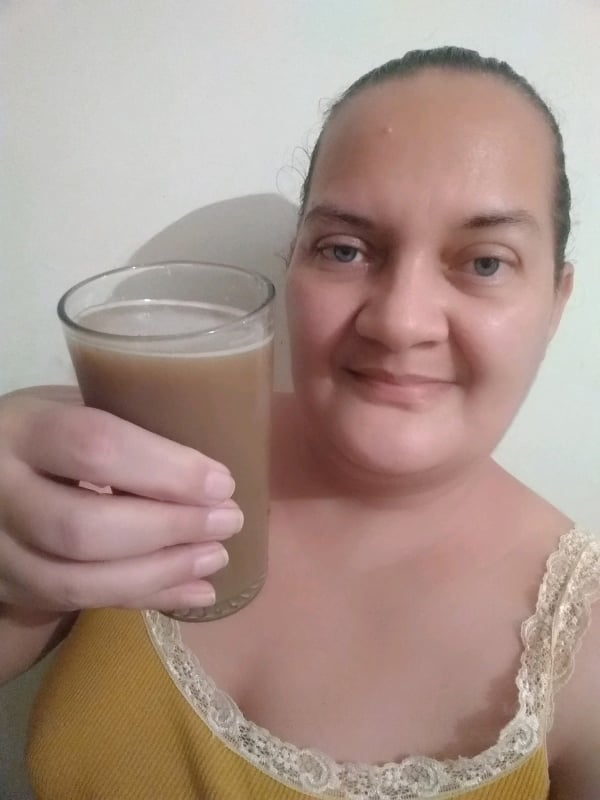 ---

---
Saludos queridos hivers creativos, en especial los que hacen vida en esta comunidad Foodies Bee Hive aqui estoy con mi participación para el concurso promovido por
@sirenahippie
quien invita a elaborar una bebida típica de la región donde nos encontramos.
Greetings dear creative hivers, especially those who make life in this community Foodies Bee Hive here I am with my participation in the contest promoted by @sirenahippie who invites you to make a typical drink of the region where we are.
---
El carato es una bebida refrescante a base de maíz y papelón, la mayoría de las veces esta bebida es espesa pero en mi caso la preparo un poco más ligera para que a la hora de hacer la digestión esta sea mas rápida. Desde que tengo uso de razón conozco el carato como una bebida tradicional del llano, región donde me ubico; este es consumido mayormente en la época decembrina, muchas familias acostumbran dejar que este se añeje o fermente para ofrecerlo con un sabor mucho más fuerte y un poco ácido.
The carato is a refreshing drink based on corn and papelón, most of the time this drink is thick but in my case I prepare it a little lighter so that when it is time to digest it is faster. Since I can remember I know the carato as a traditional drink of the plains, region where I am located; this is consumed mostly in the Christmas season, many families are accustomed to let it age or ferment to offer it with a much stronger flavor and a little acid.
---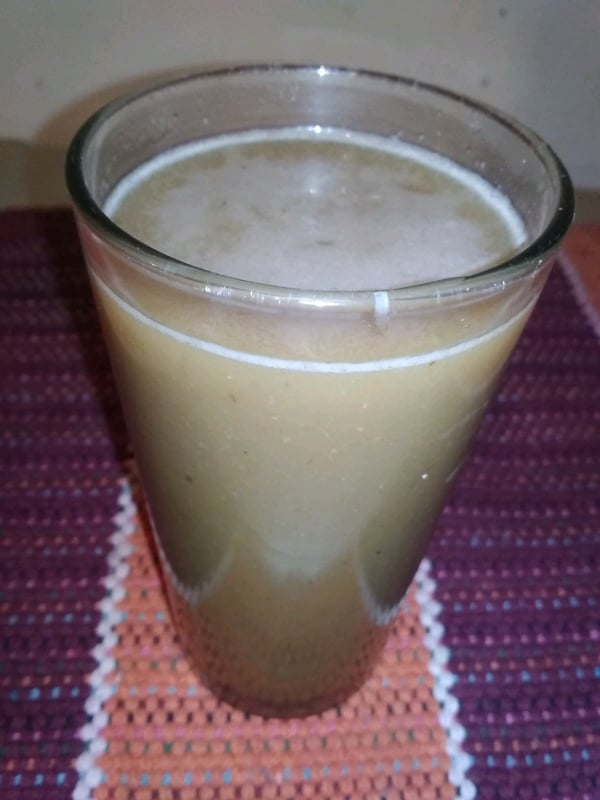 Ingredientes:
1 1/2 taza de maíz
1/2 papelón
1 litro de agua
2 cucharadas de clavos dulces
2 cucharadas de anís dulce
1 cucharada de canela en polvo
Ingredients:
1 1/2 cup corn
1/2 papelón
1 liter of water
2 tablespoons of sweet cloves
2 tablespoons of sweet anise
1 tablespoon of powdered cinnamon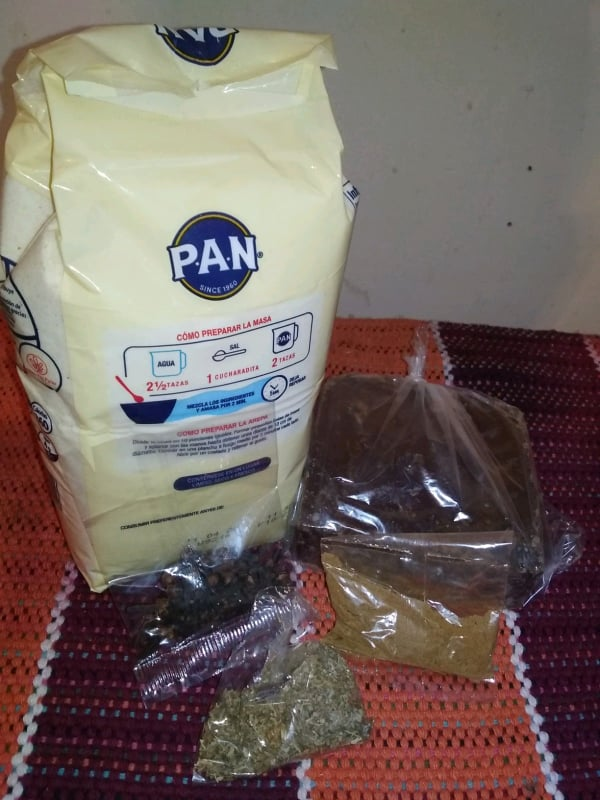 ---
Elaboración/Prepared by

---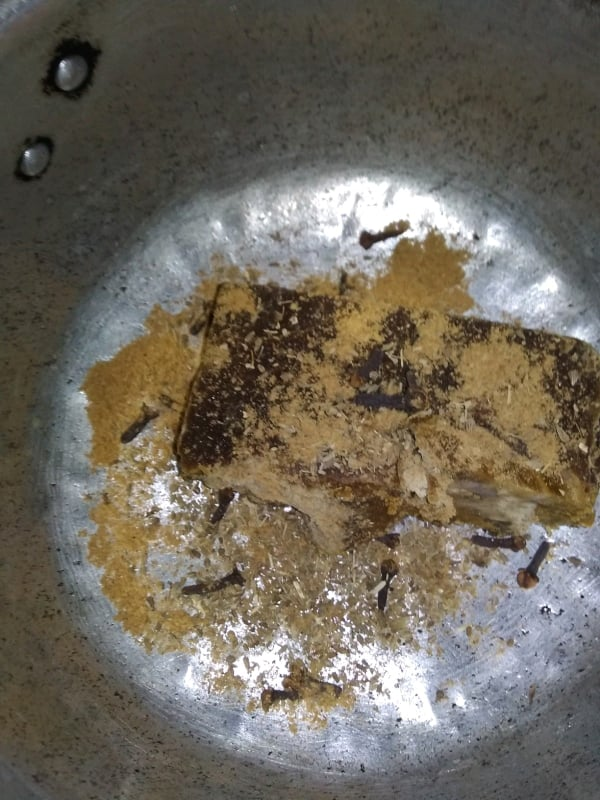 ---
Lo primero que debemos hacer es partir el papelón y llevarlo a una olla con los aliños dulces.
The first thing to do is to split the papelón and place it in a pot with the sweet seasonings.
---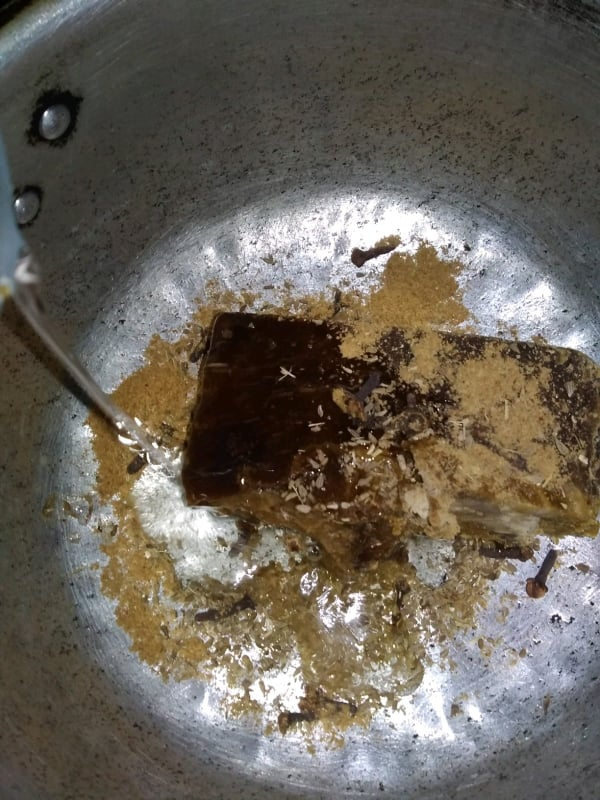 ---
Luego añadimos el agua y procedemos a llevarlo al fuego medio para que el papelón se disuelva y el agua se torne de color oscuro ofreciendo un olor muy agradable al olfato.
Then add the water and proceed to medium heat so that the papelón dissolves and the water becomes dark in color, offering a very pleasant smell.
---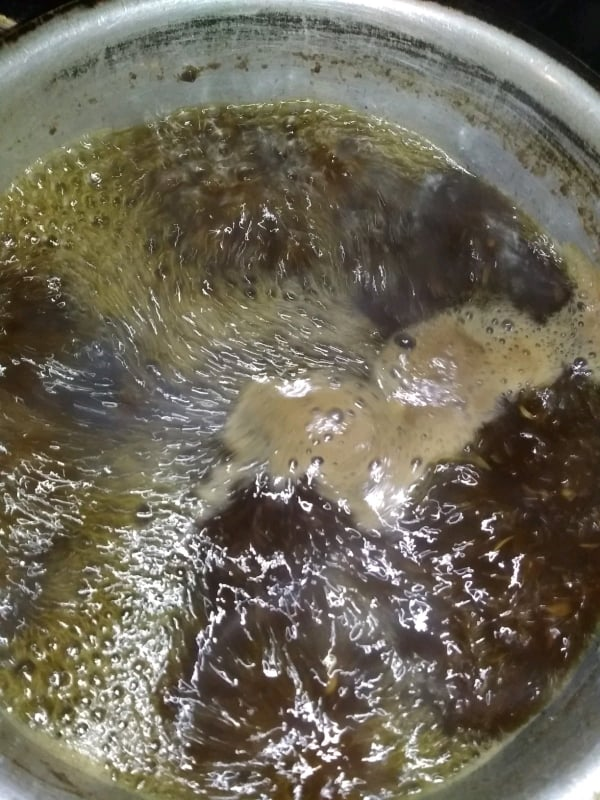 ---
Aquí ya esta hirviendo el líquido y disuelto el papelón.
Here the liquid is already boiling and the papelón is dissolved.
---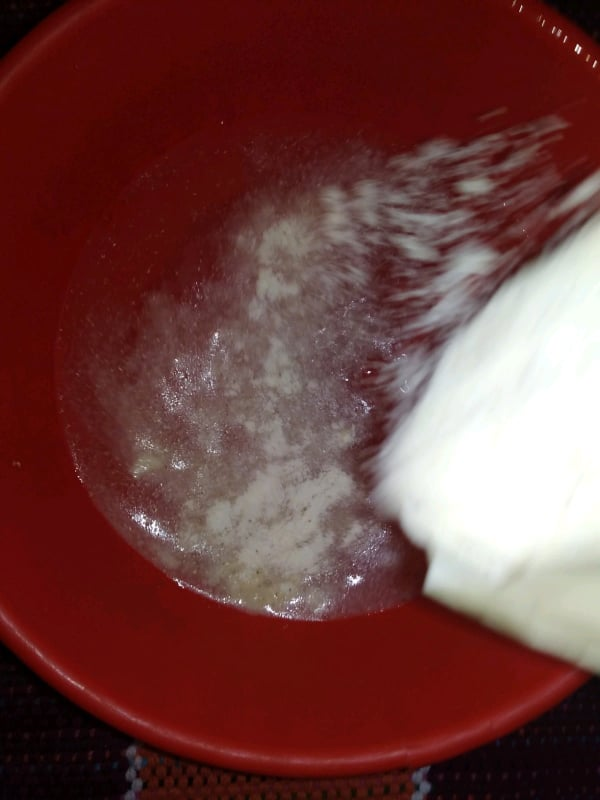 ---
En una taza vamos a colocar la harina en el agua.
In a cup we are going to place the flour in the water.
---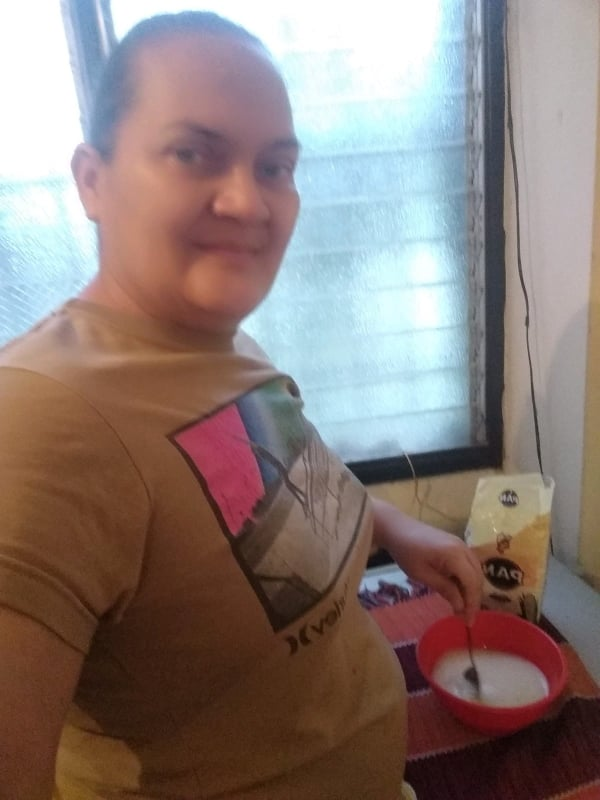 ---
Mezclamos con una cuchara para que se disuelva.
Mix with a spoon to dissolve.
---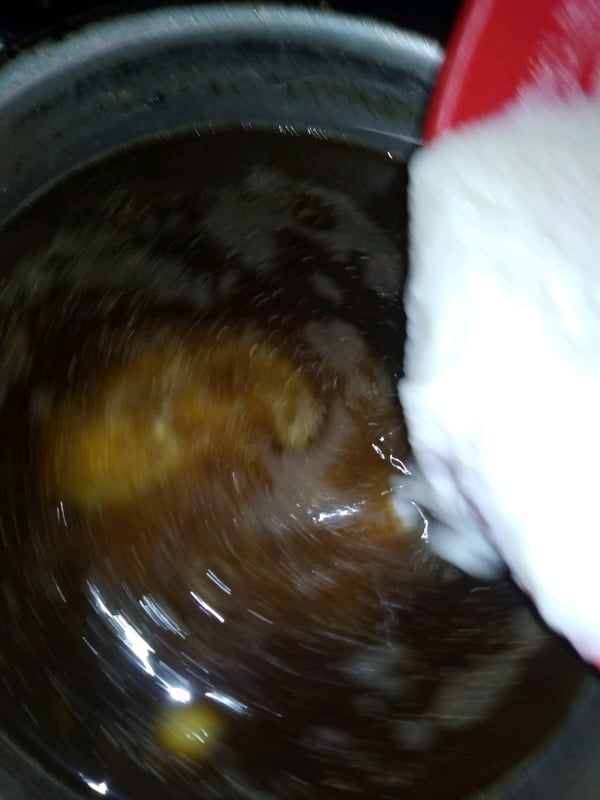 ---
Agregamos la mezcla de la harina poco a poco a nuestra cocción y bajamos la llama de la hornilla a fuego bajo para que la mezcla no se pegue.
We add the flour mixture little by little to our cooking and lower the flame of the stove to low heat so that the mixture does not stick.
---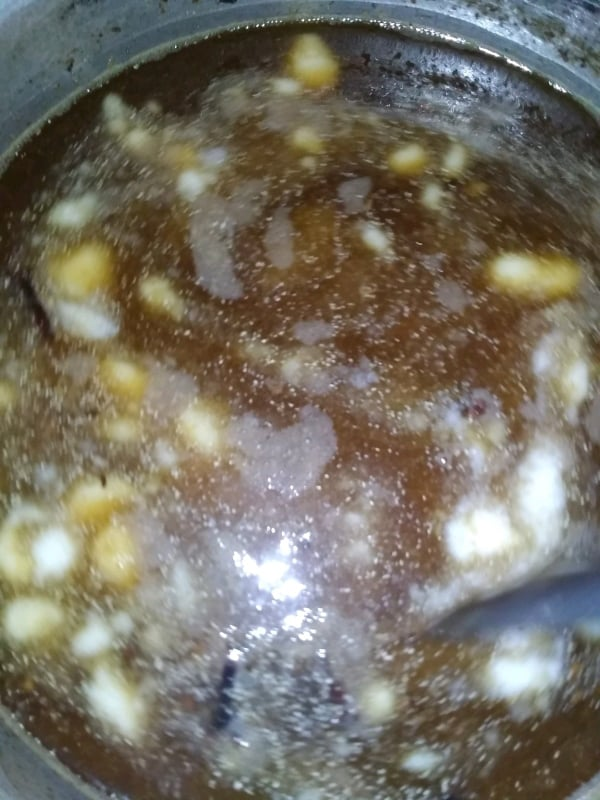 ---
Vemos como se forman grumos de la harina y los vamos a eliminar con una paleta de madera o en su defecto una cuchara.
We see how lumps form from the flour and we are going to eliminate them with a wooden paddle or a spoon.
---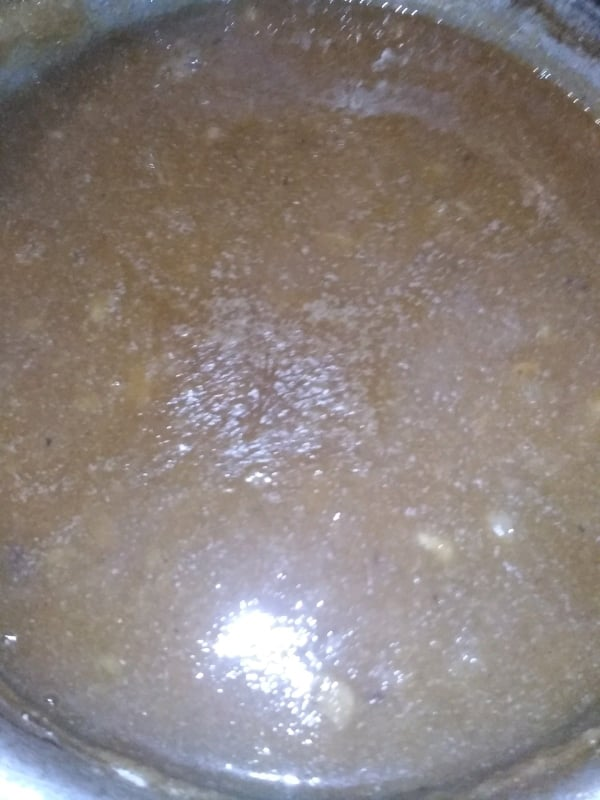 ---
Aquí ya hemos eliminados la mayoría de los grumos y se puede apreciar que tenemos una mezcla lisa.
Here we have already eliminated most of the lumps and you can see that we have a smooth mixture.
---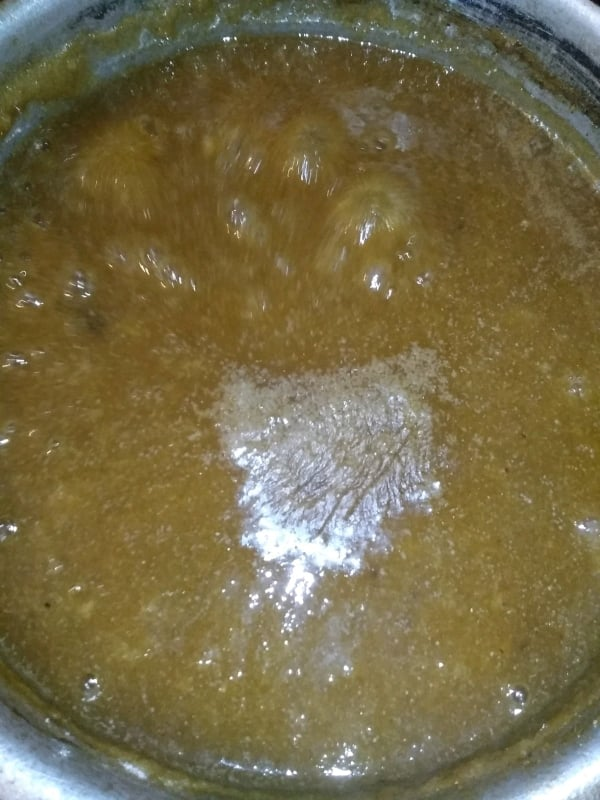 ---
Volvemos a elevar el fuego de la hornilla a medio y vamos revolviendo con frecuencia la mezcla.
Turn the heat back to medium and stir the mixture frequently.
---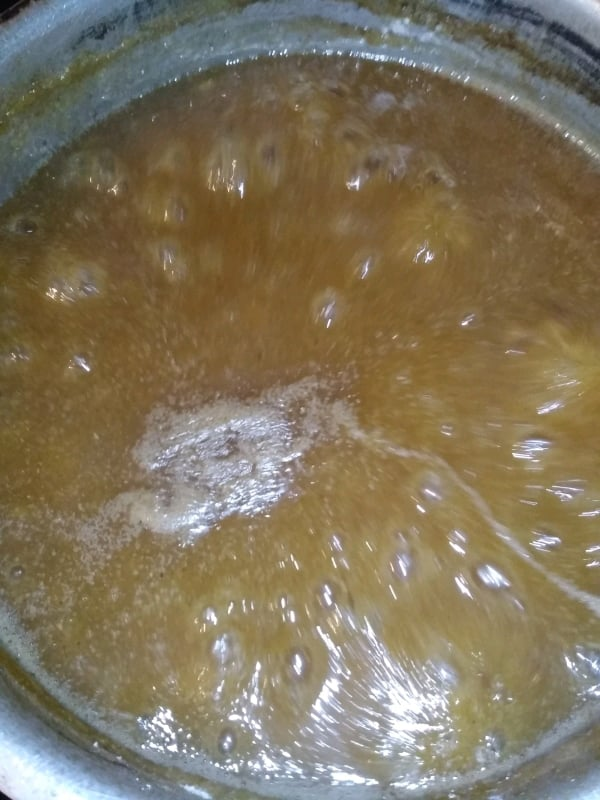 ---
Sabremos que está lista para apagar cuando esté soltando burbujas en toda la cocción, esperamos que pasen cinco minutos en este proceso y alejamos del fuego.
We will know it is ready to turn off when it is releasing bubbles throughout the cooking process, we wait for five minutes to pass in this process and remove from the heat.
---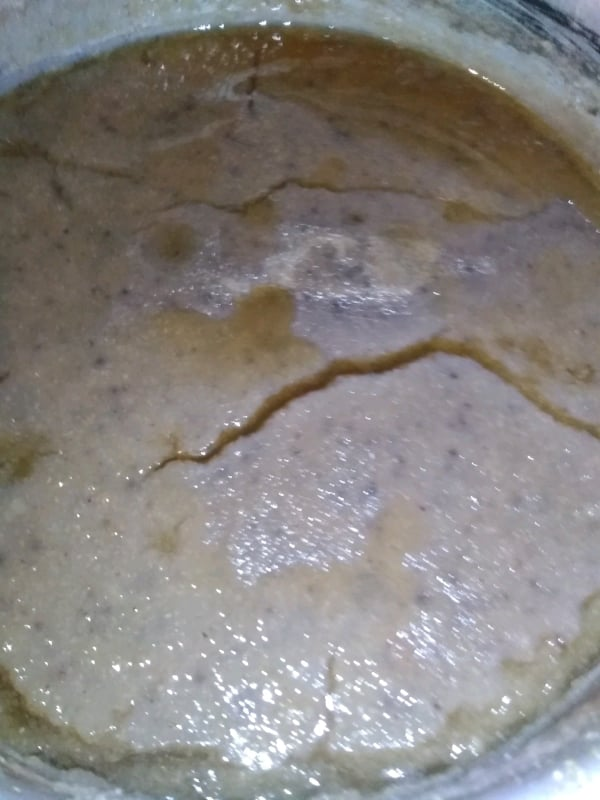 ---
Este es el resultado luego de que han pasado unas cuatro horas, la cocción se vuelve muy espesa como si fuese una torta.
This is the result after about four hours have passed, the cooking becomes very thick as if it were a cake.
---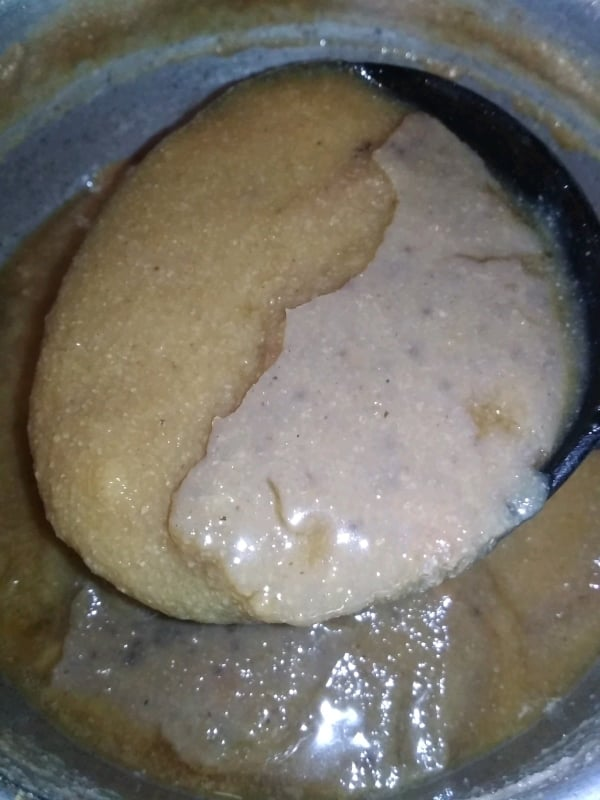 ---
Sacamos la mezcla de la olla y llevamos a la licuadora.
Remove the mixture from the pot and take it to the blender.
---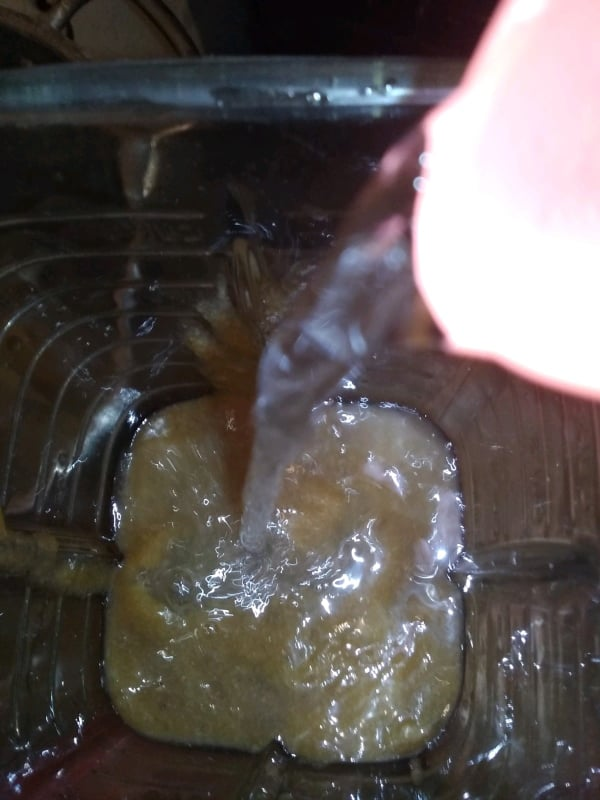 ---
Si deseamos que el carato quede espeso, no agregamos agua; pero en mi caso yo coloqué algo de agua fría para que sea mucho más liquido.
If we want the carato to be thick, we do not add water; but in my case I added some cold water to make it much more liquid.
---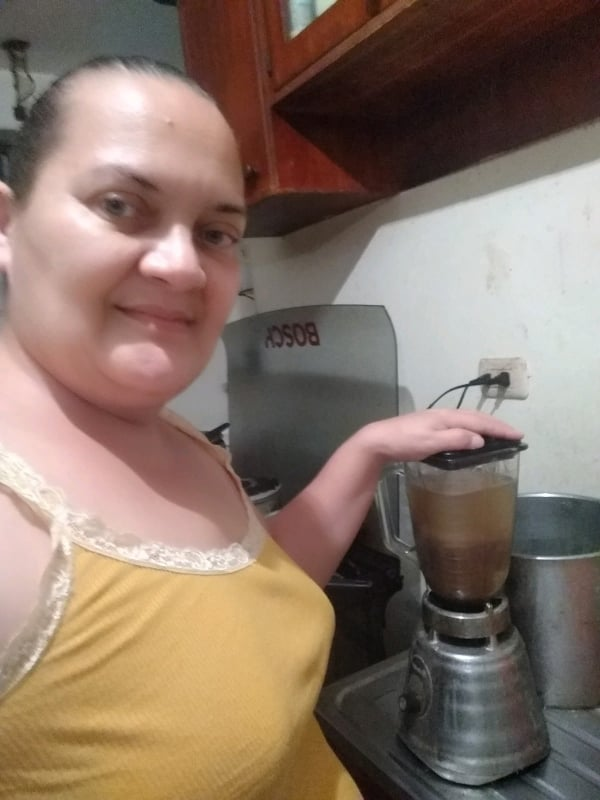 ---
Licuamos a velocidad máxima.
Blend at maximum speed.
---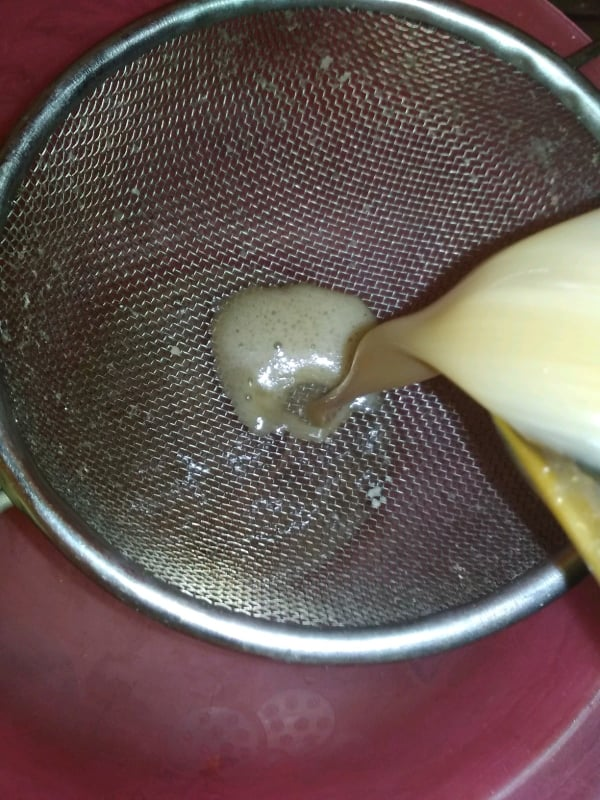 ---
Pasamos el licuado por un colador fino para eliminar los pedacitos de aliños dulces que puedan quedan en la bebida.
Strain the smoothie through a fine sieve to remove any bits of sweet seasoning that may remain in the drink.
---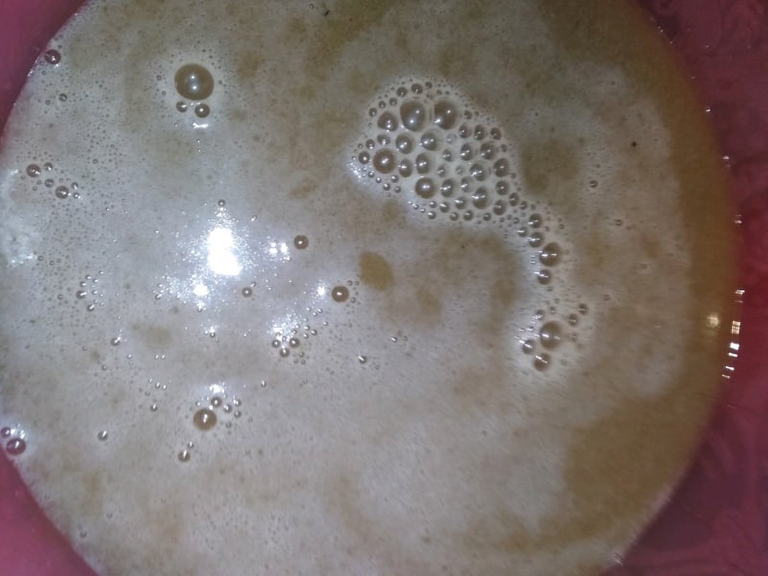 ---
Aquí el carato listo para llevar al refrigerador y que se enfrié.
Here the carato is ready to be taken to the refrigerator to cool.
---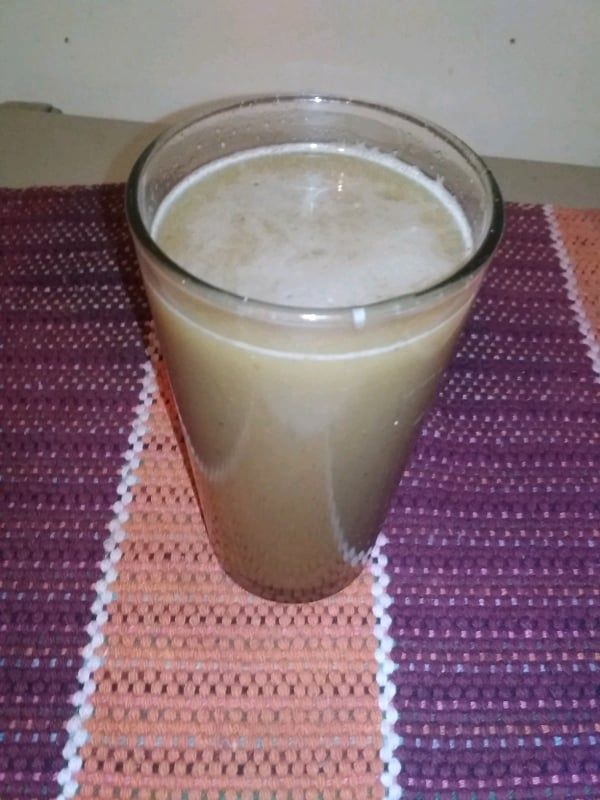 ---
Servimos el carato bien frio y a tomar.
Serve the meat well chilled and drink it.
---
Las fotografías proporcionadas para esta publicación fueron tomadas desde mi teléfono celular Redmi Go/The photographs provided for this publication were taken from my Redmi Go cell phone.
Translated with www.DeepL.com/Translator (free version)