Layoff Food
In this edition of Grandpa Gotta Eat, I will take you inside my most secret eating habits and show you what I ate for lunch while I was laid off.
Music, Maestro!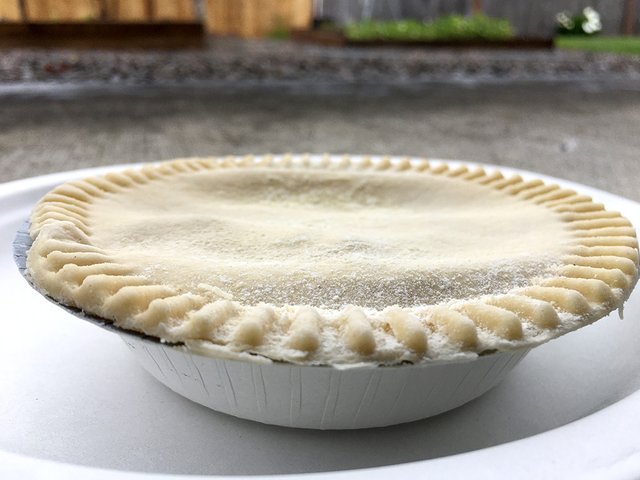 TV Dinners
I don't think they call them TV Dinners anymore, but when I was growing up, that's what my family called them. You took them out of the freezer, and back in the day, you baked them in the oven at the specified temperature and time, and ding! a virtual home cook meal, without the muss or fuss.
You might even want to put them on your best china.
But why do that, when you can merely eat them out of the tray they were packaged in?
With microwave ovens, of course, the cooking time is reduced and thus you can get to the prepared goodness quicker.
Okay, so let's face it. The meals aren't exactly like Mom or Grandma used to make, but hey, some of them are kinda tasty and you don't have to leave the house (once you've bought them) to have something quick and easy to eat for lunch.
Fast Food
I've talked about before some fast food meals I've eaten for lunch while working. It's an easy thing to take about five minutes or less to go through a drive-thru, pay for someone else to cook your meal, and then enjoy it on the go.
However, fast food isn't cheap. Prior to my layoff, I was spending anywhere from $5 USD on the very low end, to $15 USD on the high end, with the average over $10. That came to roughly $50-$60 a week in lunches, so $200-$240 a month, give or take a few bucks.
My wife wasn't very happy with me. She doesn't like me eating out so much, and she doesn't like me spending money. So, double whammy.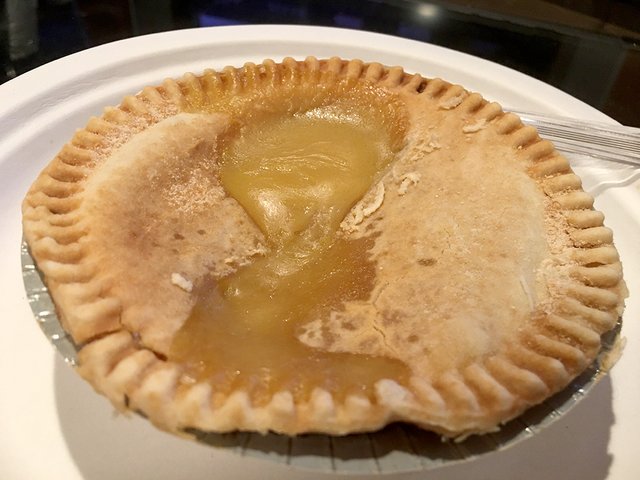 While I was laid off, I decided I needed a lower cost alternative. I didn't need to go into town every day, and I could avoid exclusively eating peanut butter sandwiches or maybe a smattering of dinner leftovers.
Enter The TV Dinner
If you spend anytime at all in the frozen food section of your local grocer, you've no doubt noticed several sections devoted to a variety of frozen dinners. They range from individual to what they consider family sized, and can include just an entree to full blown meals.
The price?
Well, for the chicken pot pie pictured above (frozen and then cooked), I paid $0.87. Yes, you read that right! Eighty-seven cents, or roughly three HIVE.
Pot pies at that price are kind of small, though, so I typically ate them with an actual dinner, generally of the Hungry Man variety. Those dinners are a little larger than the other brands, without being that much more expensive. A typical dinner costs $2.13.
Again, you read that right. Let me spell it out just in case. Two dollars and thirteen cents.
That means for the price of the pot pie (which come in turkey and beef flavors, too), plus the regular Hungry Man dinner, I could feed myself for $3 even.
Throw in a couple of cans of soda ($0.23 plus $0.10 deposit x 2), and total spent for my lunch meal was $3.66 ($0.20 of which I get back upon return of the cans).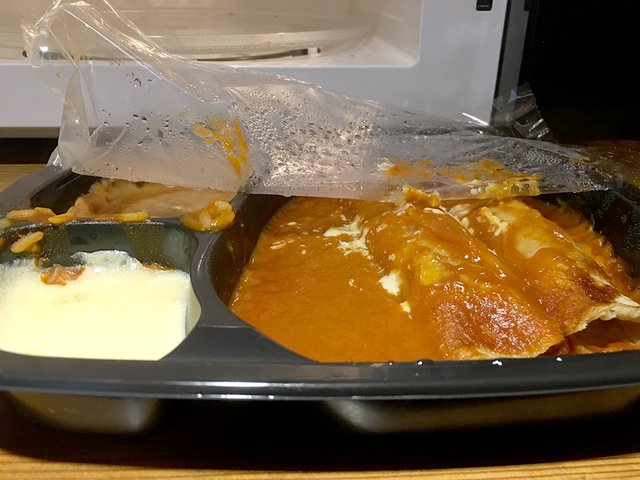 Now, Hungry Man also has a Selects version which costs $2.98—so more expensive, but supposedly fancier. The meal pictured above is what they call their Mexican Style Fiesta—a couple of enchiladas filled with ground beef, a rice and refried bean combo, and coconut pudding.
As you can see from the image below, my meal did not come out looking like what was on the box.
That said, I think it tasted better than it looks, and while I've never had a ground beef enchilada before it, was good. The rice and beans were actually the most flavorful, though, and the coconut pudding was just plain blah. I'm not sure what it tasted like, but it was not coconut.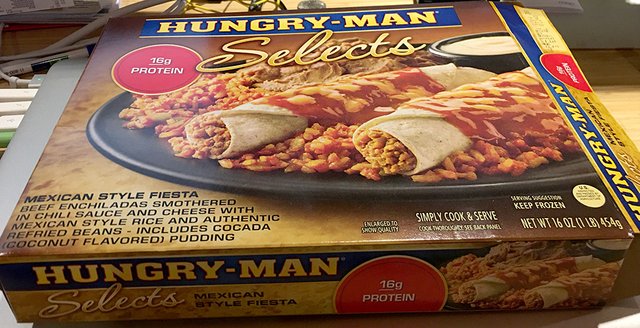 A Variety Of Dinners
Yes, I saved the boxes so I could take the picture. Something else my wife wouldn't like.
For the main entree, I've eaten salisbury steak in gravy, turkey in gravy and dressing, variations of barbecued pork or beef, and pastas, like spaghetti, lasagna and beef steak with noodles. The pot pies and some Italian food are primarily made by Banquet and are typically smaller meals—the dinners can be found for $0.99 to $1.21, which I would generally eat two of. That still meant the cost of dinner and sodas were roughly $3 USD or less.
The other brand of dinner I tried came from Boston Market, which is also a restaurant. Their meals were $2.74 each.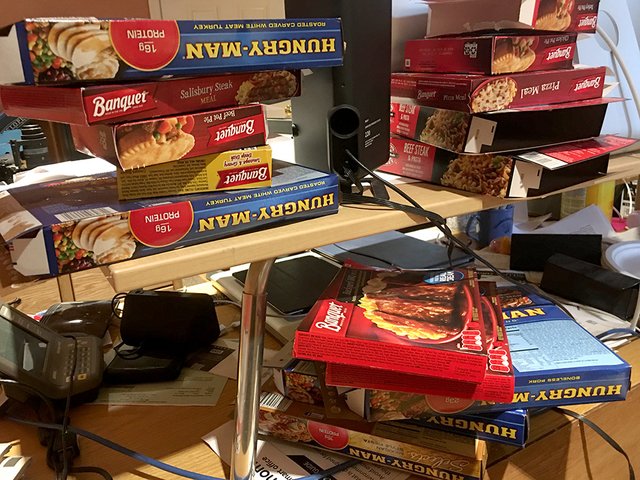 With the dinners, I typically got some vegetables and mostly mashed potatoes. A few also included a dessert of some kind, which could be a brownie or a fruit based concoction. Like the pudding, the desserts were generally a nice try, but mostly disappointing.
The Taste Test
I think I like the turkey and salisbury steak meals the best. The pasta dishes just don't measure up to home cooked. I'm not that crazy of the barbecued pork or beef, but they do add some variety.
The Tale Is In The Tape
However, just including the TV dinners, the last time I went to WinCo, I paid $38.92 for what amounted to three week's worth of food. Add on what I paid for two dozen cans of sodas and their deposits, the total bumps up to $46.88.
So, for less than what I might pay in a week of fast food, I got three weeks worth of TV dinners.
No, we're not talking gourmet, nor all that nutritional, though I think typically I was eating fewer calories than I did eating out. But for the price and the convenience, I think it was well worth avoiding a steady diet of peanut butter sandwiches.
However, as of last week, I'm back to work, and no, I haven't been heating up and taking the TV dinners with me. I'm back to my old fast food habits, and after only eight days, I'm kind of bored with it. I kind of like my TV dinners.
So, I'll need to figure something else out.
In the meantime, while I'm attending to that...
...Enjoy!
All images courtesy of Glen Anthony Albrethsen. Video found on YouTube.