My parents' oven has been on the fritz for a good while now, so I decided to get them a little "party" grill. I have never used a grill before, so I'm definitely not a grill connoisseur or anything. But, I like the size, the ease of use and the fact that it makes vegetables taste so delicious! I decided to make a post showing what I've made for the past two nights. Nothing crazily original, but it might give some people easy vegan/vegetarian ideas for meals. Kabobs would be great for a party too. :)
Apologies about the photos in this post. The overhead tungsten lighting where the grill was was particularly nasty!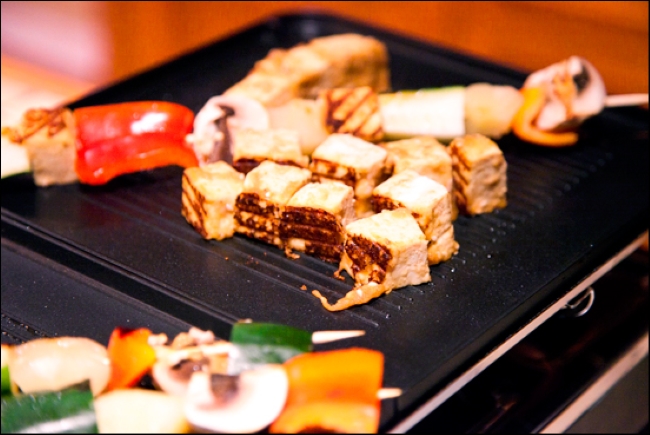 Ingredients
1/2 Firm Tofu Block, excess water squeezed out and cut into chunks
1/2 Bell Pepper (I used Red)
Pineapple Chunks
A few mushrooms, cut into chunks
Zucchini, cut into chunks
Toasted Sesame Oil / Extra Virgin Olive Oil, for coating your grill
Use any other vegetables you'd like: Brussel sprouts, purple onion, cherry tomatoes, asparagus…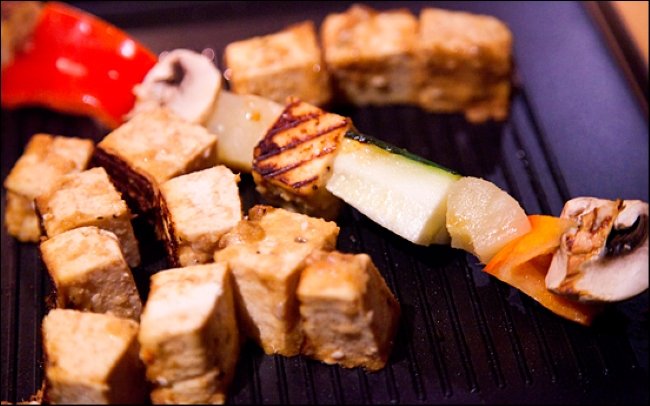 Marinade
I just winged this marinade and didn't measure anything out, but I'll tell you approximate amounts and the ingredients I used to marinate the tofu and drizzle on top of the veggies while they were on the grill. If you want to follow what I did, just do taste-tests to make sure you are happy with the taste. You can also use barbeque sauce or chutney.
Dijon Mustard
Coconut Aminos (Soy Sauce substitute)
Hot Sauce
Garlic Powder & Onion Powder
Thai Seasoning (I really like this, but I sneeze EVERY time I use it)
Nutritional Yeast
Bit of Arrow Root Starch (as thickening agent)
Pinch of Pink Sea Salt
Lemon Pepper
Rice Vinegar (Can use Balsamic or Apple Cider)
A sprinkle of sesame seeds
Add the ingredients into a small bowl and mix. Do a taste test to make sure you like the taste and then add the tofu chunks in and coat them and let them marinade while you are preparing the vegetables and such.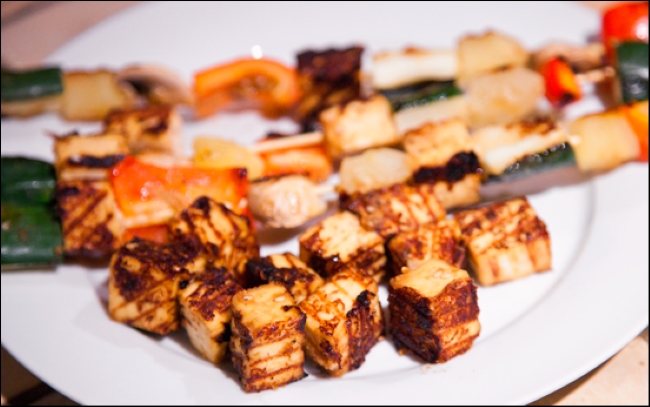 Directions
Squeeze out the excess water from the tofu. I usually wrap it in paper towel and squeeze it and place the tofu underneath something heavy for a few minutes. Then, cut the tofu into chunks. Make up the marinade, or whatever sauce you'd like to use (you don't have to use anything, but it gives everything a nice flavour) and coat the tofu in the marinade.
Chop the veggies up. If your grill takes a while to heat up, you can turn it on (lightly coat with oil) while you add the tofu chunks and veggies to the skewers. Add the skewered veggies to your grill and grill on each side until it is crispy. You can coat the vegetables with any leftover marinade. I probably grilled each side for 8-10 minutes each. I occasionally pressed down on them with a silicon spatula since my grill doesn't have a lid to it.
Remove from the grill and serve! I served these with a bit of barbeque sauce on the side. Twas soooo good!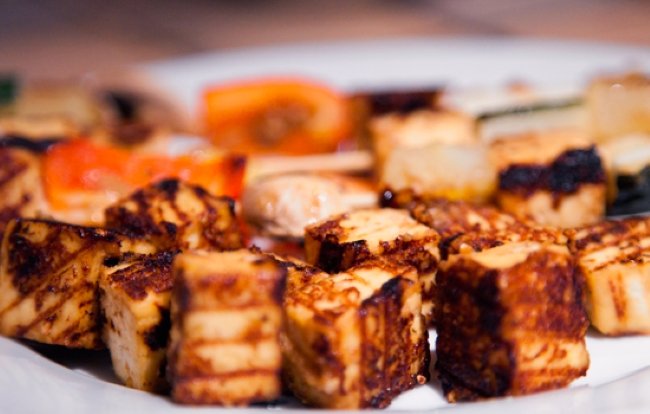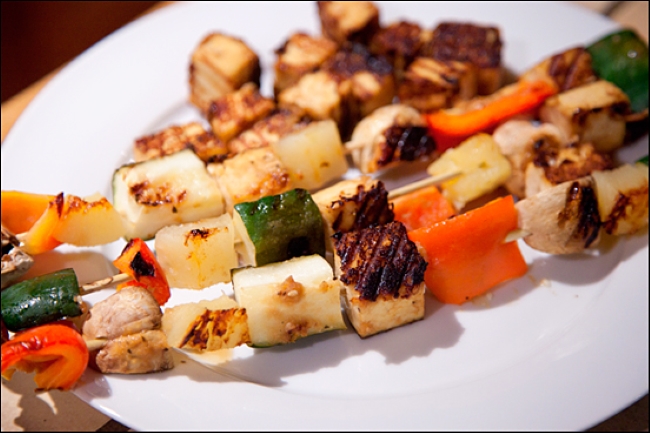 Enjoy!