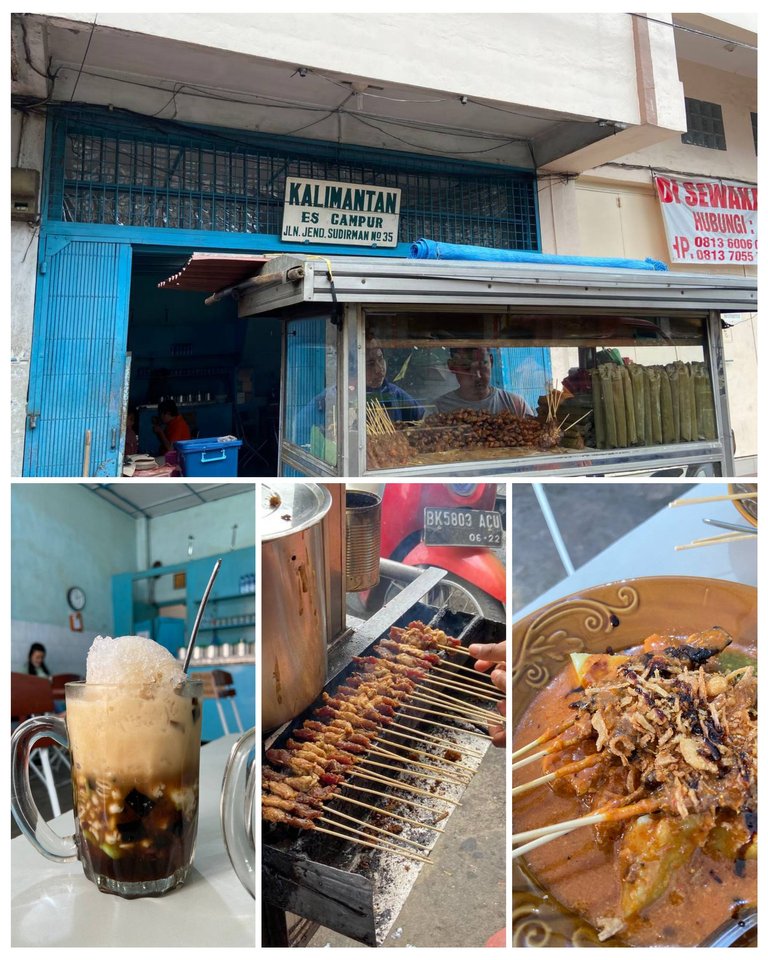 ---
---
Hello Foodies
How are you today ? I hope and pray, my friends are always given health and also happiness in living this life. I read some news about demonstrations by people from all over the world. The majority of public demonstrations occurred because the government was unable to control inflation in the prices of food products. The increasingly expensive price of food products which is not proportional to income makes many people have to rack their brains for their daily needs. Therefore, hopefully we will be made easy for work or to earn income.
I am lucky to live in Indonesia. Even though my country is still a third world country, the Indonesian state does not really have an impact on inflation that is happening all over the world. Some food, fuel and service products have already experienced price increases or price adjustments, but they are not yet too expensive. I think one of the things that allowed us to be patient with this is because in Indonesia and my city, it's very easy to get delicious food at low prices. As we all know, delicious food can make us happier and finding delicious food in my country doesn't need to spend too much money. As my friends know, I also go very often to look for delicious and cheap culinary that I can get and share stories with my friends here.
---
---
Es Campur Kalimantan – Legendary Culinary From Binjai City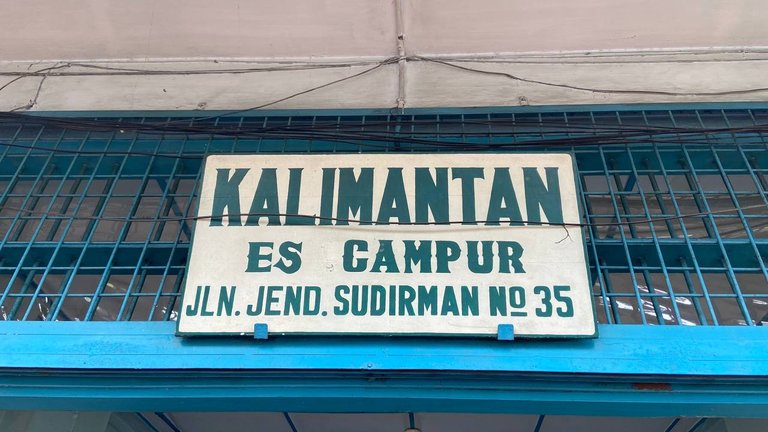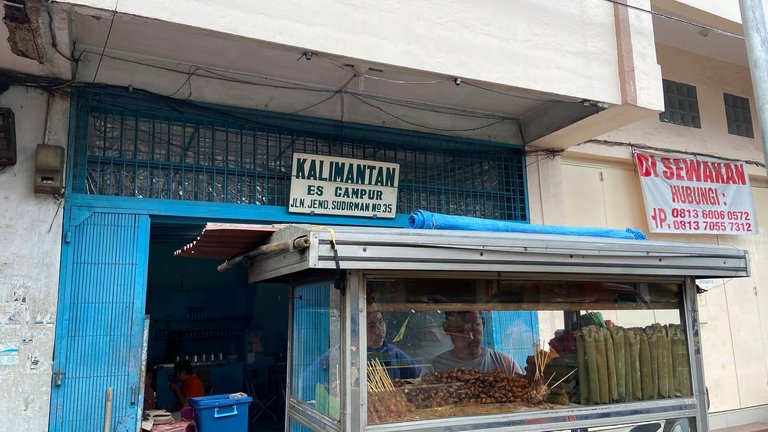 Some time ago, I went to Binjai City to attend a family event. The distance between Medan City, the city where I live, and Binjai City is only about 30 minutes away by car. Before going home, I felt like trying something culinary in this city. When I was a child, my grandfather brought me to eat satay and drink ice mixed around Binjai City. I tried to search on Google for information on the food stall, and finally I found out that the food stall I visited was called Es Campur Kalimantan, a legendary culinary from Binjai City.
This food outlet is located at Jendral Sudirman Street no. 419, Pekan Binjai District – Binjai City. This food stall is very strategic because it is located on the side of the main road and close to the city center of Binjai City. This foot outlet uses an old shop building that is very old, come to this place. We feel nostalgic.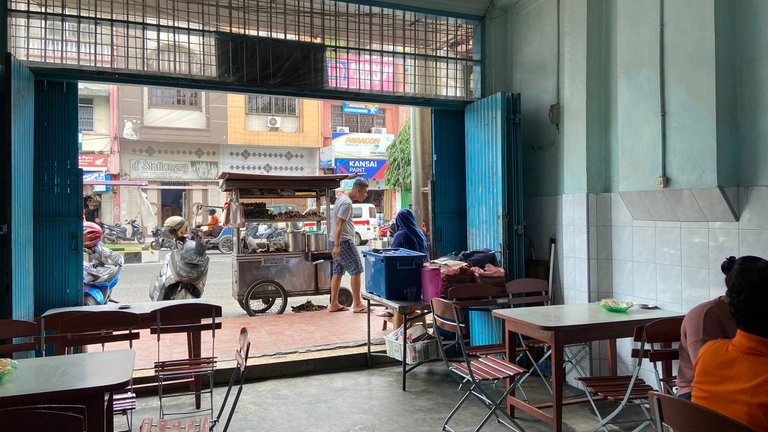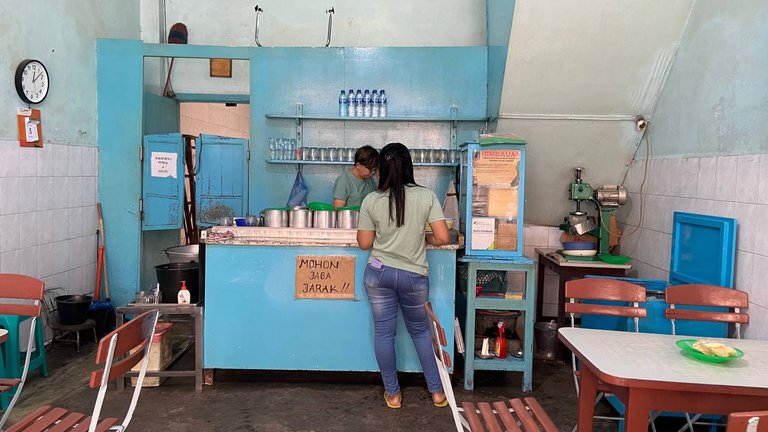 The old location and decor is maintained so it feels very authentic. This is reasonable, because this food stall has been open for more than 50 years in Binjai City, and has been managed by three generations. In the past, this ice shop was opened by an Indo-Chinese who came from Kalimantan Island, so the name of his culinary business became famous like that.
---
---
Special Ice Campur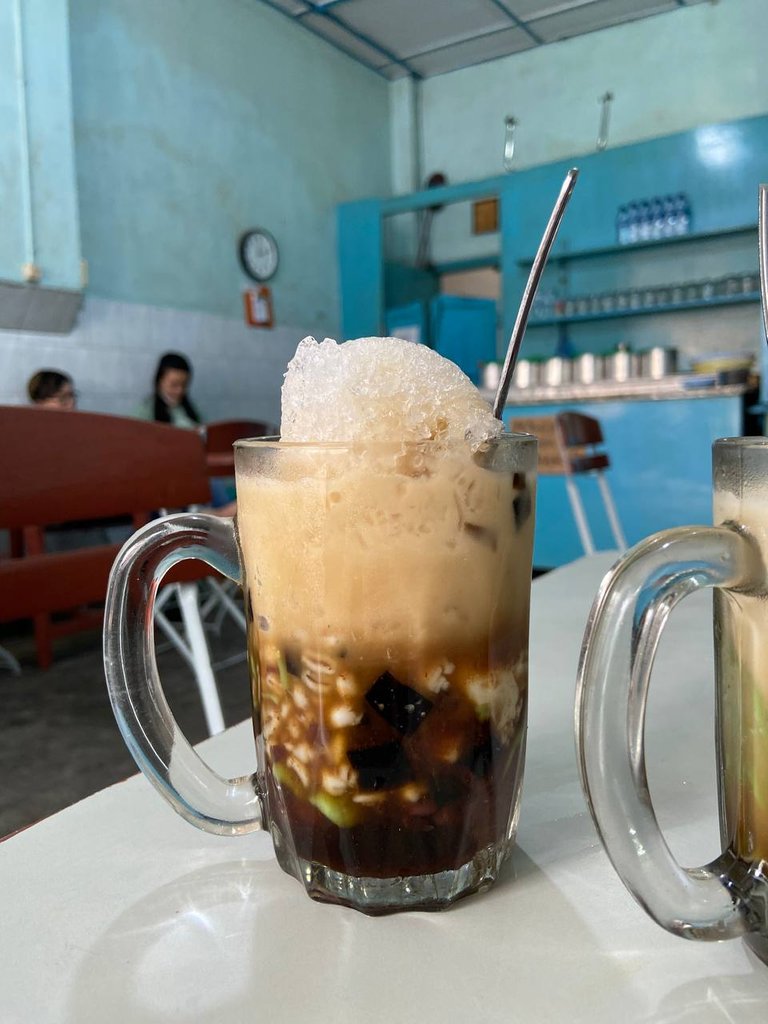 This food shop sells several desert menus such as ice cendol and mixed ice. For food, there are several cakes available and we can also order satay which is at the front of this food stall. Of course, I ordered mixed ice and beef satay with peanut sauce to accompany me. Oh yes, mixed ice is one of the popular dessert menus in Indonesia, Malaysia, and apparently Singapore. Mixed ice is often found in China town, and it spreads throughout the culture in my country.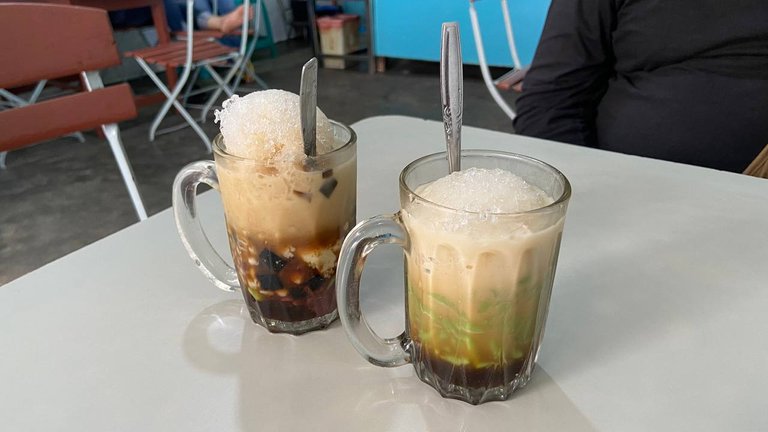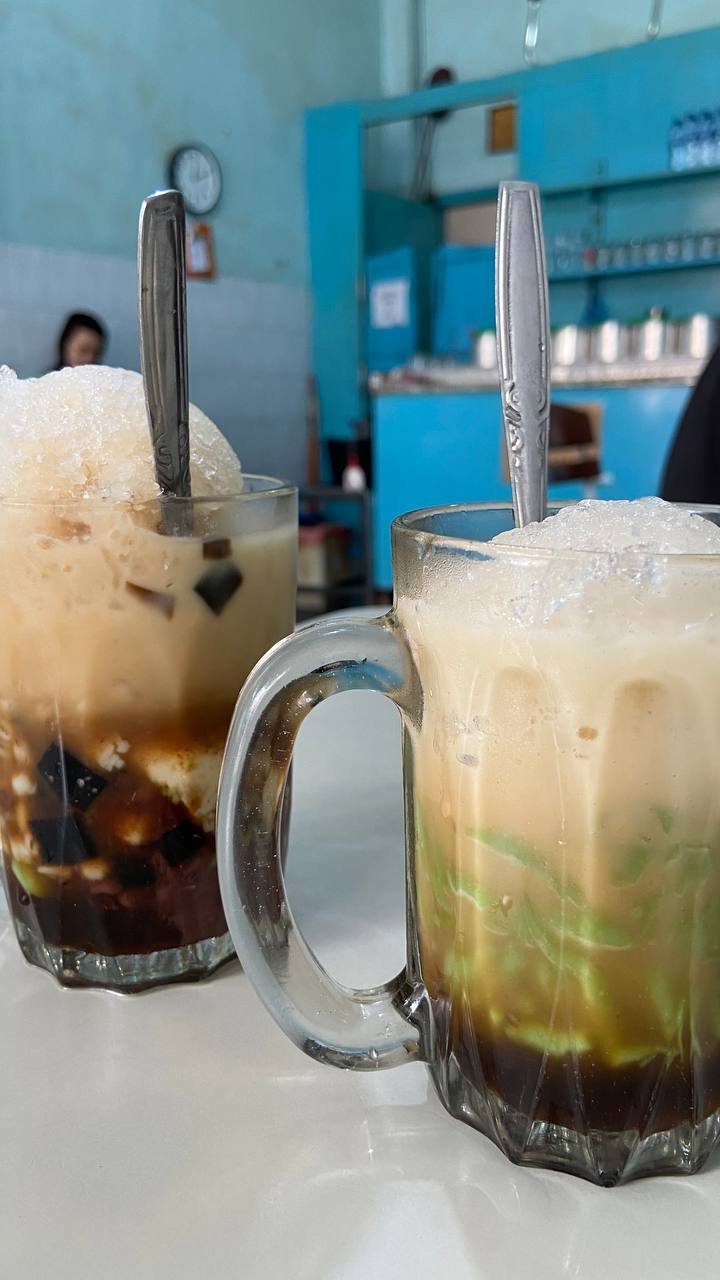 Es Campur from Es Campur Kalimantan This Dessert Outlet has a delicious and consistent taste since I first tried it when I was a child. This Mixed Ice consists of sweet potato tape, grass jelly, red beans, cendol, and shaved ice. Then this topping is doused with coconut milk and liquid brown sugar so that it becomes a glass of es campur which is very fresh and tastes good to us. The taste is fresh from the coconut milk and the shaved ice is mixed with the sweetness of the coconut milk. Don't forget to take and eat those delicious toppings.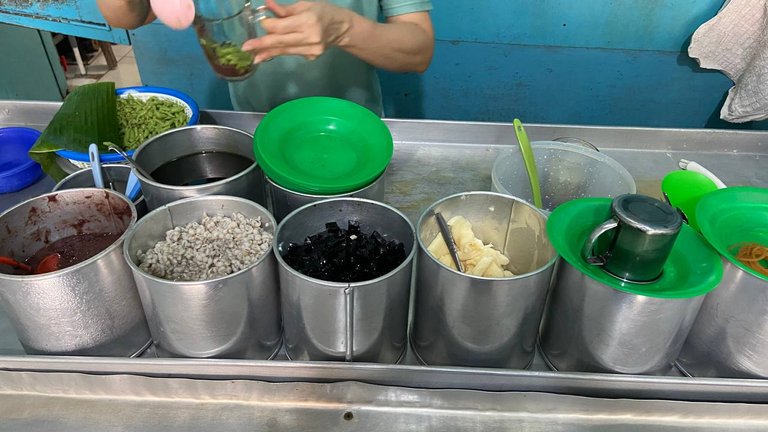 For the price of one glass of this drink, we pay around IDR 15K (or 1 USD). For the price, it is indeed more expensive when compared to similar menus, but I think the price will be in accordance with the quality of the taste. We will see, the food ingredients used are quality and fresh. I thought, I don't mind the price as long as I get this fresh drink.
---
---
Beef Satay with Peanut Sauce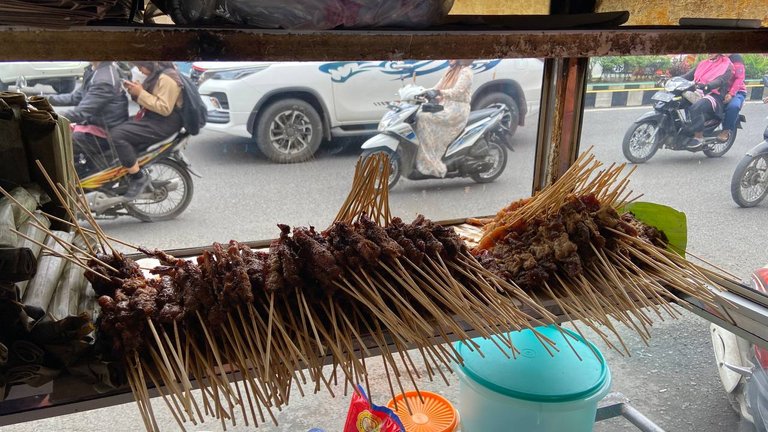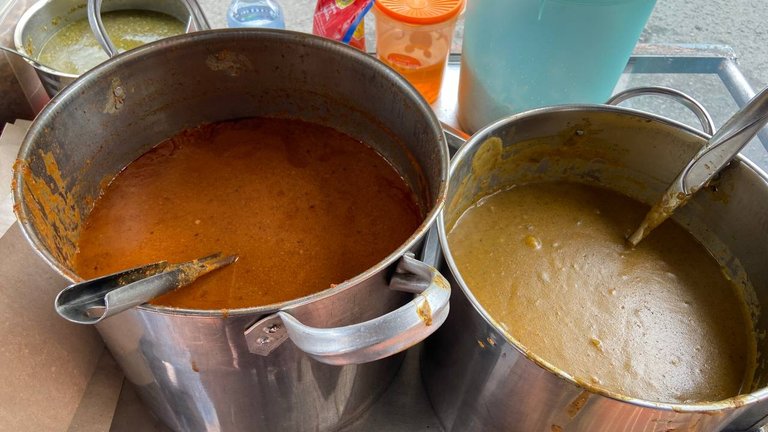 I also ordered satay, because I thought if you were eating mixed ice there should be a side dish and peanut satay was the right choice. Satay is one of the local culinary delights in Indonesia which is made from meat, such as chicken, beef, mutton or pork.
A food will be said to be "satay" by looking at the cooking process and presentation. Satay is a one-to-one dish made of meat which is cut into small pieces and then arranged with a bamboo stick or skewer. This shape makes a dish called satay. For sure, the point is that the meat is cut into small pieces and skewered. Serving satay is generally grilled with coals, but several types of satay dishes can be eaten directly without having to grill it first.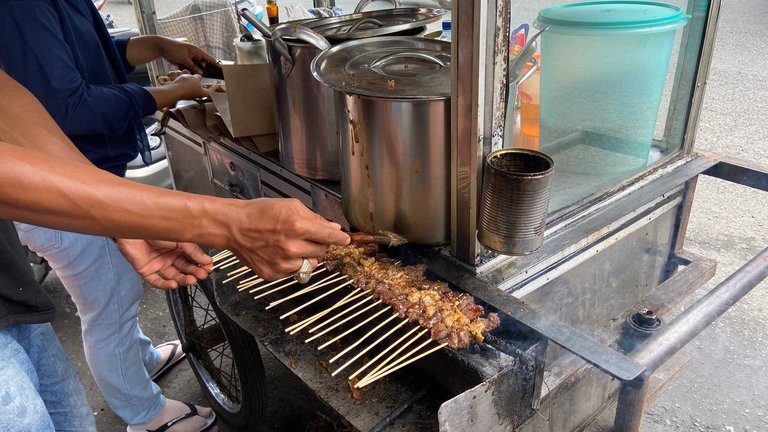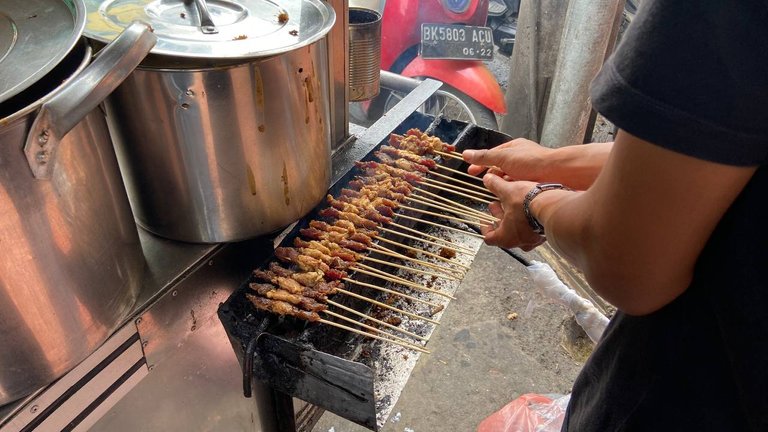 I ordered beef satay with peanut sauce. Every order of our satay, it will be immediately processed and grilled by the cook. So, we have to wait a while before the satay is served on our table. The process of cooking and burning satay is very interesting to watch, my friends can see it from some of the photos I took.
The texture of the satay meat is a little tough, but you can still bite and chew it. The process of burning it with hot coals makes the meat have a smoky and savory taste. The peanut sauce used has a sweet taste, but I added a little chili to make it spicier.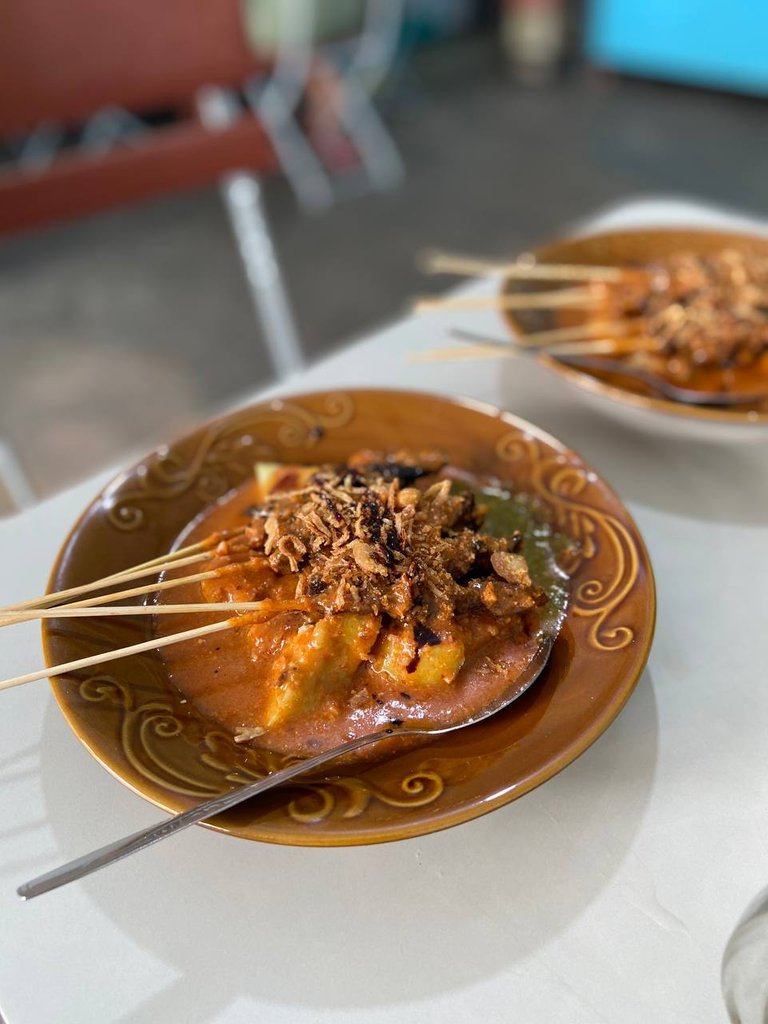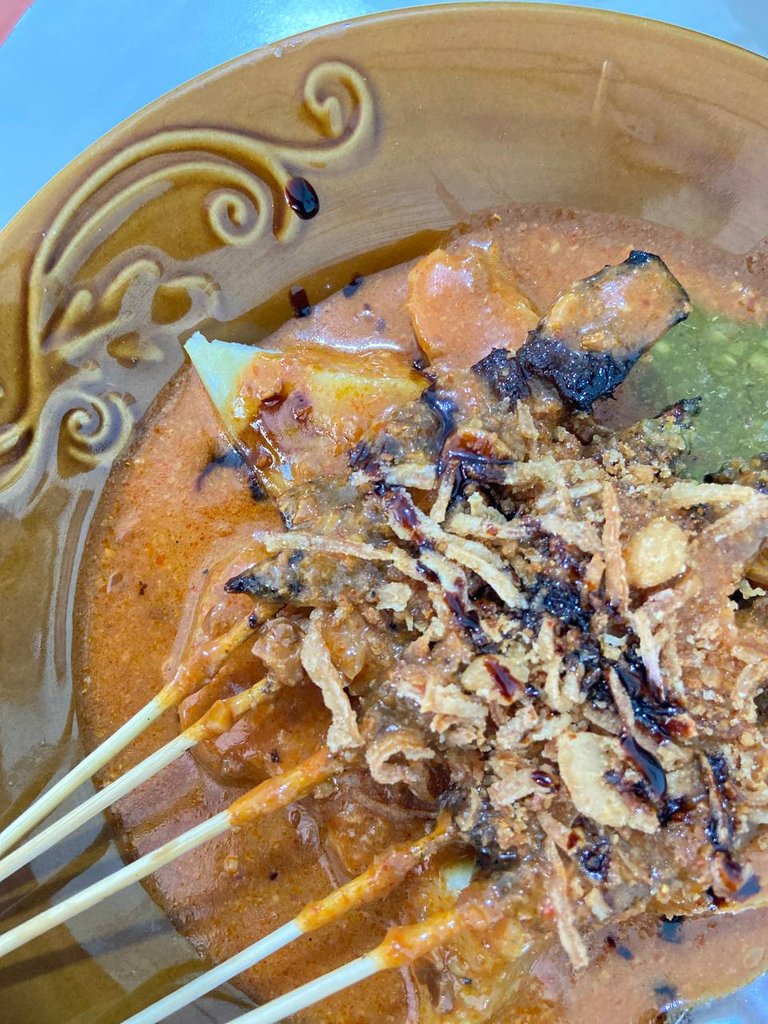 Enjoying this Kalimantan Es Campur accompanied by satay seems to be a very pleasant moment for me. I got a complete meal of food and drinks which was very delicious. Are you interested in trying this dish?
---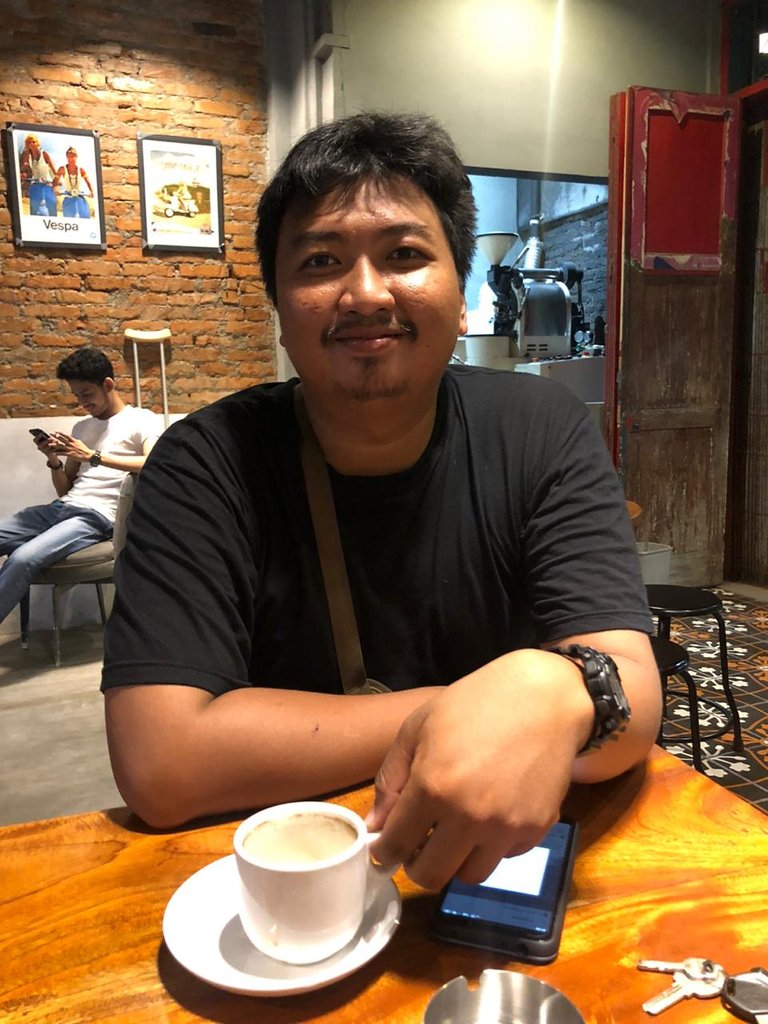 About Author

Call me Isdarmady, because I have a full name that is very long, namely Isdarmady Syahputra Ritonga. I am a head of the family who work as Farmers Vegetables Hydroponic and Consultant Hydroponics, sometimes I also sell coffee from various regions in Indonesia.
I have expertise dispensing coffee with a variety of techniques and tools brewing, because I have the desire to make a coffee shop with hydroponics as centerpieces. Help me realize that dream.
Thanks for read, vote, re-blog and support me in Hive. Maybe god will reward the kindness, let's success together.