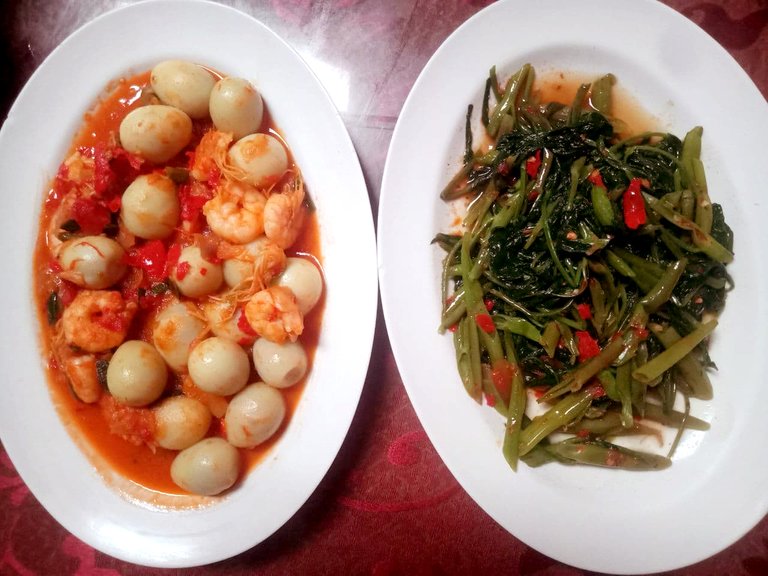 Good afternoon my hive friends wherever you are. How are you guys? I hope you continue to be given health to God so that we can all continue to write and read on this platform. Btw, I want to share food recipes with those of you who read my post. But, Before explaining the main topic in this article, I thank you very much @tattoodjay who has helped me have Hive Power so that I can publish this article here. Thank you sir @tattoodjay.
The dishes that I will share here are "Sambal Udang Telur Puyuh" and "Stir-Fried Kale". Both menus are very liked by my husband. To make the first menu very easy, first, you need to prepare the ingredients:
Shrimp
Quail eggs
Chili
Tomato
Ginger
Onion
Garlic
Salt
Okay, after you have prepared all the ingredients, now I will explain how to make it. The first thing you first boil the quail eggs until cooked. While waiting for the quail eggs to be cooked, you can peel the shrimp. Peeling the skin of shrimp is not mandatory, some people like to eat shrimp with the skin on, but I prefer shrimp without the skin. If the quail eggs are cooked, also peel the eggshells
Then chilli, tomato, ginger, onion, garlic, and salt are ground together until smooth. You can use a blender to do this, but I prefer to grind it with a millstone manually (grind by hand).
Next, heat a little cooking oil in a frying pan, after the oil becomes hot, add the finely ground chillies, tomatoes, ginger, onion, and garlic while stirring. After two minutes, add the peeled prawns and mix well until cooked. Once cooked, add the boiled quail eggs and mix well again.
After everything is mixed well, turn off the stove and move it to a receptacle. To beautify the appearance, you can sprinkle sliced ​​green onions or fried onions on top.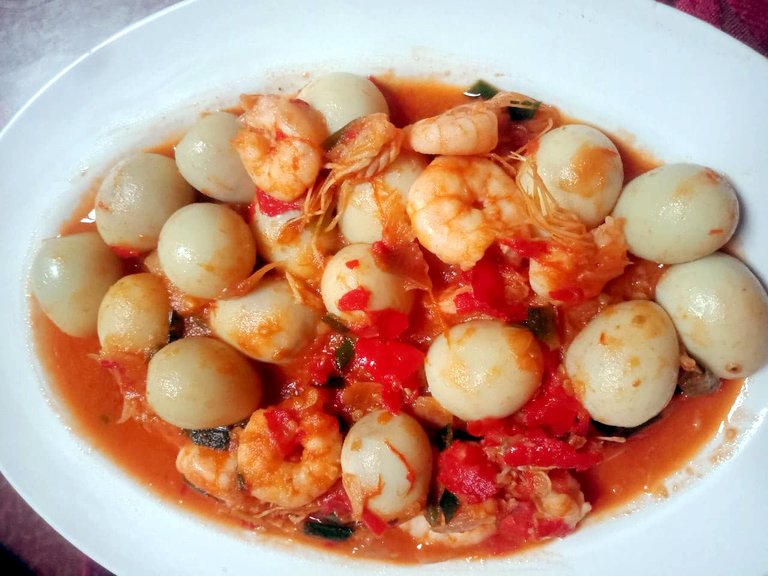 As for the recipe for making stir-fried kale, it seems that you all already know because making stir-fried kale is very simple. You just need to mix the chillies, tomatoes, onion, and garlic then grind until smooth. Once it becomes smooth, add the chilli mixture that has been ground into the hot oil in a frying pan. Once cooked enough, add salt and water spinach that has been washed clean. Stir until cooked and stir-fried kale is ready to serve.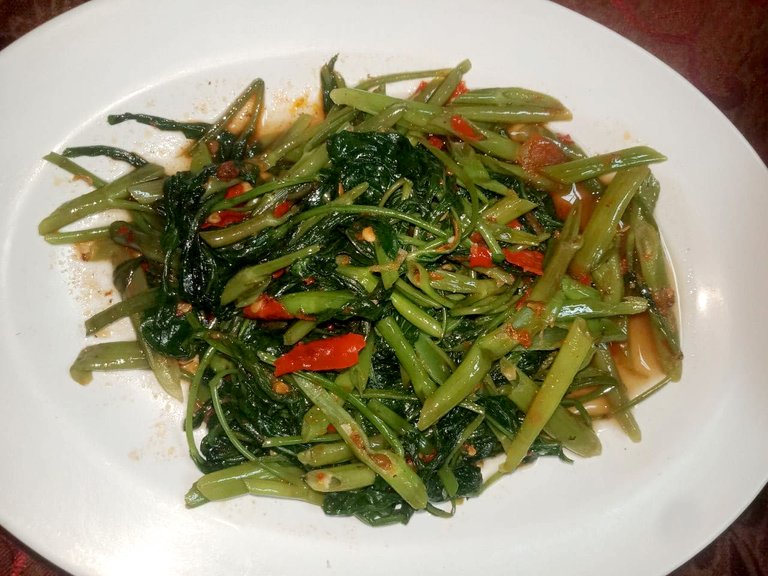 That was the recipe for a food that I can share with you. Hopefully, this post is very useful for every reader of food recipes. See you in the next recipe post. regards