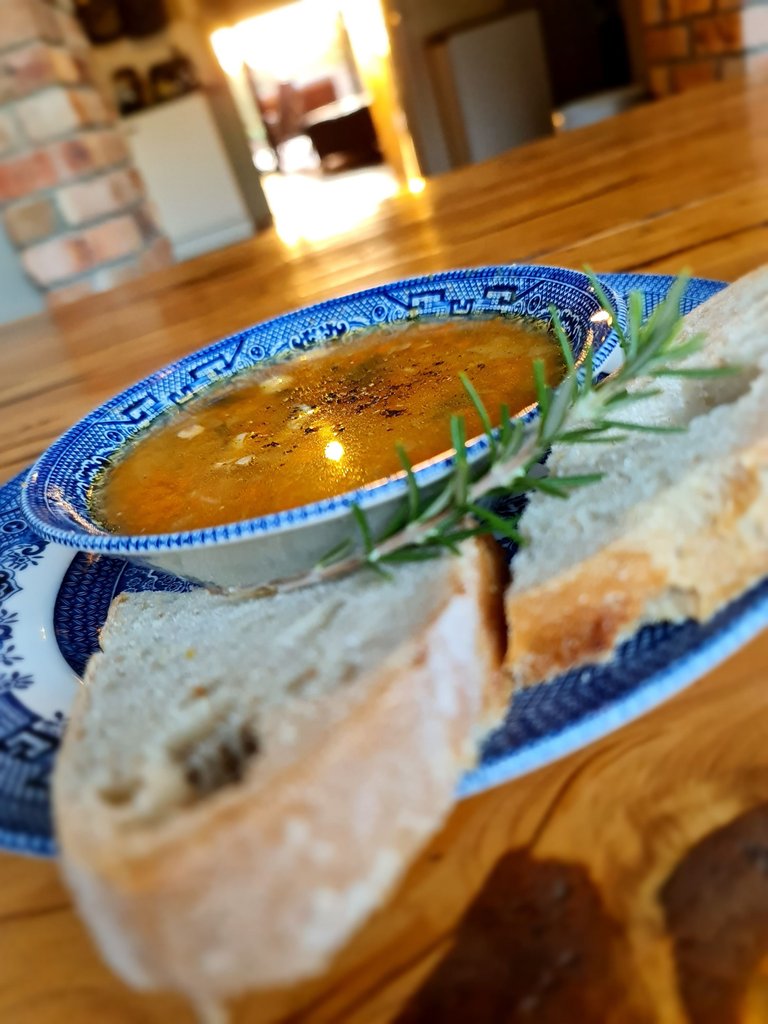 "Do you have a kinder, more adaptable friend in the food world than soup? Who soothes you when you are ill? Who refuses to leave you when you are impoverished and stretches its resources to give a hearty sustenance and cheer? Who warms you in the winter and cools you in the summer? Yet who also is capable of doing honor to your richest table and impressing your most demanding guests? Soup does its loyal best, no matter what undignified conditions are imposed upon it. You don't catch steak hanging around when you're poor and sick, do you?" — Judith Martin
I was so looking forward to my walk this morning, but as I wiped the sleep out from my eyes and looked outside the window - I was greeted with a very heavy downpour, and whilst walking in a light rain is quite pleasant - a dead straight rain... not so much, so I gave it a miss completely. As I lay in bed contemplating the day ahead, I thought it would be a good day for slippers and soup! Ok, perhaps not slippers... I actually don't even own a pair - but boots and soup... does not have quite the same ring to it, does it?!
Regardless, soup it was going to be. I was asked what kind of soup I would be making, to which I responded "I have no idea, I will see what there is in the kitchen"... and that was precisely what I did. Went to the fridge and remembered that there was some left over spatch cock peri peri chicken which I roasted a couple of nights ago. Opened the freezer and found a pack of diced bacon... so right there, I had the two winners already. I took the bacon out to defrost and began stripping the chicken. There were also two whole roasted onions which I definitely wasn't going to waste.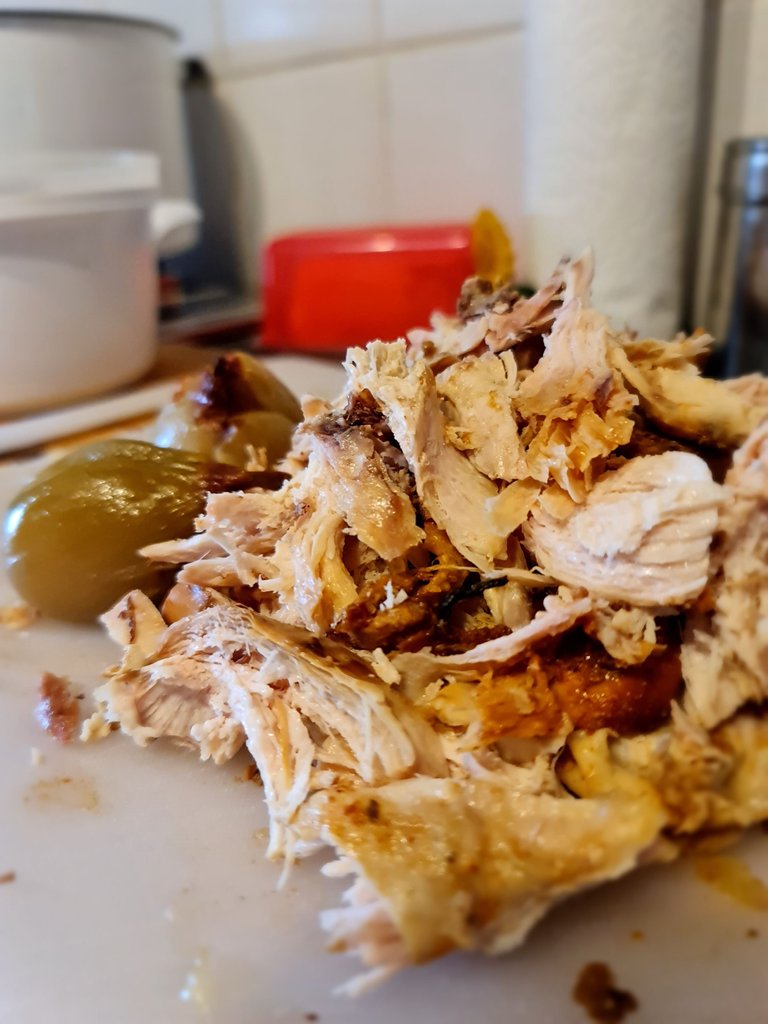 Chicken stripped, I took one "fresh" onion, chopped it and popped that into a pot with a little olive oil, alongside the already roasted onions, sauteed the lot, turned the stove off and set it one side. Next was on to prepping the veg. As we have been eating mostly low carb for the last couple of weeks, there is a fair amount of veg lying around... except bloody potatoes haha!!! There were no traditional potatoes, so I ended up peeling and cubing jackets potatoes - because, well... potatoes and no good soup is complete without them!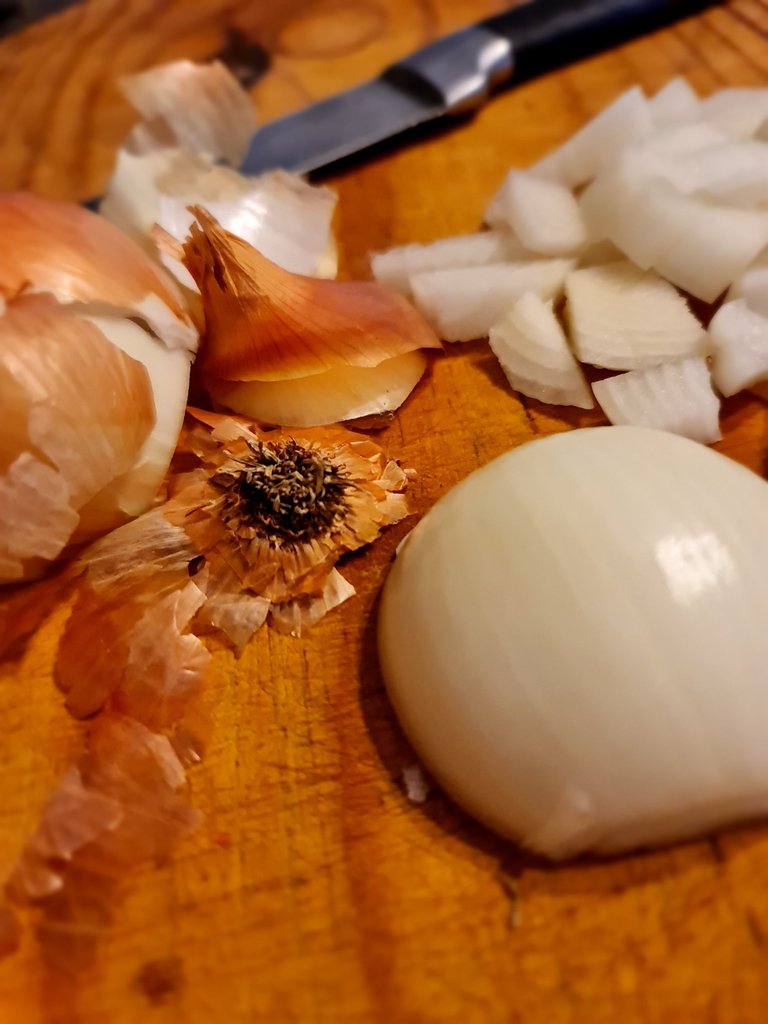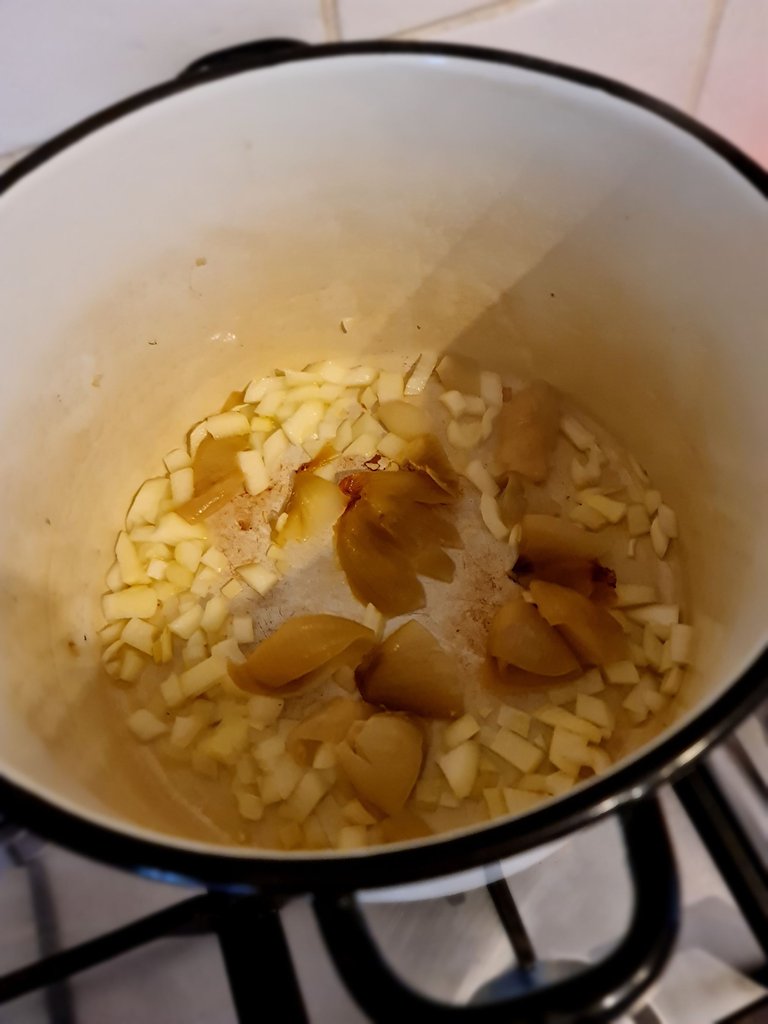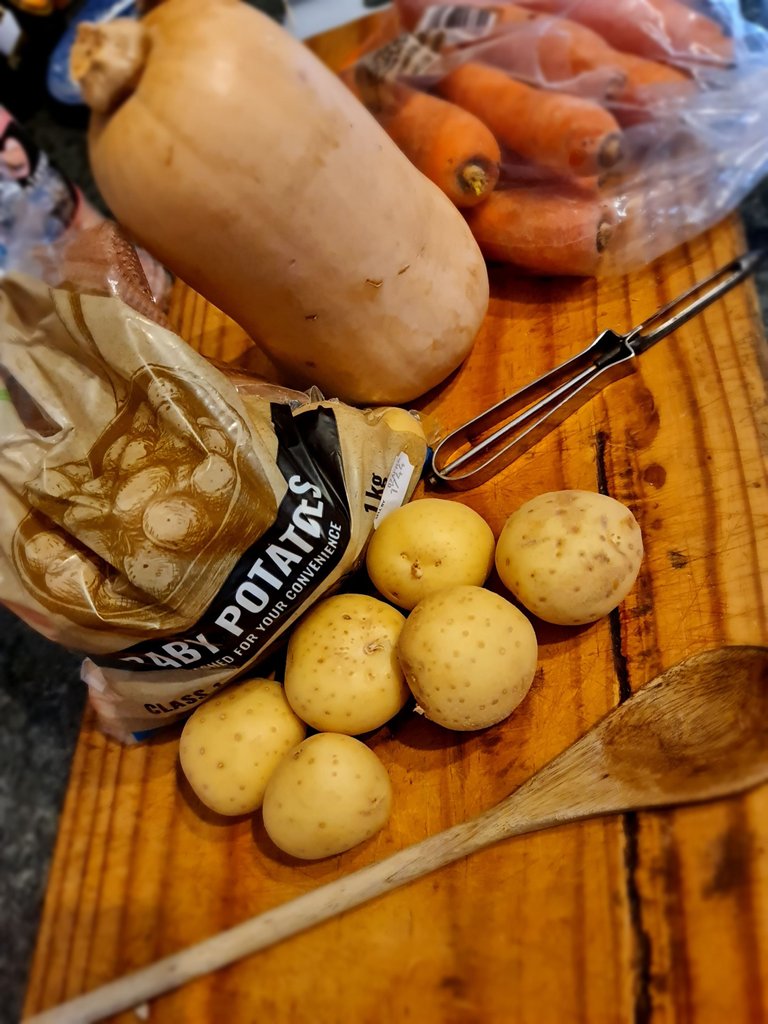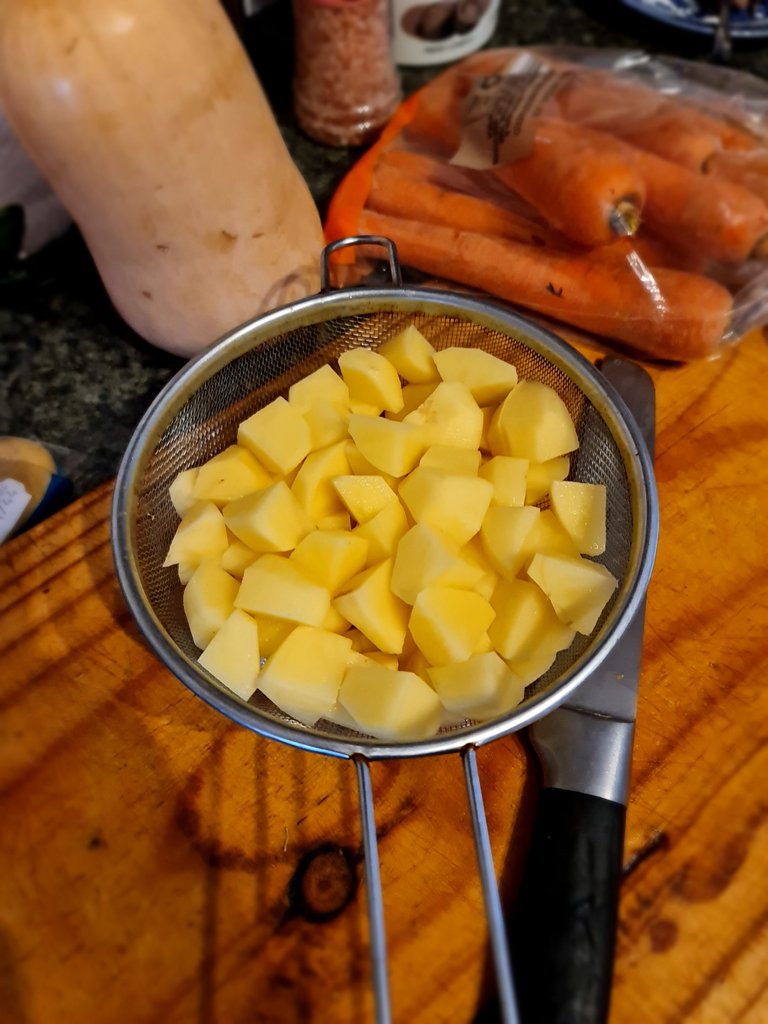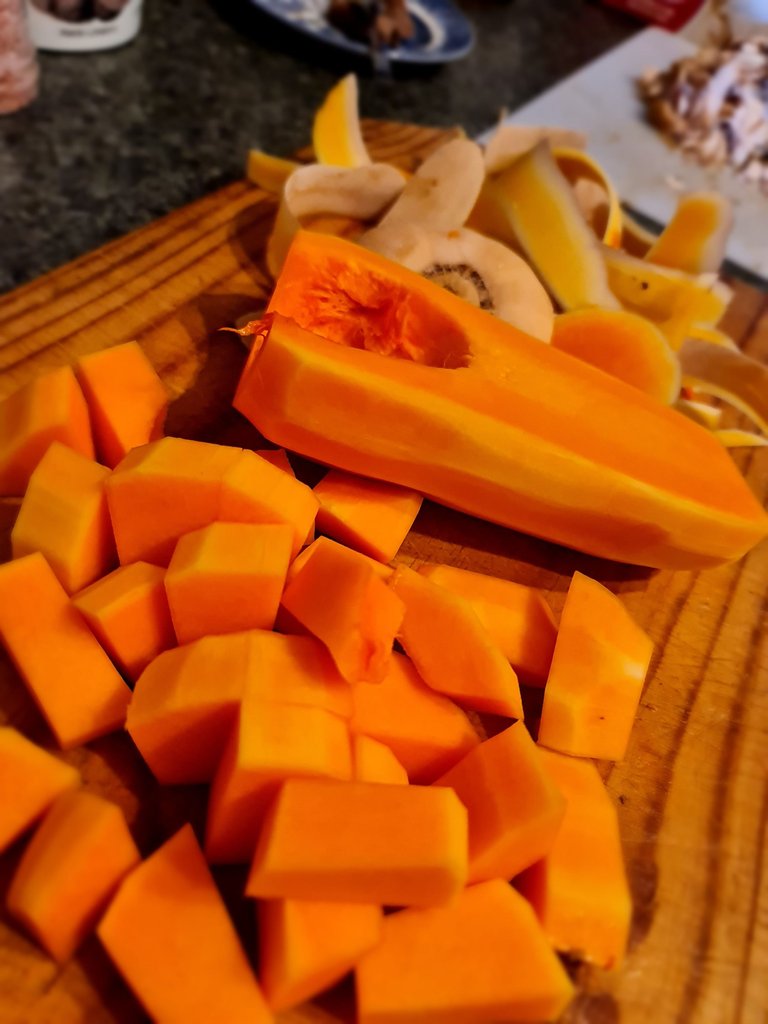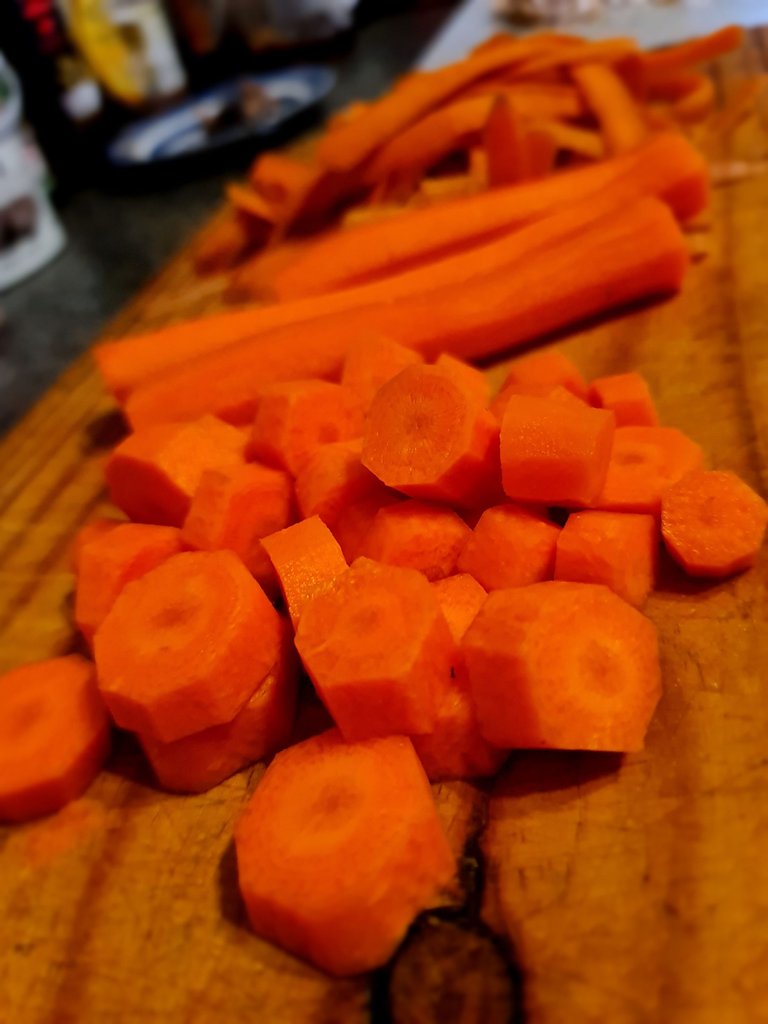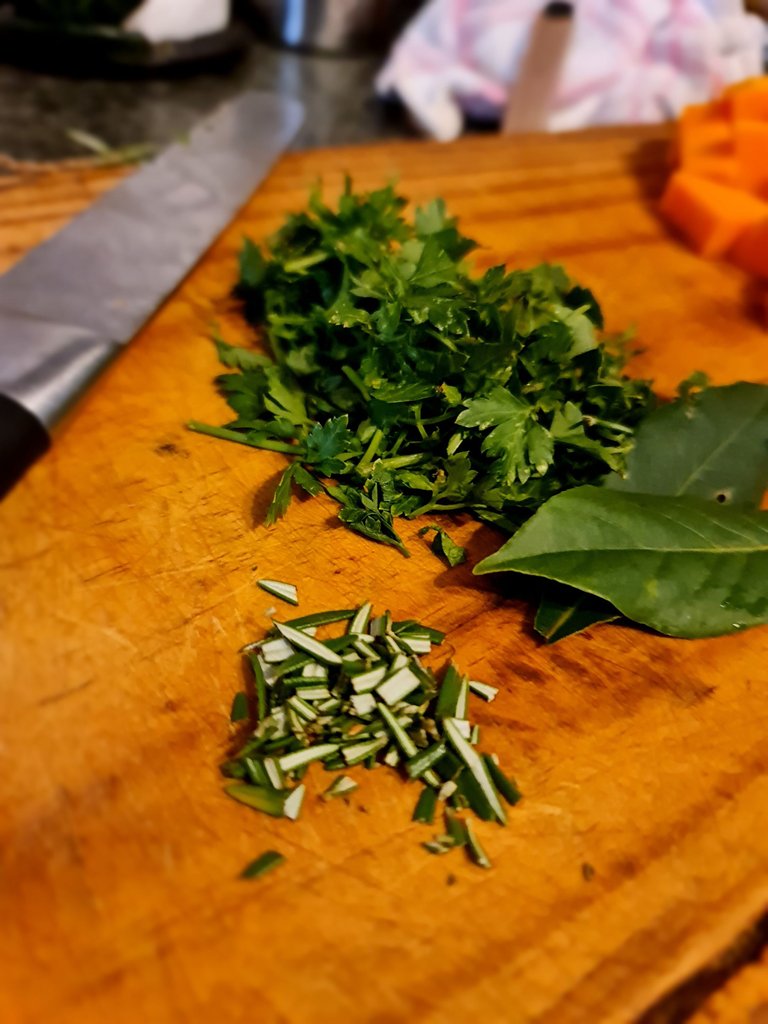 A little bit of freshly chopped parsley, rosemary and then two whole bay leaves. I threw it all into the pot with the onions, added some chicken stock and water. Perhaps you use liquid stock or a stock pot - whatever takes your fancy. Then I added six of the larger, "easier to find and remove" chicken bones, because anybody who makes good stews and soups knows that the ones cooked with bones are ALWAYS better! Yes, you can actually go and buy packs of soup bones - but I was not going anywhere today - so used what I had! Something is better than nothing, right?!
I wanted to bulk up the veg a little, so grabbed some mixed frozen veg and added that to the mix too, along with salt, freshly ground pepper, some chicken spice and yes @galenkp... a nice healthy dollop of Mrs. Balls Chutney!!!! Speaking of which, and if you do NOT know what I am talking about... please DO go check out galenkp's post which gives you a full run down on this delicious Saffer additive to pretty much, anything! He even gives you some of the history... rather him than me, haha!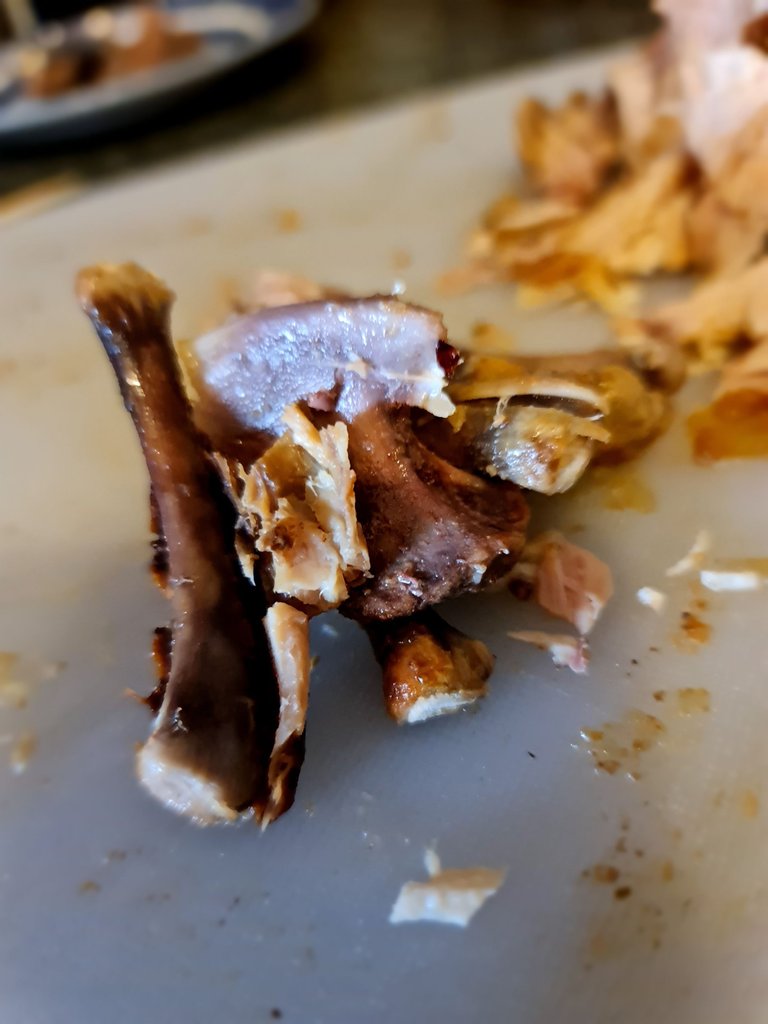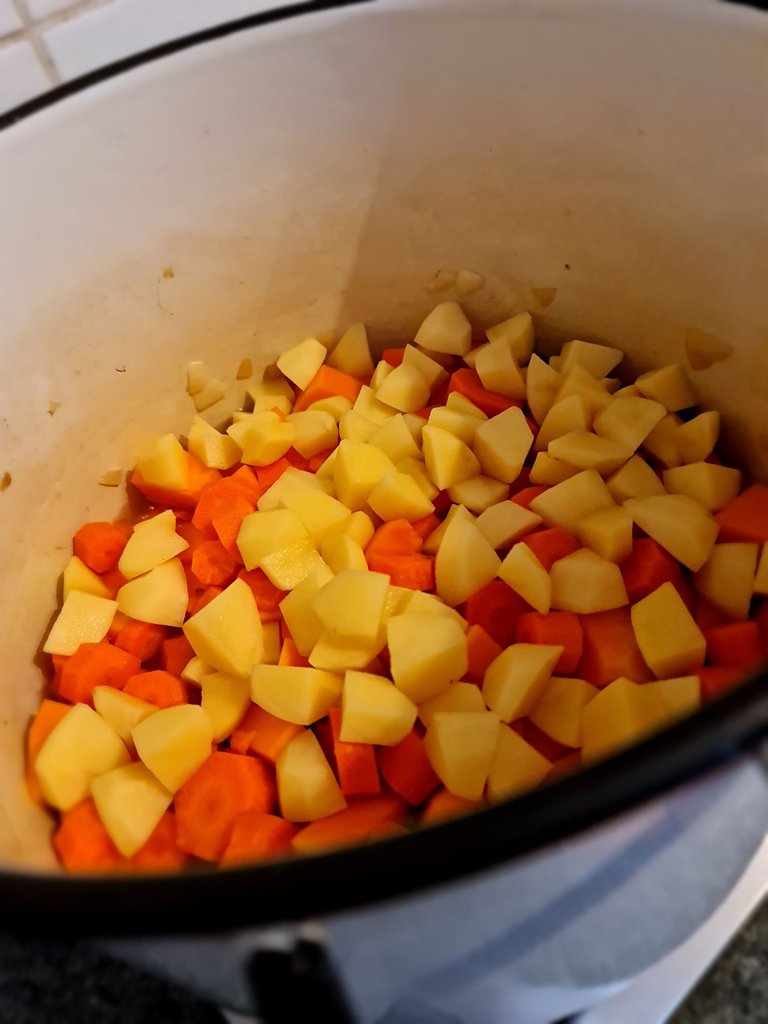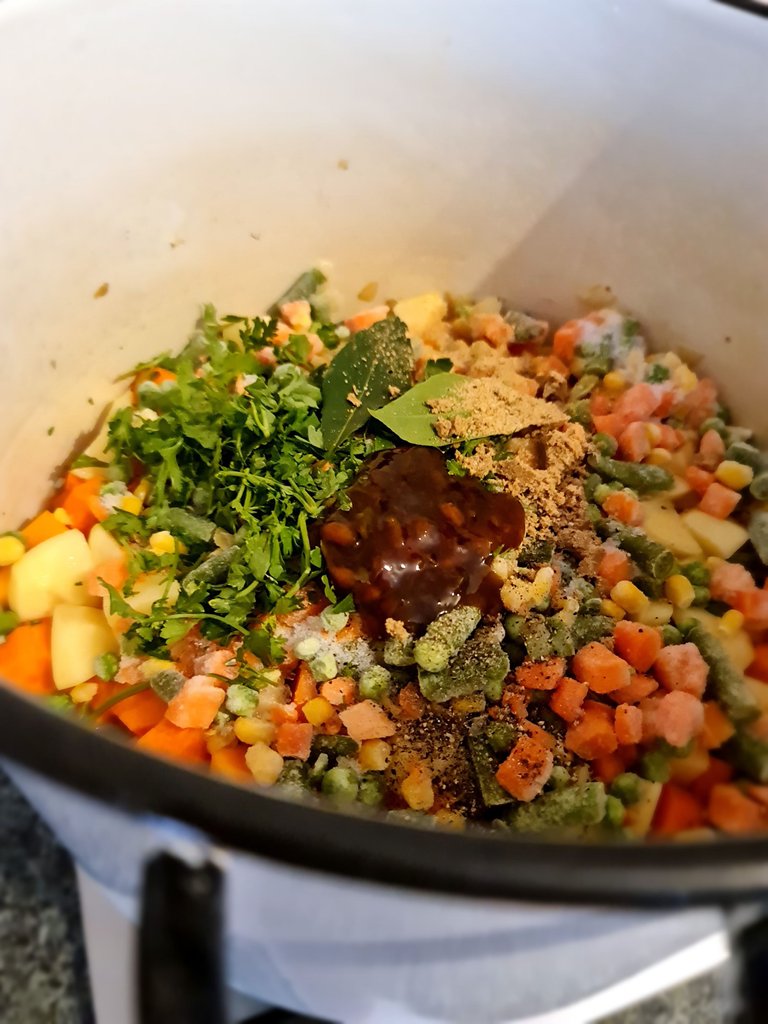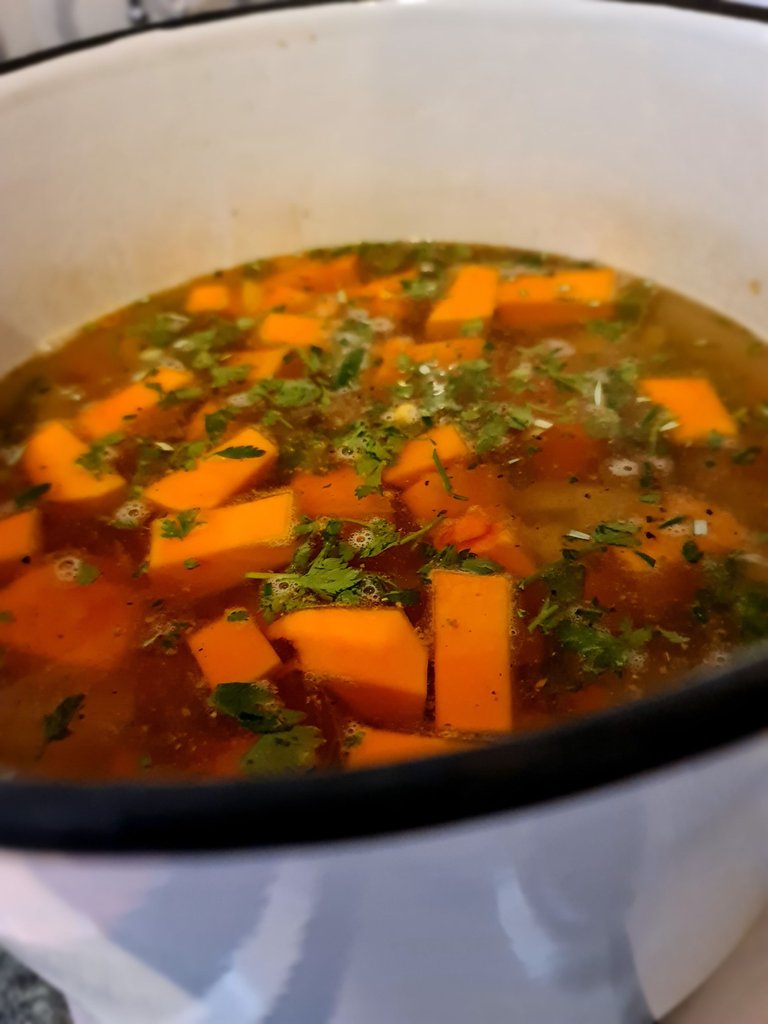 Brought that lot to the boil, and let it cook for a good 30 minutes before reducing the heat and letting it simmer for about another 30 minutes. If I am making a smooth soup such as butternut, pea or cauliflower then yes, I will use a hand held blender once all the ingredients have cooked... but this is not one of "those" soups, no - this is the rustic and chunky, old school kind of soup which I grew up watching my mom make... so, once everything is cooked through, I turn the heat off, give it all a few minutes and then use a potato masher to break it all up into a nice fine consistency, but so that as you finish your soup and all the bread which accompanied it, you are left with a few chunky veg and pieces of meat to enjoy!
The chicken, as you know - was already cooked, so I just needed to fry up the bacon bits! The two meats would be the last thing to enter the pot... first being the chicken and very last, the bacon. If you put the bacon in at the beginning of ANY soup or stew, then all EVERYTHING tastes like, is BACON - yeah, ok... I can hear many of you saying "so! what's wrong with that?!" lol - but I prefer to let the other flavours shine too - and get a pop of bacon in your mouth every few. Once fried I set it one side in a sieve to allow any and all excess fat to drain off because you don't want an excessively oily soup.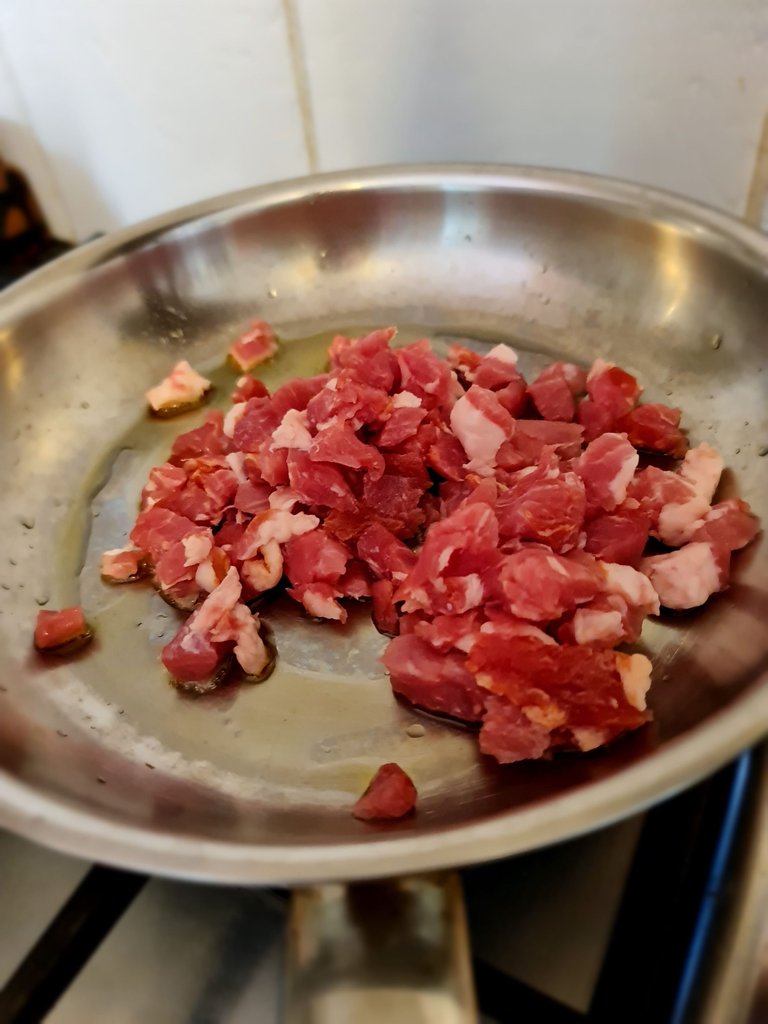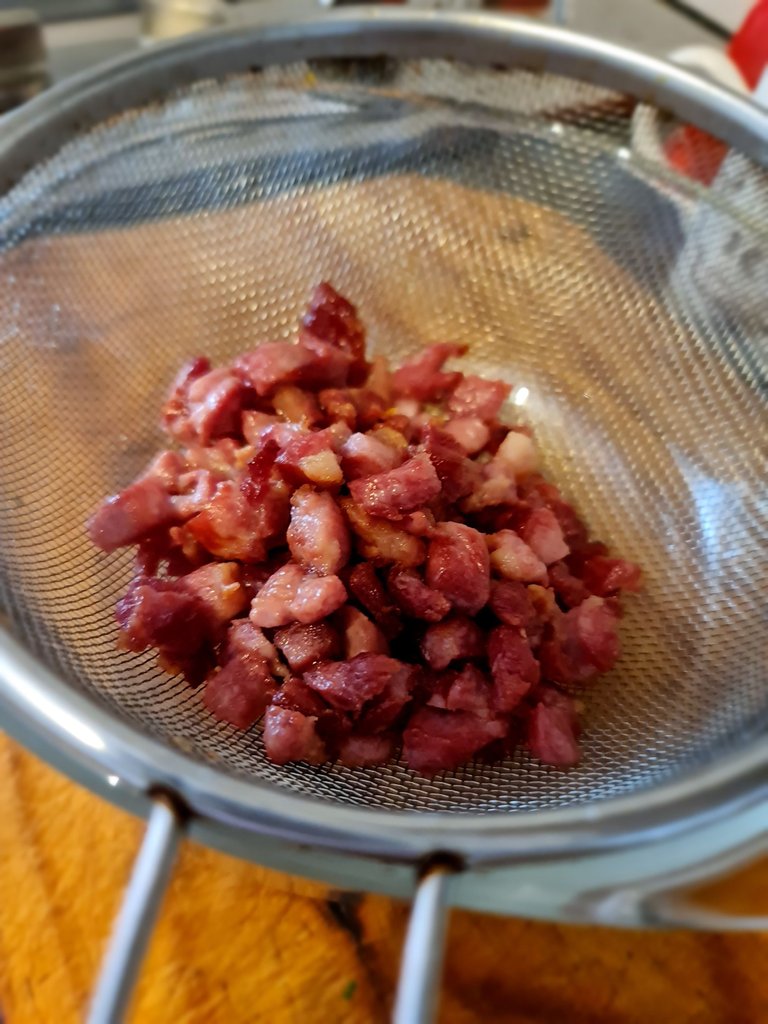 After about 1.5 hrs of cooking time for the soup, I killed the heat - and then threw in the chicken. I let that be for a couple of hours and then added the bacon bits. No heat! Just added it in. The heat within the pot was still enough warm each meat and allow their flavours time to make their way into the liquid. That was it! It stood there for the remainder of the day... as ANY good stew, curry or soup should!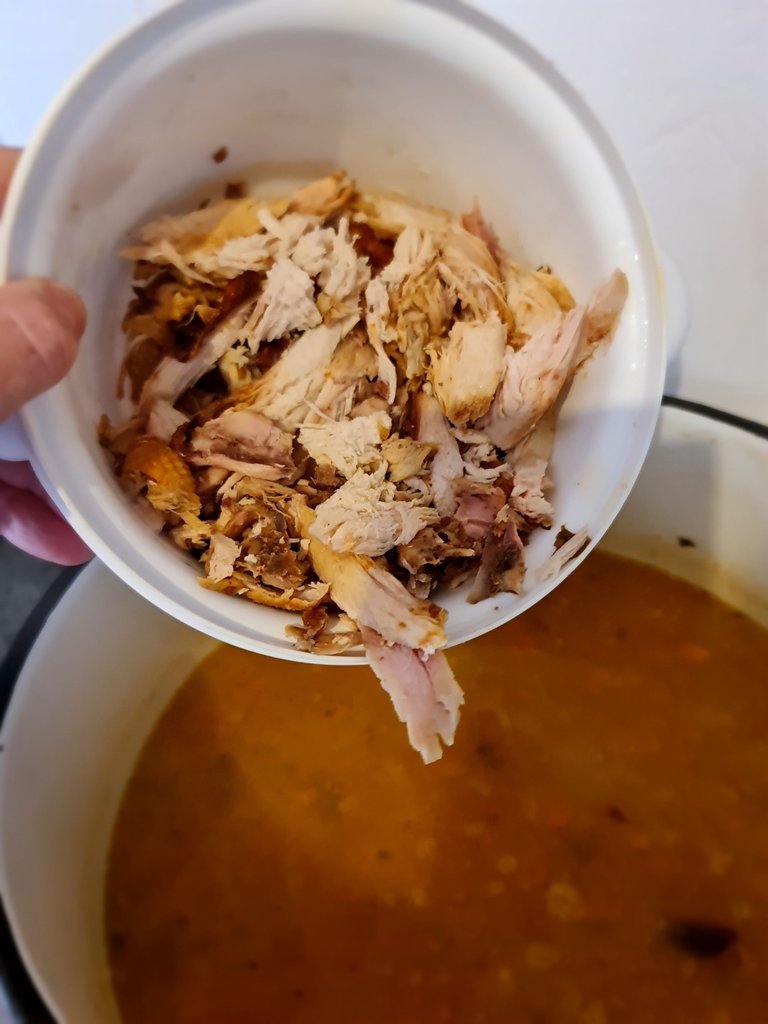 About 30 minutes before wanting to serve, I cranked up the gas, got it boiling very quickly and then killed it to let it sit for ten minutes before tucking in! My dad went and bought some delicious sourdough bread yesterday which is my excuse for making this soup today - well, that and the weather... haha! Time to butter that bread and tuck in because, this is a one time thing... never to be repeated haha!
"There is nothing like soup. It is by nature eccentric: no two are ever alike, unless of course you get your soup in a can." — Laurie Colwin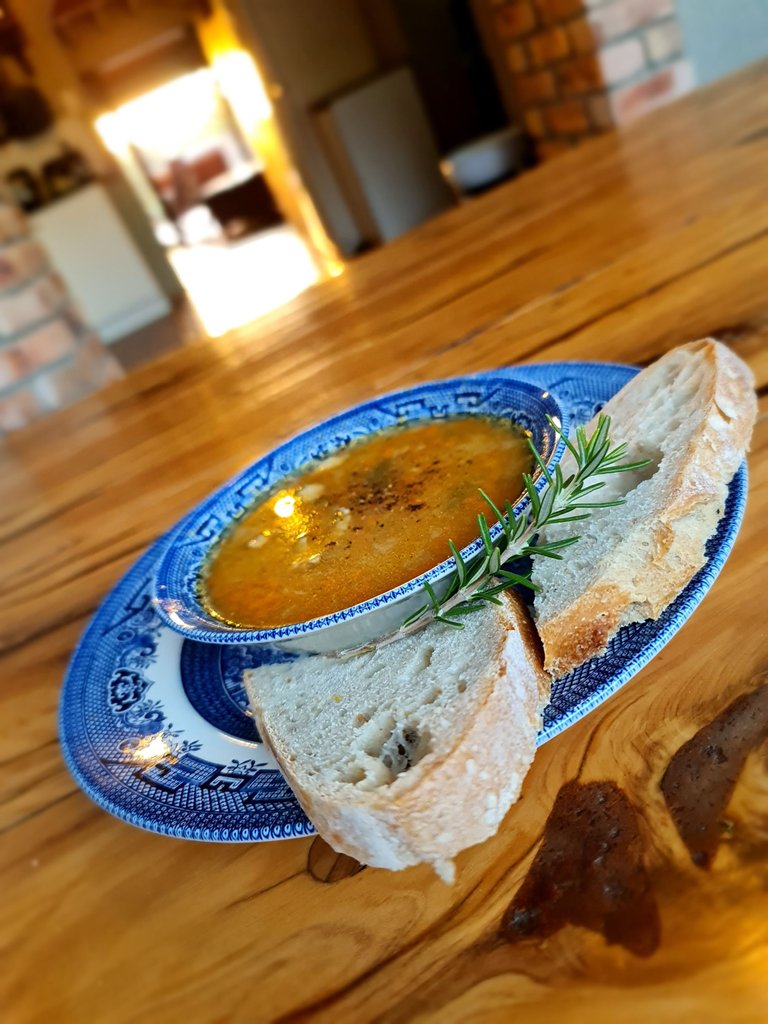 ❤❤❤
Until next time...
Much Love from Cape Town, South Africa xxx
Jaynielea

JOIN US ON DISCORD
SUBSCRIBE TO THE LIFESTYLE LOUNGE COMMUNITY HERE
JOIN US ON TWITTER


ALL IMAGES ARE MY PROPERTY UNLESS OTHERWISE CREDITED