The sweet potato is a common tuber in my country. Its sweet flavor makes this tuber a favorite when it comes to baking or frying sticks, just as if they were french fries. The sweet potato is one of the ingredients used in typical recipes in some regions of Venezuela. The sweet potato's texture, sweet flavor and color make it an ideal ingredient to combine and create magic in the kitchen.
La batata, es un tubérculo común en mi país. Su sabor dulce, hacen a este tubérculo uno de los favoritos a la hora de hornear o freír palitos, tal cual como si se tratase de papas fritas. La batata forma parte de los ingredientes utilizados en recetas típica de algunas regiones de Venezuela. La textura de la batata, el sabor dulce y el color, la convierten en un ingrediente ideal para combinar y crear magia en la cocina.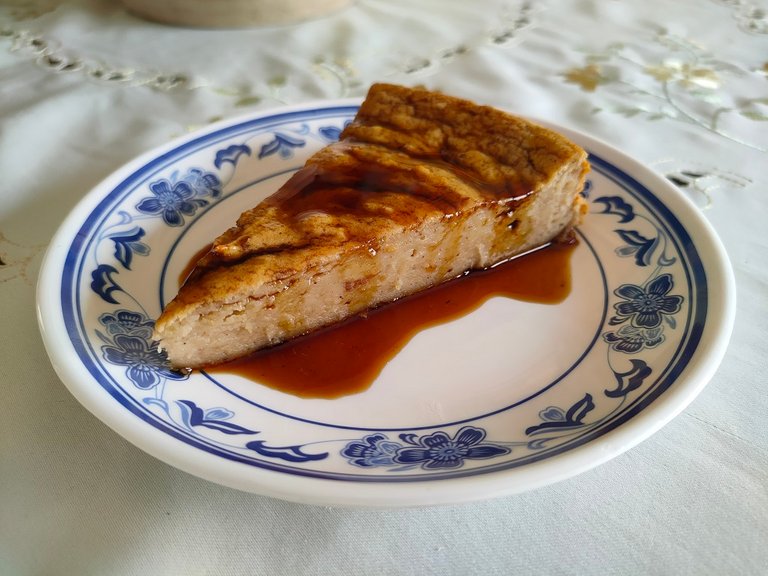 Puddings are delicious, the smooth texture, concentrated flavors and ease of preparation make them an ideal dessert for any time of the day or any celebration. A pudding can be prepared with milk, pumpkin, bread, yucca, zucchini, coconut, cookies, sweet potato and almost anything. Although a traditional pudding is bread-based, over time the recipe has been modified and adapted to local needs. Not to mention that savory puddings can also be prepared.
Los budines son deliciosos, la textura suave, los sabores concentrados y la facilidad de prepararlos, los convierten en un postre ideal para cualquier momento del día o cualquier celebración. Un budín puede ser preparado de leche, calabaza, pan, yuca, calabacín, coco, calabacín, galletas, batata y casi cualquier cosa. Aunque un budín tradicional es a base de pan, con el tiempo ha sido modificada la receta y adaptada a las necesidades locales. Esto sin mencionar que también se pueden preparar budines salados.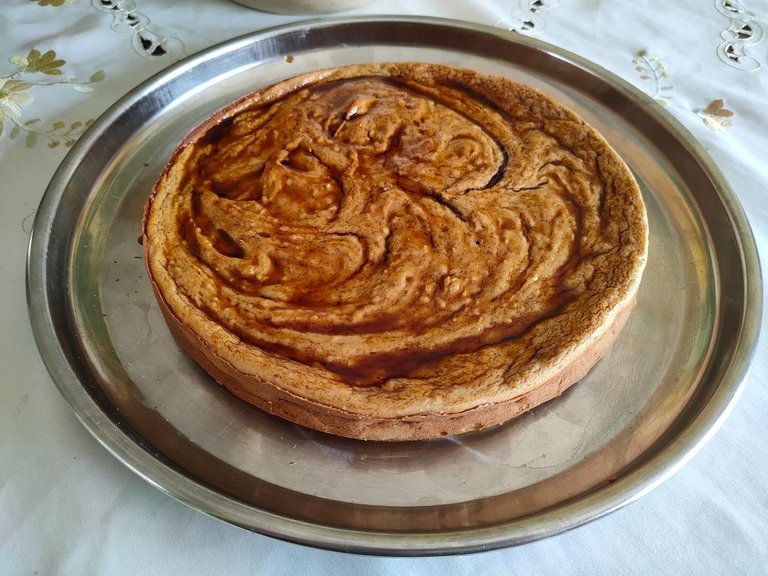 Today I want to share a sweet potato pudding recipe, the sweet potato is ideal for preparing pudding because it provides very good texture and flavor that, together with the spices, this dessert becomes one of the favorites at home. It is also an economical recipe, ideal to always stay within budget and still enjoy a good dessert. It's time to learn how to prepare pudding, look for the ingredients, prepare the table and we are going to cook.
Hoy quiero compartir una receta de budín de batata, la batata es ideal para preparar budín ya que aporta muy buena textura y sabor que, en conjunto con las especies, este postre se convierte en uno de los favoritos en casa. También es una receta económica, ideal para siempre mantenernos dentro del presupuesto e igual disfrutar de un buen postre. Es hora de aprender a preparar budín, busca los ingredientes, prepara la mesa de trabajado que ya vamos a cocinar.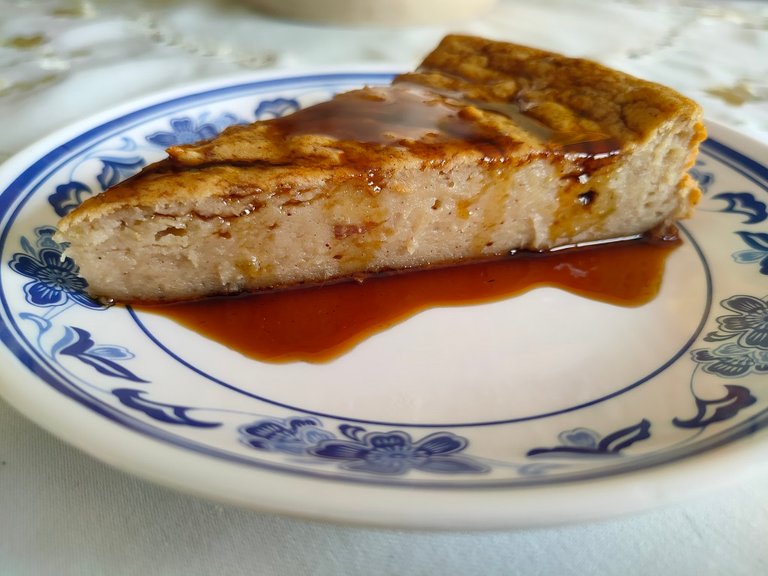 Ingredients / Ingredientes
500gr of sweet potato
3 eggs
100gr sugar
120gr of wheat flour
150ml milk
cinnamon, nutmeg and cardamom.
1 teaspoon vanilla

500gr de batata
3 huevos
100gr de azúcar
120gr de harina de trigo
150ml de leche
canela, nuez moscada y cardamomo.
1 cucharita de vainilla
Note: you can use the spices of your preference, the sweet potato combines very well with a great variety of spices. You can use powdered milk and water separately.
Nota: puedes utilizar las especies de tu preferencia, la batata combina muy bien con una gran variedad de especies. Puedes utilizar leche en polvo y agua por separado.

Preparation / Preparación
The first thing we have to do is to bake the sweet potato. You can cook it in boiling water, but at the end you must drain the water very well. I particularly like to bake it because it retains more of its flavors and the sweetness of the sweet potato is enhanced.
Lo primero que tenemos que hacer es hornear la batata. Puedes cocinarla en agua hirviendo, pero al final debes escurrir muy bien el agua. Particularmente me gusta hornearla porque conserva mas sus sabores y se potencia el dulce que la batata tiene.
The sweet potato is ready when you touch it with your finger, the skin sinks and when you insert a wooden stick, it will be able to enter without resistance. I took advantage of baking a good amount of sweet potato to prepare other recipes.
La batata esta lista cuando al tocarla con el dedo, la piel se hunde y al insertar un palito de madera, podrá entrar sin resistencia. Yo aproveche a hornear buena cantidad de batata para preparar otras recetas.
With the sweet potato already baked, in a bowl add the eggs and sugar and with the help of a mixer, beat at maximum power until the mixture turns white and doubles in volume.
Con la batata ya horneada, en un bol agregar los huevos junto con el azúcar y con ayuda de una batidora, batir a máxima potencia hasta que la mezcla se ponga blanca y duplique el volumen.
Add the spices and vanilla, integrate everything very well.
Agregar las especies y la vainilla, integrar todo muy bien.
Add the liquid milk and integrate it into the mixture. In my case I added water and together with the flour, I added powdered milk.
Agregar la leche líquida e integrar a la mezcla. En mi caso agregue agua y junto a la harina, agregue leche en polvo.
The sweet potato must be puréed to be able to integrate it easily into the mixture. You can do it with the help of a fork.
La batata hay que volverla puré para poder integrarla fácil a la mezcla. Puedes hacerlo con ayuda de un tenedor.
Add the sweet potato purée to the mixture and mix slowly until everything is well blended.
Agregar el puré de batata a la mezcla y batir suavemente hasta que todo esté bien integrado.
Add the wheat flour and mix slowly so that all the ingredients are integrated.
Agregar la harina de trigo mezclar suavemente para que se integren todos los ingredientes.
In a prepared baking pan, add the mixture and bake at 180°C (350°F) for 1 hour or until a wooden stick comes out dry.
En un molde ya preparado, agregamos la mezcla y llevamos a hornear a 180°C por el espacio de 1 hora o hasta que, al insertar un palito de madera, el palito salga seco.
Remove the pudding from the mold and cover with brown sugar or panela syrup. You can also use honey or simply a caramel syrup.
Sacamos el budín del molde y bañamos con sirope de azúcar morena o panela. También puedes utilizar miel o simplemente un sirope de caramelo.
Let the pudding cool very well, preferably overnight in the refrigerator.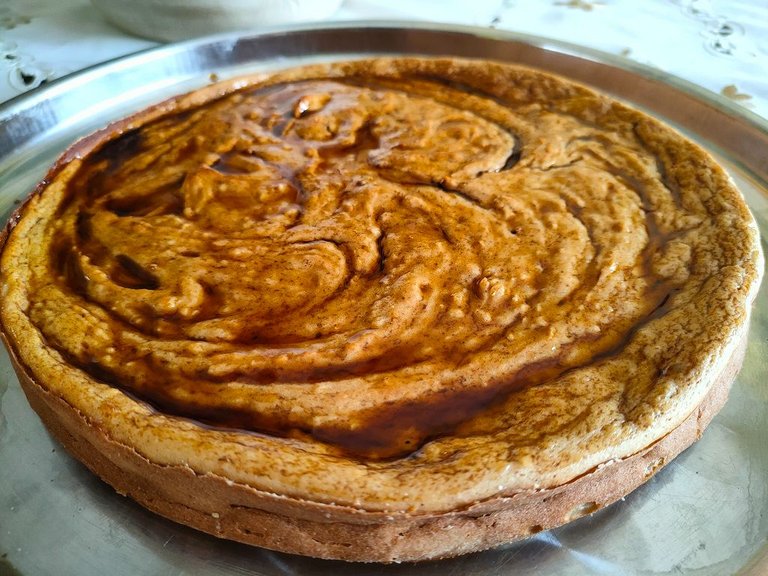 Deja enfriar muy bien el budín, preferiblemente de un día para otro en la nevera.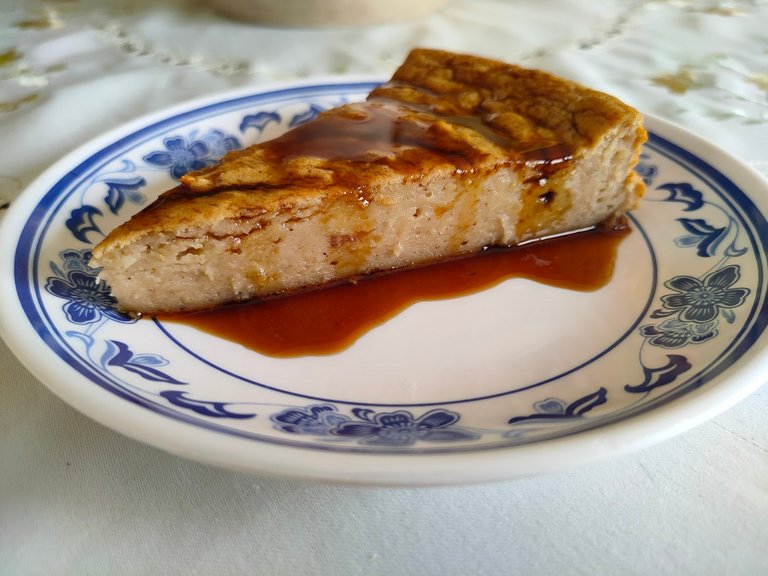 The pudding is ready, it is a fairly simple recipe, but loaded with flavor. The sweet potato may seem complicated to use in the kitchen, mainly because of its sweet taste. When you learn to master the sweet potato, the recipe book where you can use it expands completely and you have to enjoy everything from desserts to a version of sweet potato fries that mixes sweet and savory. If you like sweet potato, let me know in the comments.
El budín ya esta listo, es una receta bastante sencilla, pero carada de sabor. La batata puede que parezca complicada de utilizar en la cocina, principalmente por sui sabor dulce. Cuando aprendes a dominar a la batata, el recetario donde puedes utilizarla se expande por completo y tienes para disfrutar desde postres hasta una versión de papas fritas que mezcla el dulce y salado. Si te gusta la batata, déjamelo saber en los comentarios.
---

All pictures were taken by me, with a Realme 7 pro phone, compressed to facilitate the visualization of the content.
Todas las fotografías fueron tomadas por mi con un Realme 7 pro, comprimidas para facilitar la visualización del contenido.