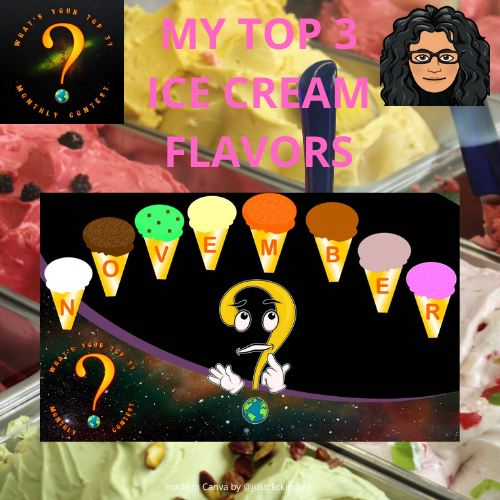 @yourtop3
Your Top 3 Monthly Contest November 2020 - What Are Your Favorite Ice Cream Flavors?
This month's topic: YOUR TOP 3 Ice Cream Flavors

No matter the culture, almost everyone loves ice cream. This treat has been developed into unique versions to satisfy each culture's particular tastes. Whether by history or a more recent adventure into the sweet delight, each year countries consume massive amounts of this product. I remember when I was young hearing the term "iced cream."
For example, it's known that New Zealand and Australia are among the leading consumers in the world, eating up to 20 liters. Of course, my country, the U.S., is the leader. No surprise there. 1
For November, we're asked to recommend our Top 3 favorite ice cream flavors. This is certainly a nice break from the the horror movies from last month. This sweet topic will be a delight to cover as mostly all individuals, young and old love to eat ice cream.
But first, let me try to explain exactly what ice cream is and how it's made. Ice cream is a sweetened frozen food typically eaten as a snack or dessert. No one can really pinpoint the origins of ice cream. We do know that it's "a colloidal emulsion made with water, ice, milk fat, milk protein, sugar, and air. Different flavorings are added.
The emulsion is turned into foam by incorporating air cells which are frozen to form dispersed ice cells." 1 Don't really understand all that, but so glad there are others who figured it out so I can enjoy it's delicious result.
In the U.S., ice cream is eaten in a variety of ways with a spoon, served on top of other desserts, chewed, or licked from a cone. No matter which way you like it, here are several different ways Taste Atlas states we Americans love to prepare our ice cream numerous ways and some popular ones are listed below:
ice cream sandwich;
ice cream cake;
ice cream float;
fried ice cream (wickedly delicious shown to the right);
ice cream sundae;
banana split; and
frozen custard; 2
But no matter how you like it prepared, you have to admit ice cream is a delicious sweet treat. That is, if you're not allergic or or can't tolerate milk products.
Because of my current diagnosis of Type 2 Diabetes, plus I can't tolerate milk, I don't eat a lot of ice cream. However, in my younger days, I loved the ice cream combinations that paired well with bananas and strawberries to create my favorite ice cream dessert, "Banana Split."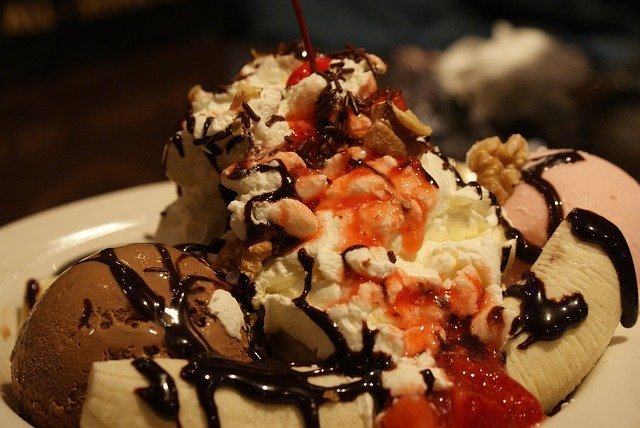 Image by hebushiki from Pixabay
Although now there is actually an ice cream flavor by the name of banana split, I prefer to have it made fresh with all the ingredients and toppings, such as whipped cream and cherries.
To compile my banana split, I must have the following ice cream flavors, and here are my top 3 choices:
My Nominations are:

Nomination Number One
Strawberry Ice Cream
My Reasons for the Nomination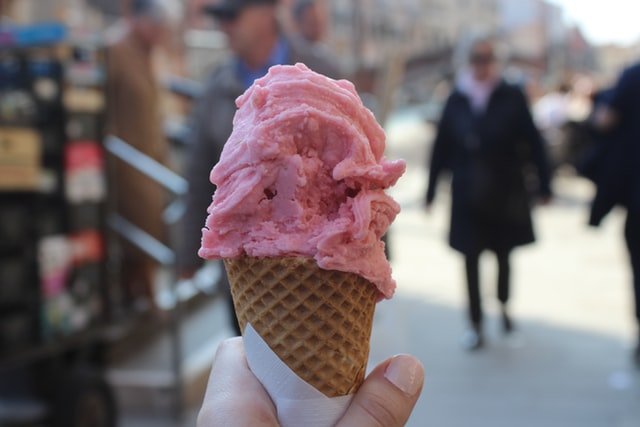 Image by Myfanwy Owen from Unsplash
My favorite flavor of ice cream is Strawberry. I love fresh strawberries as a delicious and healthy fruit. In strawberry ice cream, the fruit intensifies the flavor. The flavor is achieved by adding fresh strawberries or strawberry flavoring to the ice cream mixture. This turns the color of the ice cream a light red or pink.
When fresh strawberries are utilized, the result are chunks of the fruit mixed throughout. It freezes well also. I love strawberry ice cream as my second flavor when preparing my banana split.
A popular dessert treat that utilizes strawberry ice cream is the Neapolitan ice cream sandwich. This combination is achieved by combining it with two other flavors, vanilla and chocolate. The three flavors aren't mixed together; rather, it's kept separate so that you can see the distinct colors of each flavor. This makes the dessert visually appealing, and it extremely popular.

Nomination Number Two
Vanilla Ice Cream
My Reasons for the Nomination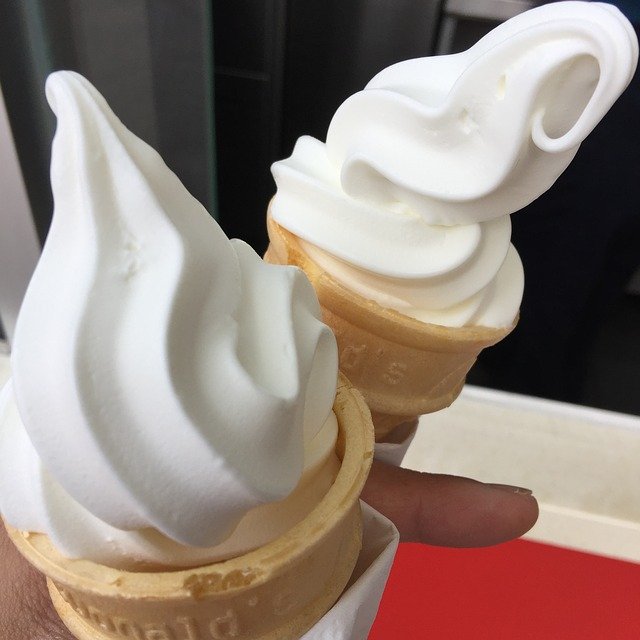 Image by anthcheung from Pixabay
Vanilla is a flavoring I utilize in my baking. It's from the vanilla bean and is a deep, rich aroma that adds an extra sweet, nutty taste I think.
In North America, vanilla is used frequently to flavor ice cream. Vanilla comes in two types: pure vanilla extract, which gives your dishes a much stronger flavor; and, vanilla flavoring, which provides a lighter flavor. I have used both types and prefer to add pure vanilla flavoring to my cooking.
Vanilla ice cream is my second personal choice of ice cream flavors. However, it has grown to be the most popular flavor of ice cream in the U.S. 3 Perhaps due not only to its delicious flavor, but also it's simplicity and color.
Also, you can utilize it as a topping on other foods, such as my favorite, apple pie or a brownie. Or, you can use it to complement other desserts, such banana splits, sundaes, malts, and milkshakes. My favorite drink is a float I make using vanilla ice cream and a dark cola. Absolutely delicious.
Its white color has caused it to be labeled "plain vanilla ice cream." But the taste is nowhere near plain.

Nomination Number Three
Chocolate Ice Cream
My Reasons for the Nomination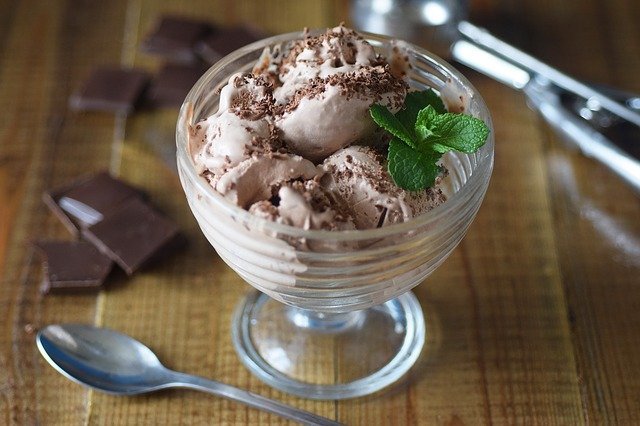 Image by arinaja from Pixabay
My third best flavor of ice cream is Chocolate. It is the final flavor that makes my banana split the most delicious dessert. An interesting fact is that chocolate was one of the first ice cream flavors, created before vanilla becoming popular in the U.S. in the late 19th century. 5
Chocolate ice cream is usually made by mixing cocoa powder with the ingredients used to create ice cream. The cocoa powder is what gives the ice cream is brown color. It's not unusual to also blend in chocolate liquor.
Chocolate flavor is extremely versatile. It can be used to make other chocolate desserts. Another of my favorite floats is chocolate. For this liquid drink, I use a light colored soda, such as Diet Sprite.

I hope you like my three ice cream flavors presented here.
Which flavor of ice cream do your favorites and why?
Leave me a comment below. I'd like to discover another flavor!

YOUR TOP 3 CONTEST
Don't know what Your Top 3 is? It's a monthly contest where you're asked to choose three items on different topics presented each months, then create a post listing the three nominations and explaining the reasons for your choices.
If you would like to participate,
PLEASE READ the GUIDELINES AND INSTRUCTIONS
on the Contest Owner's post listed above.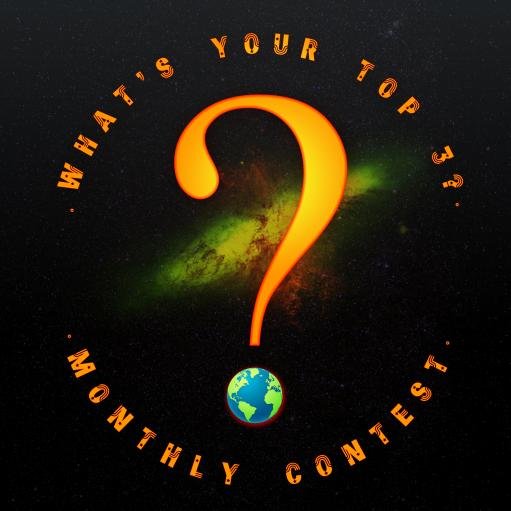 @traciyork 30-day blogging initiative #nablopomo (Day 5 : Published my post for the Top 3 Contest for November sharing my favorite ice cream flavors.)

@flaxz initiative #iamalivechallenge (Published my post today for my blog)

Thanks,
@justclickindiva
Happy rest of the week everyone with whatever your endeavors.



SOURCES:
a) JustClickindiva's Footer created in Canva utilizing its free background and images used with permission from discord admins.
b) Unless otherwise noted, all photos taken by me with my (i) Samsung Galaxy 10" Tablet, (ii) Samsung Phone, & (iii) FUJI FinePix S3380 - 14 Mega Pixels Digital Camera
c) Purple Butterfly part of purchased set of Spiritual Clip Art for my Personal Use
d) All Community logos, banners, page dividers used with permission of Discord Channel admins.
e) Ladies of Hive banner used with permission of and in accordance with the admin's guidelines.
f) YourTop3 Image created in Canva by me utilizing its free backgrounds
1 Ice Cream. Wikipedia. https://en.wikipedia.org/wiki/Ice_cream
2 Most Popular American Ice Creams. Taste Atlas. https://tasteatlas.com/most-popular-ice-creams-in-usa
3 List of ice cream varieties by country. Wikipedia. https://en.wikipedia.org/wiki/List_of_ice_cream_varieties_by_country
4 Strawberry Ice Cream. Wikipedia. https://en.wikipedia.org/wiki/Strawberry_ice_cream
5 Chocolate Ice Cream. Wikipedia. https://en.wikipedia.org/wiki/Chocolate_ice_cream

Your Personal Terminal Discord Invite