Swamp to table may not sound very delicious, but I assure you these water hyacinth pakoras will blow your mind and your taste buds. 🤯

Eat Your Flowers Folks 👩‍🌾
     Water hyacinth pakoras were one of our trademark dishes at our former Ital restaurant in Cambodia, and I thought these flowers would be plentiful in Suriname knowing they are native to the Amazon.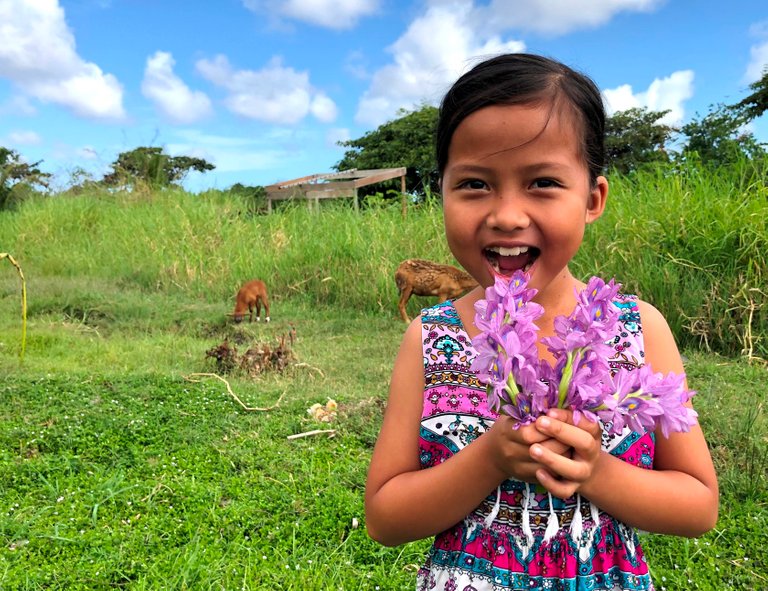 photography success
     After almost two years in Suriname, we'd nearly given up on Mission Water Hyacinth Pakoras, but @Sreypov recently discovered them growing in a ditch near our apartment, picked as many as she could, and I promised to make one of our family's all-time favorite snacks.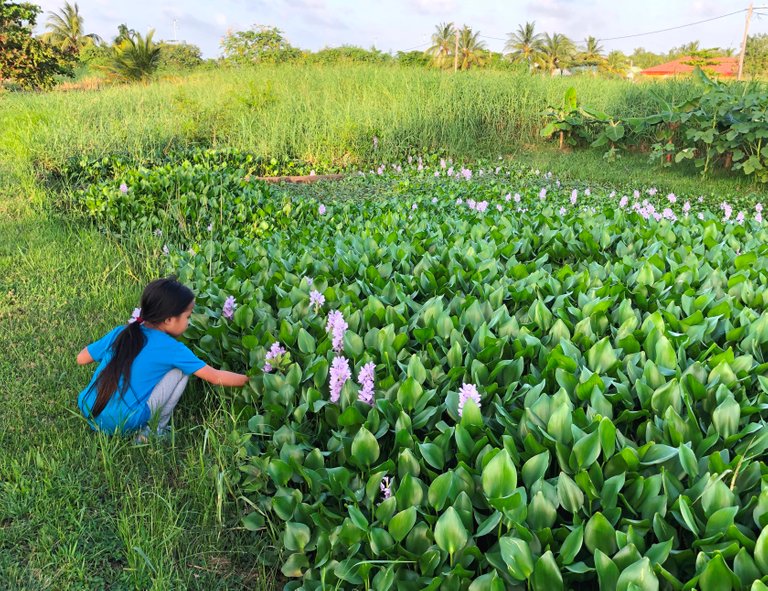 Monkey-B foraging while focusing on not falling in
     This Amazon flower is commonly found in Cambodian markets, but here in the Amazon no one we've met considers it to be edible. It is an invasive and aggressive species, so you're unlikely to eat it out of existence if you find a patch of them growing near your home.

Water Hyacinth Pakoras Ingredients

water hyacinth flowers | 12 to 14 stalks
besan | 1 cup
rice flour | 3 tbsp
coriander powder | 1 tbps
cumin seeds | 1 tsp
green chilies | 2x (minced)
fresh coriander | 2 tbsp (minced)
salt | ¾ tsp
water | ¾ to 1 cup

👨‍🍳 Let's Cook These Pretty Purple Swamp Flowers 🔥

STEP 1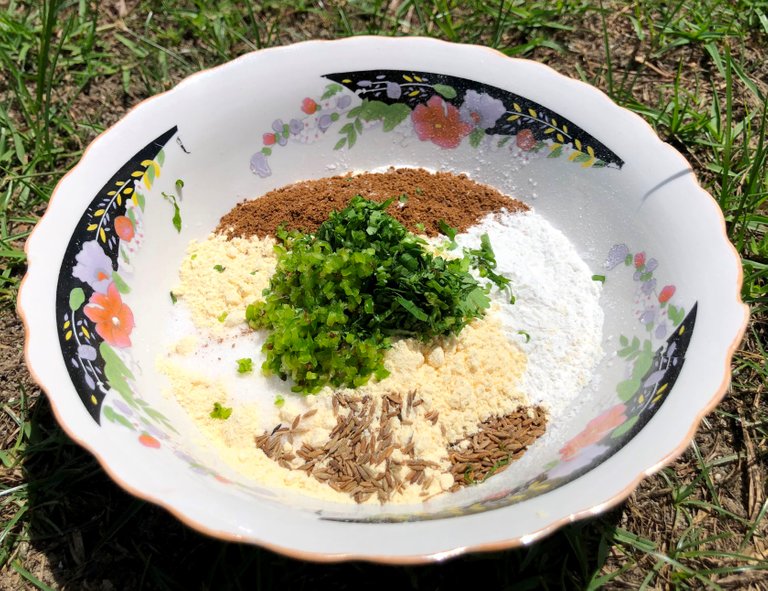 Place all the ingredients minus the flowers and in a bowl of sufficient size, and add about half of water.
STEP 2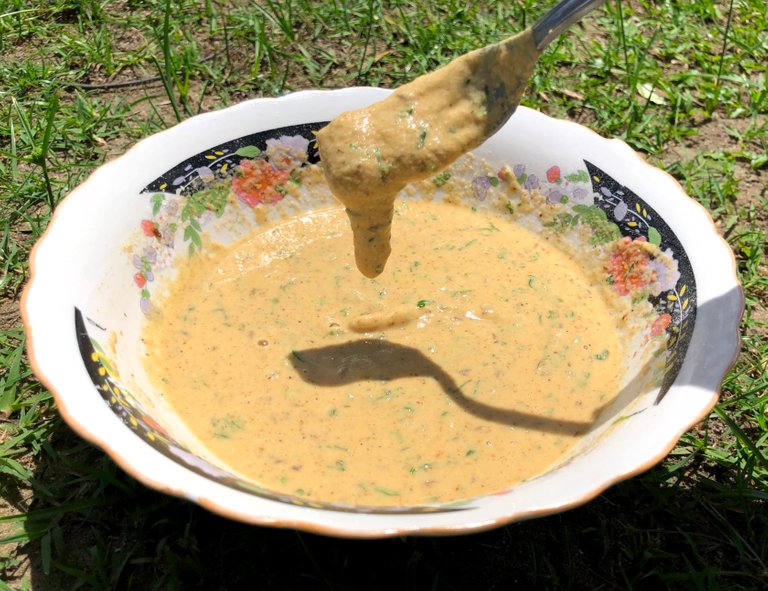 Slowly stir the ingredients while adding a little extra water bit by bit until you've got a batter the consistency of dosas/pancakes.
STEP 3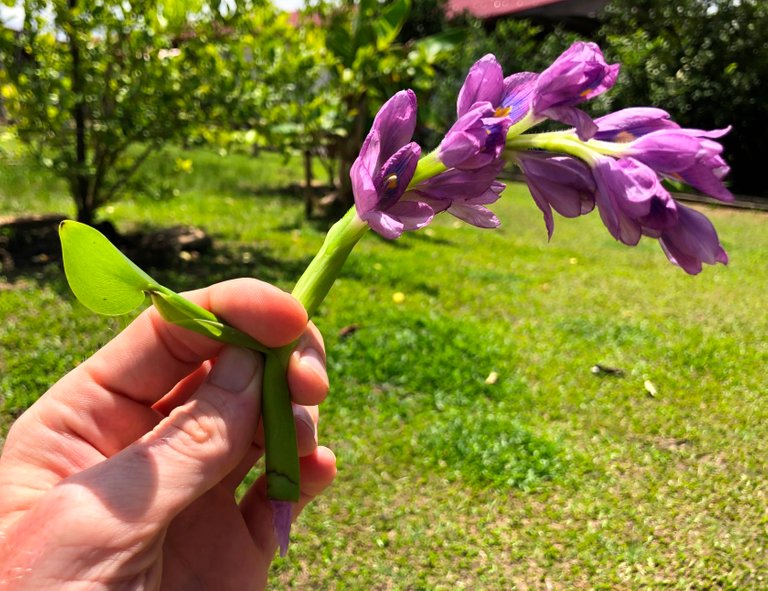 These flowers have layers similar to lemongrass, green onions or banana trees, so be sure you've stripped off all they layers containing hard green leaves before we begin deep-frying.
STEP 4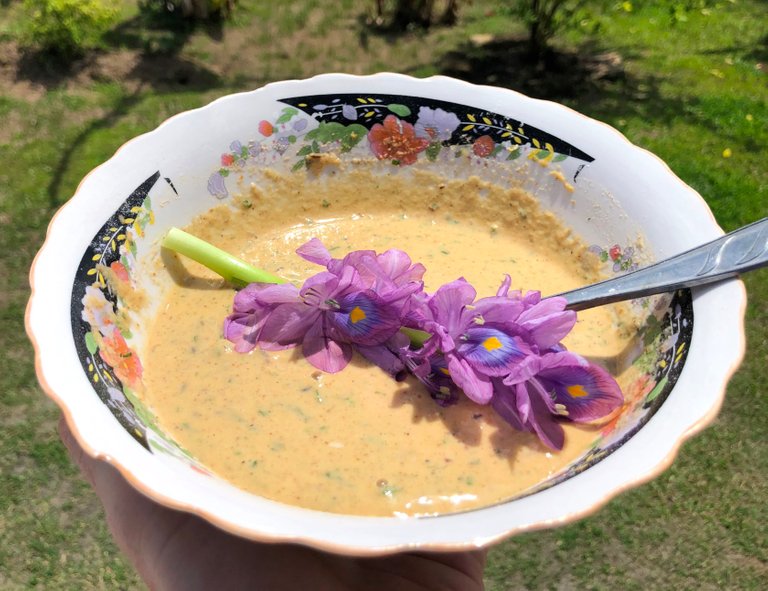 Heat a wok or pan with at least an inch (3cm) of oil, and put a flower in your pakora batter. Make sure it is thoroughly coated with the batter.
STEP 5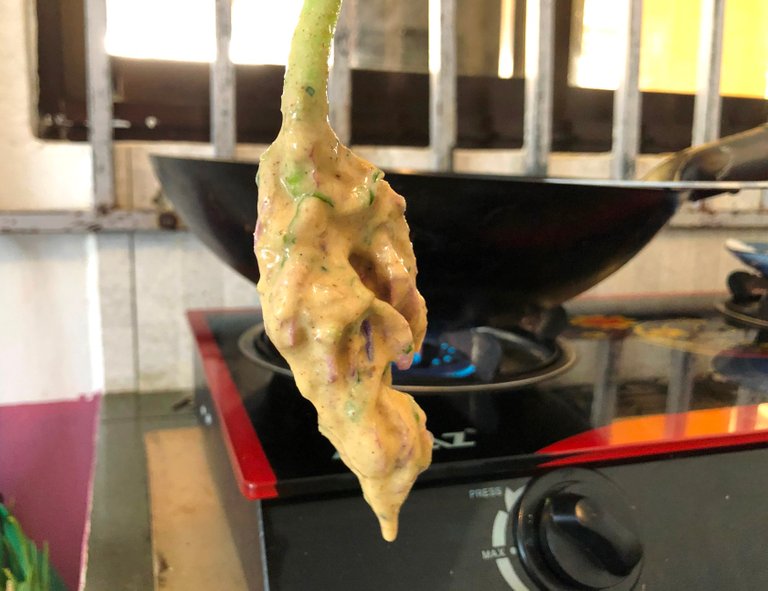 Remove the flower by the stem and hang it upside down for a few seconds, allowing the excess batter to drip back into the bowl.
STEP 6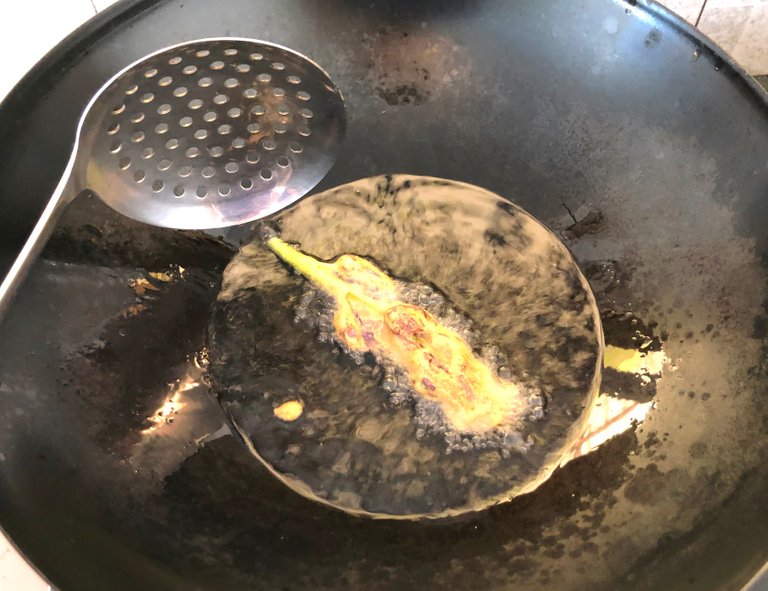 Gently drop a flower into the hot oil and deep-fry it just as would anything that's not a flower. Fry the flowers one-by-one, turning a few times while frying to make sure each pakora browns evenly. Remove the pakoras with a slotted spoon and place a on paper towel to absorb any excess oil.

🍽️ Eat Your Swamp Flower Pakoras With Loved Ones 🥰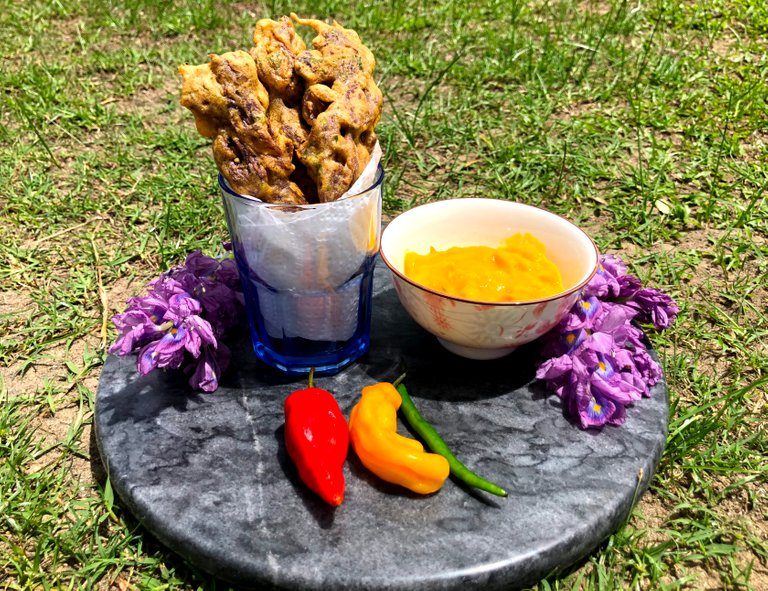 Serve these pakoras with your favorite chutney, relish, or dipping sauce. In this case we chose piccalilli, a mustard-like pickle very common here in Suriname.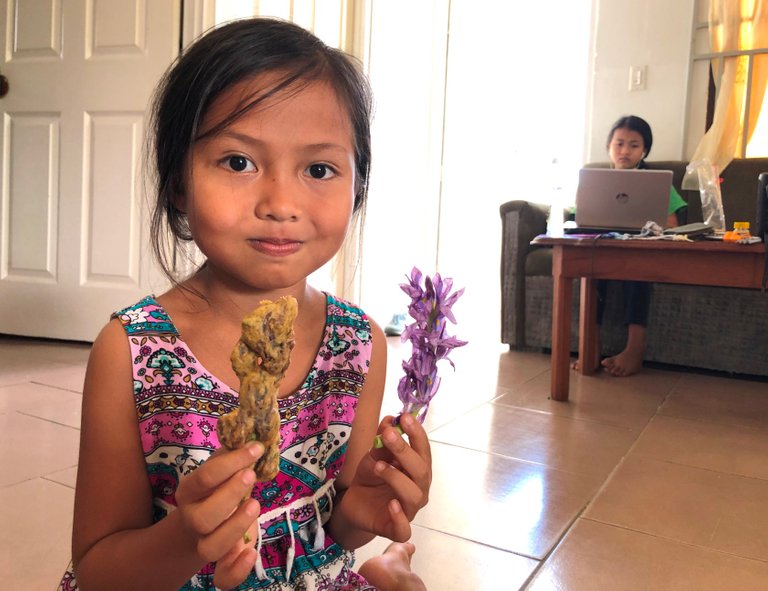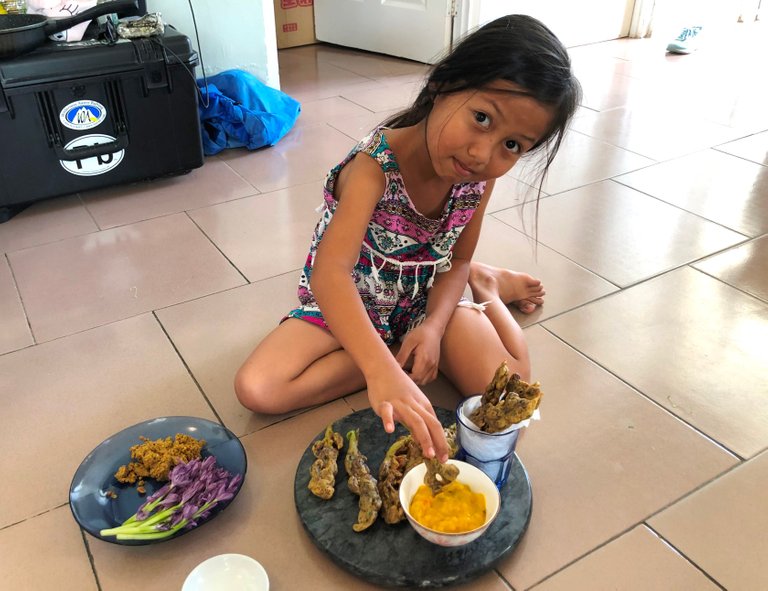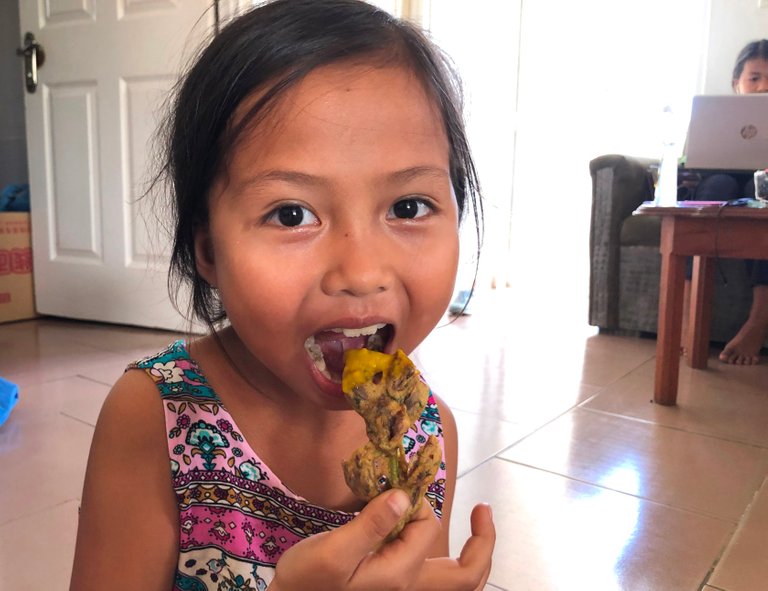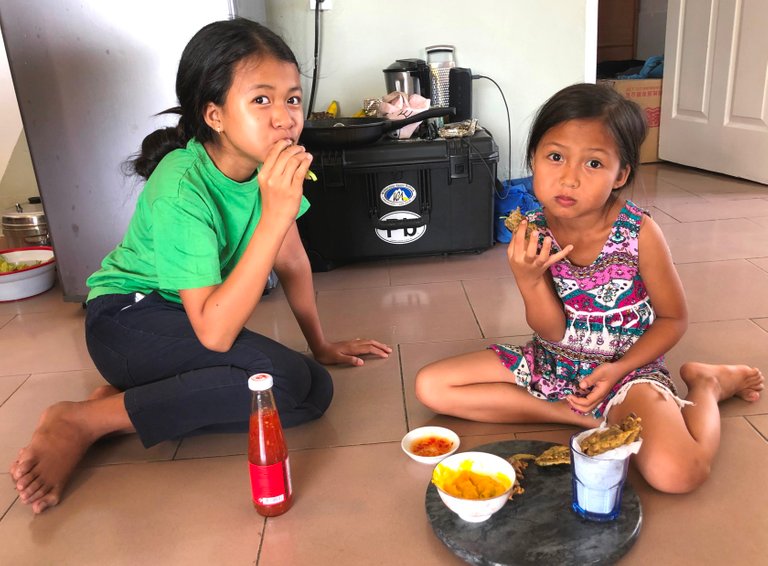 As you can see we have some very satisfied customers, Hive's very own @KidSisters. Srey-Yuu almost missed out on this delicious snack because she was super busy preparing her first digital artwork for the NFT Showroom. Nothing like swamp flowers to keep the creative vibes flowing.

🙏 THANKS FOR READING 🙏
If you enjoyed this post, please upvote and reblog.

---
Posted via foodiesunite.net