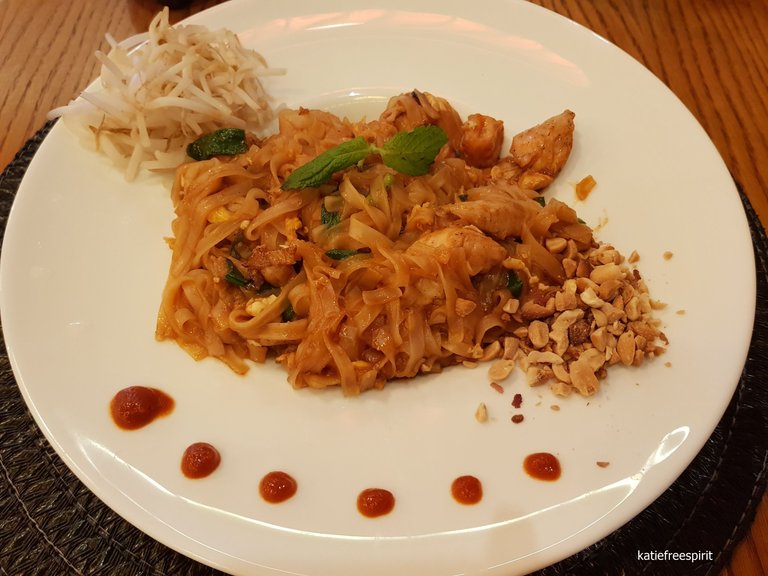 Today, for the first time in months, I ate food inside a restaurant. I was going for a vegeburger in Krowarzywa and a few steps in front of this restaurant, on Hoża Street in Warsaw, I noticed a nice Vietnamese restaurant Made in Vietnam and changed my plans, because I was interested in the menu and I liked the restaurant's décor. Outside, in the restaurant's garden, there were many colorful lanterns hanging from the ceiling, and inside it was even more interesting...
Dzisiaj pierwszy raz od wielu miesięcy jadłam jedzenie wewnątrz restauracji. Szłam na wegeburgera do Krowarzywa i kilka kroków przed tą restauracją, na Hożej w Warszawie, zauważyłam fajną wietnamską knajpkę Made in Vietnam i zmieniłam plany, bo zaciekawiło mnie menu i spodobał mi się wystrój restauracji. Na zewnątrz, w restauracyjnym ogródku, przy suficie wisiało wiele kolorowych lampionów, a wewnątrz było jeszcze ciekawiej...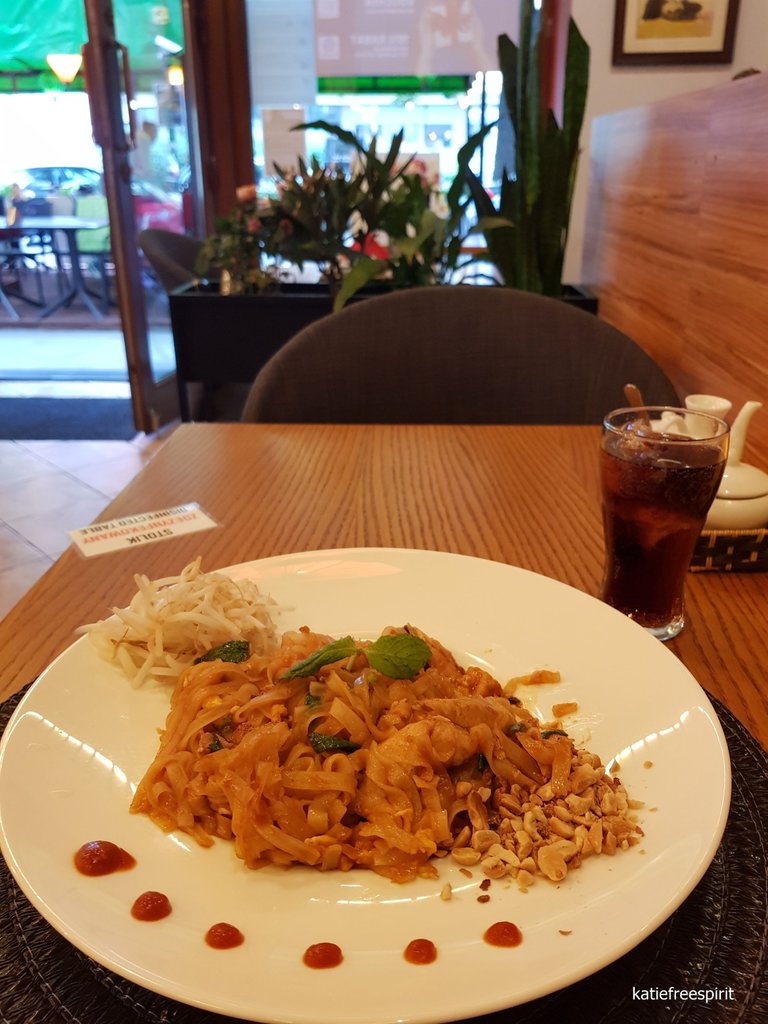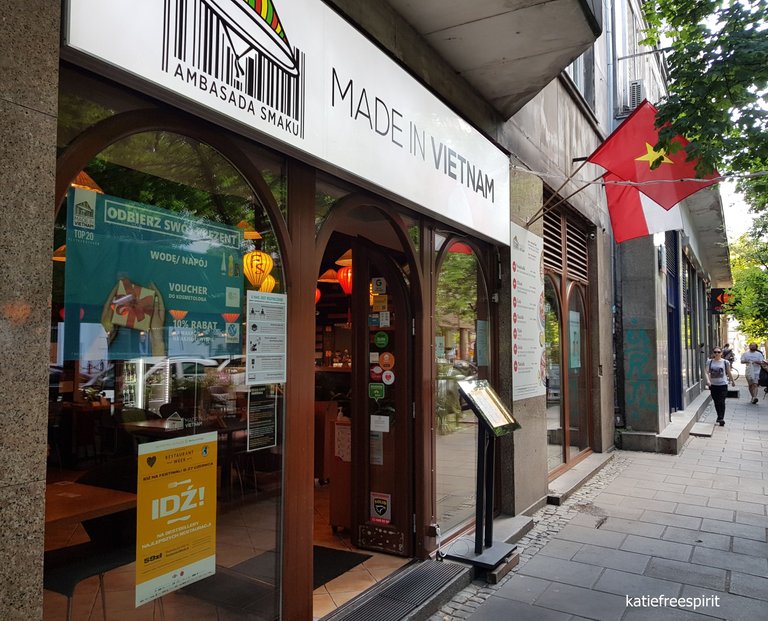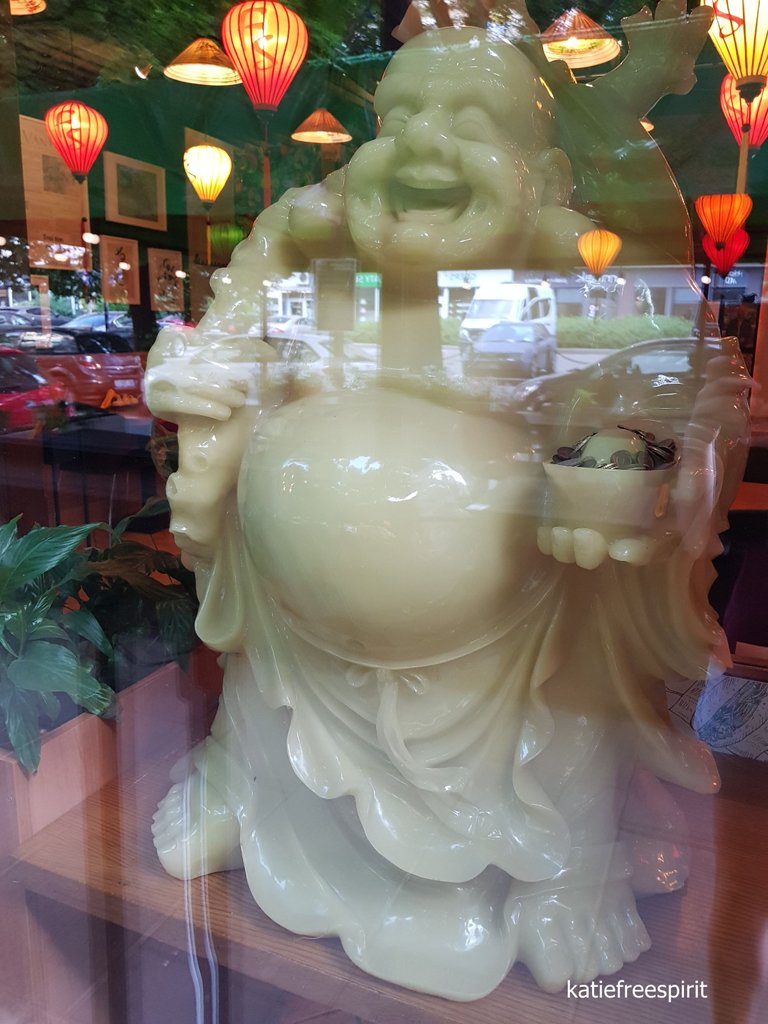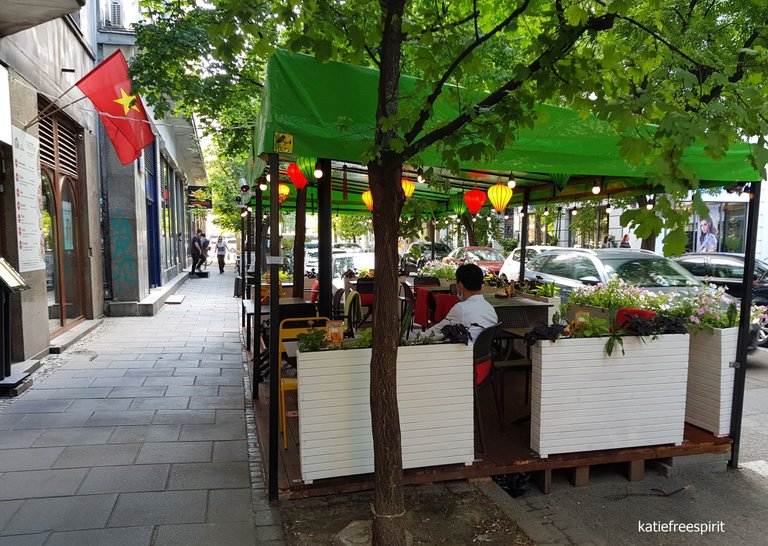 You could hear exotic Vietnamese music, pictures referring to Vietnam hung on the walls, as well as traditional bamboo hats, and even in the corner of the room, there was a Buddhist corner with incense sticks. Cool, I love places like that, it's a bit like a short trip to another country.
Słychać było egzotyczną, wietnamską muzykę, na ścianach wisiały obrazki nawiązujące do Wietnamu, a także tradycyjne bambusowe kapelusze, a nawet w rogu pomieszczenia znajdował się buddyjski zakątek z kadzidełkami. Ekstra, uwielbiam takie miejsca, to trochę jak krótka podróż do innego kraju.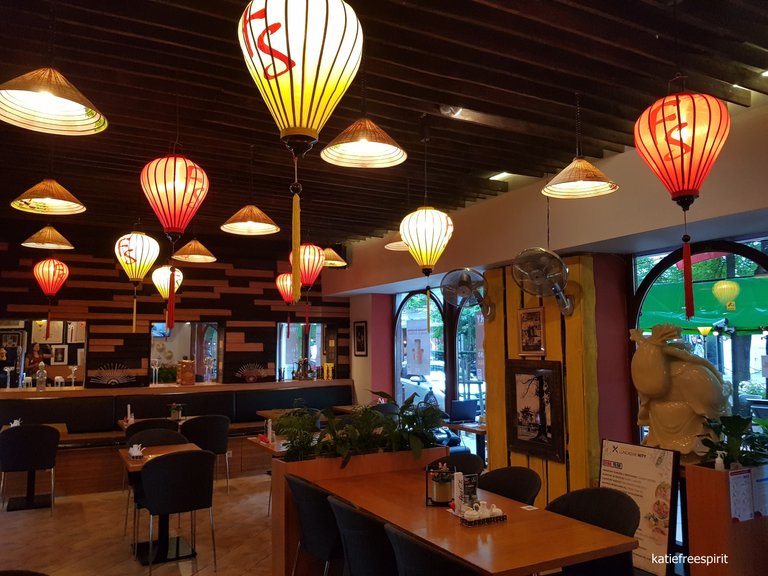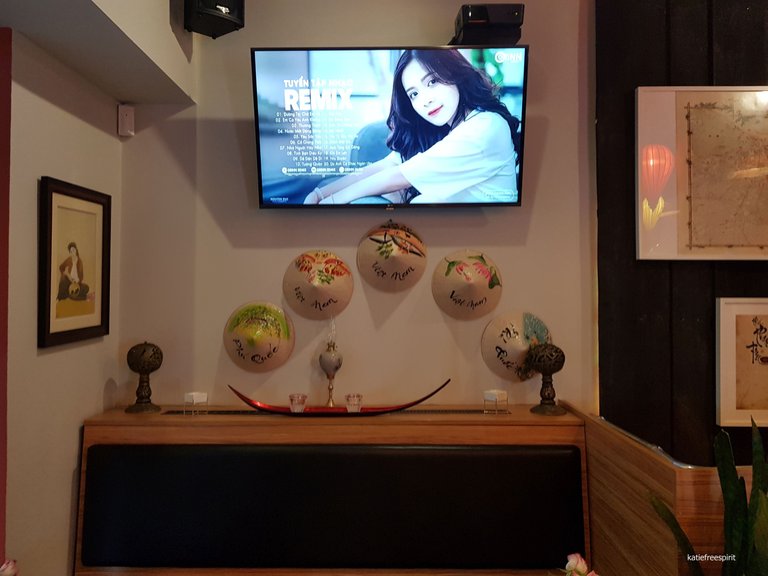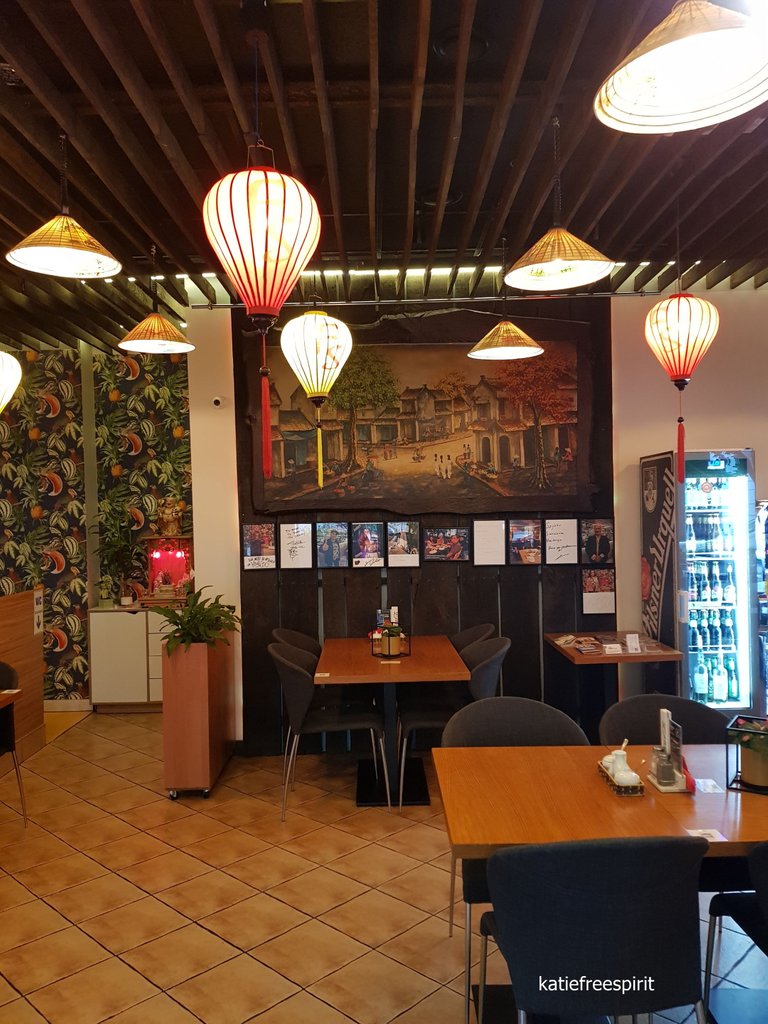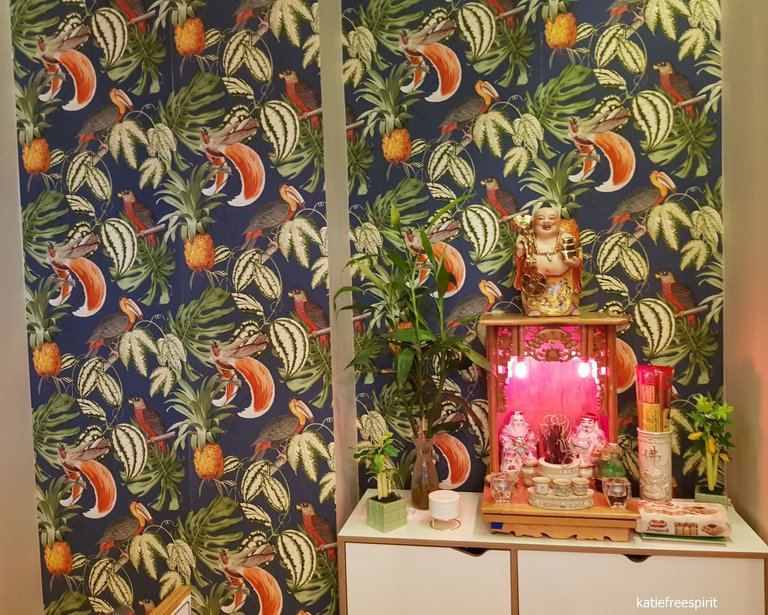 This was the menu of the restaurant, a lot of Vietnamese dishes to choose from, and I ordered the only... Thai ones;) Pad thai :D I liked the menu very much, that it had detailed pictures illustrating the dishes because I don't like to buy without seeing what I can expect.
Tak wyglądało menu restauracji, dużo wietnamskich dań do wyboru, a ja zamówiłam jedyne... tajskie ;) Pad thaia :D Bardzo mi się podobało w karcie dań, że znajdowały się w niej dokładne zdjęcia ilustrujące dania, bo nie lubię kupować "w ciemno", nie widząc czego mogę się spodziewać.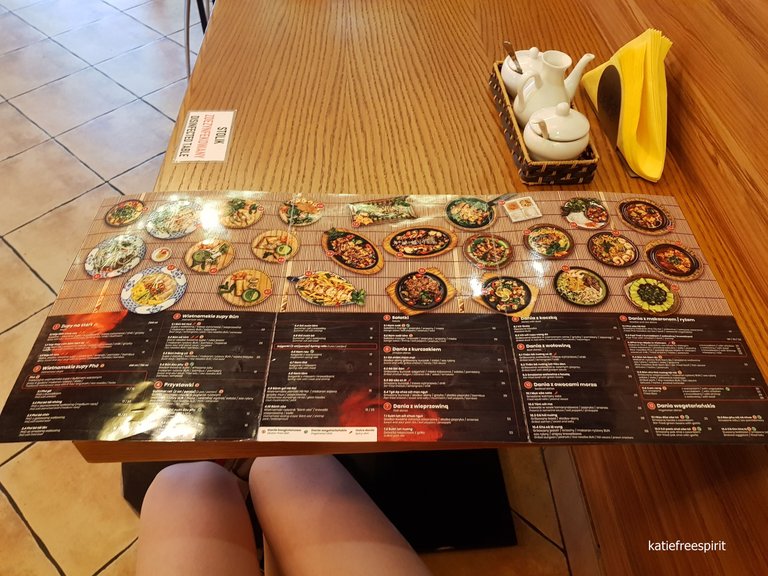 As in other restaurants, there was information on the table that the table had been disinfected. The accessories (in white porcelain containers) were nice. There you could find red, spicy sauce, soy sauce, as well as pickled garlic.
Tak jak w innych restauracjach na stoliku znajdowała się informacja, że stolik został zdezynfekowany. Fajne były dodatki (w białych porcelanowych pojemniczkach). Można tam było znaleźć czerwony, pikantny sos, sos sojowy, a także marynowany czosnek.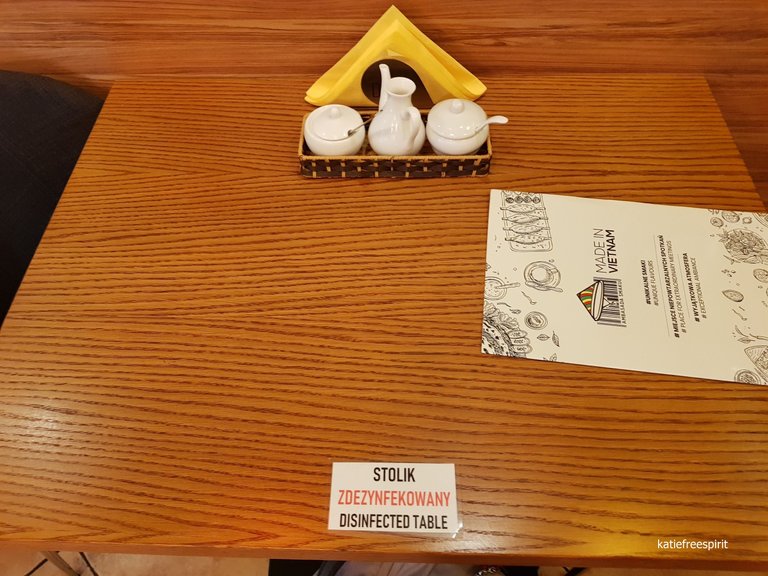 This was what the ready dish looked like. Pad Thai with chicken, rice noodles, mung bean sprouts, crushed peanuts, and pieces of mint. Pad Thai was seasoned well. The plate was decorated with dots with a red sauce that turned out to be very spicy. I felt full after eating half a portion. I liked Pad Thai very much and I recommend this place to you if you like Vietnamese or Thai cuisine.
Tak wyglądała gotowa potrawa. Pad Thai z kurczakiem, makaronem ryżowym, kiełkami fasoli mung, pokruszonymi orzeszkami ziemnymi, kawałkami mięty. Pad Thai był dobrze przyprawiony. Talerz udekorowany był kropkami z czerwonym sosem, który okazał się bardzo pikantny. Najadłam się połową porcji. Pad Thai bardzo mi smakował i polecam wam to miejsce, jeśli lubicie wietnamską albo tajską kuchnię.