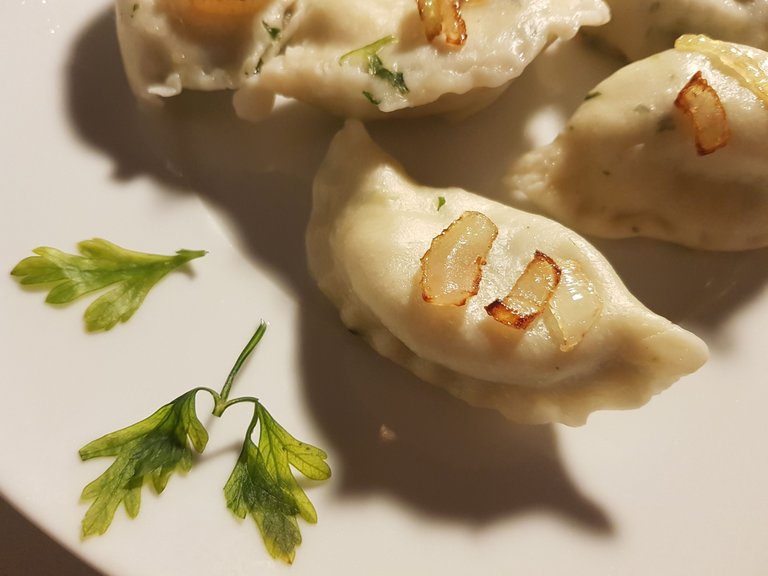 When I want to eat vegetarian dumplings, I usually make dumplings with potato and cottage cheese stuffing, and my second choice are dumplings with spinach and feta cheese. They are prepared much faster than dumplings with potato and cottage cheese stuffing because you do not need to cook potatoes and squeeze white cheese through a press, and if properly seasoned, they have a great taste.
Gdy chcę zjeść wegetariańskie pierogi najczęściej robię ruskie pierogi, a moim drugim wyborem są w takiej sytuacji są pierogi ze szpinakiem i z serem feta. Przyrządza się je zdecydowanie szybciej niż ruskie bo nie trzeba gotować ziemniaków i przeciskać białego sera przez praskę, a jeśli odpowiednio się je doprawi mają rewelacyjny smak.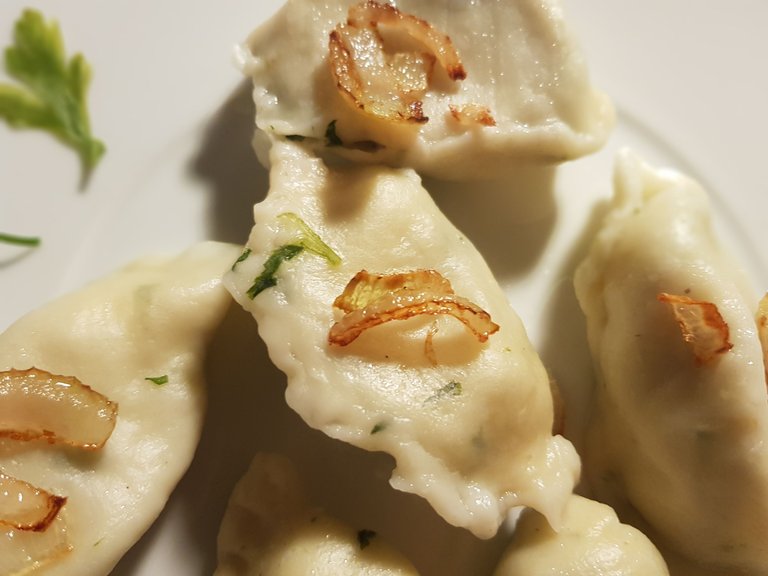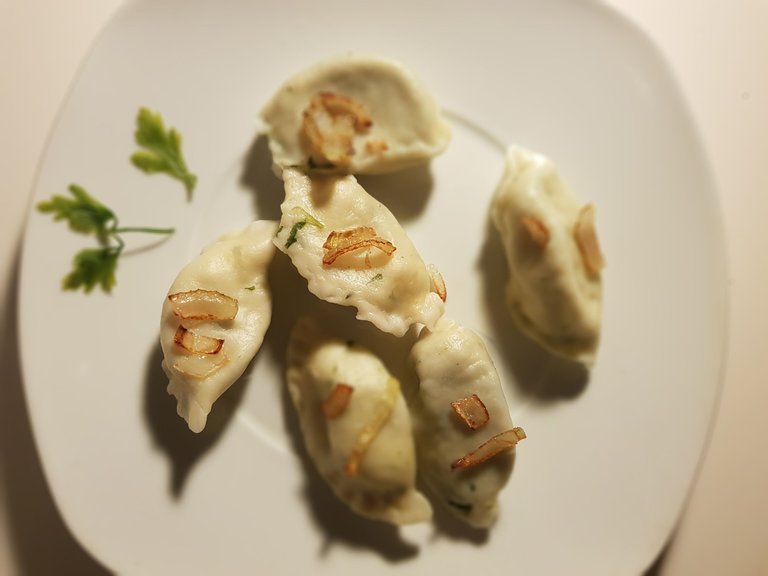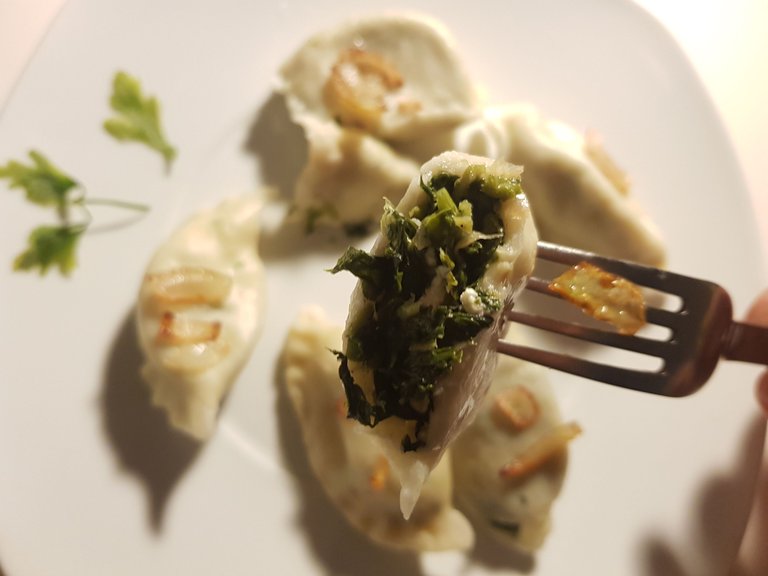 Ingredients:
spinach
feta cheese
Garlic
onion
pepper and salt
flour
water
Składniki:
szpinak
ser feta
czosnek
cebula
pieprz i sól
mąka
woda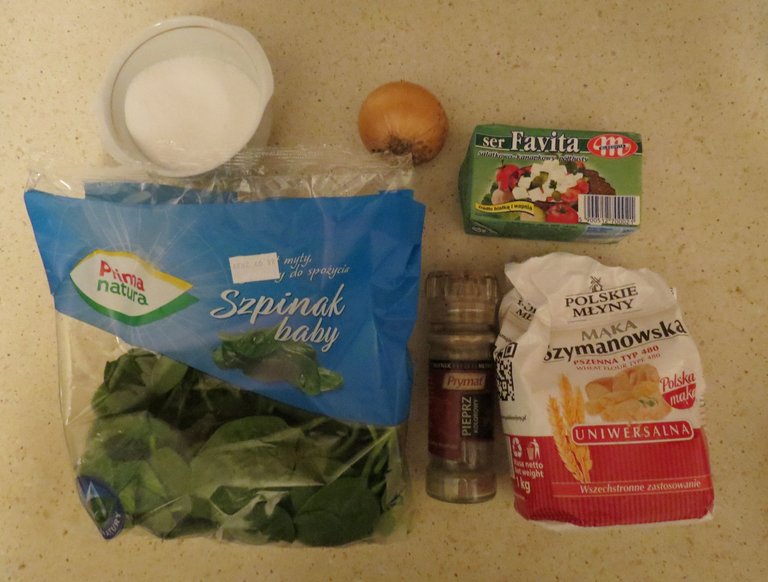 Prepare the stuffing for these dumplings as follows. First, fry the onion and garlic cut into small pieces in oil, then add the pieces of spinach to them and fry it for some time. Later, put additional feta cheese in the pan and when all the ingredients are well-fried, add spices: pepper and salt, and some say that nutmeg is also great.
Farsz do tych pierogów przygotowujemy w następujący sposób. Najpierw podsmażamy na oleju pokrojone na małe kawałki cebulę i czosnek, następnie dodajemy do nich kawałki szpinaku i smażymy go przez pewien czas. Później kładziemy na patelni dodatkow ser feta i gdy wszystkie składniki dobrze się podsmażą dodajemy jeszcze przyprawy: pieprz i sól, a niektórzy twierdzą, że fajnie pasuje również gałka muszkatołowa.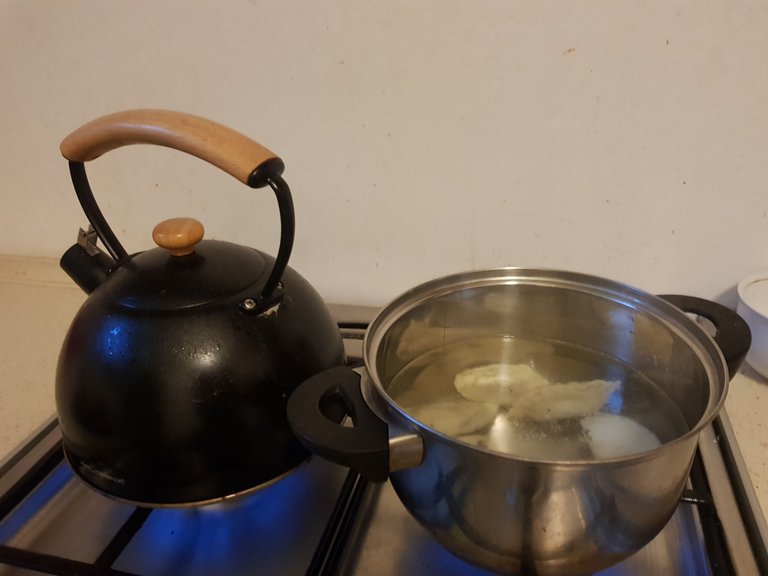 I always make the dough for the dumplings the same. I live the flour and water, and I add it a little bit, so that the dough made by eye has a good consistency. I knead the dough, roll it out, cut out round shapes with a glass. Then I put the stuffing in the dumplings and pinch the ends with my fingers. I have shown you many times how I do it step by step, so this time I limited myself to the photos from the last stage - when I cook dumplings. I do this for 3-4 minutes after the dumplings come to the surface of the boiling water.
Ciasto na pierogi robię zawsze tak samo. Mieszam mąkę z wodą, której dodaję po trochu, tak, aby ciasto robione na oko miało dobrą konsystencję. Wyrabiam ciasto, wałkuje je, wykrawam szklanką okrągłe kształty. Następnie wkładam farsz do pierogów i zalepiam ich końce palcami. Pokazywałam wam wiele razy jak to robię krok po kroku, więc tym razem ograniczyłam się do zdjęć z ostatniego etapu - gdy gotuję pierogi. Robię to przez 3-4 minuty od czasu gdy pierogi wypłyną na powierzchnię gotującej się wody.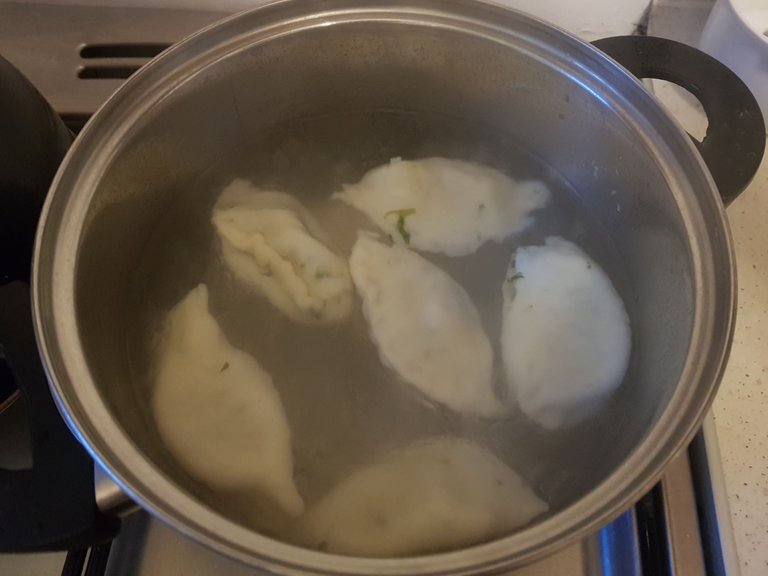 While the dumplings are boiling, I also fry the onion sliced into half-moons, which I will put on the dumplings later. The fried onion nicely boosts the taste of the dumplings.
W czasie, gdy pierogi się gotują podsmażam też cebulkę pokrojoną w piórka, którą położę później na pierogach. Smażona cebulka fajnie podkręca smak pierogów.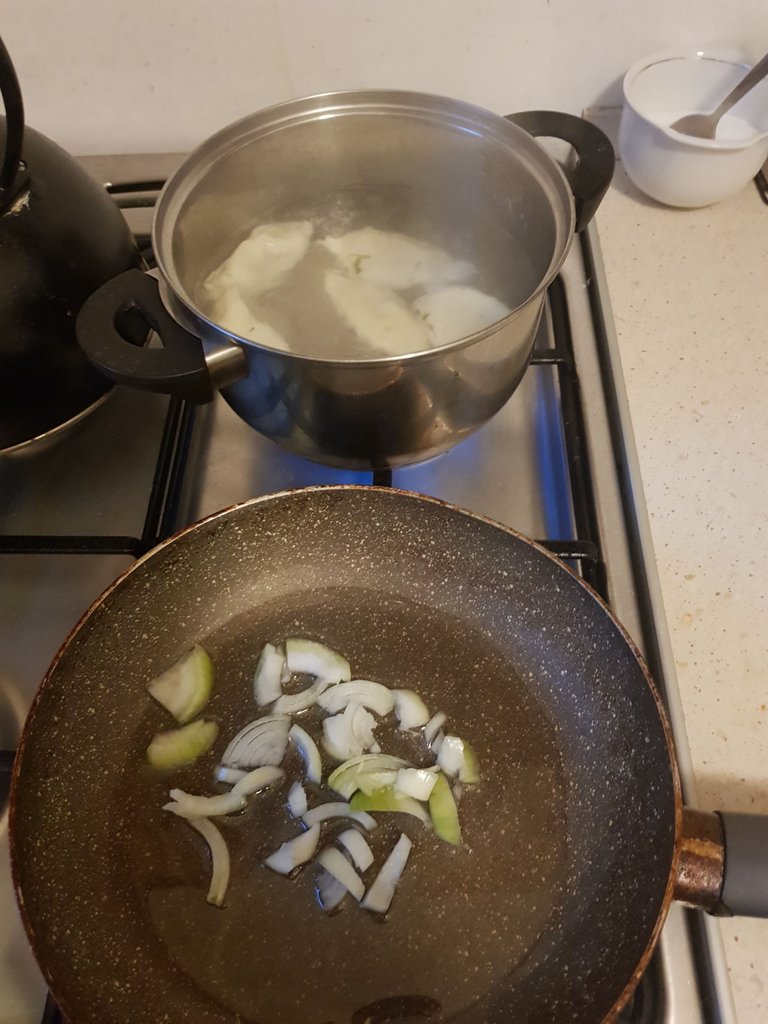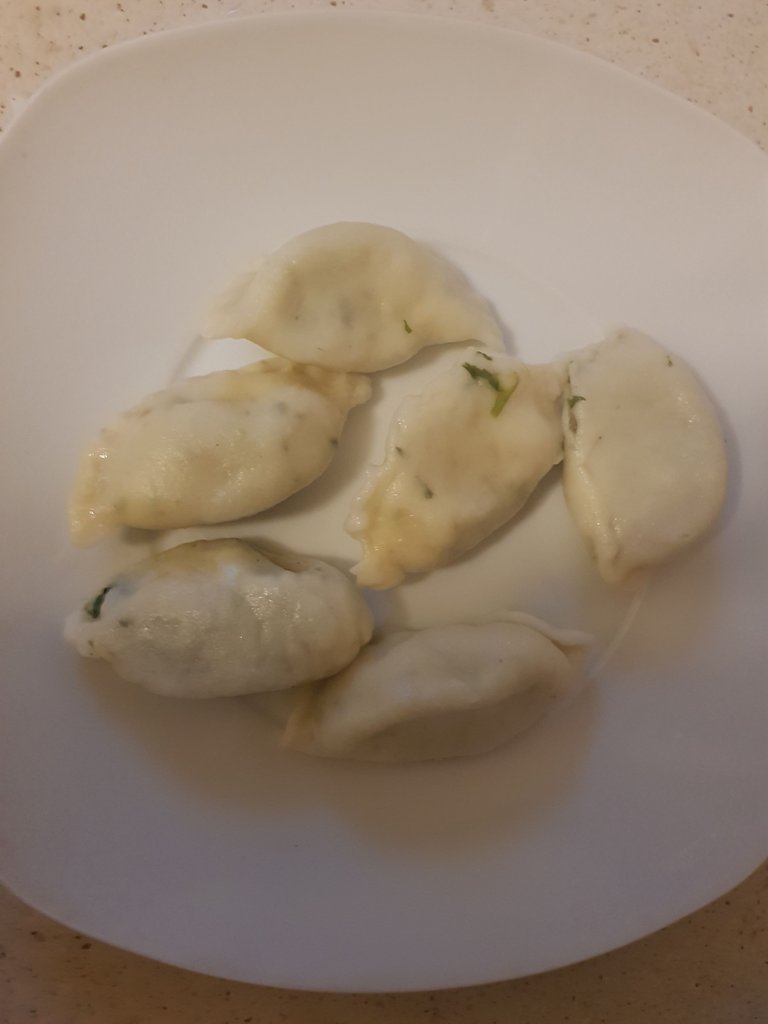 This is how cut dumplings with spinach and feta cheese look like. You can see the stuffing and the dough cooked. For me, their taste is wonderful. I always eat a few extra portions of this dish 😋
Tak wyglądaja przekrojone pierogi ze szpinakiem i serem feta. Możecie zobaczyć ugotowany farsz i ciasto. Jak dla mnie ich smak jest cudowny. Zawsze jem kilka dokładek tego dania 😋