Hola amigos de Hive, hoy traigo para ustedes una deliciosa receta que prepare ayer. En esta ocasión realizare mi publicación en 2 idiomas, para que mi receta y la gastronomía venezolana logre llegar a todos los rincones del mundo de donde me estén leyendo. ¡Así que empecemos! ¡Manos a la Masa!.
Hello Hive friends, today I bring you a delicious recipe that I prepared yesterday. This time I will make my publication in 2 languages, so that my recipe and Venezuelan gastronomy can reach all the corners of the world where they are reading me. So let's get started! Hands to the Dough!
Receta de Empanadas / Recipe of Empanadas
Con esta receta se hacen aproximadamente 10 empanadas de tamaño mediano.
With this recipe approximately 10 medium-sized empanadas are made.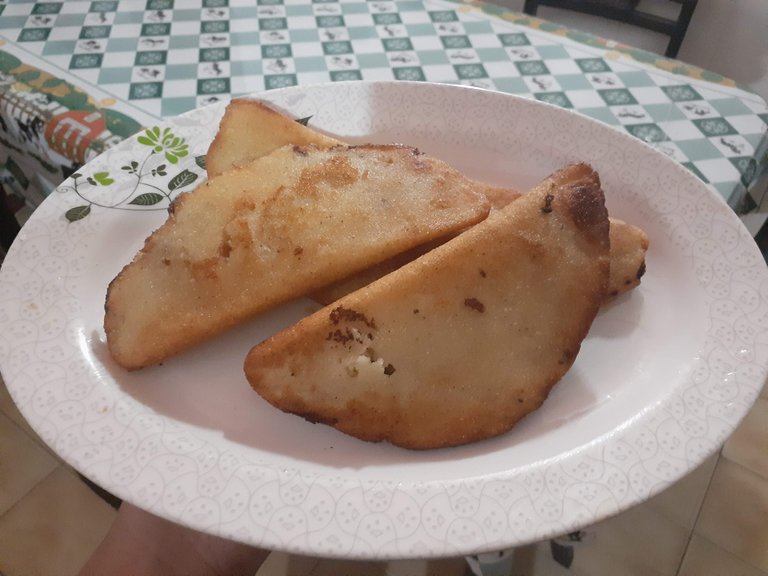 Ingredientes:
300 gr (aprox) de Harina de maíz.
1 pedacito de Panela.
1 cucharada de Azúcar.
Aceite.
Sal al gusto.
Relleno de tu preferencia.
Agua.
Ingredients:
300 gr (approx) of corn flour.
1 piece of Panela.
1 spoon of sugar.
Oil.
Salt to taste.
Filling of your preference.
Water.
| Harina de Maíz/ Corn flour | Aceite/ Oil | Panela |
| --- | --- | --- |
| | | |

Relleno/ Filling
Es importante definir cuál será el relleno de nuestras empanadas, para prepararlo previamente, estas pueden rellenarse con pollo, queso, jamón y queso, carne mechada, entre otras. Para esta receta utilizare una mezcla de arroz con carne molida, aprovechando que me quedo carne molida del almuerzo. Si desean, en mi publicación anterior pueden revisar como preparo la carne molida, haciendo click aquí: Carne Guisada con Vegetales.
It is important to define what the filling of our empanadas will be, to prepare it previously, these can be filled with chicken, cheese, ham and cheese, meats, among others. For this recipe I will use a mixture of rice with ground meat, taking advantage of the fact that I keep ground meat from lunch. If you wish, in my previous publication you can review how I prepare ground meat, by clicking here: Carne Guisada con Vegetales.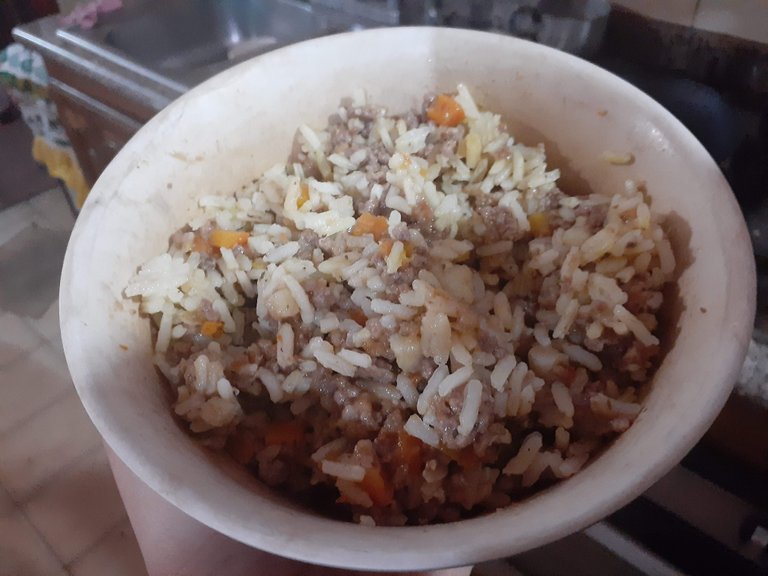 Preparación / Preparation
Lo primero que debemos hacer, es buscar un recipiente para colocar la harina de maíz, luego de esto, agregamos una cucharada de azúcar, sal al gusto y mezclamos.
The first thing we must do is find a container to place the cornmeal, after this, add a tablespoon of sugar, salt to taste and mix.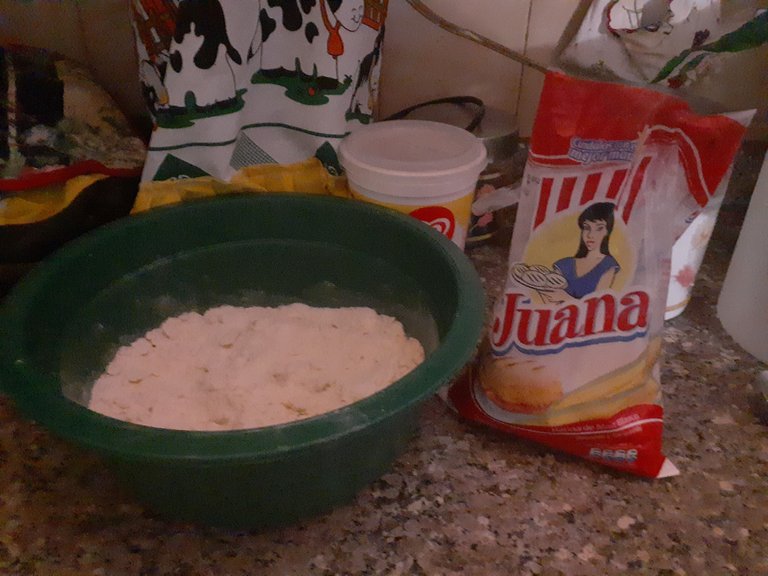 Después, picamos un pedazo mediano de panela, como se muestra a continuación, para seguidamente colocarlo a hervir en 1/2 taza de agua.
Next, we chop a medium piece of brown sugar, as shown below, and then bring it to a boil in 1/2 cup of water.
| Pedazo de Panela/ Piece of panela | Hervir la panela/ Boil the panela |
| --- | --- |
| | |

Luego de hervir la panela y de que esté completamente en estado líquido, procedemos a agregarla al recipiente y con ayuda de una cuchara mezclamos para integrar todos los ingredientes.
After boiling the panela and that it is completely in a liquid state, we proceed to add it to the container and with the help of a spoon mix to integrate all the ingredients.
| Agregando la panela/ Adding the panela | Mezclamos/ We mix |
| --- | --- |
| | |

Ahora bien, agregaremos agua a nuestra mezcla gradualmente y vamos amasando hasta lograr que nuestra masa no se pegue a las paredes del recipiente, cuando este en este punto, ya está lista para trabajar.
Now, we will add water to our mixture gradually and knead until our dough does not stick to the walls of the container, when it is at this point, it is ready to work.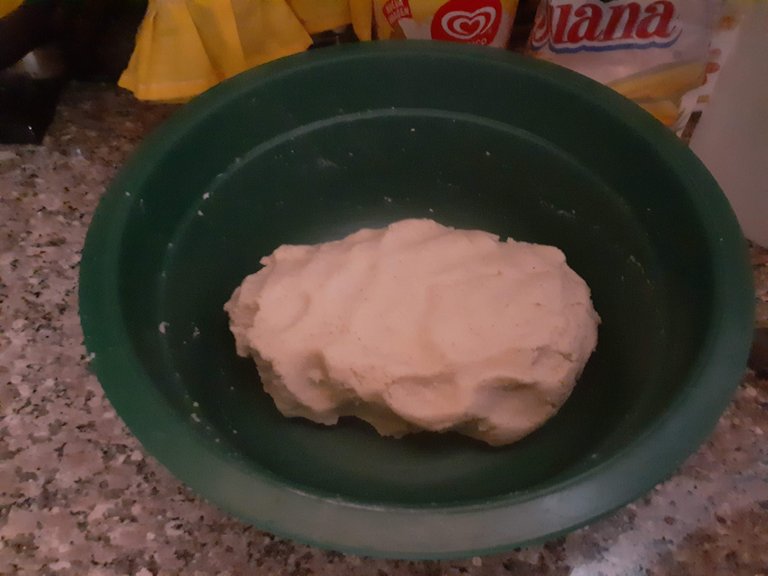 Ahora necesitamos buscar un plástico, que puede ser como en mi caso, un empaque de harina o arroz, que este limpio, para trabajar sobre él. Extendemos el plástico sobre una superficie limpia y procedemos a hacer bolitas de masa pequeñas, que colocaremos sobre este. Después de esto, extendemos la masa hasta lograr que la masa tenga un espesor delgado.
Bolita de masa/ Ball of dough

Extender la masa/ Roll out the dough

Luego de estirar la masa, agregamos el relleno con una cuchara, aproximadamente 2 cucharadas del mismo, procurando de no agregar demasiado para que podamos proceder a darle la forma tradicional de la empanada, es decir, una media luna.
After stretching the dough, add the filling with a spoon, about 2 tablespoons of it, trying not to add too much so that we can proceed to give it the traditional shape of the empanada, that is, as a crescent.
| Colocando el relleno/ Placing the filling | Dando forma a la masa / Shaping the dough |
| --- | --- |
| | |

Técnica para dar forma a las empanadas/ Technique for shaping empanadas
Como pueden observar, de esta forma pueden darle forma a sus empanadas.
As you can see, this way you can shape your empanadas.
Finalmente, obtendremos la forma tradicional y ya estará lista para freír. De esta manera, realizamos nuestras empanadas con la masa restante y a medida que vamos haciendo, vamos friendo en un sartén con suficiente aceite caliente, cada una de nuestras empanadas.
Finally, we will get the traditional shape and it will be ready to fry. In this way, we make our empanadas with the remaining dough and as we are going to make, we are going to fry each of our empanadas in a pan with enough hot oil.

Por último, luego de freír por ambos lados nuestras empanadas hasta lograr que se doren, ya están listas para servir y disfrutar con nuestros seres queridos.
Finally, after frying our empanadas on both sides until they are golden brown, they are ready to serve and enjoy with our loved ones.
Resultado Final / Final score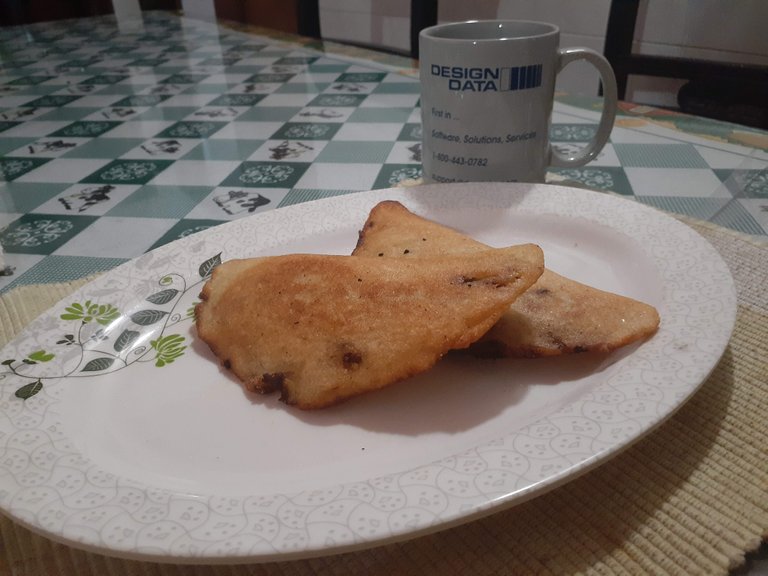 Gracias a todos, por haber llegado hasta aquí, de verdad espero que se animen y realicen esta deliciosa receta. Nos leemos en otra oportunidad. Saludos.💛
Thank you all, for having come this far, I really hope you will cheer up and make this delicious recipe. We read each other another time. Greetings.💛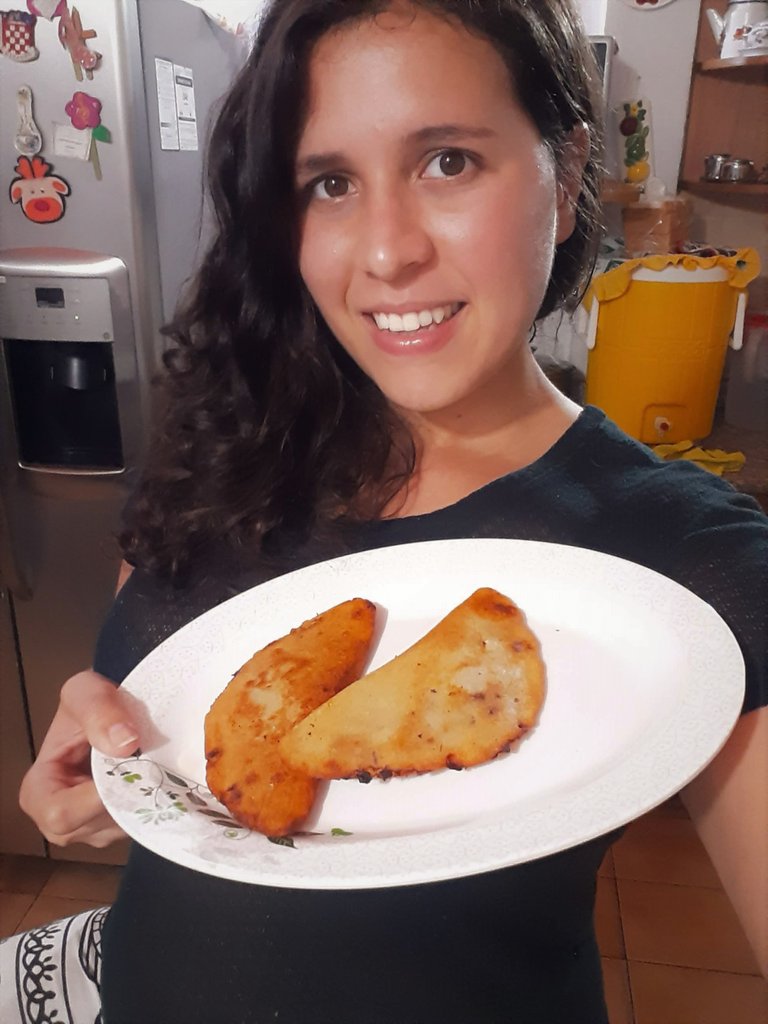 Todas las fotos y el video fueron tomadas con mi dispositivo móvil Samsung A20.📲
All photos and video were taken with my Samsung A20 mobile device.📲