Hola mis amigos amantes de la buena comida, espero que se encuentren bien; Hoy vengo por aquí a compartir mi participación en el Concurso Creativo Hive | La hora del Pan, organizado por @zord189 en la Comunidad Foodies Bee Hive.
Hello my foodie friends, I hope you are well; Today I come here to share my participation in the Creative Hive Contest | Bread Time, organized by @zord189 in the Foodies Bee Hive Community.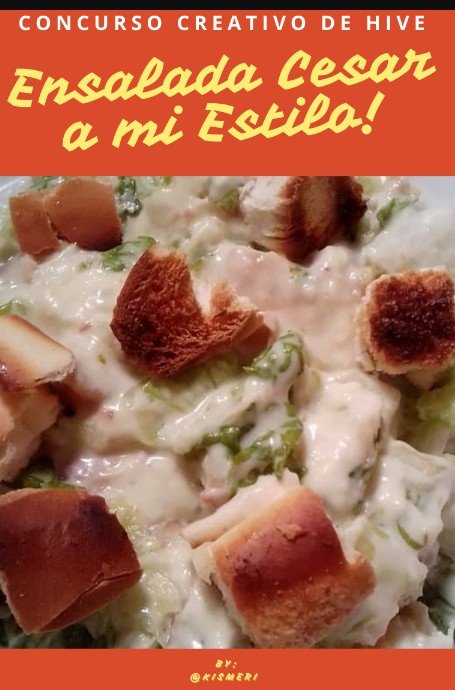 Como el protagonista es el pan, decidí participar con mi receta de Ensalada Cesar, que es una de mis favoritas, desde hace muchos días tenía muchas ganas de comerla, pero no la había hecho, toparme con este concurso fue la excusa perfecta para sorprender a mi familia con este rico platillo que disfrutan mucho comer, temprano me fui al mercado por los ingredientes y al llegar, puse manos a la obra.
Since the protagonist is the bread, I decided to participate with my Caesar Salad recipe, which is one of my favorites, I had been wanting to eat it for many days, but I had not made it, and coming across this contest was the perfect excuse to surprise my family with this delicious dish that they really enjoy eating, so I went to the market early to get the ingredients and when I arrived, I got to work.
Mi ensalada la prepare con los siguientes ingredientes: Pan, lechuga criolla, lechuga rizada, lechuga romana, tocineta, queso pecorino, mayonesa y mostaza.
I prepared my salad with the following ingredients: Bread, creole lettuce, curly lettuce, romaine lettuce, bacon, pecorino cheese, mayonnaise and mustard.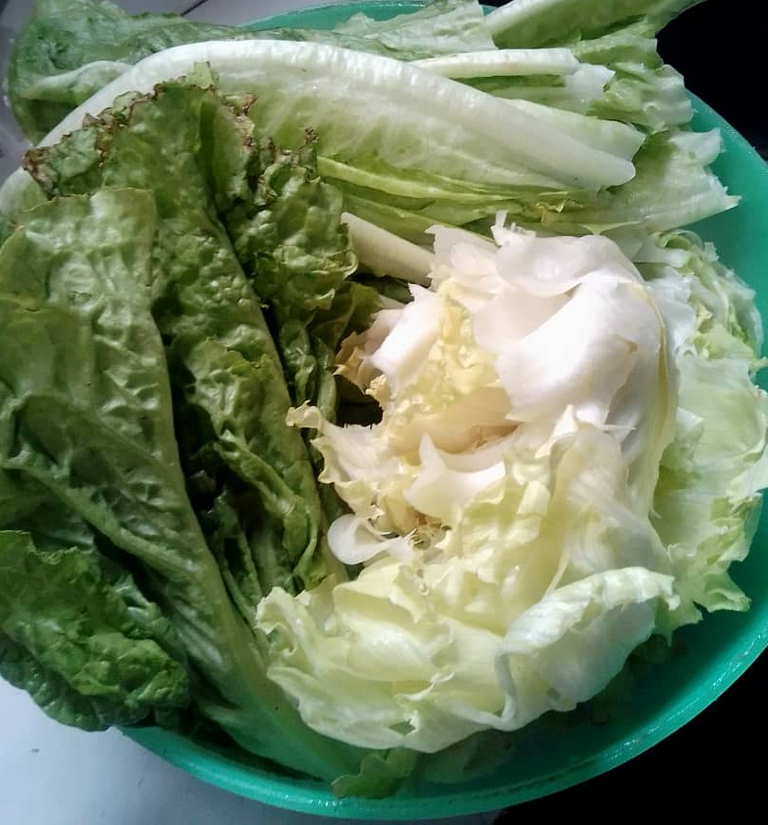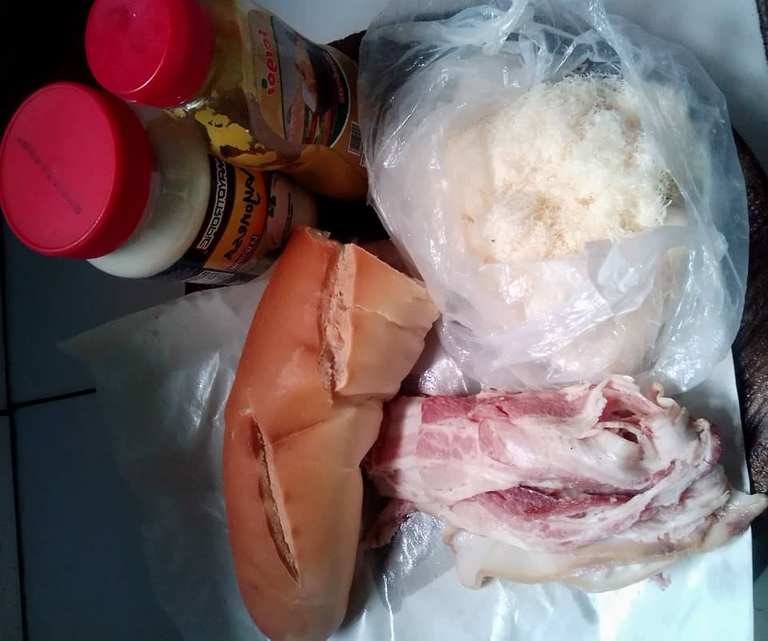 La preparación de esta ensalada no es muy compleja, más bien es sencilla, yo no la hago mucho en casa, por lo costoso de los ingredientes; El pan que utilice fue pan canilla, el cual corte en cuadritos y lo lleve a la cocina en un budare o comal, como lo llaman en otros países del mundo, lo coloque a llama baja y deje que se tostara un poco, esto lo hago para que le de una consistencia crujiente la ensalada.
The preparation of this salad is not very complex, rather it is simple, I do not make it much at home, because of the cost of the ingredients; The bread I used was pan canilla, which I cut into squares and took it to the kitchen in a budare or comal, as they call it in other countries of the world, I put it on a low flame and let it toast a little, I do this to give a crunchy consistency to the salad.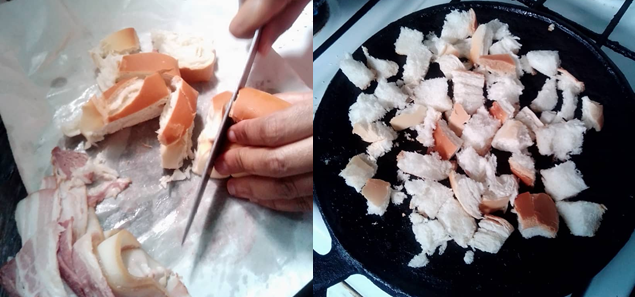 Reserve el pan y pase a ocuparme de la tocineta, la cual corte en tiras finas, la coloque en una sartén y la lleve a sofreír, sin aceite ya que ella suelta suficiente para cocinarse en su propio aceite, después la pase a un plato con papel de cocina para que soltara todo el aceite y al igual que el pan, la reserve.
Reserve the bread and move on to take care of the bacon, which I cut into thin strips, place it in a pan and take it to fry, without oil as it releases enough oil to cook in its own oil, then pass it to a plate with paper towels to release all the oil and like the bread, reserve it.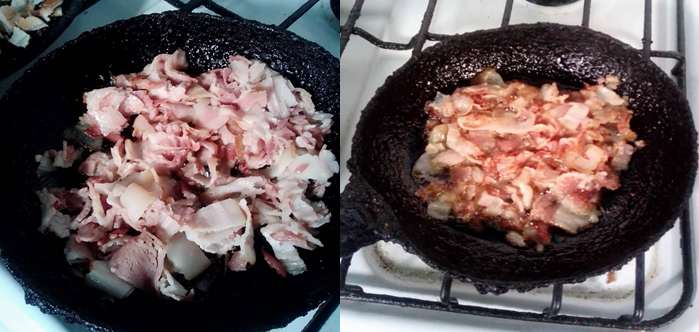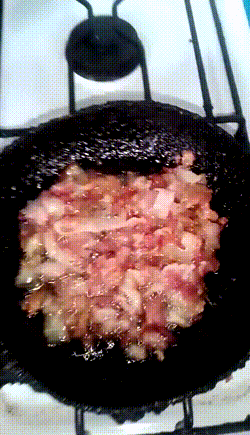 Con el pan y la tocineta listos, le tocó el turno a la lechuga, tome las tres, les quite el tallo y luego las lleve a un tazón con vinagre, luego las desagüe muy bien en un colador de pasta para que se escurrieran bien, paso seguido las corte con las manos para evitar que se marchitarán.
With the bread and bacon ready, it was the turn of the lettuce, take the three, remove the stems and then take them to a bowl with vinegar, then drain them very well in a pasta strainer to drain them well, then cut them with your hands to prevent them from wilting.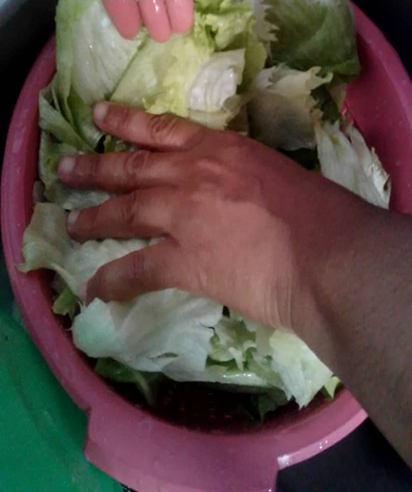 Coloque la lechuga en un tazón, después le agregue el pan y a continuación la tocineta.
Place the lettuce in a bowl, then add the bread, followed by the bacon.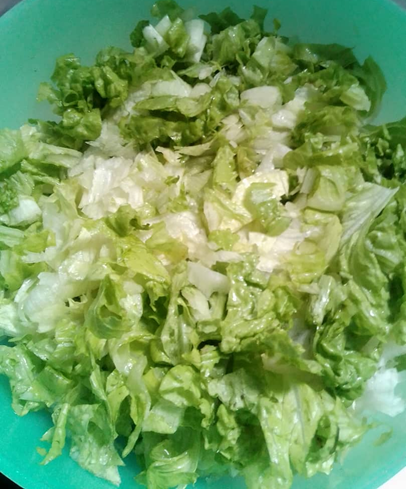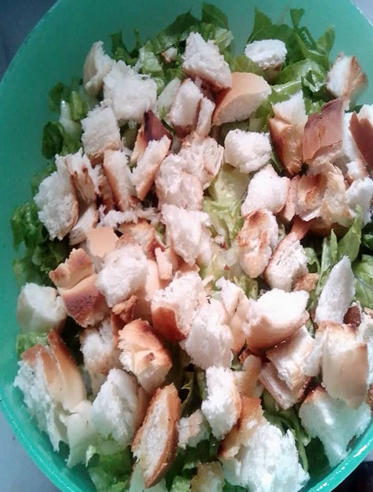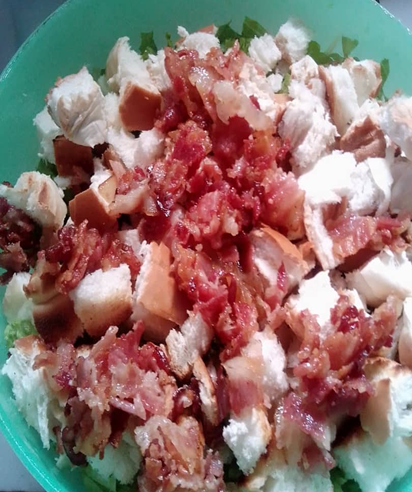 Para preparar el aderezo coloque mayonesa, mostaza y el queso pecorino en una taza y mezcle todo muy bien hasta que quedo bien unificado.
To prepare the dressing, place mayonnaise, mustard and pecorino cheese in a bowl and mix well until well blended.
Aderece mi ensalada mezclando todo muy bien y lista ya mi ensalada para comer!
Dress my salad by mixing everything very well and my salad is ready to eat!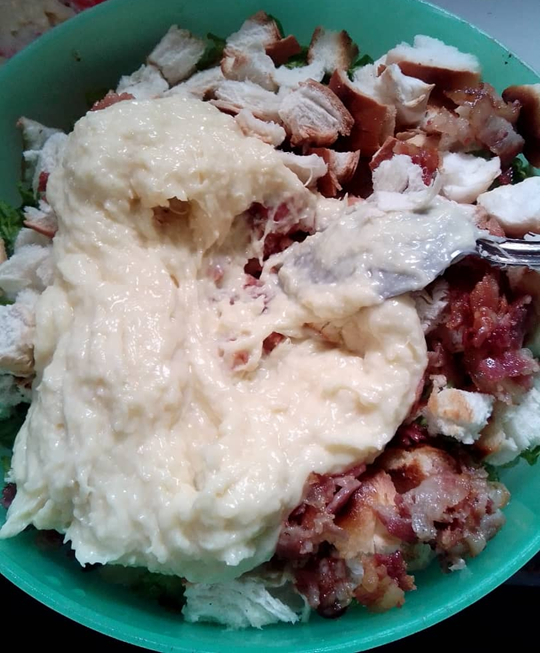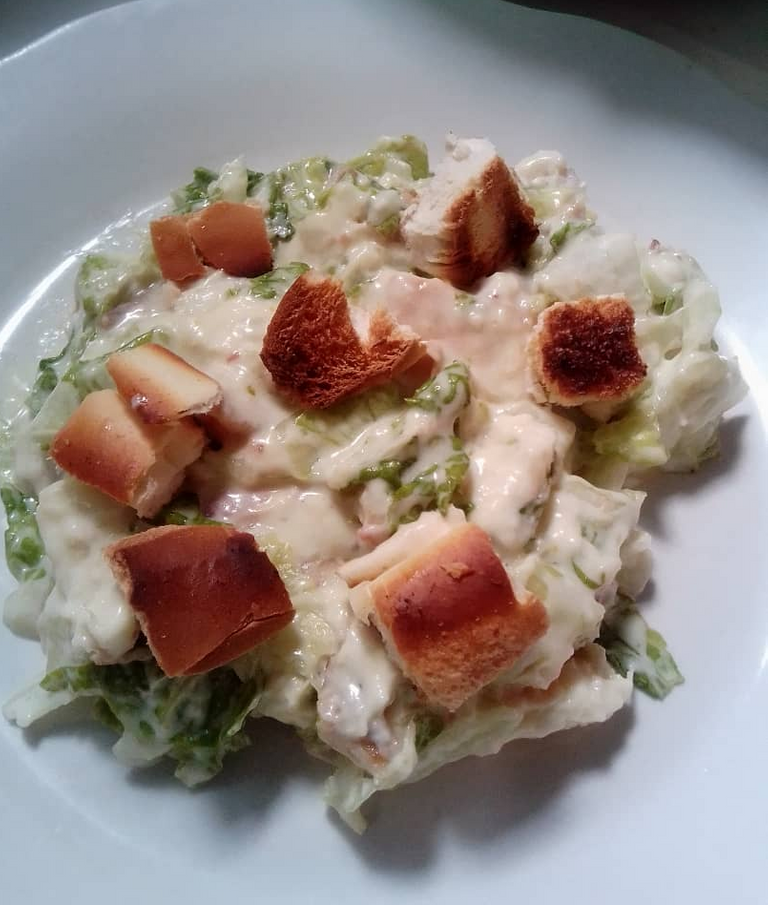 Asi quedo nuestro almuerzo de hoy, Bisteck de Res, Ensalada Cesar y un pan.
This is what we had for lunch today, Beef Steak, Caesar Salad and a loaf of bread.