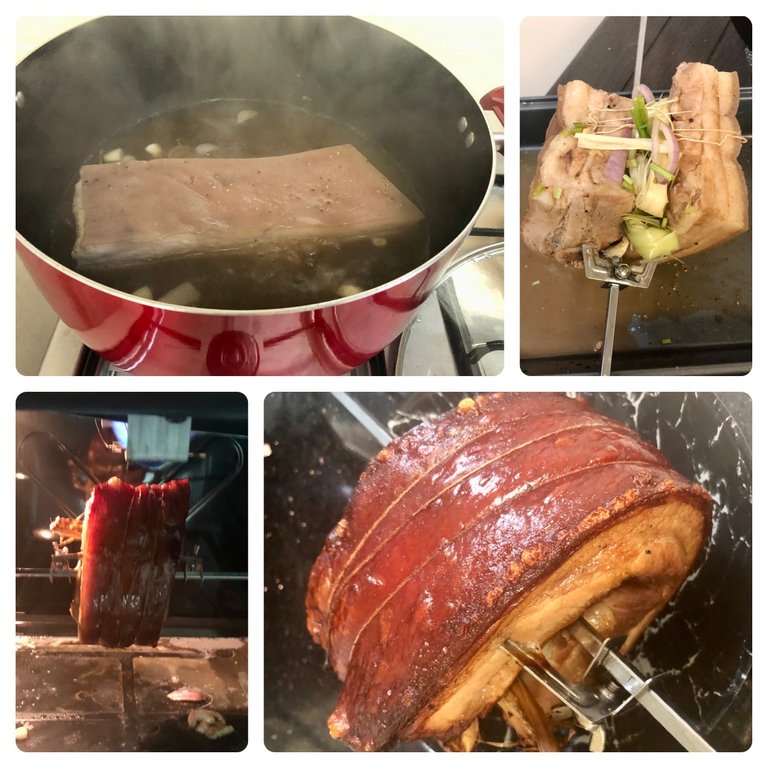 Lechon (Liempo) Pork Belly or roasted pork belly is one of my favorite dishes. There are many ways to cook this Lechon, but I will teach you the easiest one.
In this recipe we gonna need an oven to cook it, you can use also the traditional way by roasting it in a bed of hot burning charcoal and continuously turning it until the skin gets brown.
I will try to make it as simple as I can so that you can also do it at home.
⏲️ Prep time : 30-45mins
🕑 Cooking time : 2-3 Hours
🕔 Total time : 4 hours
First, you need to buy and choose the best belly, with less fat and more meat, and I do always say in my previous blogs that fresh pork meat is more delicious than a frozen one.
In this recipe we gonna use the brining method, Brining is a very good method to infuse the flavor and the seasoning into the pork.
Brining Ingredients:
Bay leaves
Salt and pepper
Peppercorn
Sugar
Smashed garlic
water (enough to submerged your Pork Belly)
In a pot put all the ingredients with the pork, this process will help also to tenderize your pork belly for roasting. Bring the brined pork to boil for around 20-30 minutes.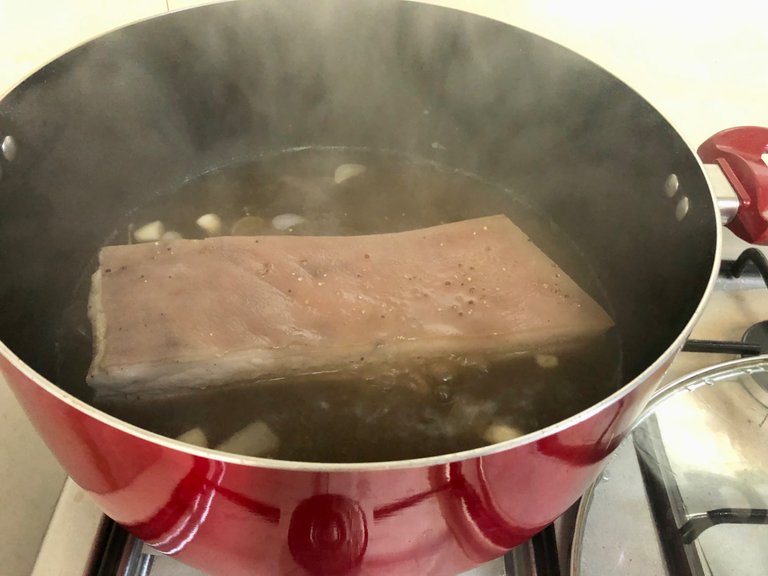 Then after brine just bring it to cool.
Ingredients for Roasting:
Lemongrass leaves
Red onion sliced
Scallions
Salt and ground black pepper
Cooking oil
Fresh milk
After drying it up lay the pork belly flat with the skin facing down then rub salt and pepper all over especially the meat side, if possible used ground black pepper. let the salt and pepper stay for about 15 minutes so that it will absorb the flavor better.
Prepare the lemongrass, red onions, and scallions arrange these ingredients for stuffing, lay it down on the pork, and then roll the pork slab until spiral shape. then tie the meat so that it can hold its shape. To make sure that it will hold the shape properly secure it as many times as possible for it will also hold the stuffing inside then put your pork in the skewer and rub some cooking oil on the skin. Roast it for around 1-2 hours.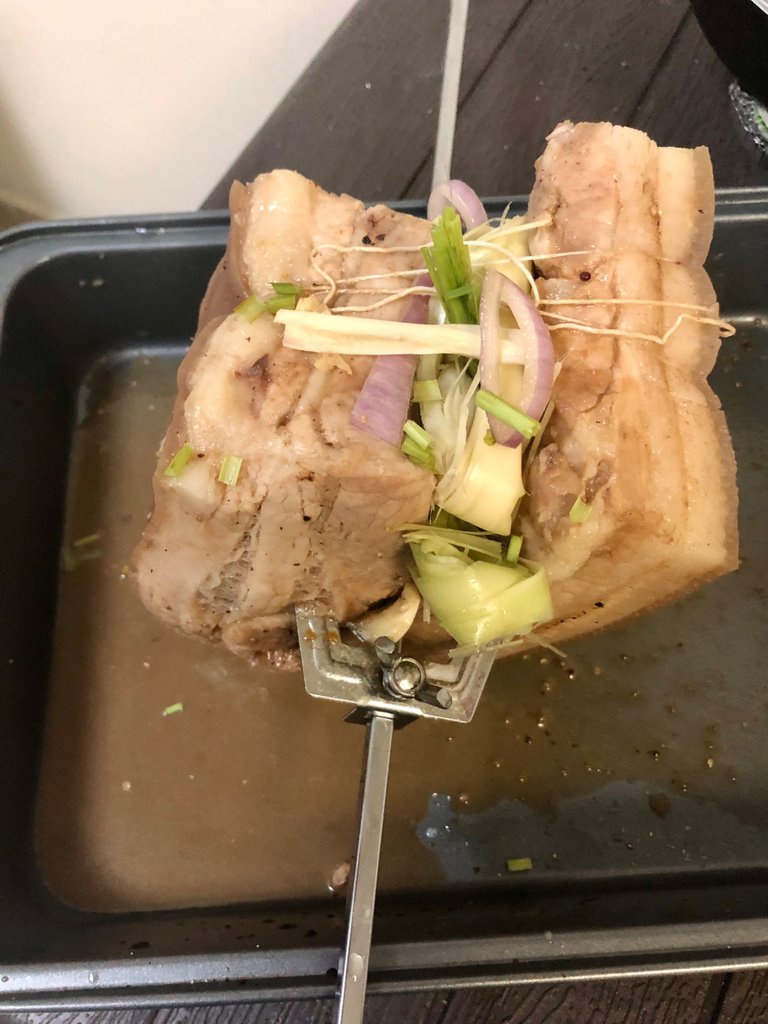 Then after 2 hours Pork will turn slightly brown, remove the belly from the oven and brush with fresh milk. Put it back into the oven and continue to roast for 1 hour until the skin is brown and crispy.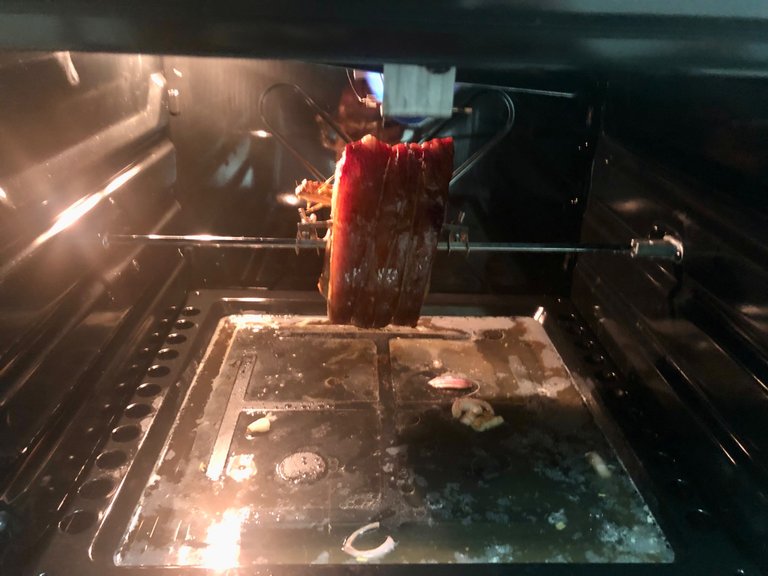 Remove from the oven. Let it cool down for a few minutes and serve.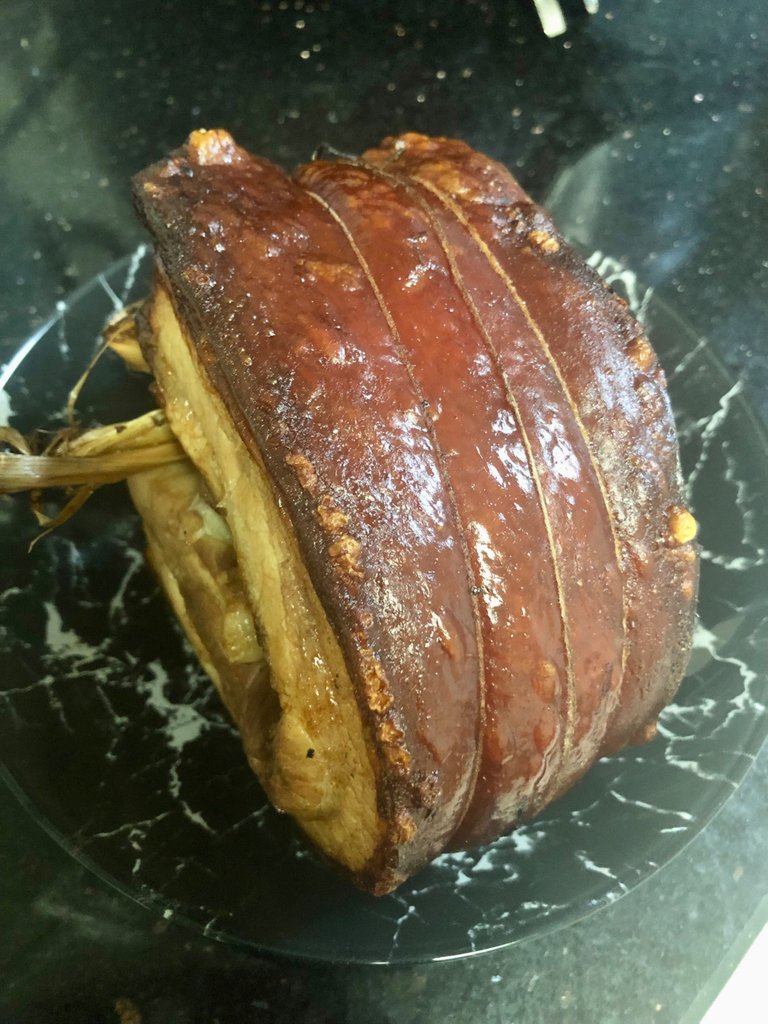 🅲🅻🅾🆂🅸🅽🅶 🆁🅴🅼🅰🆁🅺🆂:
Hello guys! thank you again for spending a wee time reading this blog. Hope that you like it. For any concerns or suggestions please do write them in the comment section. For those who want to read my previous blog in this series, you can check the links posted down below. So that's it guys, I will wrap it up, thanks, and bye for now.
"WOK" this way" Blog #1, DINUGUAN
"WOK this way" blog #2, PORK BINAGOONGAN
"WOK this way" blog #3, PORK SIOMAI
"WOK this way" blog #4, LECHON MANOK
"WOK this way" blog #7, GUINISANG MUNGGO
"WOK this way" blog #8, PORK SINIGANG
"WOK this way" blog #8, PANCIT CANTON GUISADO