In Venezuela we have many kind of desserts made with rice and my favorite is this coconut rice and I making it today to share it with my neighbors because I have seen some of them sad and some are sick. I felt I have to look for my friends even though the pandemic situation. A small gesture make people happy and I am sure it will be like that.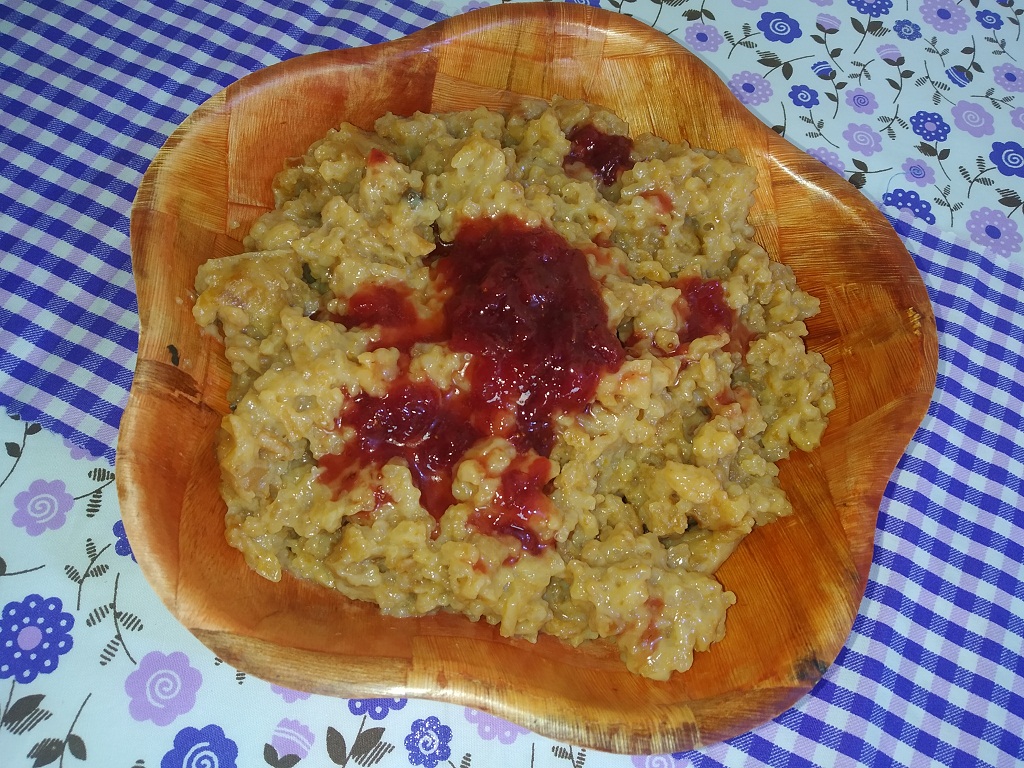 The coconut is not a nut, it is a drupe. They are the fruit of the palm tree and mainly found in tropical countries near the beaches or the sea. They contain a refreshing drink inside used to hidrate the body,apart from having a high content of vitamins y minerals. Its taste is something like a nutty one, but for me it is more delicious. It is used in the fabrication of candies and it is used in the preparation of sweet and salted foods.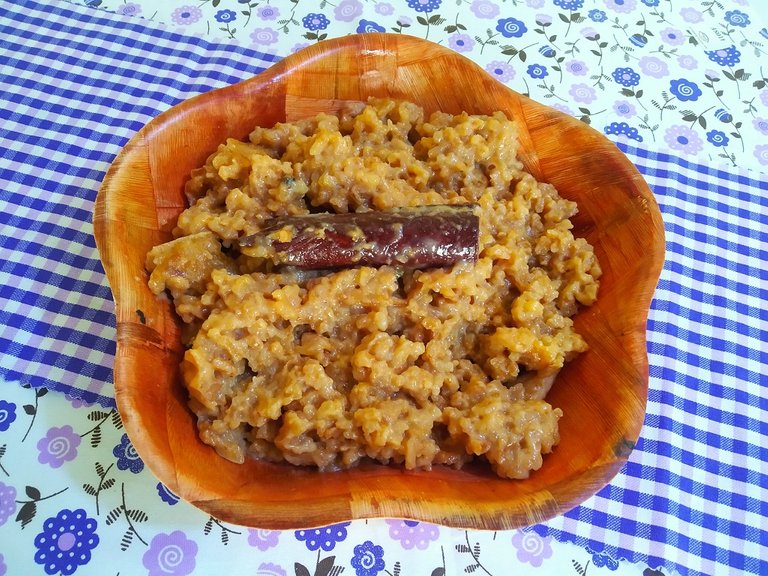 To prepare this rice you will need the following ingredients:
2 fresh coconuts
4 cups of rice
cinnamon sticks
1 1/2 cups of sugar
1 cup of powdered milk
5 drops of natural brown essence, optional
1 spoon of vanilla essence
5 cloves
strawberry sirop
2 liters of water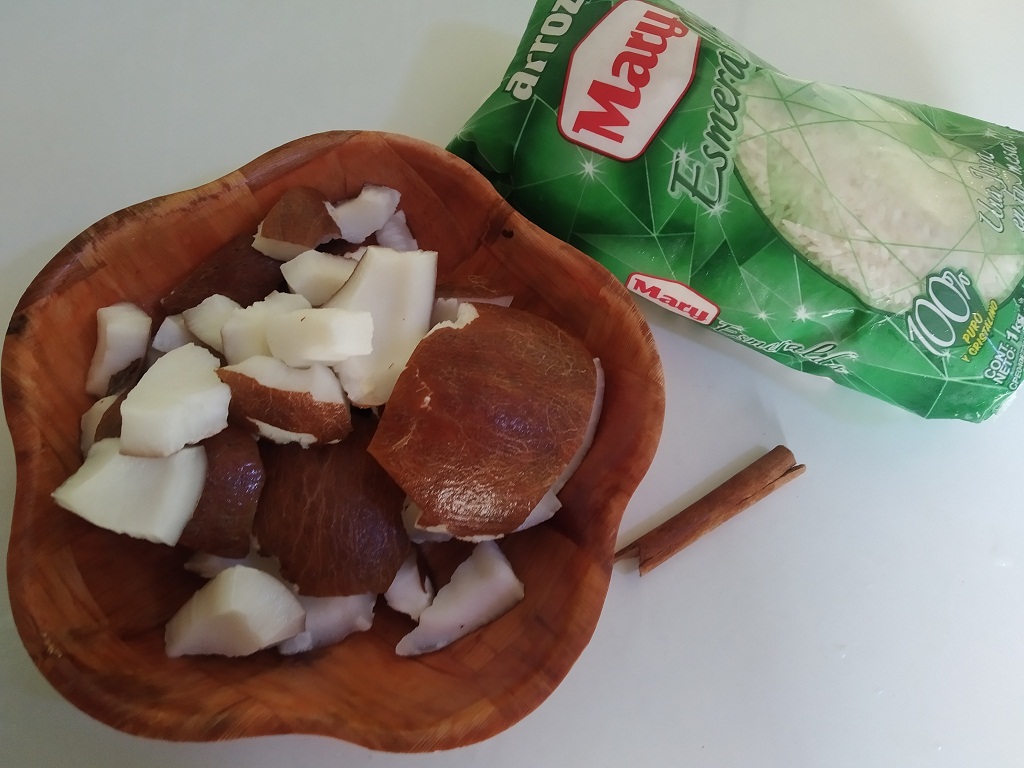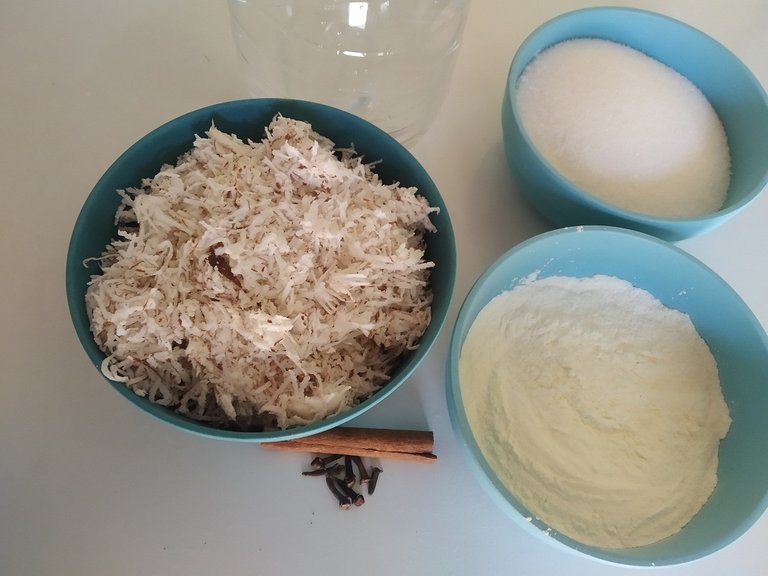 Preparation:
Break the coconuts and extract the white part
Cut in small pieces and grate them
Blend the coconut grated and extract the milk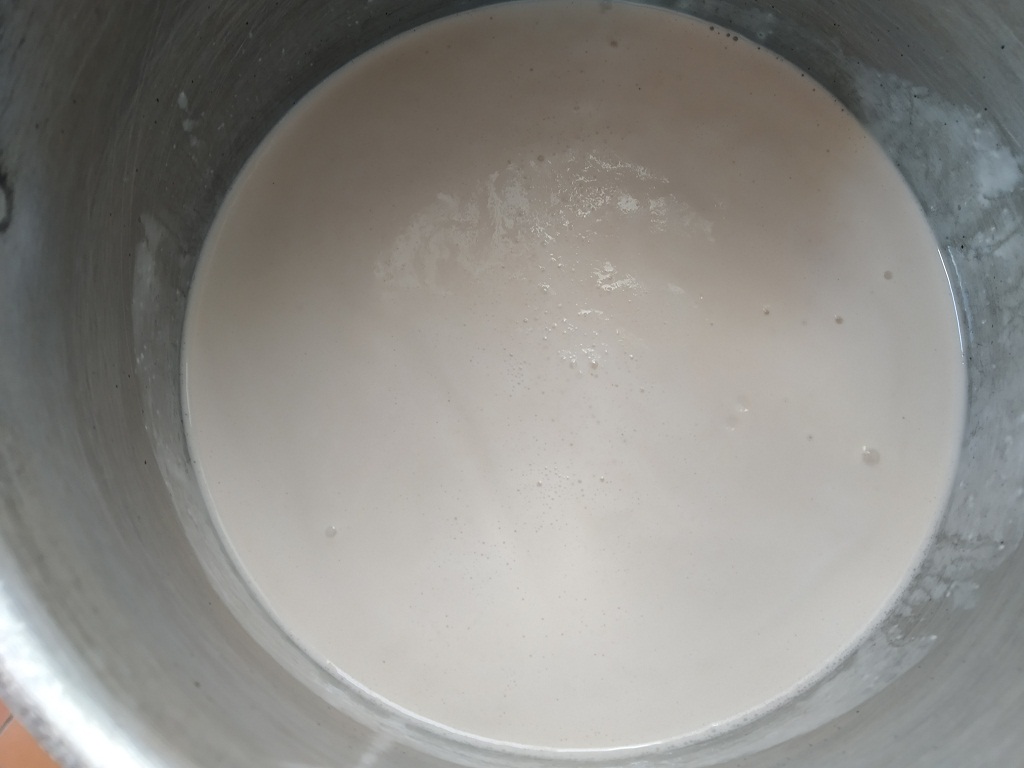 Wash the rice and soak for 30 minutes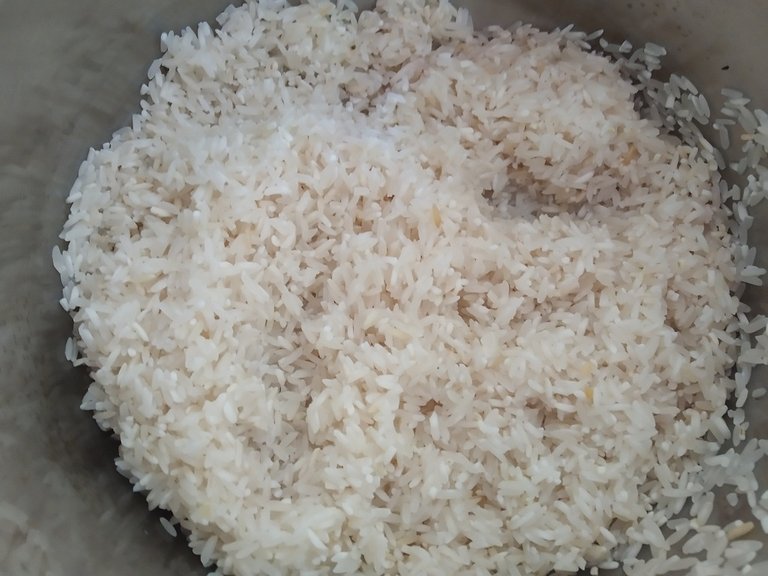 Place the saucepan on the fire with the coconut milk and the spices
When the milk boils add the soaked rice and move all the time, don't let it stick on the bottom of the pan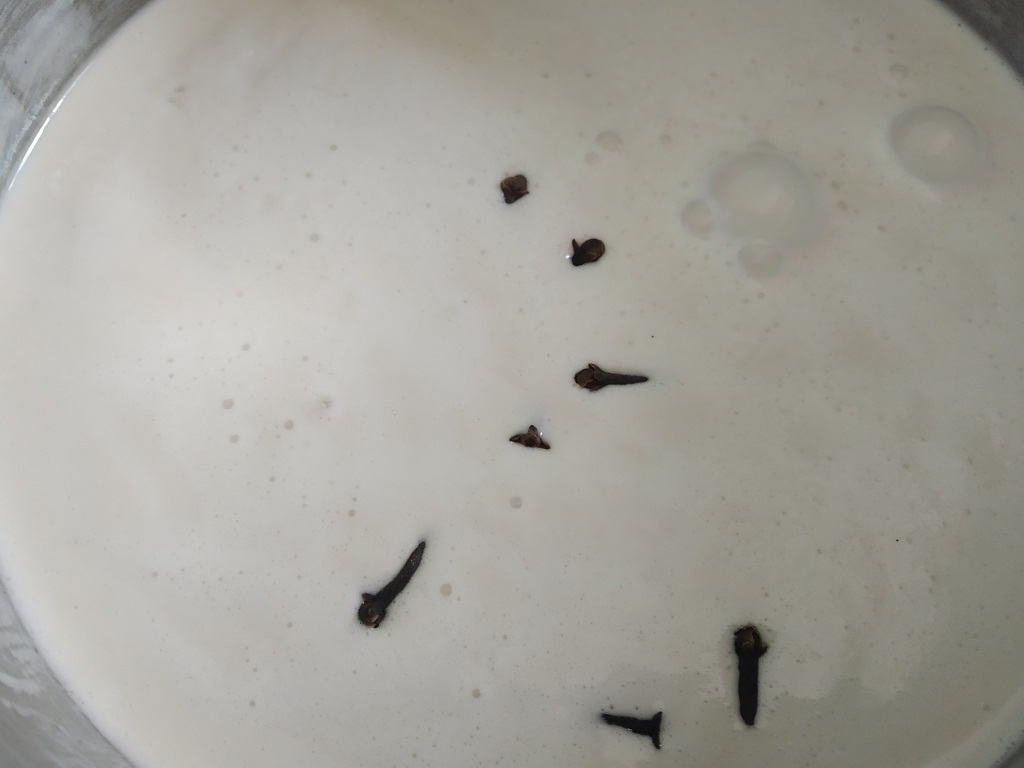 Add the sugar when the rice is soft otherwise the rice will become hard. Add the essence of vanilla and the drops of the brown dye and keep cooking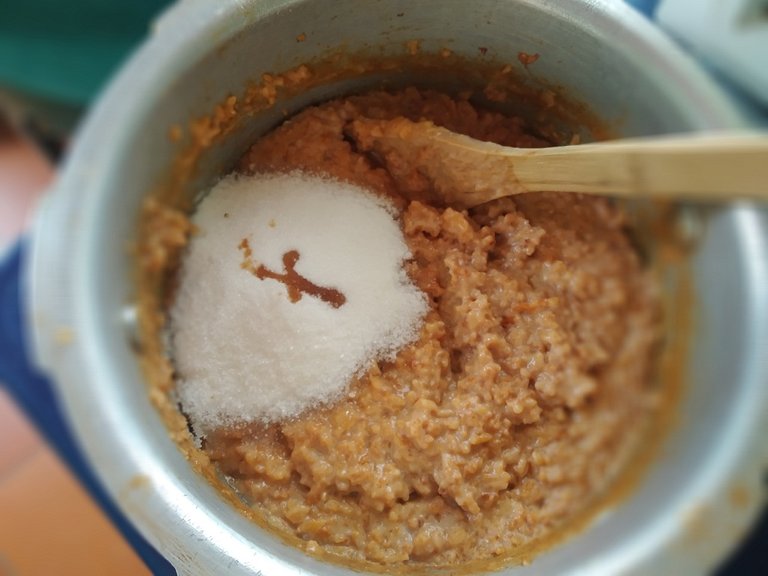 Prepare the milk with 1/2 cup of water and add it to the rice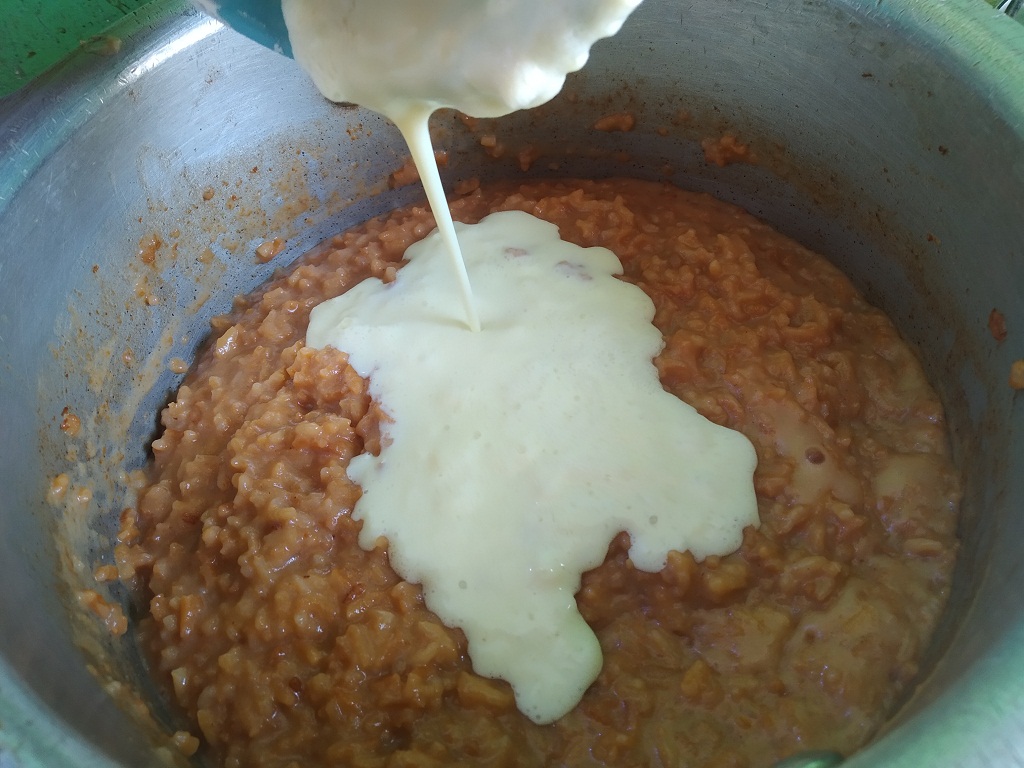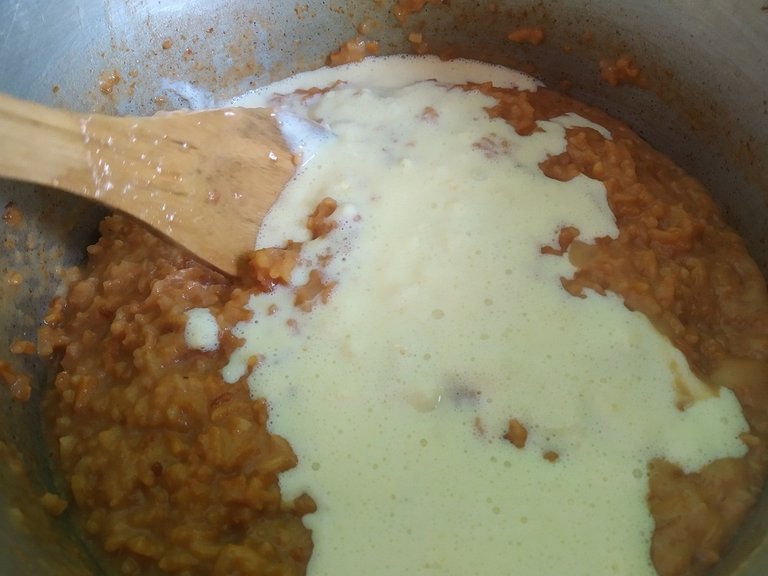 Mix well and cook for 10 minutes more, taking care not to burn it because of the sugar
Serve in your favorite dish. I used some of the hard skin of the coconut as a cup. I cut the coconut with a manual hacksaw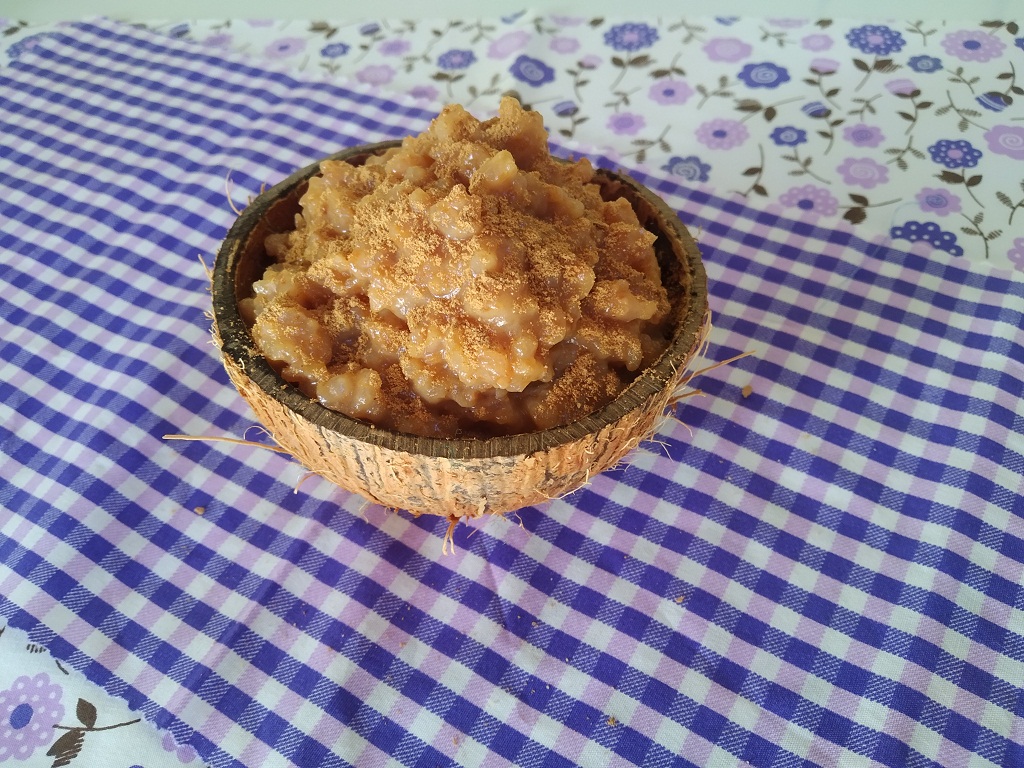 All images were taken with my Redmi7

En Venezuela tenemos muchos tipos de postres hechos con arroz y mi favorito es este arroz con coco y lo hago hoy para compartirlo con mis vecinos porque he visto a algunos de ellos tristes y otros enfermos. Sentí que tenía que buscar a mis amigos a pesar de la pandemia. Un pequeño gesto hace feliz a la gente y estoy segura de que será así.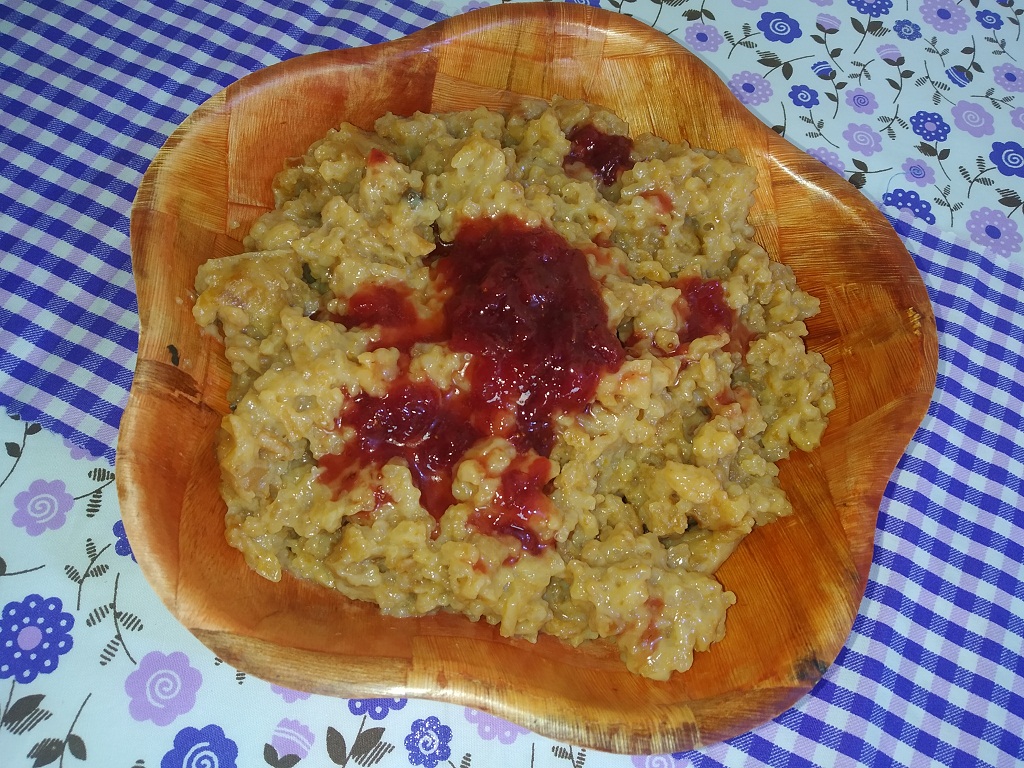 El coco no es una nuez, es una drupa. Es el fruto de la palmera y se encuentra principalmente en los países tropicales cerca de las playas o del mar. Contienen una bebida refrescante en su interior que sirve para hidratar el cuerpo, además de tener un alto contenido en vitaminas y minerales. Su sabor es algo parecido al de las nueces, pero para mí es más delicioso. Se utiliza en la fabricación de caramelos y se emplea en la preparación de alimentos dulces y salados.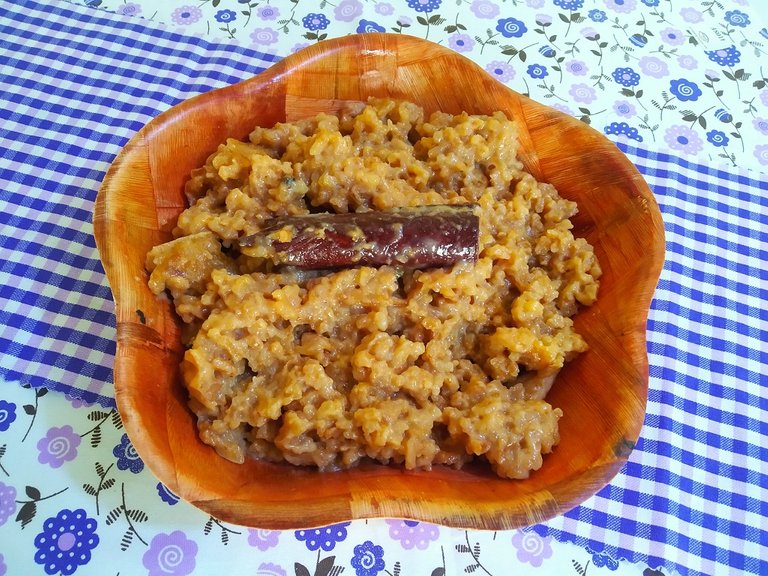 Para preparar este arroz necesitarás los siguientes ingredientes
2 cocos frescos
4 tazas de arroz
canela en rama
1 1/2 tazas de azúcar
1 taza de leche en polvo
5 gotas de colorante marrón natural, opcional
1 cucharada de esencia de vainilla
5 clavos de olor
sirope de fresa
2 litros de agua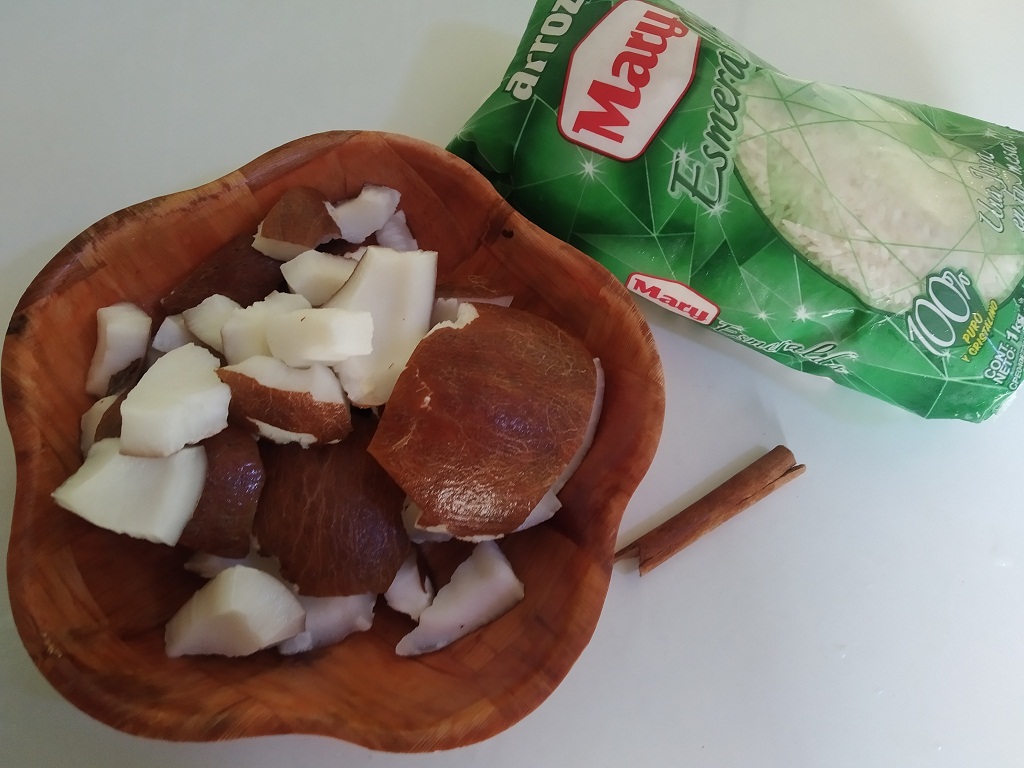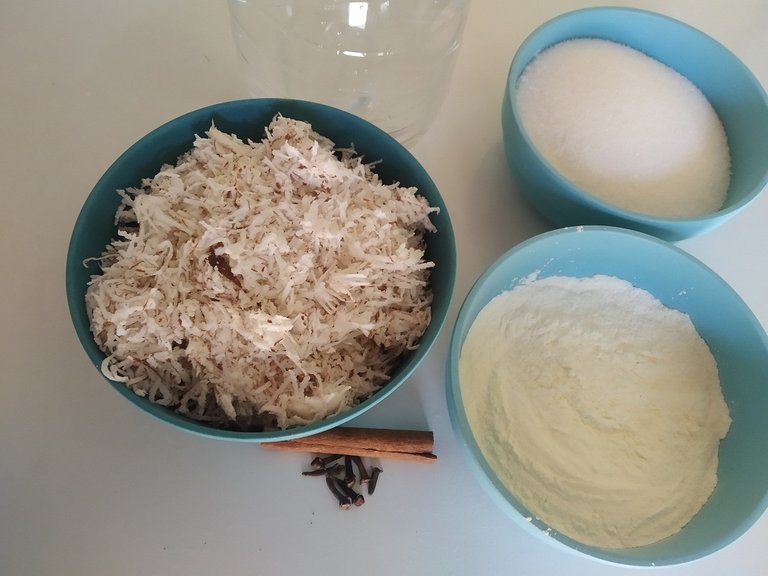 Preparación:
Romper los cocos y extraer la parte blanca
Cortar en trozos pequeños y rallarlos
Licuar el coco rallado y extraer la leche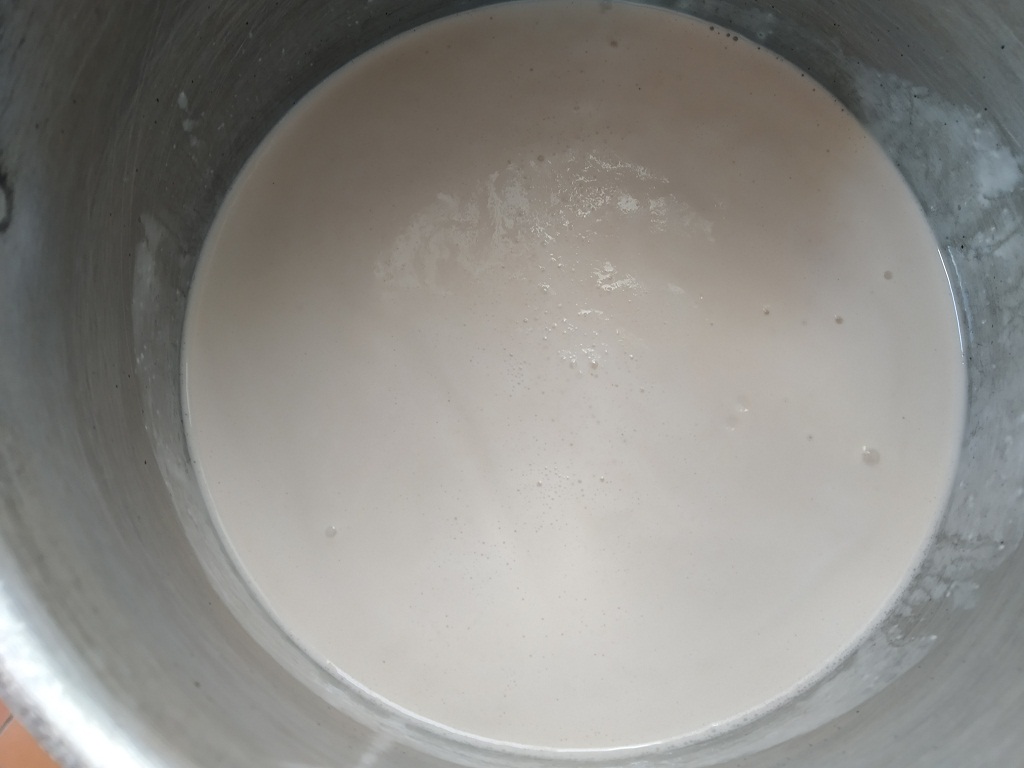 Lavar el arroz y dejarlo en remojo durante 30 minutos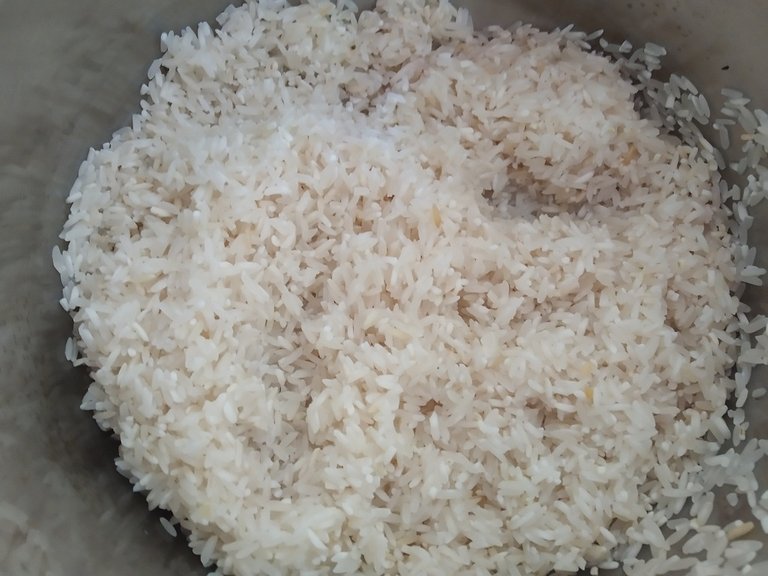 Poner la olla al fuego con la leche de coco y las especias
Cuando la leche hierva añade el arroz remojado y mueve todo el tiempo, no dejes que se pegue en el fondo de la olla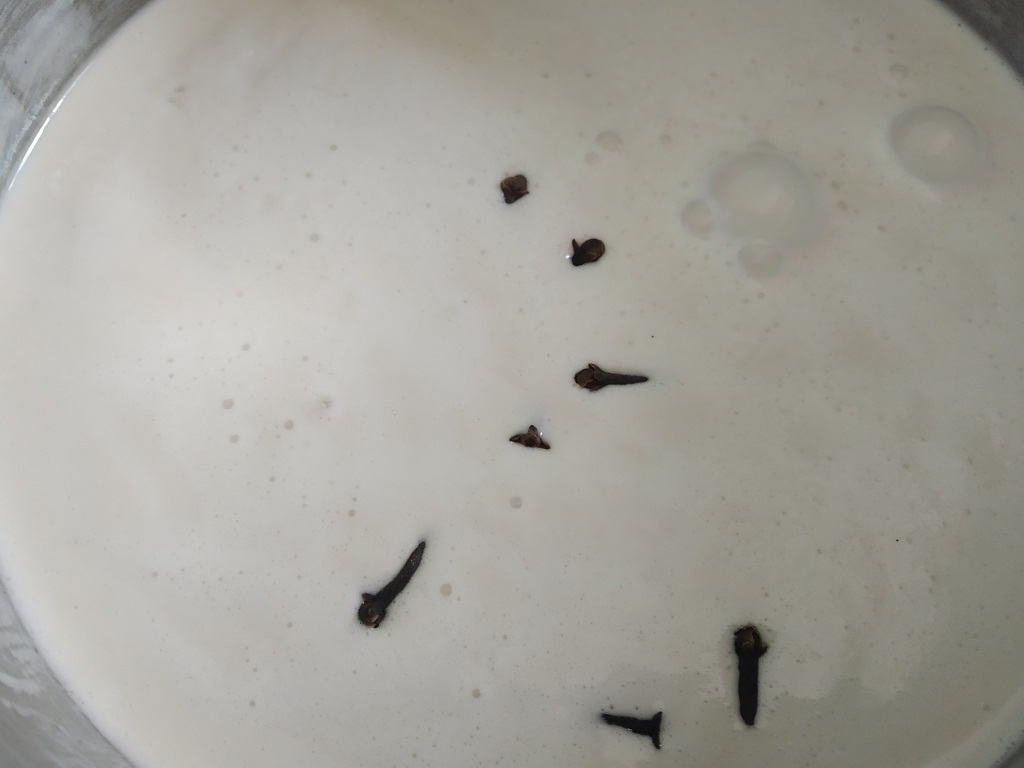 Añadir el azúcar cuando el arroz esté blando, de lo contrario el arroz se endurecerá. Añade la esencia de vainilla y las gotas de colorante marrón y sigue cocinando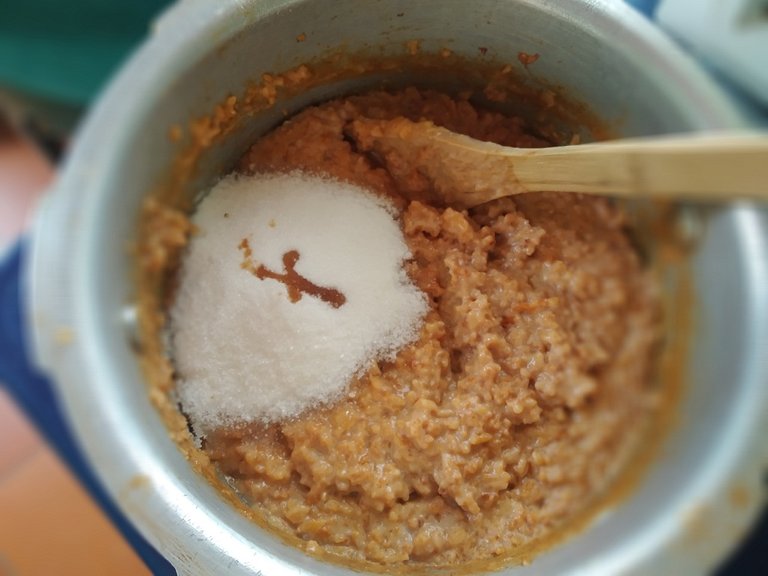 Preparar la leche con 1/2 taza de agua y añadirla al arroz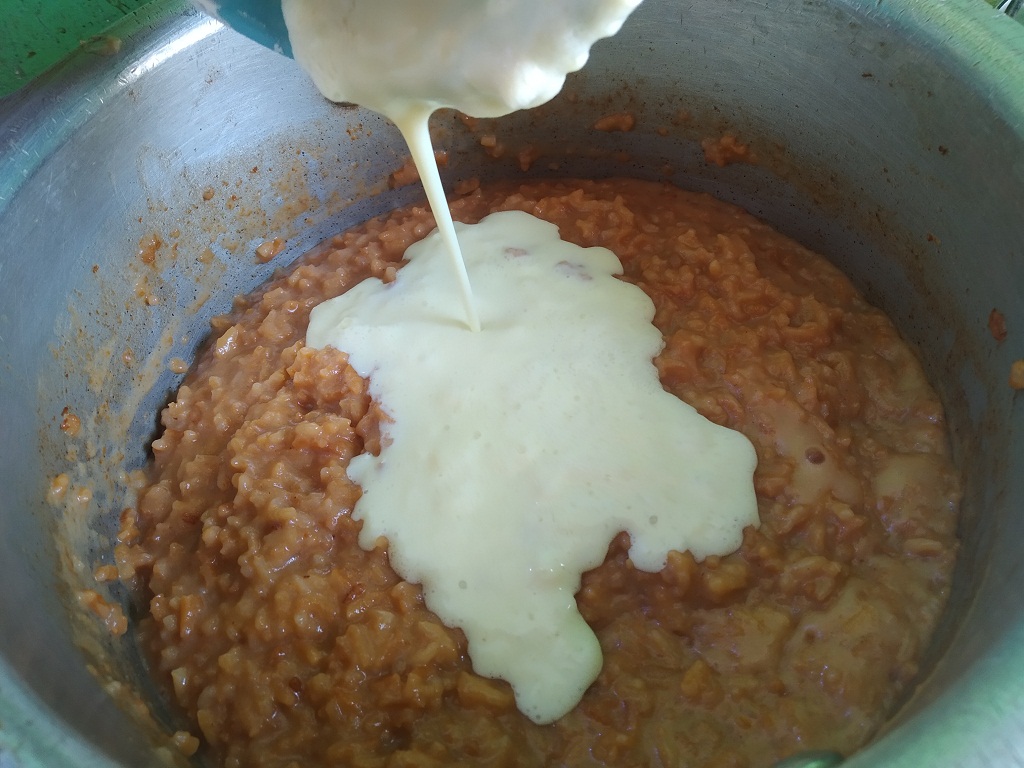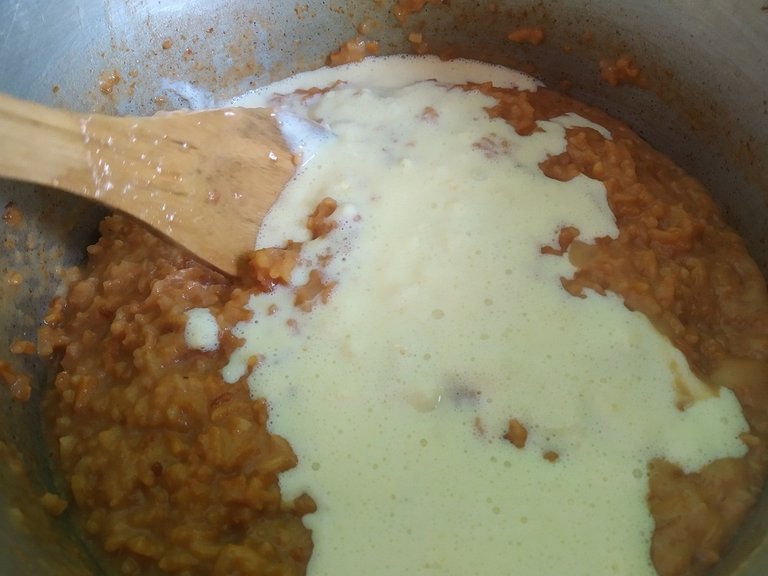 Mezclar bien y cocinar por 10 minutos más cuidando que no se queme por el azúcar
Sirve en tu plato favorito. Utiliza parte de la piel dura del coco como taza. Corté el coco con una sierra manual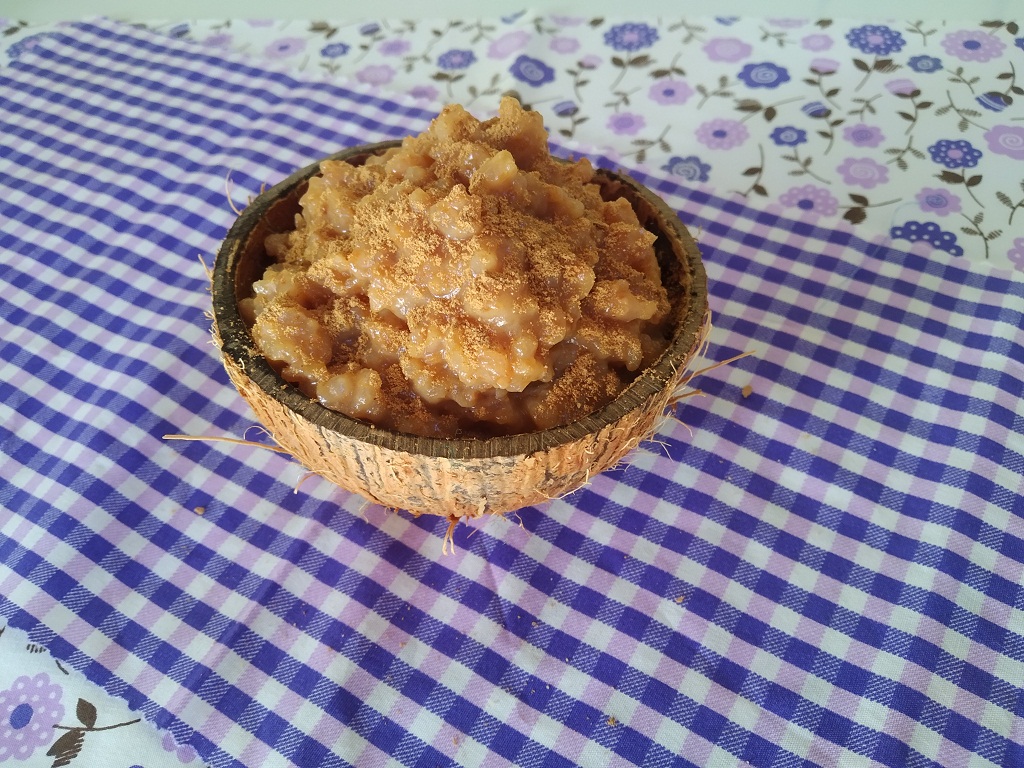 Todas las imágenes fueron tomadas con mi Redmi 7