![IMG_20160121_174658.jpg](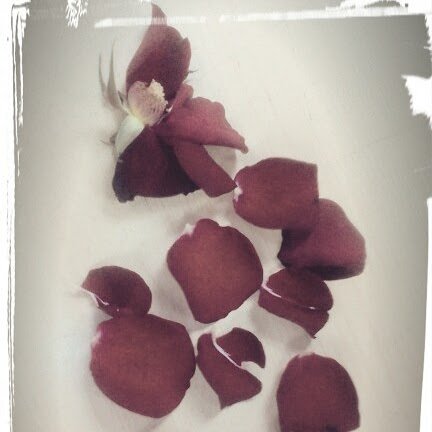 ---
English Version
Hello Hivers!!
Definitely this year has left us with many things, changes, adaptations, but above all changes.
But what can't change are our traditions and above all in these dates, the December dates are above all tradition and family.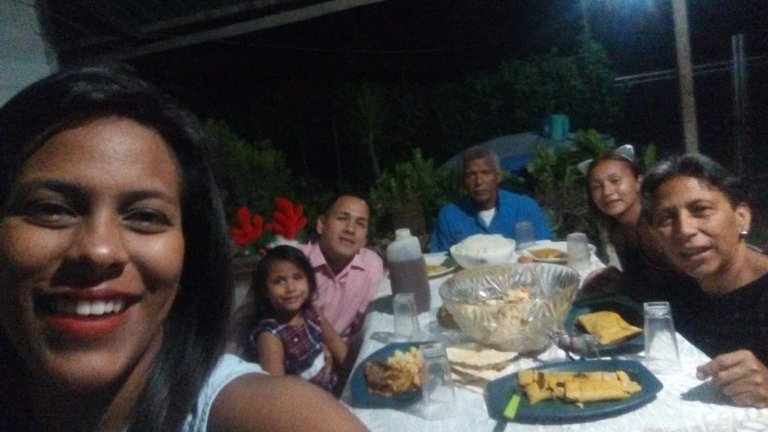 One of those traditions is our gastronomy, something that cannot be missing are our tables full of dishes made in family, to taste in family.
We begin with the salad, a chicken or hen salad, a rich composition of chicken, carrot, potato, petipua and sometimes pieces of apple, with abundant mayonnaise and a little salt as a dressing.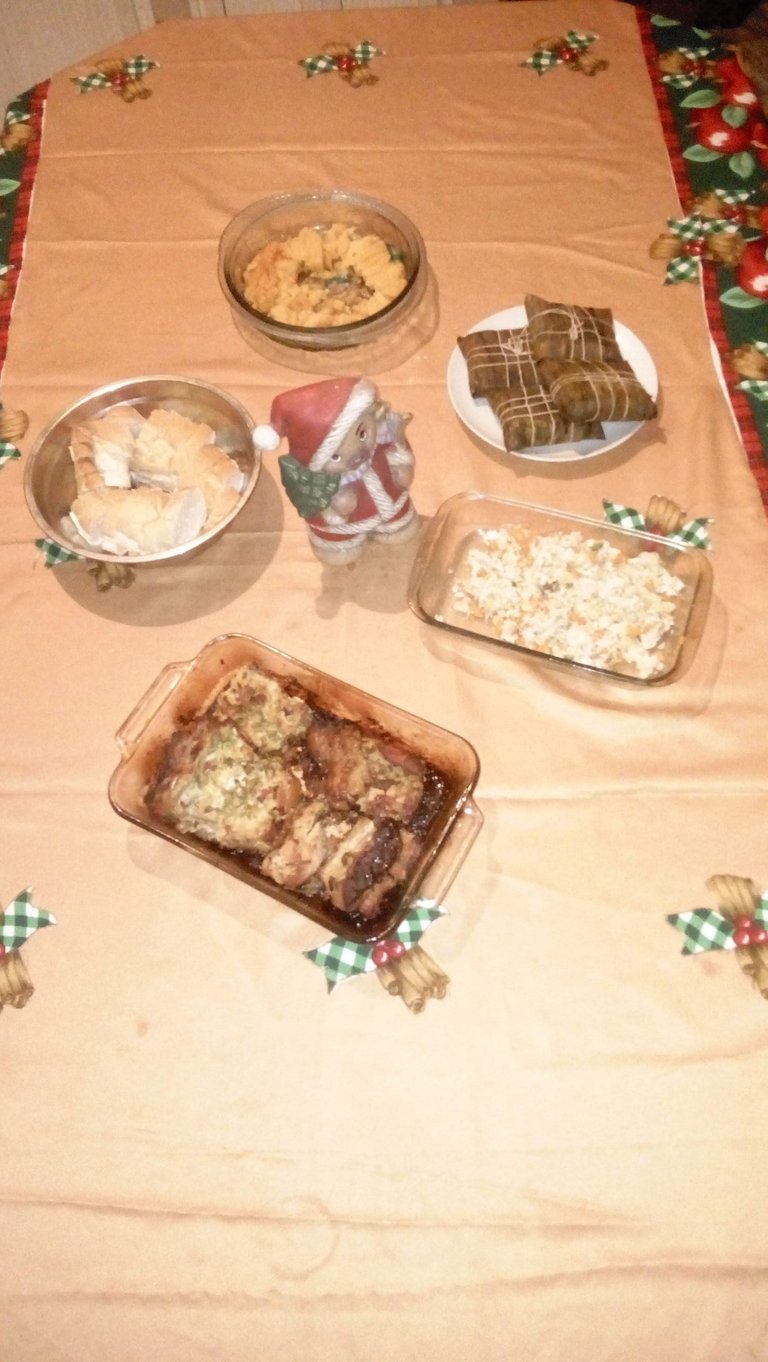 Then we add the ham bread, which in my opinion tastes much better, a bread roll, filled with ham, bacon, olives, raisins and sometimes cream cheese.
We add to the table the leg of pork, which we put a day before with a preparation of condiments and spices cloves. This is put to cook the day of dinner during the day, is a delicious aroma that permeates the house all day.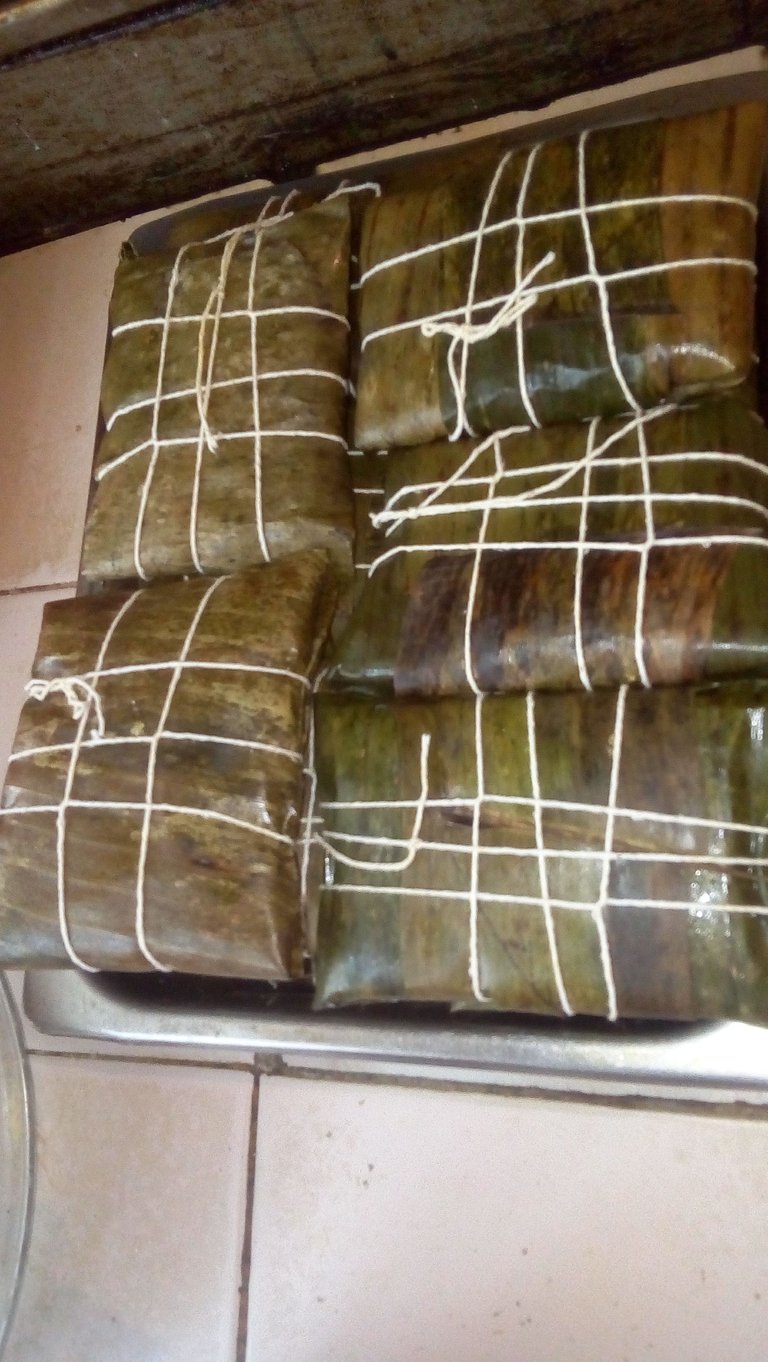 As the protagonist of our table and our dish, we have the Hallaca, a corn dough roll filled with meat, chicken or pork stew, potato, paprika, onion and egg. A bun that is cooked wrapped in a banana leaf, in boiled water.
To close we can put the dessert, this can be sweet of bed, black cake or paneton.
The toast can be made with any drink but we also have a traditional cream punch.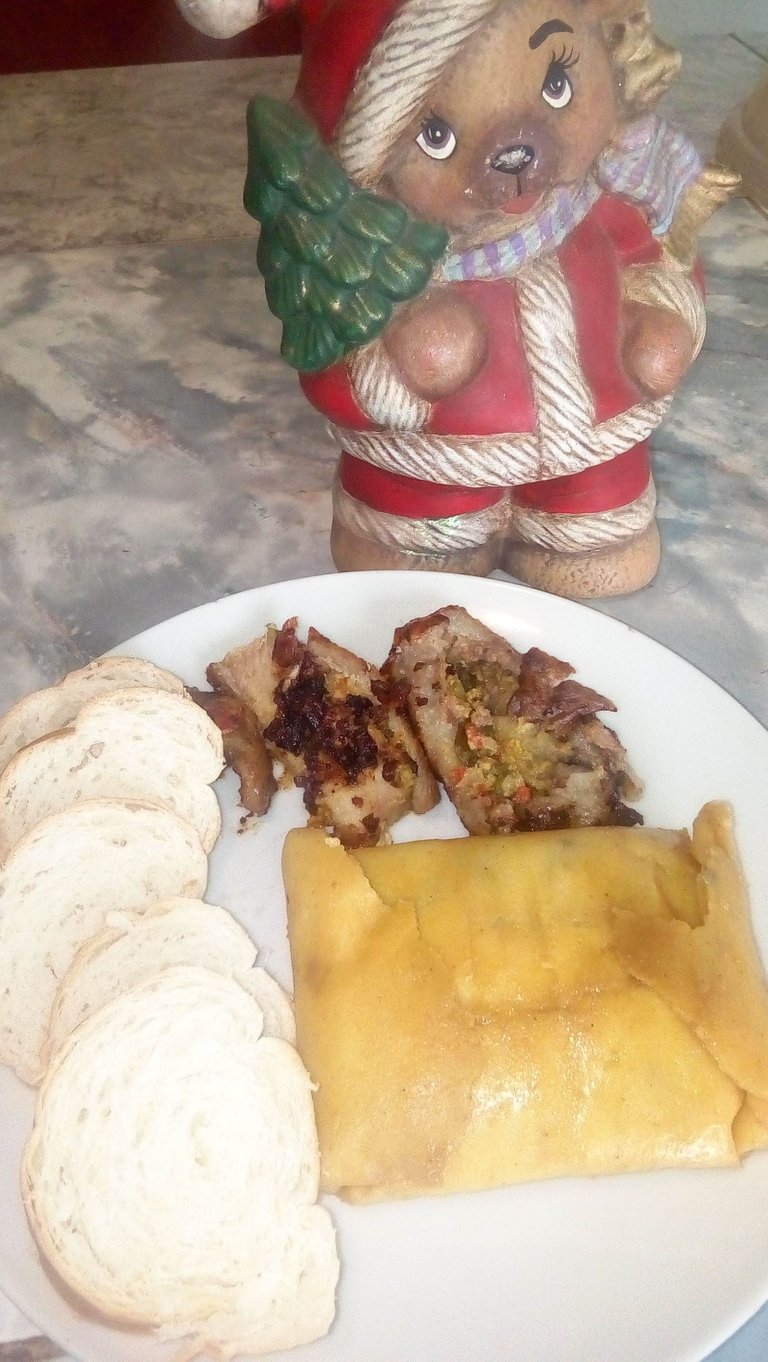 I love to highlight all these dishes, because everything including the drink is homemade, because they are part of our traditions, because they are part of our December celebrations and are part of our essence as a family.
It is a pleasure to have presented to you these, the components of our Christmas dish.
Serve this post as a preview of the Christmas Eve initiative, details Here
More details on each of the recipes will be available soon.
Thank you for being here, for reading, commenting and voting! 😘
Translated with www.DeepL.com/Translator (free version)
---
Versión Español
Hola Hola Hivers!!!
Definitivamente este año nos ha dejado muchas cosas, cambios, adaptaciones, pero por sobre todas las cosas cambios.
Pero lo que no puede cambiar son nuestras tradiciones y sobre todo en estas fechas, las fechas decembrinas son por encima de todo tradición y familia.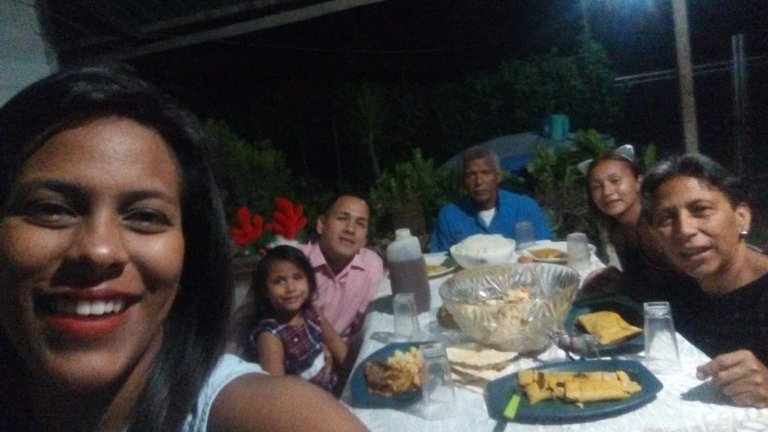 Una de esas tradiciones es nuestra gastronomía, algo que no puede faltar son nuestras mesas llenas de platos hechos en familia, para degustar en familia.
Empezamos por la ensalada, una ensalada de pollo o gallina, una rica composición de pollo, zanahoria, papa, petipua y en ocasiones trozos de manzana, con abundante mayonesa y un poco de sal como aderezo.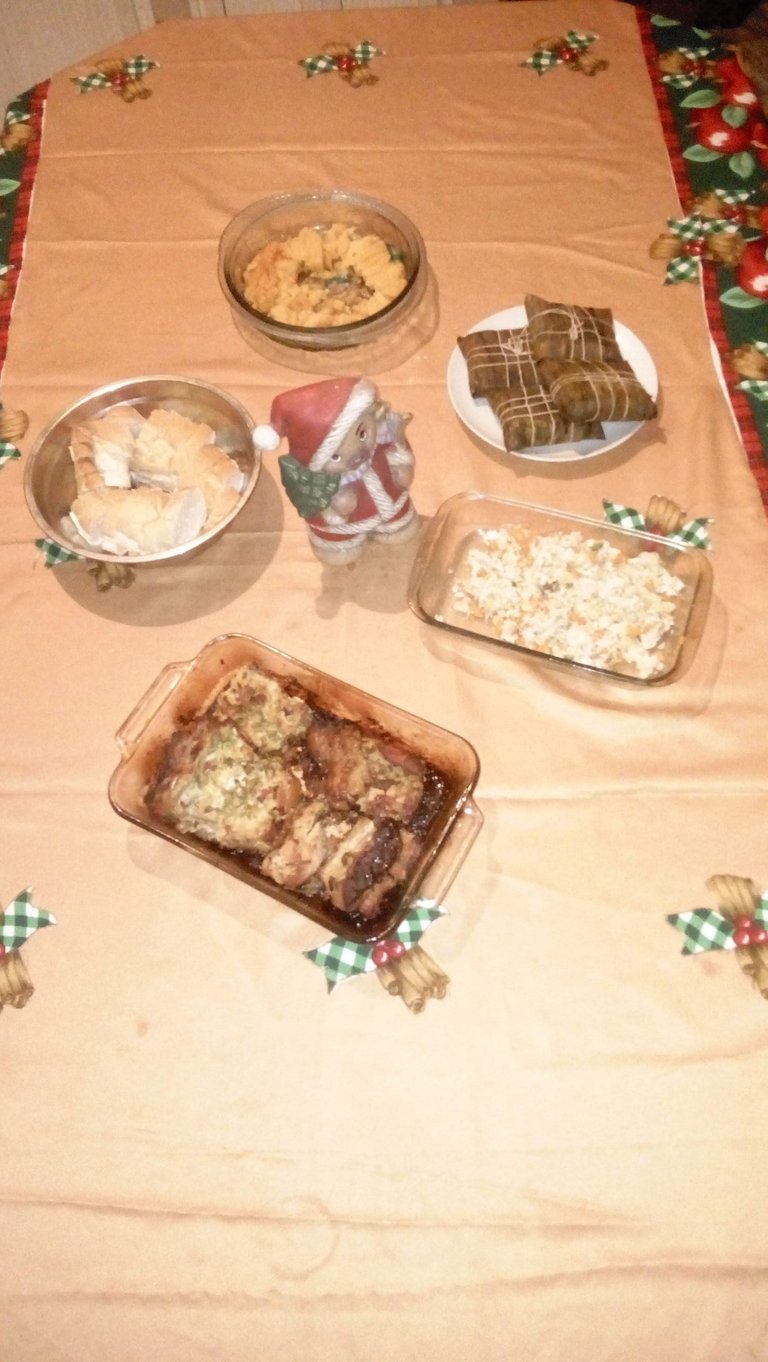 Luego anexamos el pan de jamón, que en mi opinion hecho en casa sabe mucho mejor, un enrrollado de pan, relleno de jamon, tocineta, aceituna, pasas y en ocasiones queso crema.
Agregamos a la mesa el pernil, una pierna de cochino, que ponemos un dia antes con una preparación de condimentos y clavo especies. esto se pone a cocinar el día de la cena durante el día, es un delicioso aroma que impregna la casa todo el día.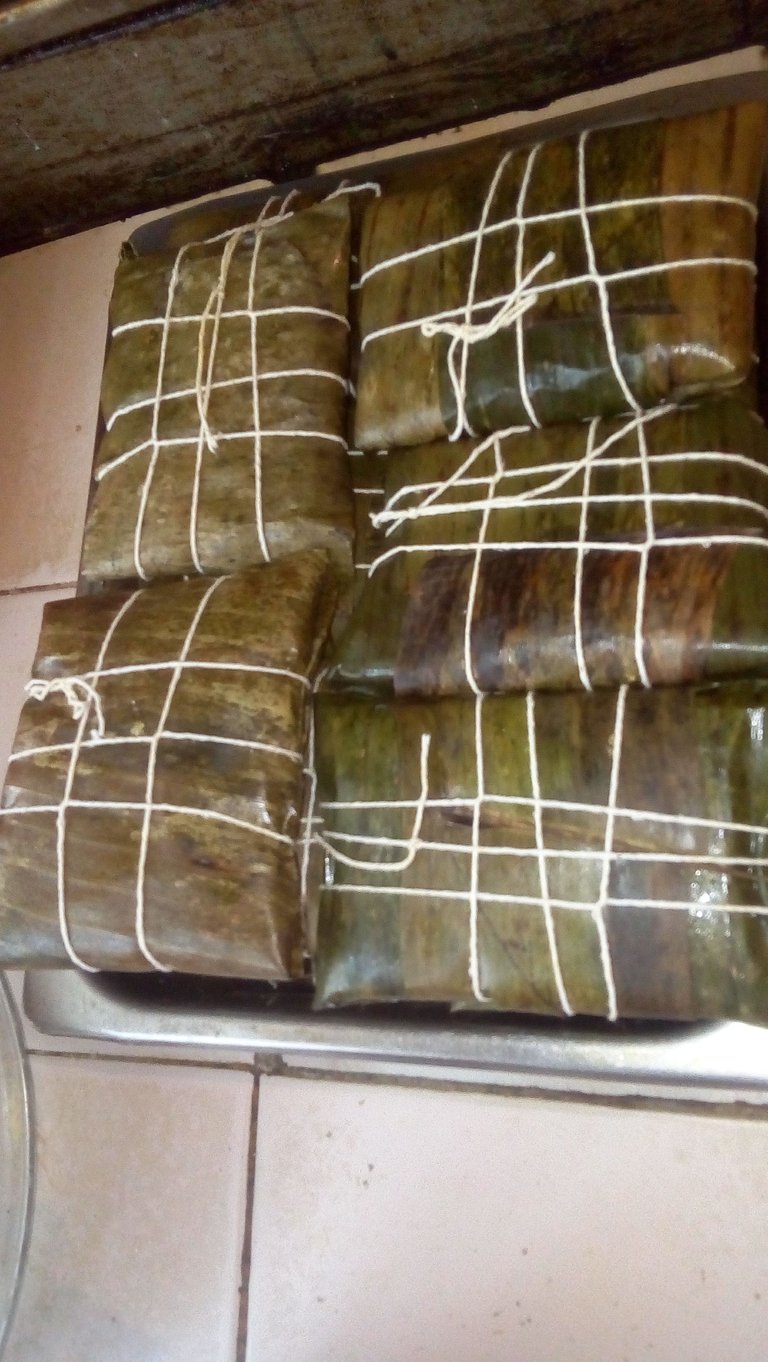 Como protagonista de nuestra mesa y nuestro plato, tenemos la Hallaca, un bollo de masa de maiz relleno de guiso de carne, pollo o cochino, papa, pimenton, cebolla y huevo. Bollo que se cocina envuelto en una hoja de platano, en agua hervida.
Para cerrar podemos colocar el postre, este puede ser dulce de lechoza, torta negra o panetón.
El brindis podemos hacerlo con cualquier bebida pero tambien tenemos una tradicional el ponche de crema.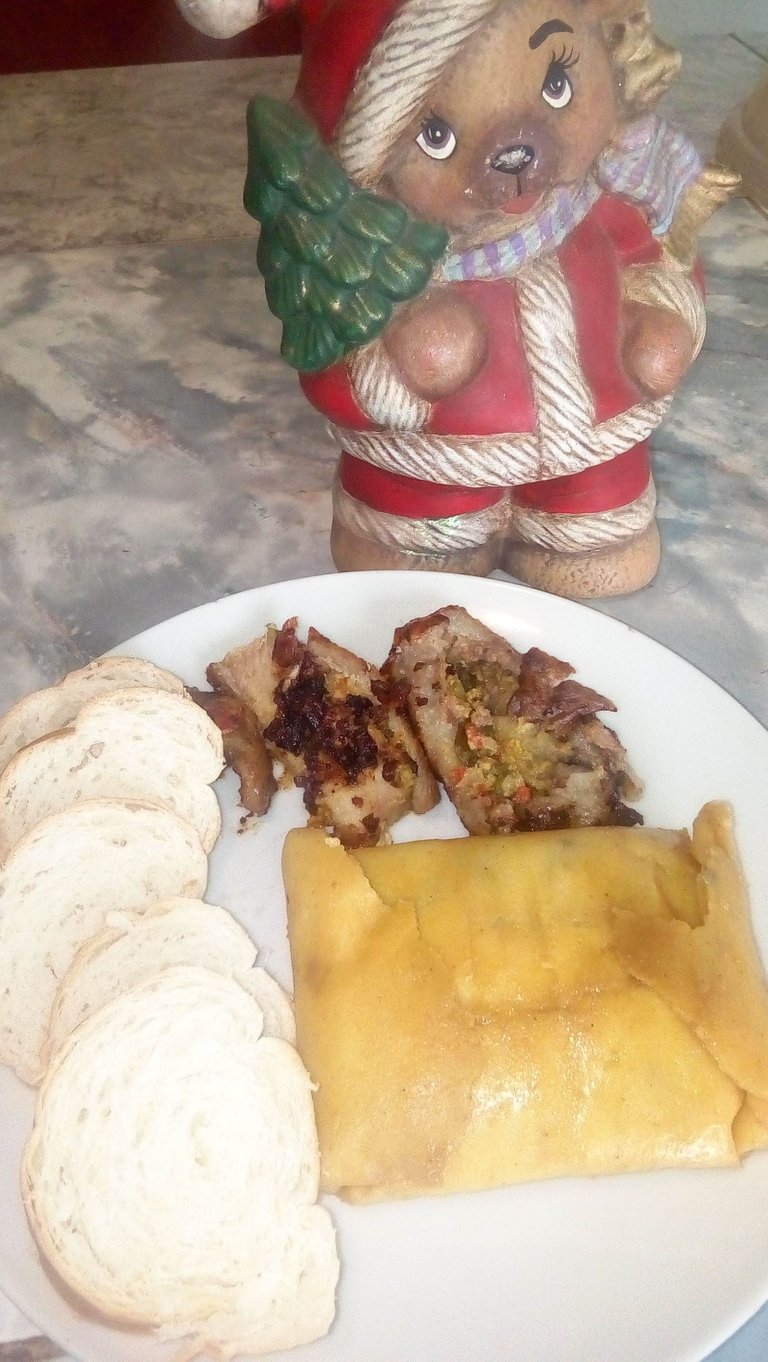 Me encanta destacar todos estos platos, porque todo incluyendo la bebida son hechos en casa, porque son parte de nuestras tradiciones, porque son parte de nuestras celebraciones decembrinas y son parte de nuestra esencia como familia.
Es un gusto haber presentado para ustedes estos, los componentes de nuestro plato navideño.
Sirva este post como porticipación a la iniciativa de visperas de navidad, detalles Aqui
Pronto más detalles de cada una de las recetas.
Gracias por estar aqui, por leer, comentar y votar!!! 😘