¡Hola comunidad Hive!
Hello Hive Community!
Una pequeña receta no viene mal de vez en cuando y es por ello que quise compartir una de mis comidas favoritas con ustedes. Una muy sencilla de hacer y con un toque algo diferente. No considero que sea muy buena explicando recetas, ya que normalmente cuando cocino suelo tomar las cosas que uso a medida que las necesito. Cuando hago este tipo de Post siempre se me olvida poner en las fotos uno que otro ingrediente, aunque creo que esto puede resultar más real de esta manera.
A little recipe doesn't hurt from time to time and that's why I wanted to share one of my favorite foods with you. A very simple one to make and with a slightly different touch. I don't think I'm very good at explaining recipes, because usually when I cook I take the things I use as I need them. When I do this kind of post I always forget to put in the pictures one or another ingredient, although I think it can be more real this way.
---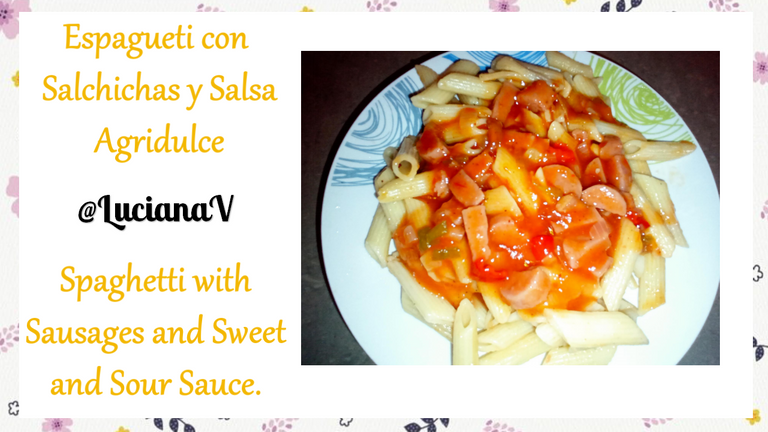 ---
Como mencione, le di un toque diferente a los espaguetis con salchicha, realizando una salsa agridulce. Esta es una de mis favoritas! Es que amo todo tipo de dulces y ese toque agrio de esta salsa la hace aun más interesante.
As I mentioned, I gave a different touch to the spaghetti and sausage, making a sweet and sour sauce. This is one of my favorites! I just love all kinds of sweets and that sour touch of this sauce makes it even more interesting.
---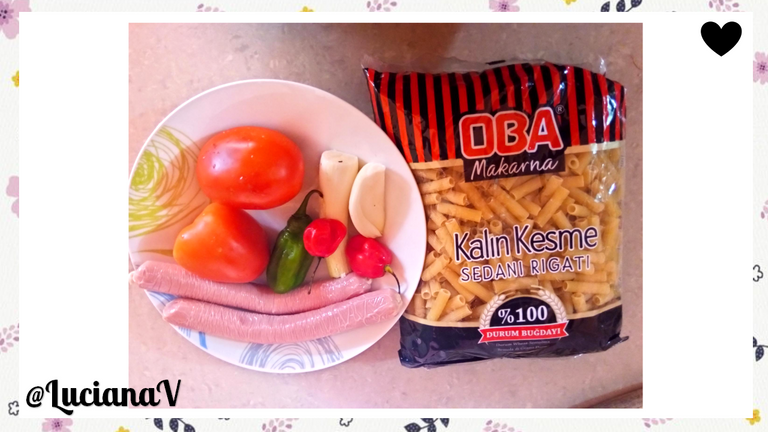 ---

Ingredientes:
2 Salchichas.
300gr de Espaguetis.
Ajíes, Cebolla y Cebollín.
3 Tomates.
Ajo y Sal al gusto.
2 Cucharadas de Maicena o Harina de Trigo.
6 Cucharadas de Azúcar.
Vinagre.
Ingredients:
2 sausages.
300gr of Spaghetti.
Peppers, Onions and Chives.
3 Tomatoes.
Garlic and Salt to taste.
2 Spoonfuls of Cornstarch or Wheat Flour.
6 Spoonfuls of Sugar.
Vinegar.

---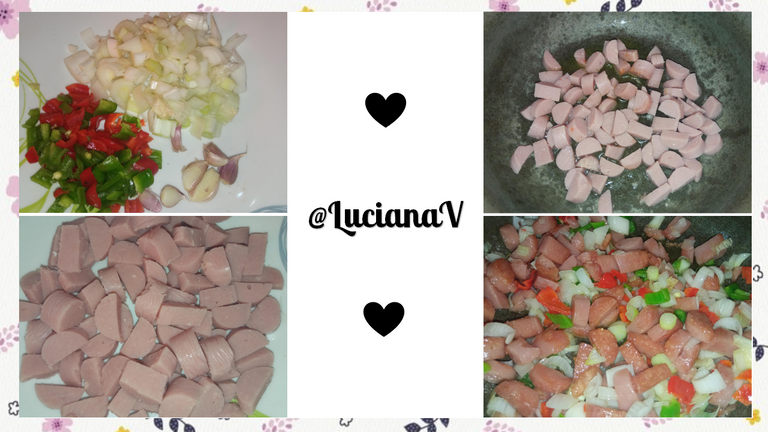 ---
Preparación de la Salchicha.
Lo primero que hice fue cortar el ají, la cebolla, el cebollín y el ajo, en trocitos pequeños.
Corte las salchichas en trocitos medianos y un poco gruesos.
Coloque Aceite en una olla y puse a freír las Salchichas.
Luego coloque el aliño y lo estuve moviendo un rato.
Preparation of the Sausage.
The first thing I did was to cut the chili, onion, scallion and garlic, in small pieces.
Cut the sausages in medium and slightly thick pieces.
Put some oil in a pot and fry the sausages.
Then I put the dressing on and I was moving it around for a while.
---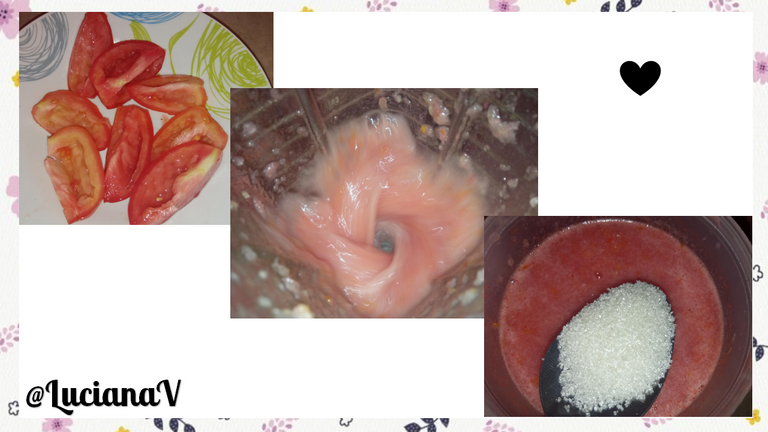 ---
Preparación de la Salsa.
Corte los tomates y les saque las semillas.
Los llueve a la licuadora con un poquito de agua.
Y le vertí un poco de vinagre.
Le coloque las cucharadas de azúcar y mezcle bien.
Preparation of the Sauce.
Cut the tomatoes and remove the seeds.
Put them in the blender with a little bit of water.
And I poured in some vinegar.
I put the spoonfuls of sugar on it and mix it well.
---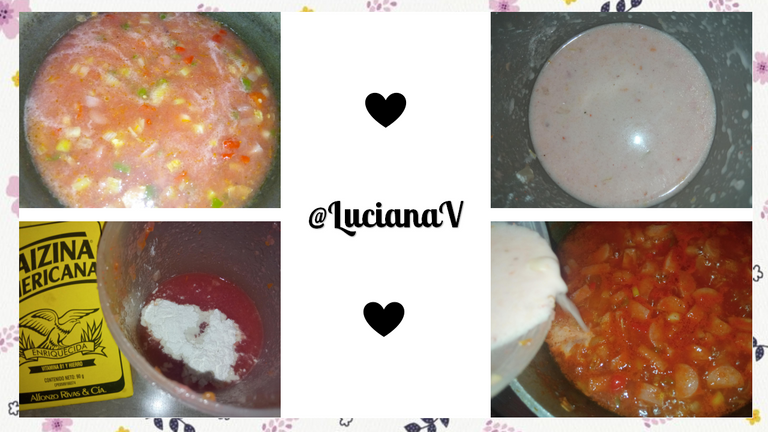 ---
Salchicha + Salsa.
Después que la salchicha estuvo bien cocida y frita procedí a echarle la salsa.
Reserve un poco de salsa y a esta le coloque 2 cucharadas pequeñas de maicena.
Finalmente la vertí en la salsa con la salchicha y moví por unos minutos hasta que espesara.
Sausage + Sauce.
After the sausage was well cooked and fried I proceeded to pour the sauce on it.
Reserve some sauce and add 2 tablespoons of cornstarch to it.
Finally I poured it into the sauce with the sausage and moved it around for a few minutes until it thickened.
---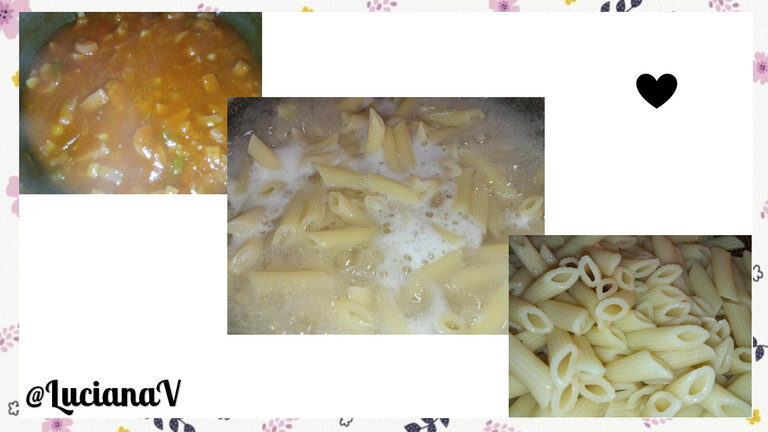 ---
Proceso de Cocción del Espagueti.
Como eramos 3 personas solo hice 300gr de Espaguetis.
Llene una olla mediana hasta más de la mitad de agua.
Cuando comenzó a hervir coloque los espaguetis y espere hasta que se ablandaran.
Cuando estuvieron listos apague y serví.
Spaghetti cooking process.
As we were 3 people I only made 300gr of Spaghetti.
I filled a medium sized pot with more than half of the water.
When it started boiling, I put the spaghetti in it and waited for it to soften.
When ready, turn off and serve.
---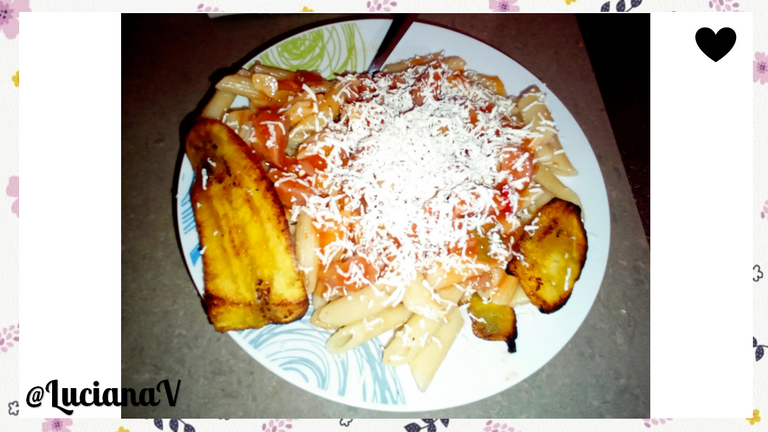 ---
Al final me decidí por colocarle queso y un poco de plátano y no puede estar más feliz con el resultado! Espero mejorar en la explicación de las recetas, aunque por ahora siento que lo hago mejor que antes. Me gusta variar el contenido de mis post de vez en cuando c:
I finally decided to put cheese and some banana on it and you couldn't be happier with the result! I hope to improve in the explanation of the recipes, although for now I feel I'm doing better than before. I like to vary the content of my posts from time to time c:
¡Gracias por leer mi post! ¡Espero que les haya gustado!
Fotos de mi propiedad.
Camara: Teléfono Xiaomi Redmi 9.
Thanks for reading my post! I hope you enjoyed it!
Pictures of my property.
Camera: CellPhone Xiaomi Redmi 9.