Welcome back to my food series, A Look Into Indonesian Authentic Food.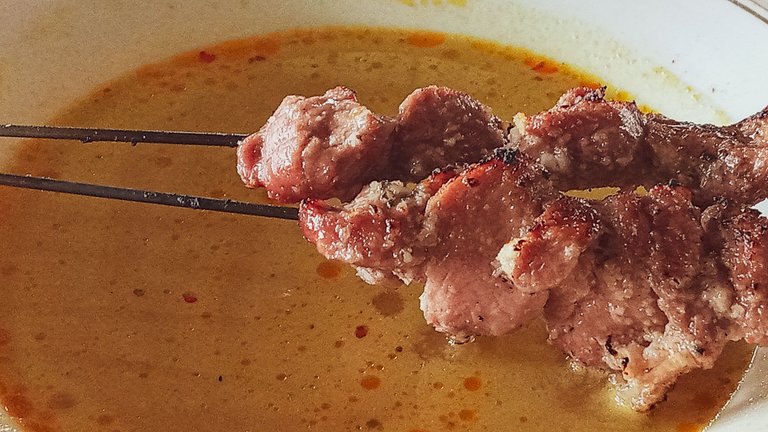 Indonesia is home to various satay dishes. Each region offers different types of satay with its own signature spices and its long history behind it. The invention of these dishes in the country is also something that I am interested in. To me, there are many interesting stories behind the invention of some of Indonesia's dishes whether it was through a tradition or simply out-of-the blue dishes that became famous later on. Like this satay called sate klathak could be argued that the origin was through a tradition passed from one generation to another.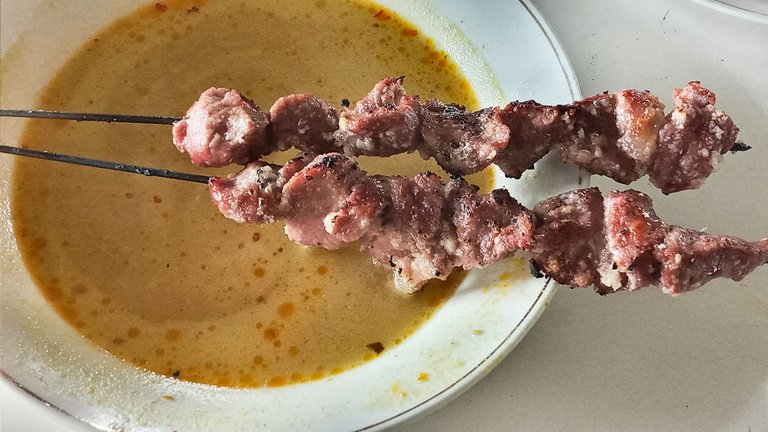 Sate klatak is also another satay variant that is quite distinguishable from other types of satay. In the past, I have written about Sate Padang in which you can read here Sate Padang, Spice Rich Seasoning and Peppery Beef Satay: A Look Into Authentic Indonesian Food. Compared to other satay and even sate Padang, sate klathak uses mutton and also minimalistic spice.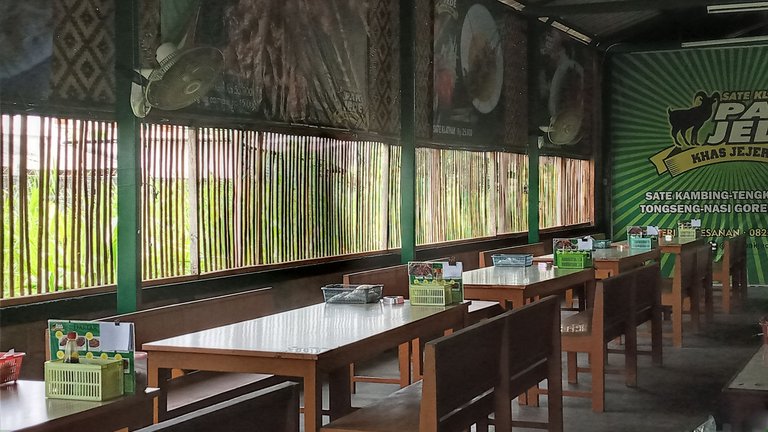 Yesterday, I visited a place that specializes in selling this Sate Klathak. The satay itself originates from Jejeran, a small region in Yogyakarta, Indonesia. Though this place has plenty of interesting dishes to try and is quite well-known like Gudeg, this satay is the dish that should not be missed while visiting the province. If you want to taste this satay, there is a place called Sate Klathak Pak Jede which is located in the middle of bustling street and just less than 30 minutes drive from Malioboro street. It's exact address is Jl. Nologaten No.46, Nologaten, Caturtunggal, Kec. Depok, Kabupaten Sleman, Daerah Istimewa Yogyakarta 55281.
The place is quite massive with a spacious parking lot and plenty of chairs. On the side, there's even a small field that mimics the actual experience of eating from its original place which is located on the outskirts of the city. As soon as you stepped inside the place, you could see the staff was putting the meat on the skewers.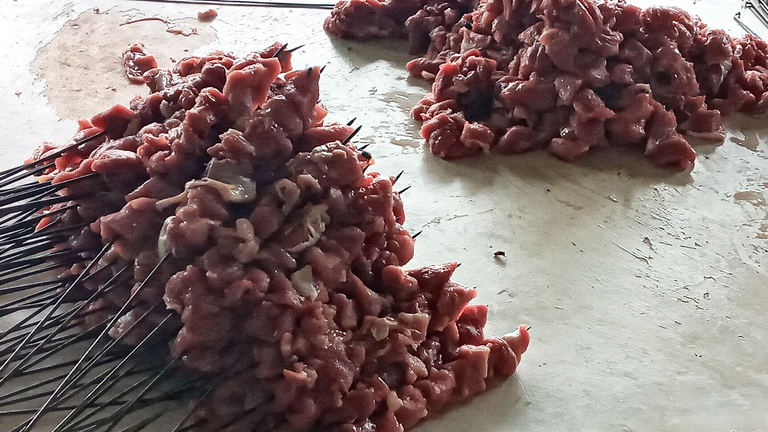 Since I came to the place with my brother, I ordered Sate klathak and he ordered Mutton Soup. We waited for about 25 minutes before our food arrived. While we were waiting, I was checking out the menu that has the history of this satay and why it was named Sate Klathak.

Why is it called Sate Klathak?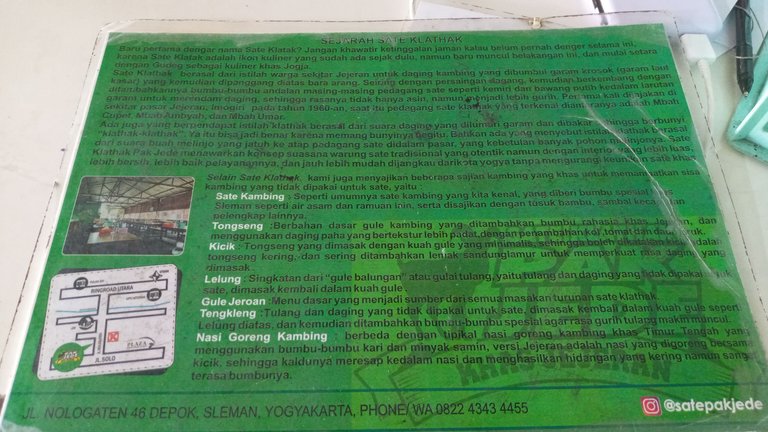 This satay originates from a place called Jejeran in Yogyakarta where in this place, the locals cook satay from mutton with only sea salt. During this grilling process it made the sound "klathak.. Klathak" in the local language and that's where the name comes from. This satay is said to have existed even before the 60's and overtime, the locals improved the seasoning by adding candlenut and/or garlic into the seasoning. The skewers are what makes this satay different from the others. Instead of using bamboo skewers, this satay uses iron skewers from bicycles . Then, it is served with gulai, the local curry dish made from various spices with coconut milk. The serving itself is limited to either 2 or three and unlike other satays with either 5 to 10 skewers.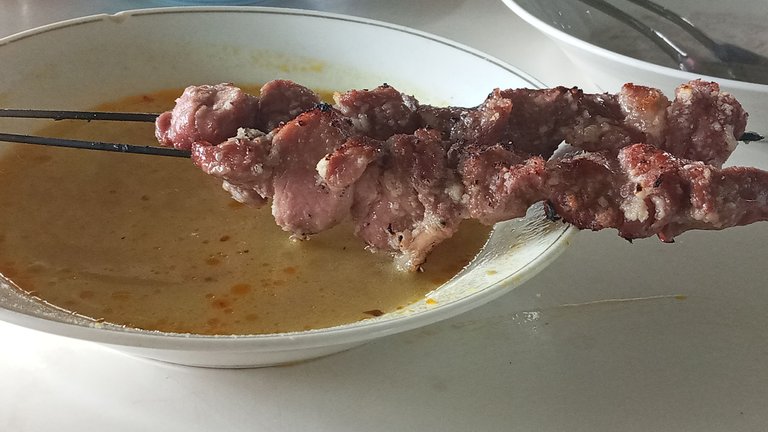 When the food arrived, I was quite excited to try it. The first bite was juicy, soft, and it was so easy to chew on. There was a hint of candlenut that I tasted and when I thought it would be too salty, it wasn't. It had the perfect taste of savory. So, unlike many satay in Java, this one doesn't have any soy sauce but you can add it separately after if you'd prefer. Since I want to taste its original taste, I didn't add it. When I ate the meat with the curry, they blended really well and it was really delicious. I didn't order rice and it was already filling for me. For others, adding rice would be another great addition too.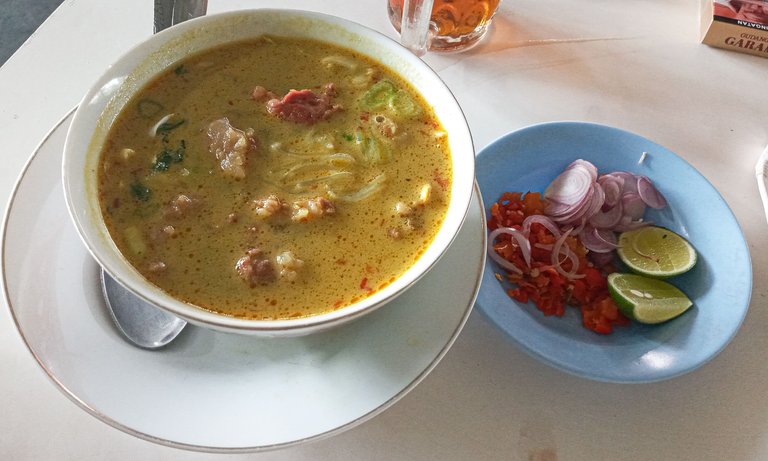 I also had the chance to taste the mutton soup which is made with the parts of the meat that isn't used for the satay. The soup is curry-like instead of regular Indonesian chicken or beef soup. It was filled with some meat and interestly, glass noodles. There's also a small plate of lime, chopped chilli and sliced shallots. This combination was also interesting and quite delicious. No wonder, even famous food personalities and critiques from the country visited this place. If you get the chance to visit Yogyakarta, this isn't something you should miss.

If you want to read my previous series on it, here are the list that will make you crave to taste Indonesian cuisine :
Don't hesitate to Upvote for more travel story like this !

---
| | |
| --- | --- |
| | Mac is a jack of all trades. A typical introvert in love with literature, books, technology and philosophy. She is also so into nootropics, productivity, minimalist lifestyle, cybersecurity, and languages. Other than that, she is passionate about cooking and traveling. In her free time, she enjoys learning various things. If you like her content, don't hesitate to upvote, leave a comment or a feedback. A re-blog is also appreciated. |