Saludos .
Greetings.
Les comparto esta receta muy nutritiva y deliciosa preparación " Sancocho o Hervido de Res en Leña" , preparación de tradicional Venezolano combinación huesos blancos , costillas de res hortalizas y verduras verdes, en mi región le decimos a hortalizas y vegetales del sancocho "Recao de Olla" este clásico Venezolano es preparado en casi todas las regiones de mi país y en esta oportunidad lo cocine en leña esta le otorga un sabor especial que encanta a toda mi familia además ayuda a recuperar las energías que necesita nuestro organismo por su alto valor nutricional fortalece nuestro sistema inmunológico y tiene propiedades sanadora para nuestro sistema oseo/muscular por el contenido de glucosamina.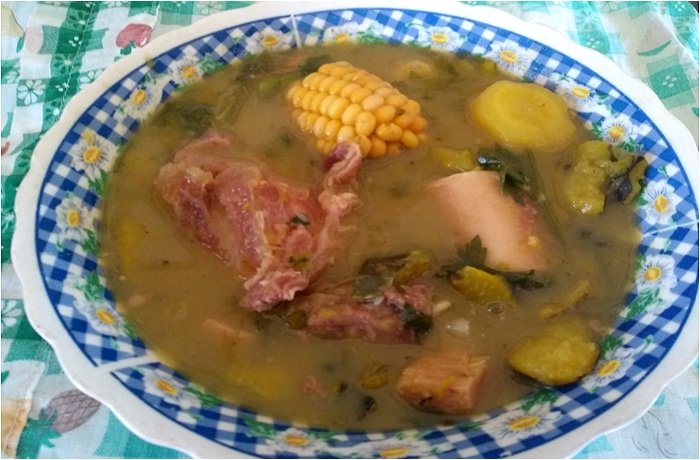 I share with you this very nutritious and delicious recipe "Sancocho or Boiled Beef on Firewood", a traditional Venezuelan preparation, combination of white bones, beef ribs, vegetables and green vegetables, in my region we say to vegetables and vegetables from the "Recao de Olla" sancocho, this Venezuelan classic is prepared in almost all the regions of my country and this time I cook it on firewood this gives it a special flavor that my whole family loves, it also helps to recover the energies that our body needs due to its high nutritional value, strengthens our immune system and has healing properties for our bone / muscular system due to the glucosamine content.
Ingredientes:
• 1.5 Kilogramos de Huesos blancos rodilla de vaca.
• 1 Kilogramos de costilla de res.
• 4 kilogramos de hortalizas y vegetales topocho, ame, apio, ocumo, zanahoria, yuca, plátanos, calabaza, maíz jojoto, cilantro cebolla en rama, apio España, cebollin.
• 8 Litros de agua.
• Sal orégano seco y caldo de pollo sazonador, ajo triturado, aliño.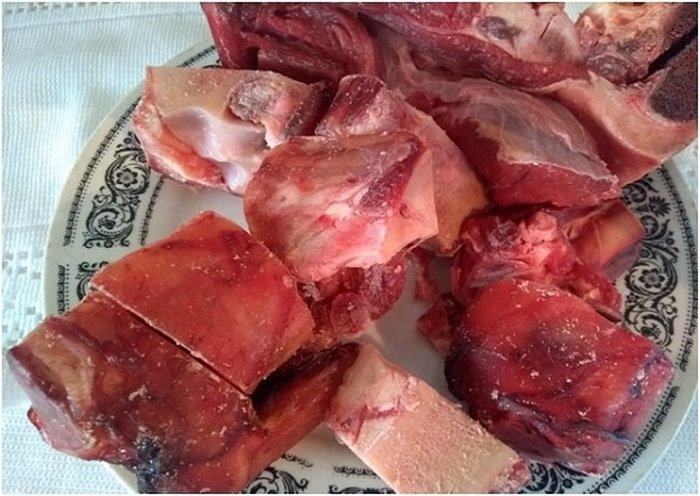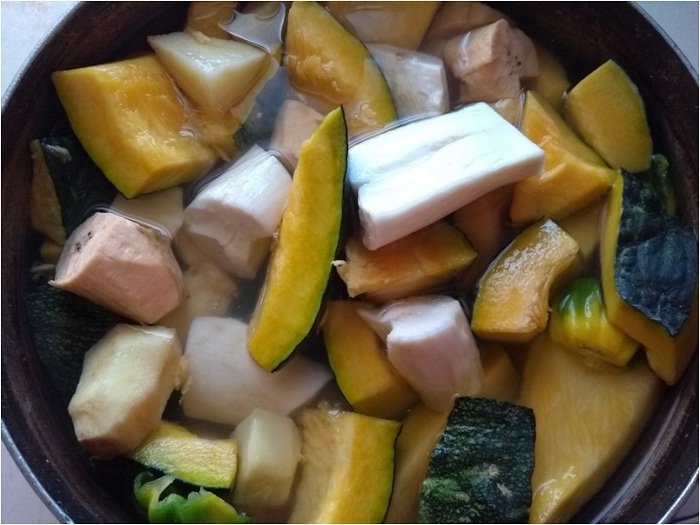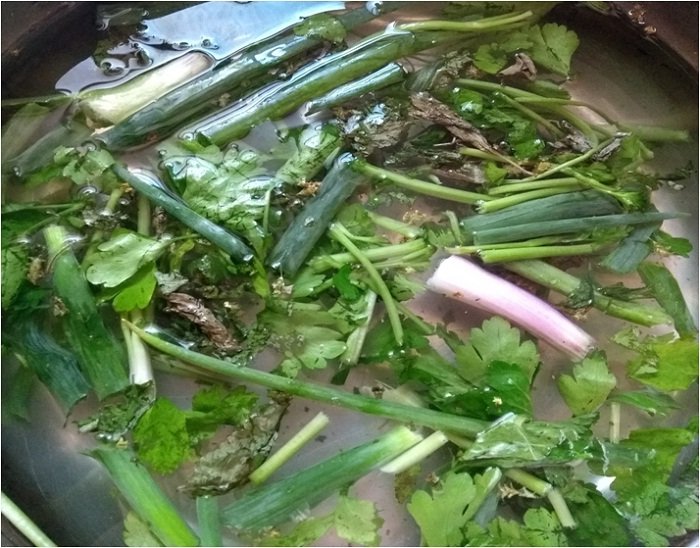 Ingredients:

• 1.5 Kilograms of white cow knee bones.
• 1 Kilograms of beef rib.
• 4 kilograms of vegetables and greens topocho, yam, celery, squash, carrot, cassava, bananas, pumpkin, jojoto corn, coriander, onion, Spanish celery, chives.
• 8 liters of water.
• Salt dried oregano and seasoning chicken broth, crushed garlic, dressing.
---
Pasos para la Elaboración:
1.- Procedemos a eliminar con un cuchillo la piel que recubre las hortalizas y las raíces y de las verduras verdes cortamos en trozos los enjuagamos y reservamos. Cortamos las membranas que unen los huesos y las costillas de res y los enjuagamos, vertemos en una olla con agua y añadimos los huesos la costilla y encendemos la leña y colocamos a hervir añadimos orégano seco y apio España.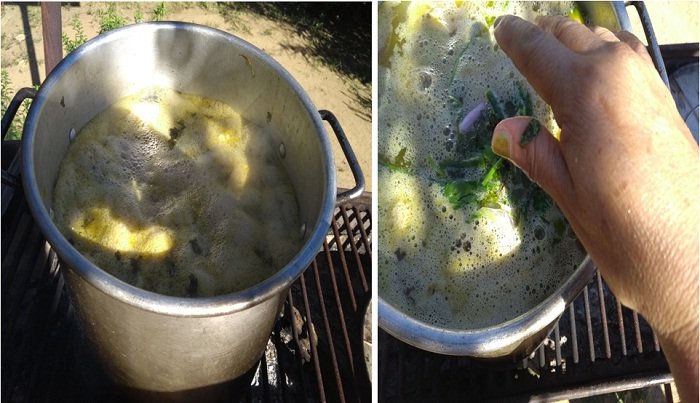 ---
2.-Cocinamos la sopa de huesos aproximadamente durante 3-1/2 horas aproximadamente vertemos las hortalizas y los vegetales sal , sazonador, aliño transcurrido 2 hora para lograr la cocción de todos los ingredientes, probamos una pequeña porción para verificar que el hervido este bien de saldo la retiramos del fuego.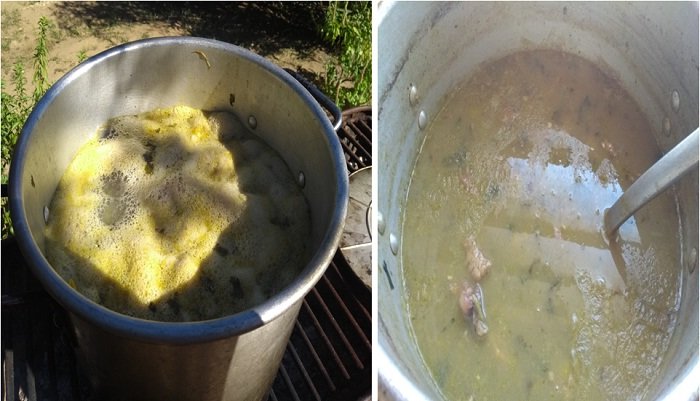 ---
3- Servimos este Exquisito y Nutritivo " Sancocho de Res en Leña Tradicional Venezolano".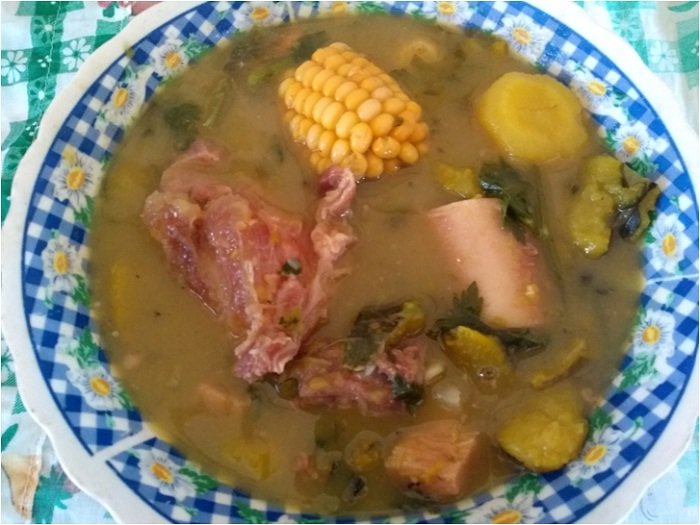 Steps for Preparation:

1.- We proceed to remove the skin that covers the vegetables and the roots with a knife and cut the green vegetables into pieces, rinse and reserve. We cut the membranes that join the bones and the beef ribs and rinse them, pour into a pot with water and add the rib bones and light the firewood and bring to a boil add dried oregano and celery Spain.
2.-Cook the bone soup for approximately 3.5 hours, pour in the vegetables and vegetables salt, seasoning dressing after 2 hours to achieve cooking of all the ingredients, we test a small portion to verify that the boil is well balance remove it from the fire.
3.- We serve this Exquisite and Nutritious "Sancocho de Res en Firewood Traditional Venezuelan.
Tomé las fotografías con el móvil Moto G5
I took the pictures with Moto G5 Play mobile.
Contenido 100 original.
Original 100 content.
Thanks and Bon Appetit.
Gracias y Buen Provecho .