Hello foodies 💓
Another week has passed and here I am with my weekly Food Compilation Post sharing with you some of our meals last week.
You'll find some soups, salads, complete meals, healthy desserts, a smoothie recipe, some classics as pancakes or Pizza, also some Romanian style cooking recipes. Makes me hungry only thinking of food, though I just ate my dinner tonight.
I hope you enjoy it!
---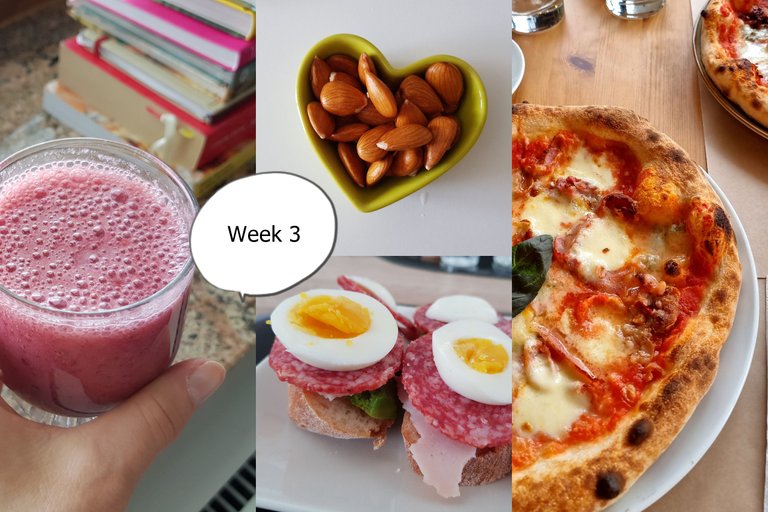 ---
Peas Cream Soup
My 4 years old loves peas. And plus, they are a great source of fiber.
In one pot, add a bit of olive oil or butter. Cut one small onion in pieces and saute a few minutes. Add garlic, black pepper and salt, one small carrot and then the peas.
Add chicken stock, veggies stock or simply water. Get everything to a boil until peas are ready. Blend everything with a vertical blender and add cream.
Serve with crutouns or grilled baguette. I added some basil olive oil on top.
---
Peanut Butter and Banana
Well, this doesnt need any introduction, isnt it?
Its been years since I last had peanut butter on toast, not to mention P&J.
So my husband asked for some peanut butter and then I made some for myself hehe.
Loved it! I really enjoyed it. I added some banana slices on top.
You can add some more if you want, for example apple or pear slices, berries, coconut flakes, bee pollen.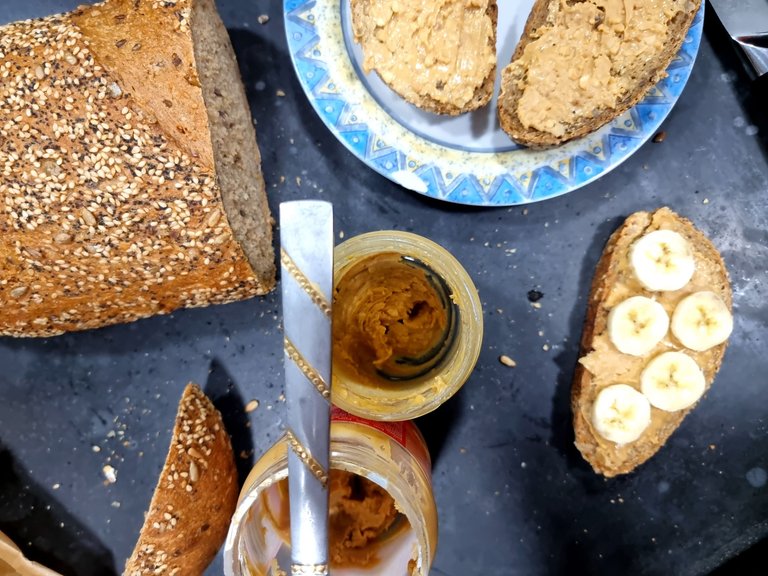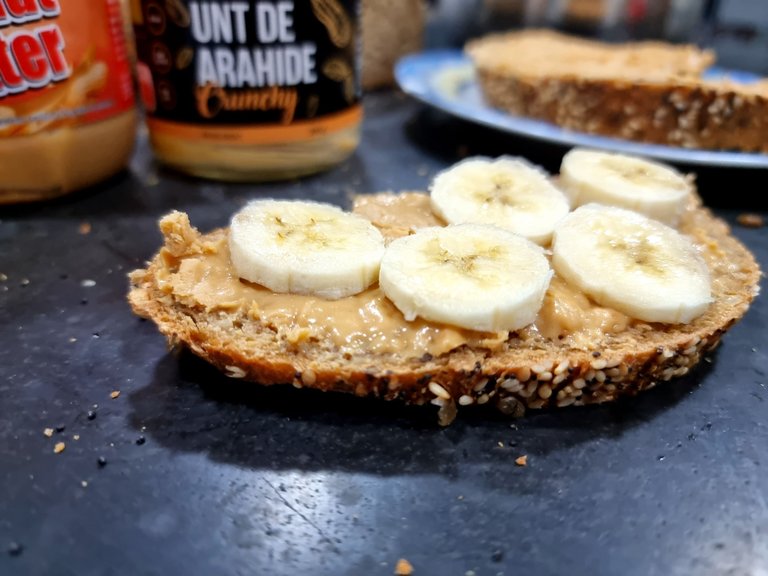 ---
Oven-baked pork knuckle with beans
I think this is my first time making this, although this is very very popular in Romania. I just don't fo it at home as it is heavy for the stomach and digestion. And yet, this is so delicious. All Romanians here raise your hands, please! Am I right? 🤣😁
This is usually served with pickles or onion.
How to make the beans? First, I boiled the beans to my Instant Pot, together with some carrots, parsley root, celery, onion, garlic, spices.
After that, put some olive oil in a pan and start saute some white onion. Add paprika and then the beans. Salt and pepper are up to you, to your taste.
As for the meat, I boiled it for 1 or 2 hours and then moved it in the oven for another 1-2 hrs, depending on the temperature. There are some recipes using beer for this. Never tried it...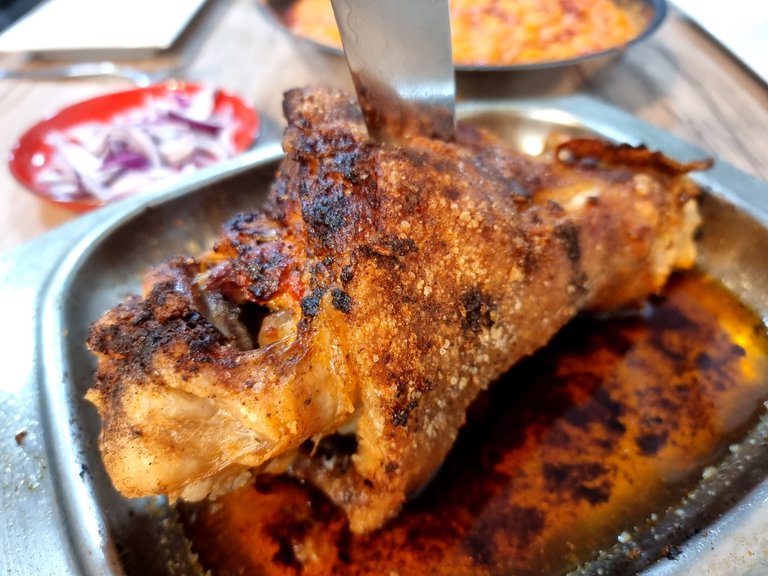 ---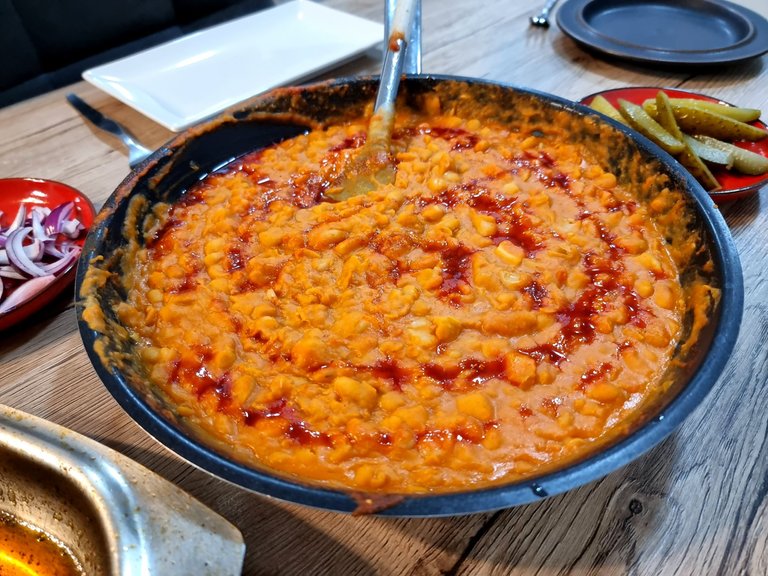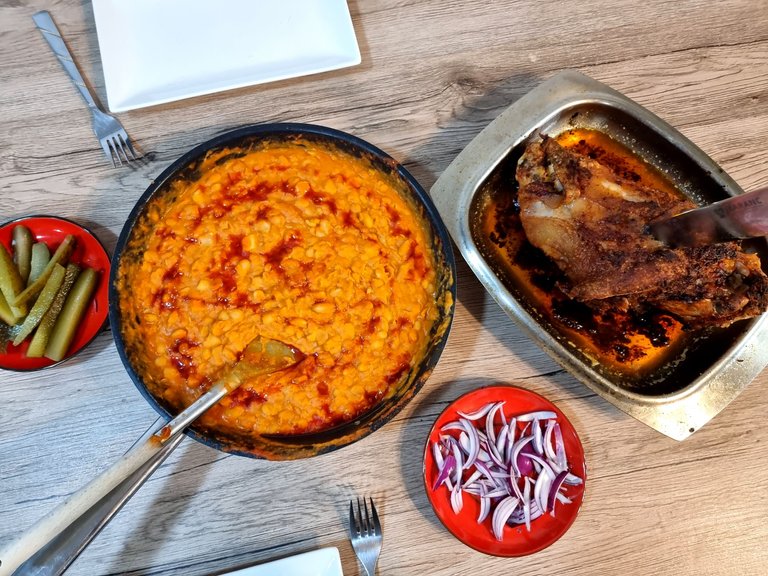 ---
Chicken and Rice
Another specific dish Romanian people use to do. Is called "rice pilaf", I'm sure you heard about it.
This is how I do it, 30 min to make.
Add olive oil in one pan. Saute one onion, 1 shredded carrot, 1 red bell pepper cut in peaces. Add salt and pepper. Add chicken (cut in small chuncks) and then add the rice. Saute for another 5 minutes then add chicken or veggies stock, or simply water.
I used a mix of basmati and wild rice!
This is comfort food, as the rissotto is. Only the Romanian version 🤣.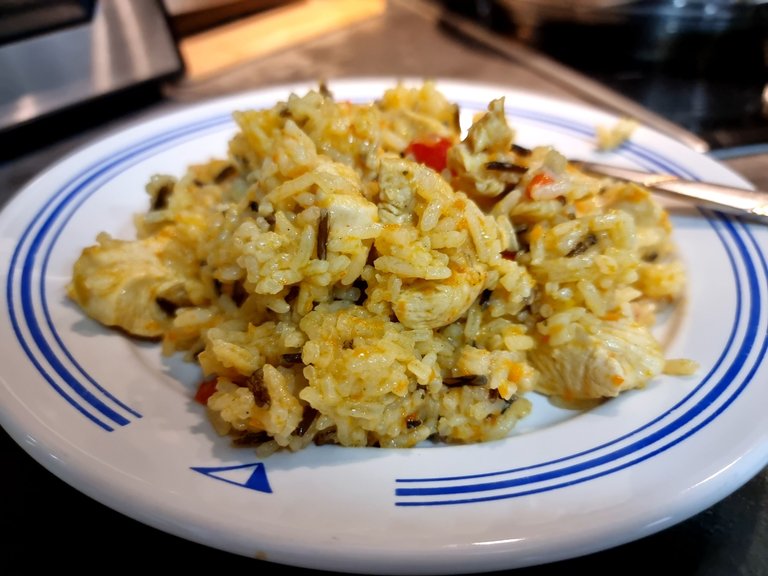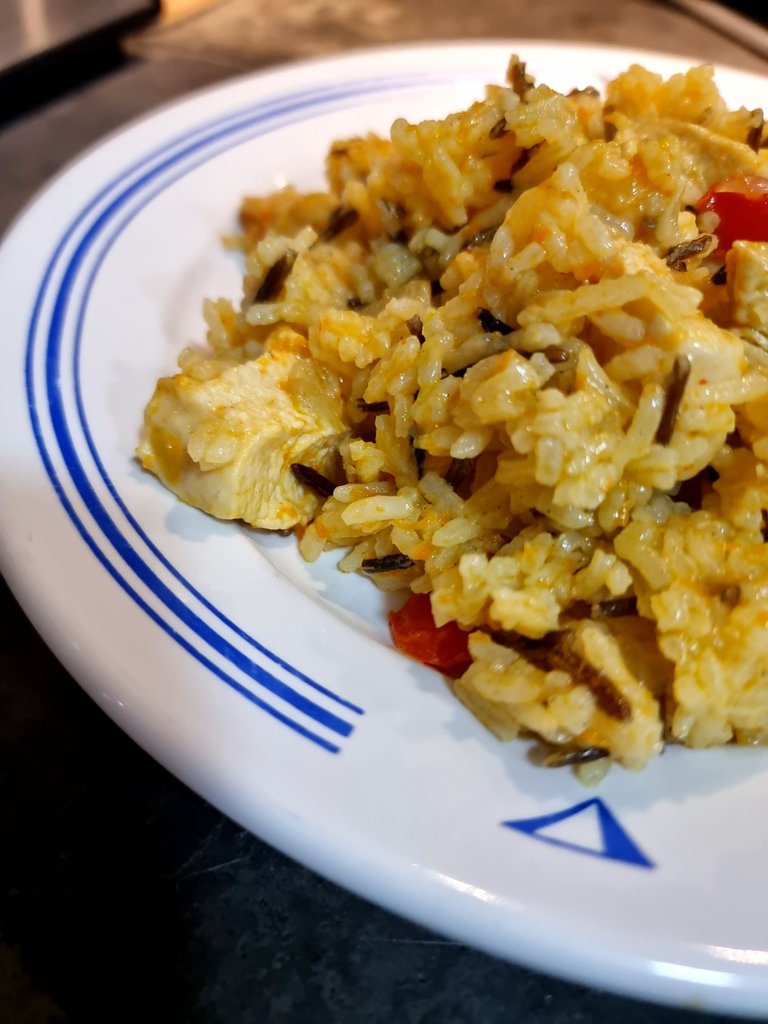 ---
Double Breakfast
I mean double because this was for me and son.
As you can see, we had eggs, avocado, cherry tomatoes and bread.
Plus, there was a little treat: greek yoghurt with honey and crushed cacao nibs. Yummy!
---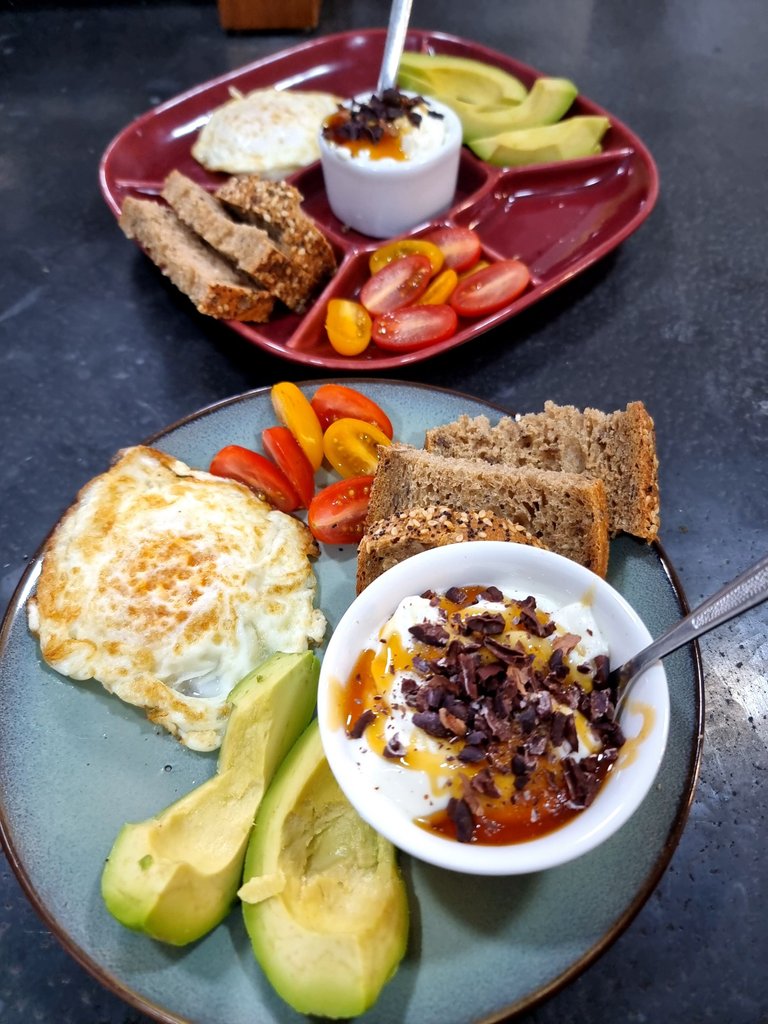 ---
Bone Marrow on Toast
I leave you the recipe HERE, take a look to my post.
We try to have this at least 2 times a month for collagen intake and all benefits bone marrow has on our body.
Ohhh and I like to serve it with green parsley and paprika!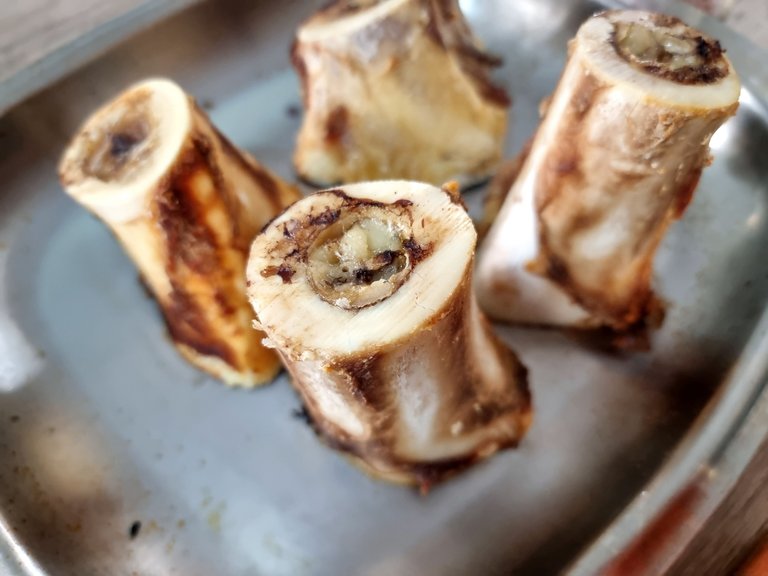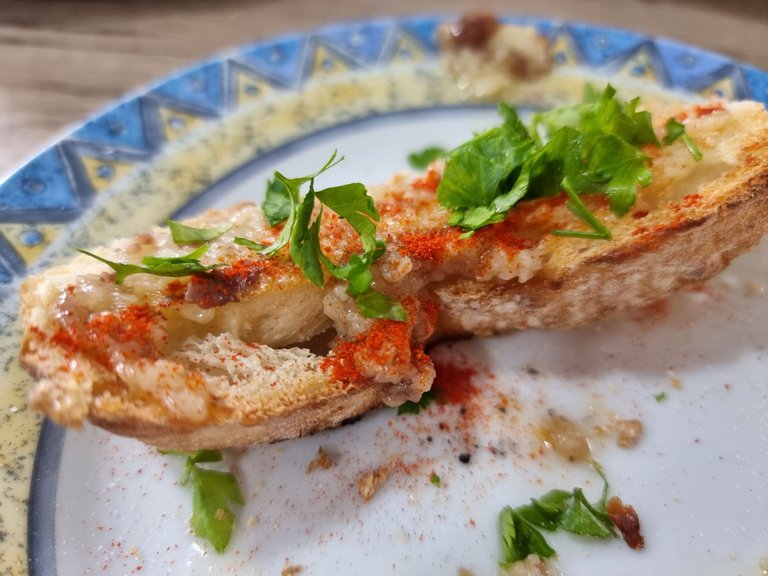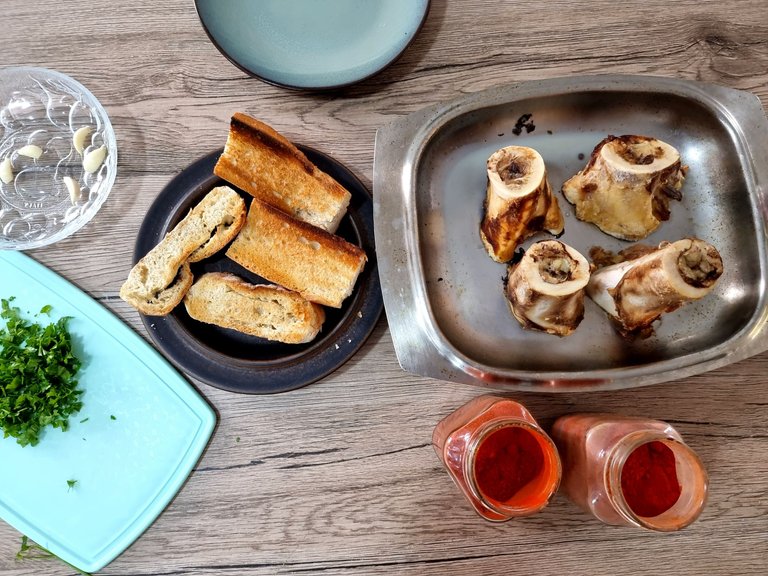 Avocado and Cacao dessert
This is so yummy and I love that we can hide avocados if any of the kids doesnt like it. My son likes avocado, but its not like he always want some. So this is a great way of adding more of this in their diet.
I topped it with some granola to look better.
Ingredients: ripe avocado, cacao powder or carob, a bit of coconut milk of any of your choice, maple salt or honey. Add everything in a blender. Some other choices would be to add half of banana.
---
Beef Stock, Grilled Zucchini
This was something improvised. My son has at the moment, a mild iron deficiency so I tried to give him. more of spinach, dark leafy greens, red meat, fish etc.
And one day, me and husband were eating out without the kid. After coming home, I thought to put in my instant pot some T-bone steak and bones, carrots and other veggies.
Very often, Caleb prefers boiled meat so it wasnt a problem.
I had one zucchini in the fridge as well, I put it on the grill and thats it.
Grilled zucchini, boiled meat and carrots for the 4 year old.
---
Blueberry Pancakes
Son asked for some pancakes this Saturday. I couldnt say No.
So I quickly got out from the kitchen cabinet one cup flour, 2 tsp baking powder, salt ans stevia.
In another bowl mix 1 cup of milk, one egg and two Tbsp melted butter.
And optional, I added lemon zest.
Mix everything and start making these in a pan on medium heat.
Add blueberries.
---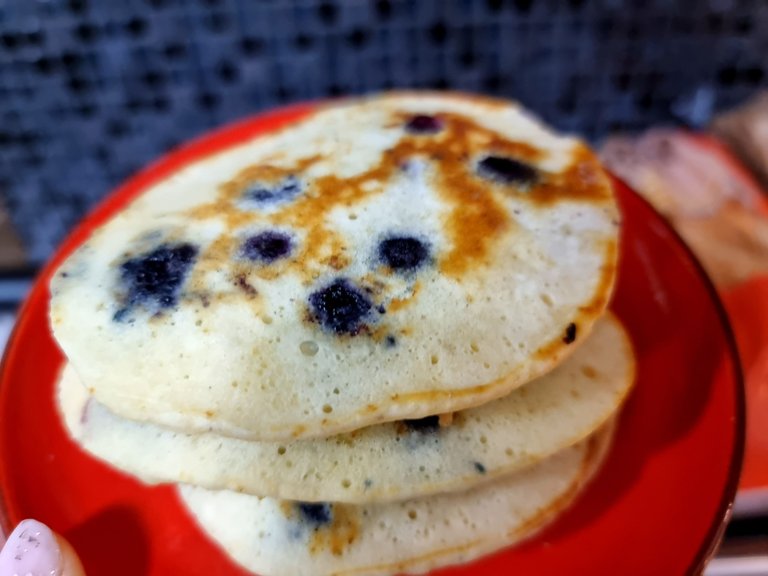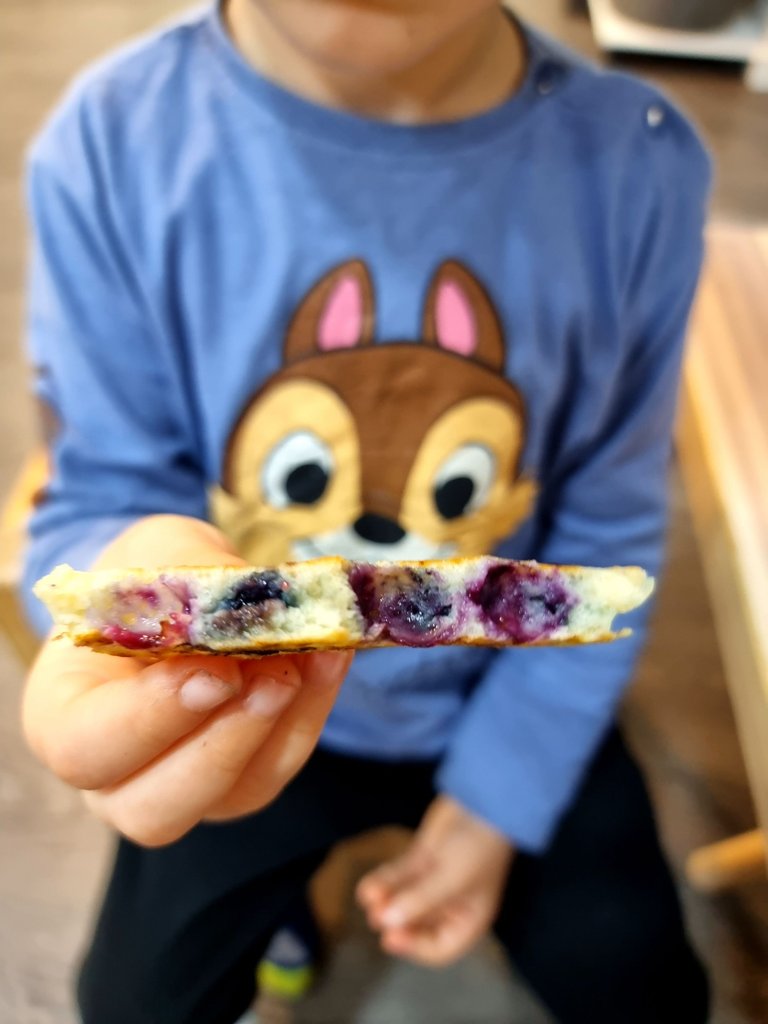 ---
Buffet Platter
This is just the leftovers of a great delicious good looking buffet.
It was my son's birthday and we had some adult guests.
On the platter you'll see: deviled eggs, chicken crispy stripes, meatballs, cheeses, cherry tomatoes, olives. All homemade.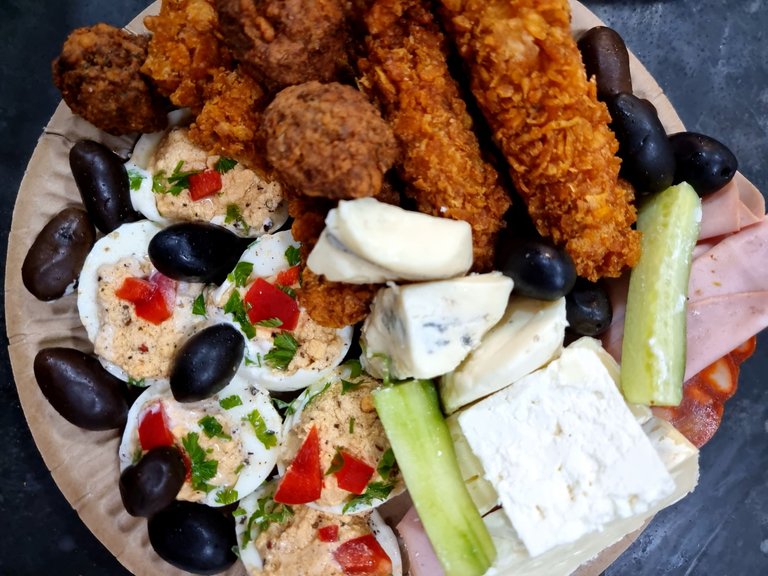 ---
Fruit Salad
This was actually not my idea. My sister in law came over and she wanted to do a Fruit salad together.
So we gathered all fruits I had in the house and did a fruit salad only by cutting them in small pieces and than put them into a bowl.
She wanted to add some whipping cream on top (I usually dont have it at home, it was a miracle finding it and now writting this, I remember why have it at home. I wanted to do some sensorial activities with my son).
Added one graham biscuit (digestive biscuit) and voila. I think its more than 10 years since I had a fruit salad in this combo.
And btw, the fruits in the salad were: banana, orange, kiwi, raspberries, blueberries, cherries.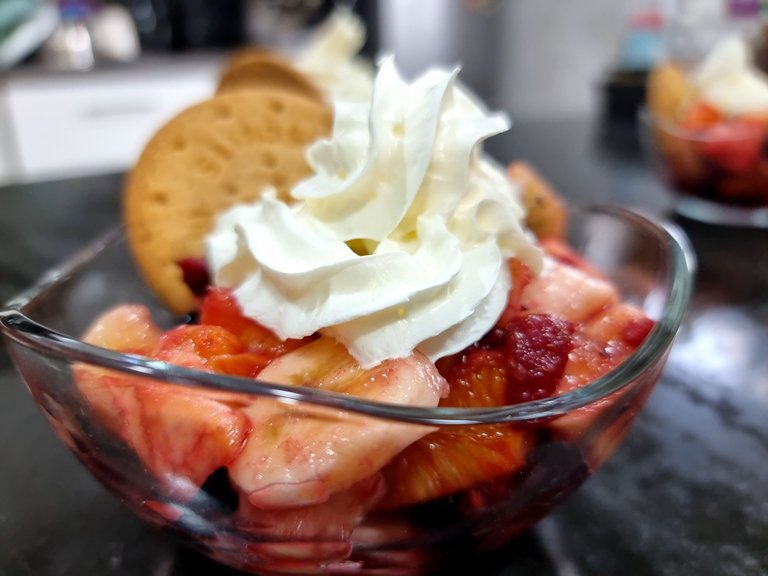 ---
Egg omlette and Veggies Breakfast
This is not so good looking!🙈 But Caleb found it hilarious! Just a bacon and egg omlette, avocado and red bell pepper slices.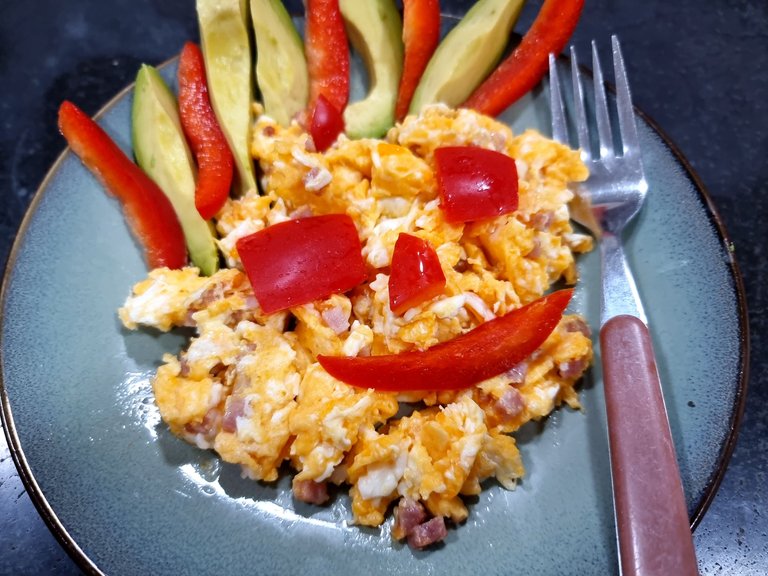 ---
Potatoes stew
I cooked it into my Instant pot. Just a regular stew made out from potatoes, small meat chunks, carrots, parsley root and onion. Olive oil, Salt and pepper and thats all.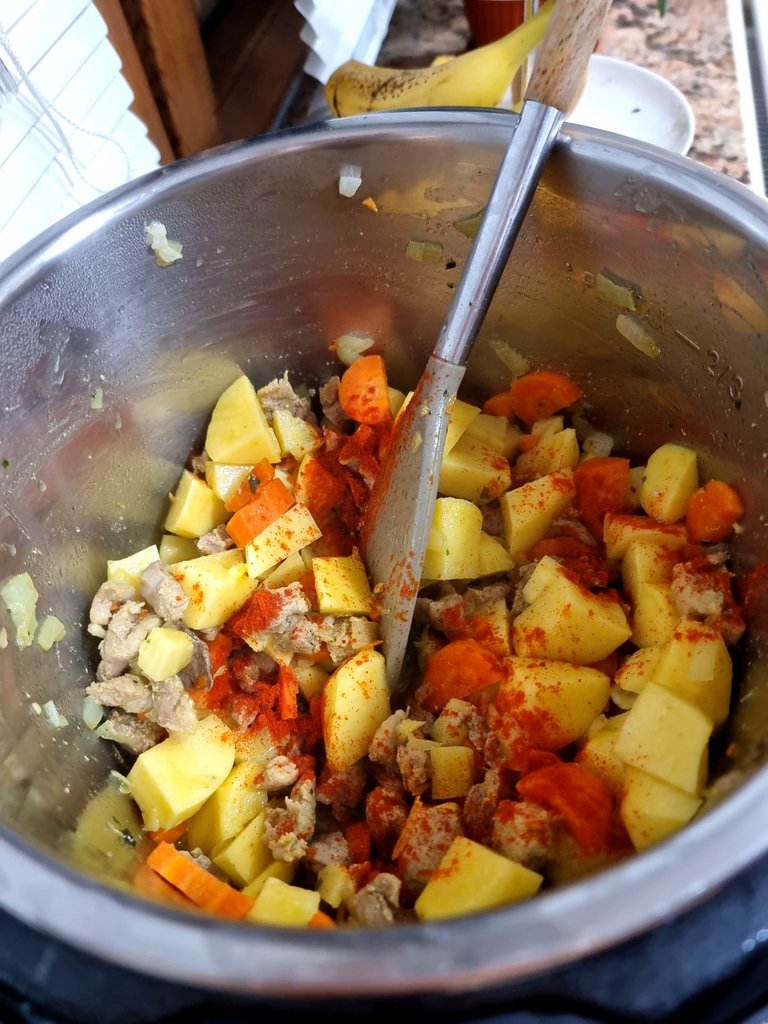 ---
Same Cinnamon and Cacao Oatmeal
This is something my child asks for every week. Its his favorite.
Oatmeal topped with cacao powder, carob powder and cinnamon. I usually make the oatmeal with vegan milk like coconut milk, almond milk, rice or oat milk. Sometimes I do it myself, sometimes I buy it from the store.
And rarely, very very rarely I use plain milk or goat milk. Or I like to combine milk with water. That works too.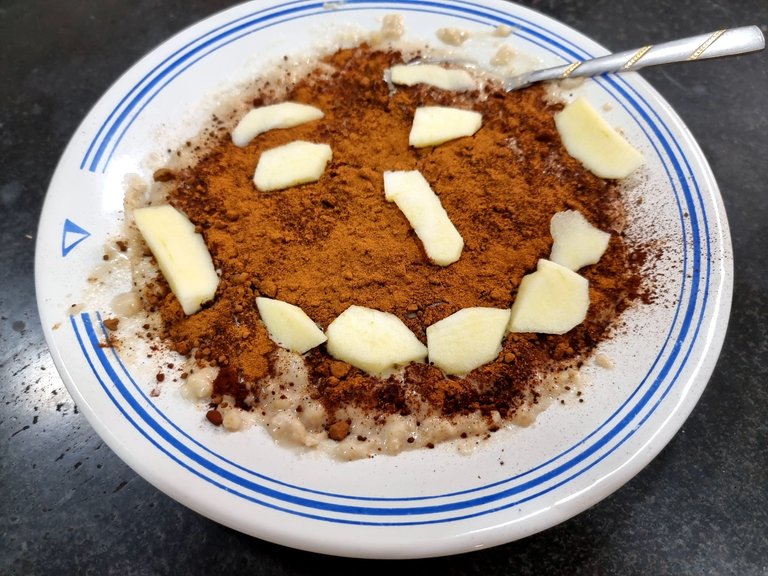 ---
Berry Chia Seed Pudding and Granola
Again, this is one of his favorite foods to eat. Chia seeds soaked in coconut milk with a handful of berries. Any berries are just fine.
You need vegan milk, chia seeds, honey and vanilla (optional), mix of berries.
In a jar add 2 cups of milk and a few Tbsps of Chia Seeds. Add the fruits and honey and mix very well, until all combined.
Let it stay overnight on the fridge or if you want it for afternoon, prepare it in the morning. You need a few hours for this because chia seeds has to soak all the liquid.
---
Almonds Snack
This was actually for my husband. Soaked almonds. Soaking process is a useful and needed process. Soaking helps with digestion.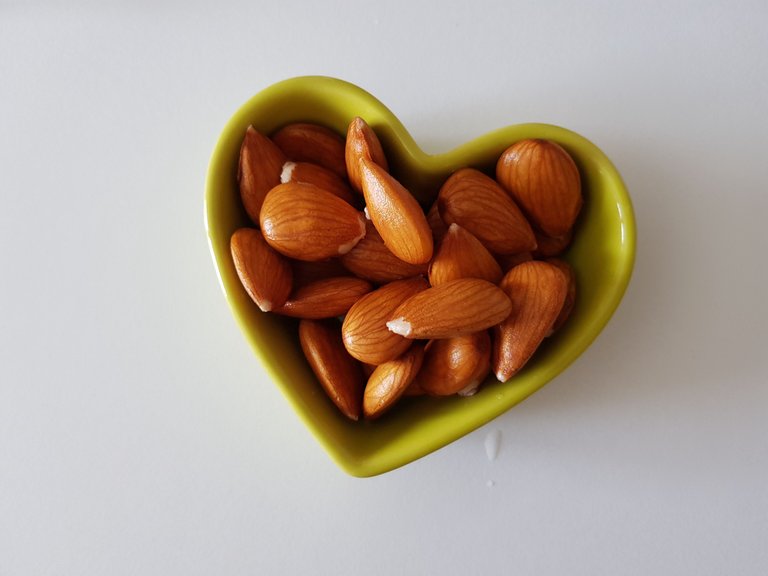 ---
Quinoa Salad
You can have it as breakfast, lunch or dinner.
Ingredients: carrots, celery, boiled quinoa, feta cheese.
I'm sure some chicken and apple would have worked great in here.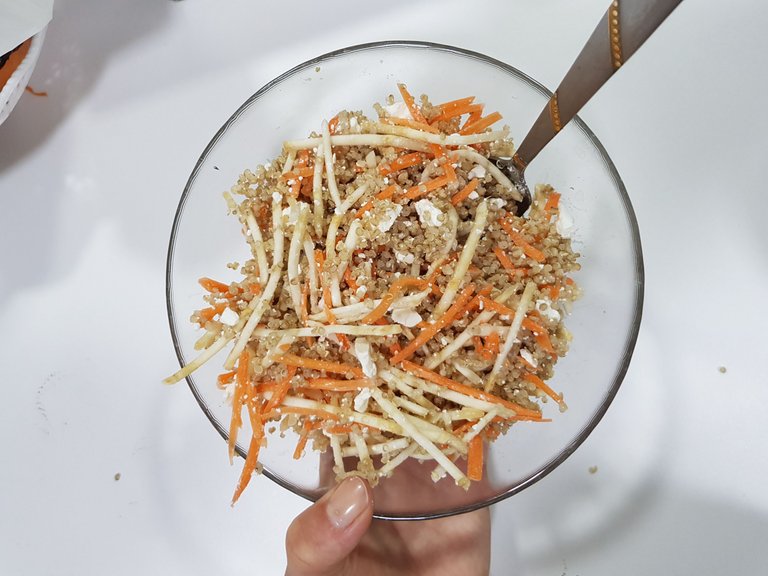 ---
Frozen Raspberries and Banana Smoothie
A pink smoothie inspiration: veggie milk, banana, raspberries. Optional I had collagen and probiotics with it.
---
Italian Pizza
We went out (at least) one time this week. I forgot to photograph the other times we were wating out.
This is my favorite pizza in town. The best, the best, the best!
My favorites are Quattro Formaggi and another one called Bianco Rossa, the one in the photo. (Italian pizza sauce, fresh mozzarella fior di latte, gorgonzola cheese and pancetta).
Here's a link to this Perfect Italian Pizza Place.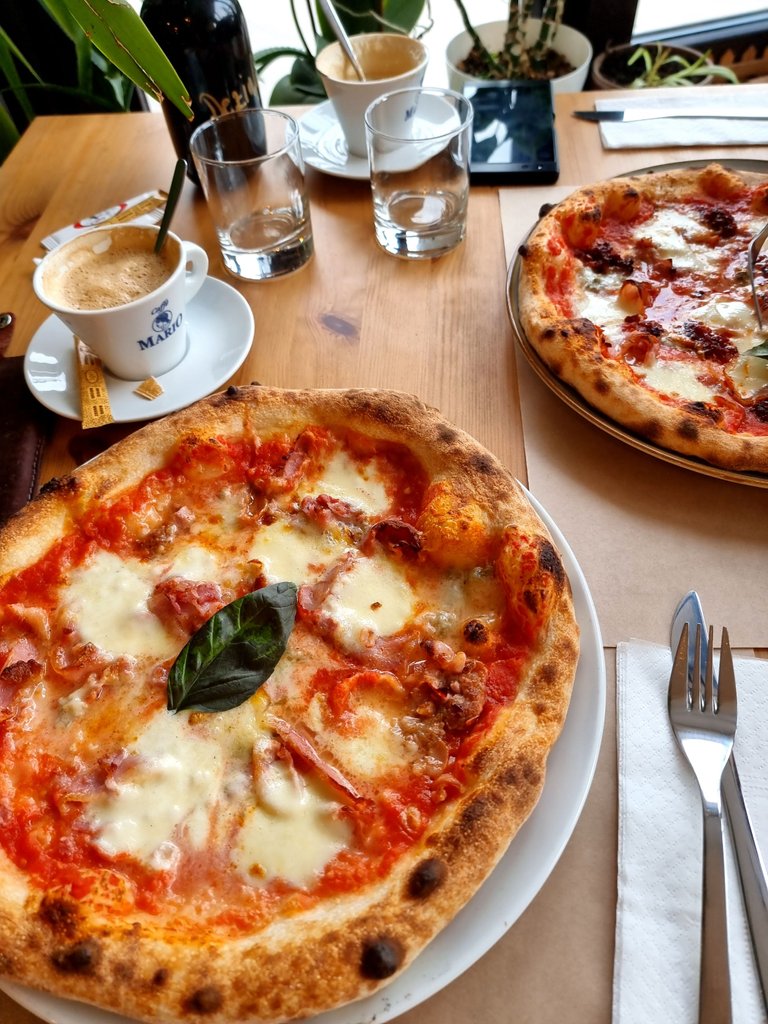 ---
Avocado, eggs and Salami Mini Baguette Sandwhicies
I dont even remember when we had it, if in the morning or as a snack. Or dinner :)). But I'm guessing a late "snack".
These are nothing just some baguette slices with ham and salami, avocado and boiled eggs.
You can put on top some freshly grated black pepper. Even yummy-er! 😍
---
And this would be all for WEEK 3!
I hope you'll find some inspiration for your future cooking experiences! if you have any questions regarding to any of my recipes and foods shared here, leave a comment down bellow and I'll be back with good answers for you!
Thank you for reading this and I hope you'll find something delicious for you, worth trying!
love, missdeli
---
Here you can find:
---

---
You'll find healthy recipes for kids and more.
---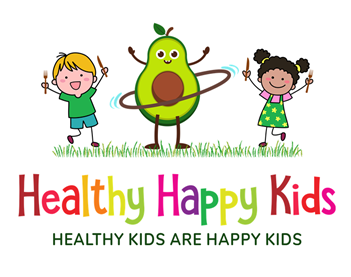 ---