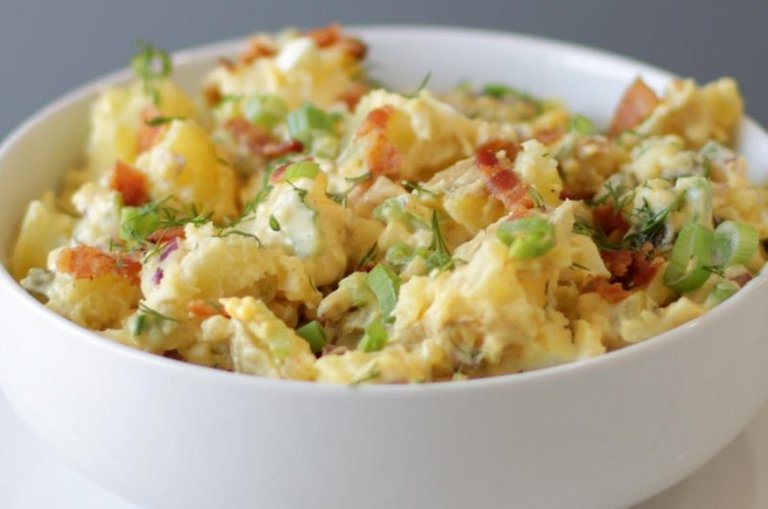 No barbecue, family gathering, picnic, etc. is complete without a yummy potato salad. This homemade potato salad recipe is so delicious!
I have fond memories of eating potato salad growing up, it is definitely a staple for many families here in the United States. It goes great with hamburgers, hot dogs, ribs, chicken, etc. And the cool thing is it can be prepared in advance.
The origins of potato salad are said to have from Germany and it spread through Europe and Asia and eventually made it way to the United States. American potato salad most likely came from the German and European immigrants and the flavors and ingredients changed a little bit over the years.
It is definitely one of my favorite side dishes. So many flavors in one bite. A perfect way to use up a bunch of potatoes. And I love how easy it is to make and it tastes so much better than the mass-produced tightly packed stuff you get at the supermarket. If I can do it, you can do it. Let's get started!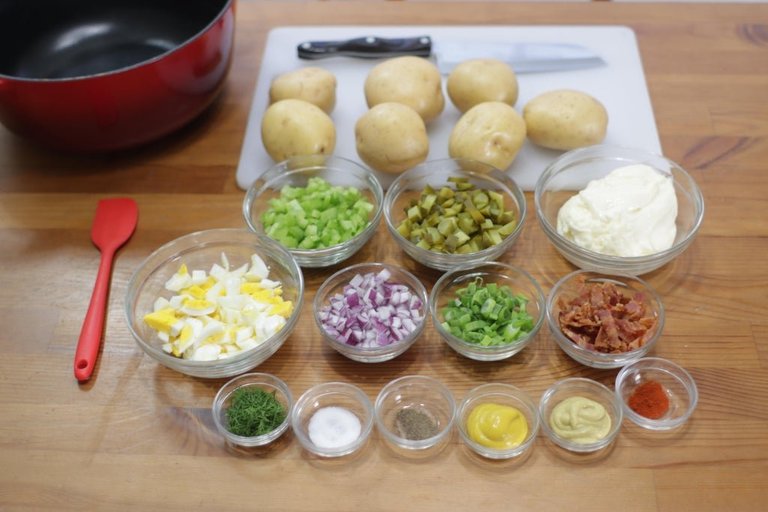 Ingredients
2.5 to 3 lbs of potatoes Yukon Gold, Russet, Red, etc.
2 liters of water doesn't have to be exact, just needs to cover the potatoes
2 tsp. salt for the water 10g
1 cup mayonnaise 230g
1 Tbsp yellow mustard 15g
1 Tbsp Dijon mustard 15g
2/3 to 3/4 cup of chopped celery 1 and 1/2 stalks
2/3 to 3/4 cup of chopped dill pickles 100 to 125g
1/4 cup of green onion 26g
1/2 cup chopped purple onion, sweet onion, etc. (1/4 of a large onion) (52g)
1 Tbsp fresh dill 4g
4 strips of cooked bacon chopped
1/2 tsp of paprika 2g
1/4 tsp of black pepper 1g
1/2 tsp of salt
1/2 to 1 tbsp of apple cider vinegar 7 to 15 ml
2 large hard-boiled eggs chopped
Add more salt, pepper, paprika, to taste
Instructions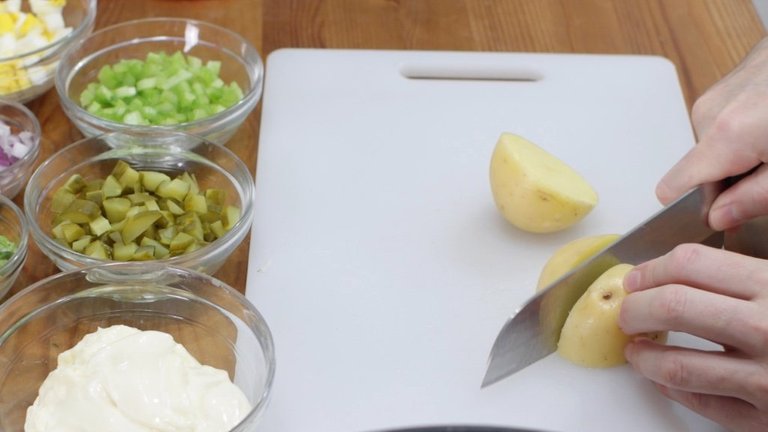 Rinse the potatoes. Cut the potatoes into quarters and place them in a large pot. Pour in enough water to cover them by about an inch. Add a couple of teaspoons of salt to the water. Bring the water to a boil on high heat and boil for 15 to 20 minutes until fork tender.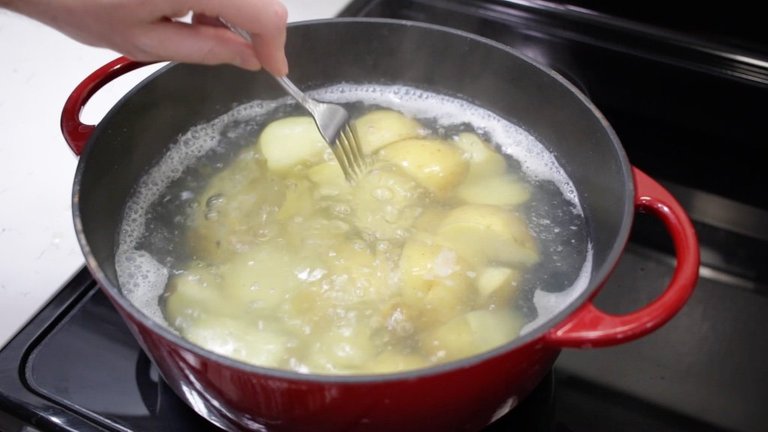 While the potatoes are boiling, cook the bacon, boil the eggs, and cut/chop/measure the other ingredients. This will save you some time.

Once the potatoes are done boiling and fork-tender, drain them in a colander in the sink. Then allow them to cool for 5 to 10 minutes.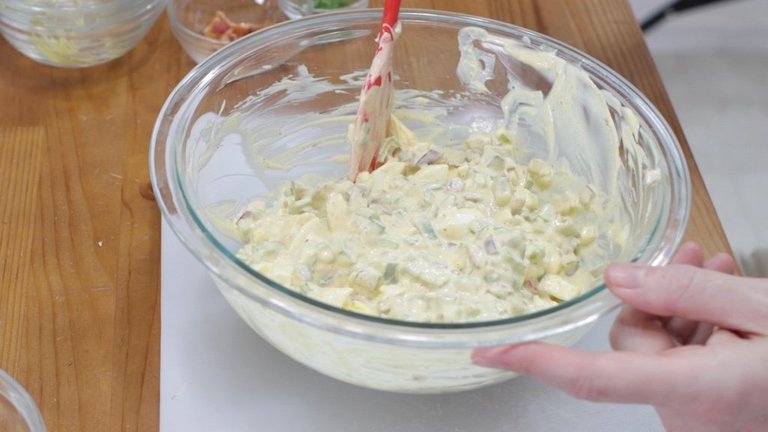 Now add the mayo, mustard, chopped celery, chopped pickles, chopped green onion, chopped purple onion, fresh dill, chopped bacon, paprika, pepper, and salt, to a large bowl then mix until well combined.

Reserve a little bit of bacon, green onion, and dill for garnishing if you like.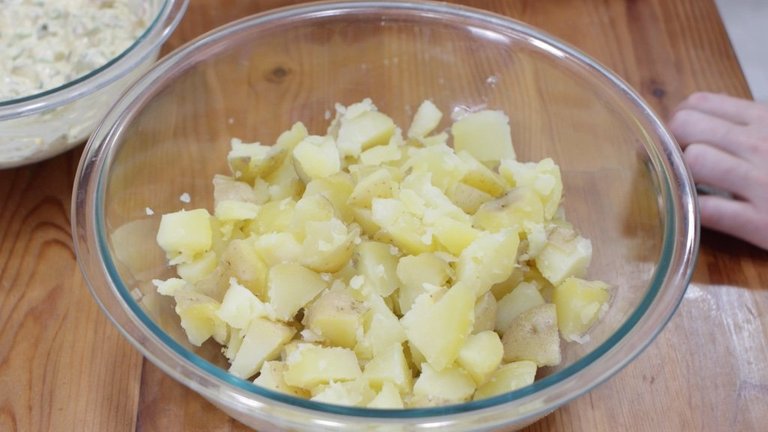 Once the potatoes have cooled, you can easily pull the peel/skin off if you desire. I usually only pull a little bit off, I like the skin. Then cut the potatoes into smaller chunks and add them to a large bowl.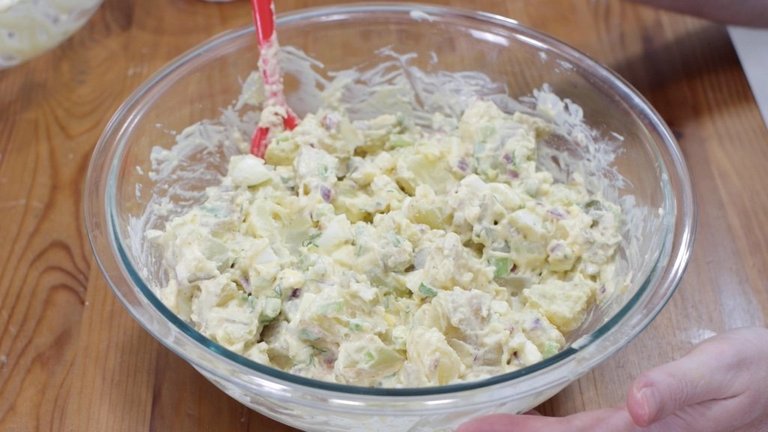 Now add the dressing and fold it in until well combined. The potato salad is ready. I like to chill it for at least 4 hours or even overnight before serving. It makes a wonderful dish to prepare the day before.
Don't forget to garnish the top with the reserved bacon, green onion, and fresh dill. Enjoy!
Find and print the FULL recipe here on my website: https://www.inthekitchenwithmatt.com/potato-salad
Watch the video tutorial here: