This recipe might not be relevant to everyone as access to sorrel depends on where you live I believe 😀
And although I tried to Google in which countries it does grow, I suppose it's not such a popular plant to make clear statistics on it so you will have to see it for yourself as I wasn't able to find any concrete info 😁
Basically, in my native language it is just called something like "soury" and it is very sour if you taste it fresh. But in my own family I remember from the very childhood our mom would make this tasty sorrel soup to us and everyone around said it is very healthy.
Now that I Googled some things, sorrel is in fact healthy. It is high in vitamin C, fiber, they are anti-inflammatory, etc. In short, it's good stuff 😅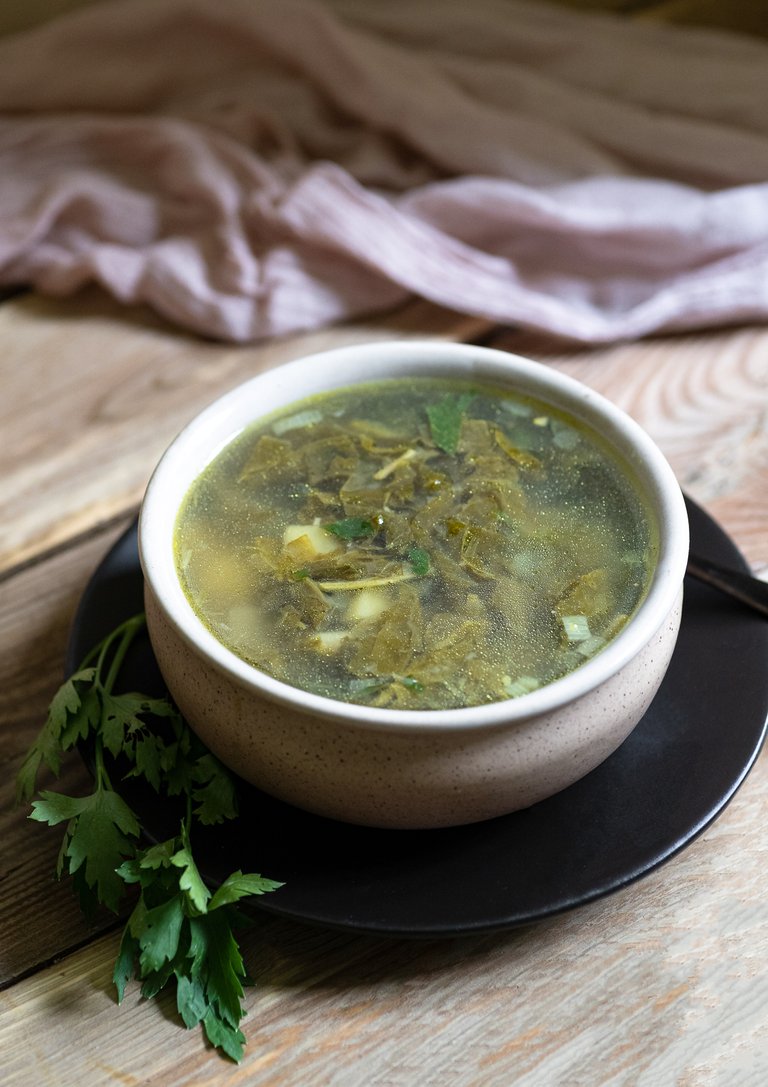 We have them in Lithuania growing basically in every field so you can collect them for free here and since we don't have much poisonous plants it is easy to always taste-test if we are really collecting sorrel - it has to be sour. However, if you live in a more interesting/dangerous zone in regards to plants, make sure to first search for more information on this concerning your area instead of taste-testing all different plants 😂
Your country may have different kind of sorrel but in my country the main sorrel looks like this:



Just some grass leaves and since these are taken from a field, it has some wholes from bugs who also eat it, but I have no problem in sharing of course 😂
So, in case you have this plant in your country or garden, I suggest you try to use it for the soup recipe that I'm going to share. It is super simple and basic but it is a great way to get some vitamins and to use seasonal plants such as these sorrel leaves. ☀️
You will need:
This made me about 3-4 portions
4 small potatoes
1 onion
2 cloves of garlic
80 g. fresh washed sorrel leaves
2 cubes of vegetable broth (the amount of cubes per liter of water may vary according to the instructions on the package of your broth)
1.5 liters of water
1-2 teaspoons of olive oil
A handful of fresh parsley
A pinch of pepper
Salt, if needed

Preparation:
Boil 1.5 liters of water in a pot.

While the water is heating, peel the potatoes and cut them into small cubes. Once the water is already boiling, put the potatoes in the boiling water and boil them for about 15 minutes or until soft. But continue with the rest of the steps while potatoes are boiling, you don't need to wait 15 minutes here.


Chop garlic and onion into small pieces. Then add 1-2 teaspoons of olive oil to the pan, heat it and once it is heated, add the chopped garlic and onion to the pan. Cook for a few minutes, mixing occasionally until garlic and onion turn a bit yellow/brown.

After frying, put the garlic and onion in a pot together with the boiling potatoes. Add the stock cubes at the same time. Mix the soup well so that the cubes would dissolve into the water and leave everything to boil some more time until the potatoes are soft.


When the potatoes are almost cooked, add some chopped sorrel and pepper to the pot and cook for 5-8 minutes.



If necessary, add more salt (taste-test the soup carefully).

When all the vegetables are cooked (soft and without strong sour taste), add chopped parsley, mix and you can serve the soup!


It can be served with plant-based sour cream, soy milk, but it is also suitable without additives (I like it just plain).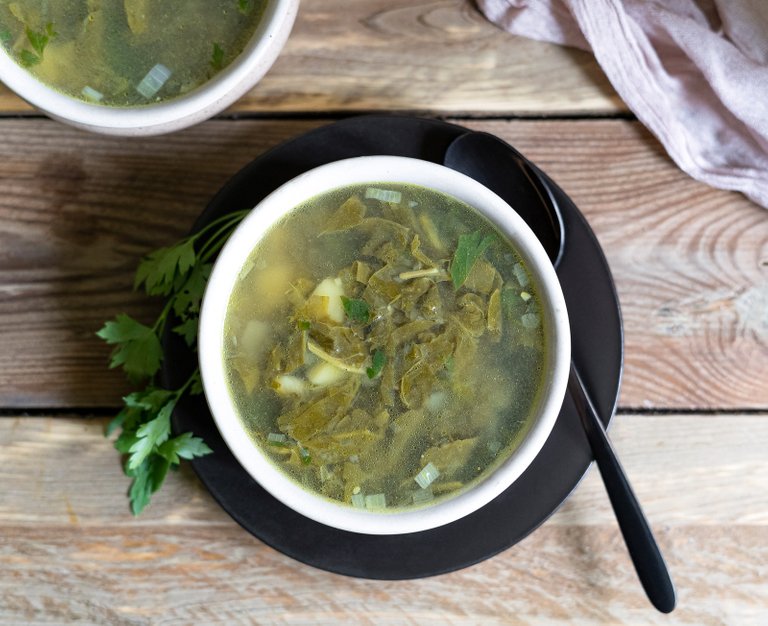 Let me know if sorrel is something that you have heard about or maybe you have tried it already? 🌱