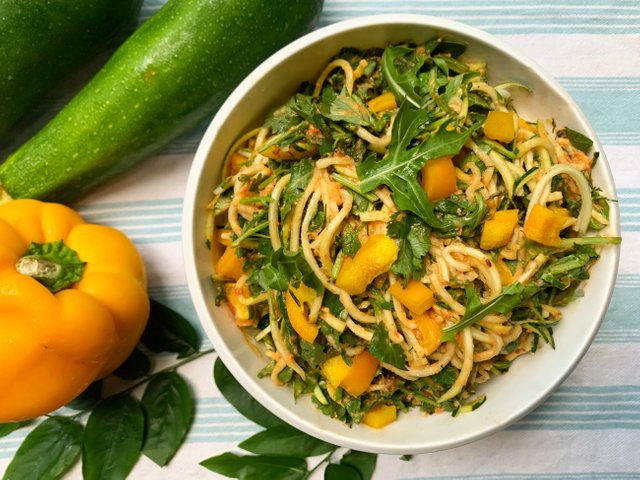 This was one of the biggest revelations on my raw food journey - noodles made out of zucchini.
Are you still eating conventional pasta dishes? Here are 5 powerful reasons why zoodles are the future of pasta:
🥒 GLUTEN-FREE: No need try several versions of gluten-free pasta to then find the texture or taste to be unsatisfying. Zoodles are so simple yet give you the clean taste you want for your pasta sauce to shine.
🥒 NUTRIENT-DENSE: Zoodles have much more nutrients per calorie and are therefore the smart choice for any health-conscious foodie out there.
🥒 MUCUSLESS: Common noodles often result in an excessive production of mucus in our body which can impact our organs in their proper functioning. Zoodles on the other hand even help to get rid of such mucous obstructions in our system to allow our body to thrive. You want to learn more about a mucusless diet? Check out my post Mucusless Diet for Healing to dive deeper into that powerful concept.
🥒 LIGHTER: Food coma after your favourite pasta dish? Not with Zoodles. They leave us with more energy, a sharp mind and a feeling of lightness. Perfect fuel for a vibrant day!
🥒 ABUNDANCE: No need to restrict portion sizes, no guilty feelings. With Zoodles you can eat in abundance till you are fully satisfied and nourished and can still end up with a leaner body.


➡️ If you are new in the zoodle game or need some inspiration to make your bowl more exciting - I have a whole zoodle chapter in my new recipe ebook RAW VEGAN ABUNDANCE with so many creamy sauces.🤩 Visit my website Raw Expansion to download it right away. 💫
Have a vibrant start into the weekend, everyone! Anais
🍓Hungry for some healthy nuggets?
🚲 Inspiration for a more compassionate, conscious lifestyle:
✨ Explore your full potential with me: