One of the joys of a kitchen garden is that you can get creative and inventive with wholesome, fresh as you like, tasty vegetables. I love going out on a summer's afternoon and picking a little bit of this, a little bit of that, and having the muse walk with me, formulating a plan in my head for a delicious dinner. It just takes a little understanding of what tastes might go together, and trying something different.
I also like to make the herbs feature, because they are so good for you. There's not really a herb that isn't medicinal in some way, so the title is a bit of a creative stretch, but I wanted to emphasis that we're not just eating for taste, we're eating to truly nourish ourselves. Many kitchen herbs like sage and rosemary are overlooked, but they have incredibly benefits for the body. Rosemary, for example, is great for the liver.
It's even better when you invent long winded names for the dishes, making them sound a little special.
For tonight's dinner, dear Hiveians, we have:
Zucchini Fettucini with Oregano and Tamari Almond Pesto & Salt Preserved Lemons
Wilted Cucumber Salad with Calendula, Soaked in a Thyme and Blackcurrant Vinegarette
Buttery Fried Potatoes with Sage & Thyme
Sound good? Whilst my pretentious titles might sound tricky, these dishes are delicous and easy. Plant based heaven.
Oregano Pesto and Zucchini Fettucine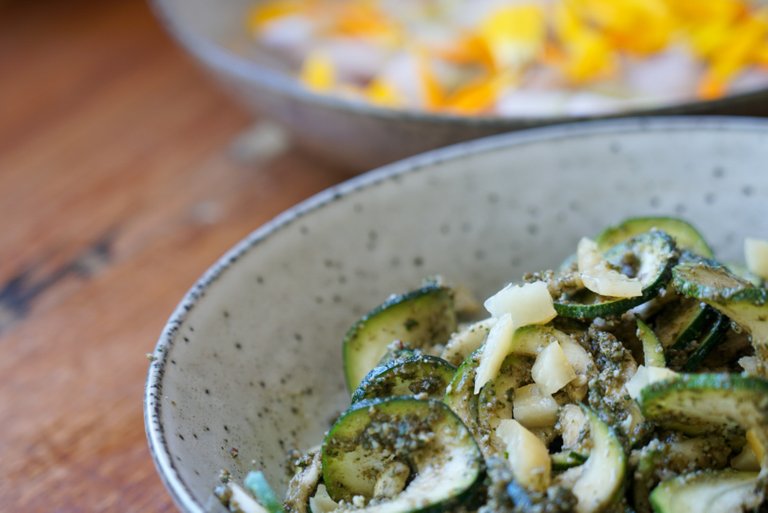 I love my zucchini noodler. It's a great way to get through lots and lots of zucchini, and since I have bought it, I can't get enough zucchini out of the garden. Zoodles form a basis for many toppings, both warm and cold. A substitute pasta or a salad base, they're a good way to get raw and healthy food into you. I simply set mine on the wider ribbon setting.
The oregano pesto is easy as you like. Simply strip oregano stalks (about a cup) of the leaves and pop in a food processor with a generous sploodge of olive oil, salt and pepper, a clove of garlic. Add a handful of nuts and seeds. I used pan fried pepitas and sunflower seeds, and a handful of tamari almonds. But you can use whatever nuts you like. If you like, you can add nutritional yeast or a cashew fetta.
Mix with the pesto and top with preserved lemons. If you don't have preserved lemons, you can use lemon zest, or leave out altogether. I love the citrusy contrast with the oily, garlicky herbaceous pesto.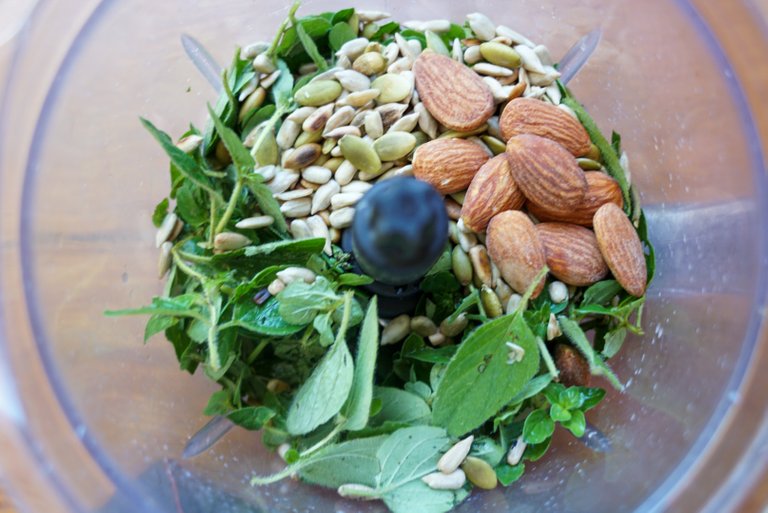 Buttery Potatoes With Herbs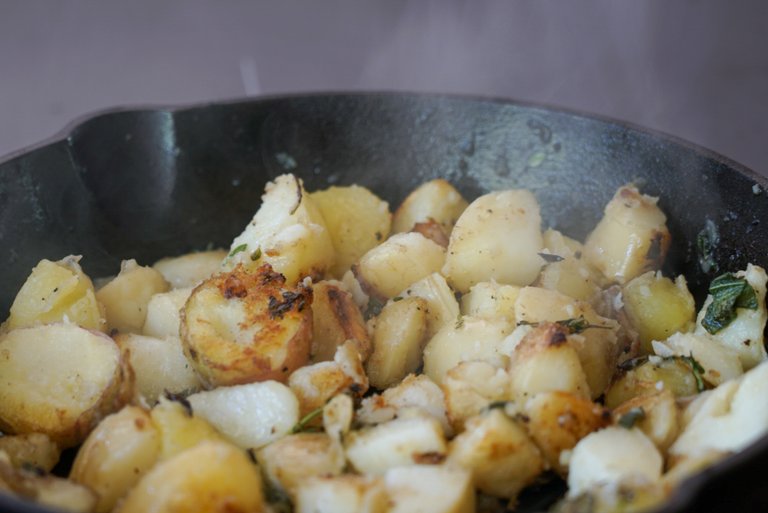 Melt a generous two tablespoons of plant based butter in a cast iron skillet and add a few tablespoons of herbs of your choice - thyme and sage are good, as are rosemary. Fry in the butter til fragrant, then add around 2 cups of cooked potatoes and fry until golden.
Cucumber Salad
My Nana used to make an amazing cucumber salad, which my sister makes every Christmas to remember her by. The trick is to leave it in the vinegairette for a couple of hours so the cucumber softens, but I often forget and leave it merely as I'm cooking everything else. Use a mandolin or really super thinly slice the cucumbers. Mix vinegar and olive oil to the tang you like and pour over the salt. Season and sprinkle with calendula flowers.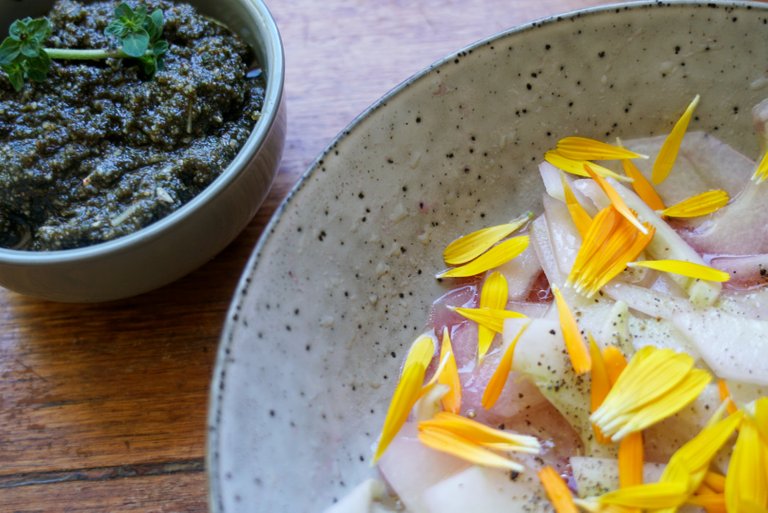 I'd had a gigantic cucumber hidden under the leaves I thought might be bitter, but I shaved off the skin and removed the seeds and it was super tasty. Store bought cucumbers are usually full of water and usually fairly tasteless, but homegrown, they're something else.
I used a oxymel as the vinegar - I've written about this before but I simply stuffed a jar with blackcurrants and thyme, covered it with apple cider vinegar and topped up with raw honey, and left for a month. So this dressing isn't just tasty, it's medicinal too.
I really believe in getting a lot of herbs into the diet in all kinds of sneaky ways. Kale salt. Pickled cabbage. Fresh fennel flowers. Calendula sprinkled on everything. Pestos. Dried and mixed with seeds as a sprinkle. They're just as an important part of the kitchen garden as tomatoes and beans might be, and there's so many ways to prepare them so you can use them in winter too. They're incredibly good for you, and it suprises me how they rarely feature in plant based dishes.
What's your favourite herb based dish?
---
---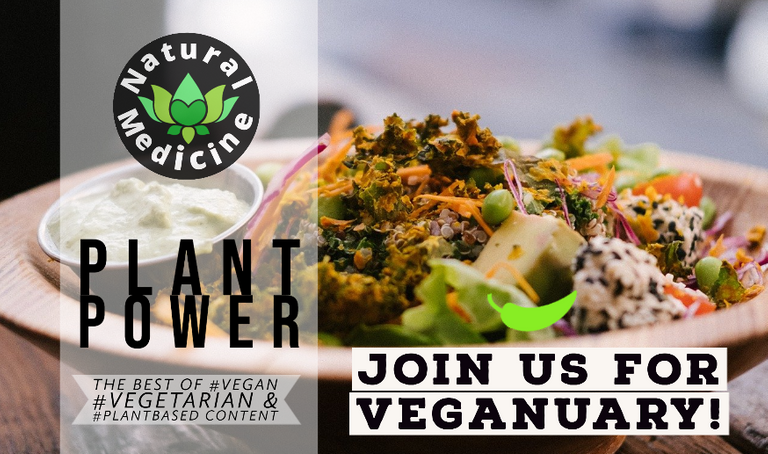 Check out the #plantbased tag on HIVE and this months Veganuary challenge for the chance to win 100 HIVE, reblogs, OCD votes, tweets and more!
You don't have to be an all out vegan, or even pretend you are, but perhaps share with us your #plantbased experiments and thoughts on this topic. Or maybe you could just go all out and give it a go, see how you feel at the end of it!
With Love,




CommunityIIDiscord



Supporting Meditators on HIVE
---