In Northern India, I became seriously addicted to a breakfast of aloo paratha (a kind of flatbread stuffed with spiced potatoes, fried in oil on a griddle over coals), lime pickle and fresh curds. I hate dairy, unless it's exactly like that - fresh as it comes. With the lime pickle? Heaven. I couldn't get enough of it. Every restaurant, it seemed, had it's different lime pickle - big chunks, small chunks, hot, mild, different spices. I'd always been a fan but this was next level.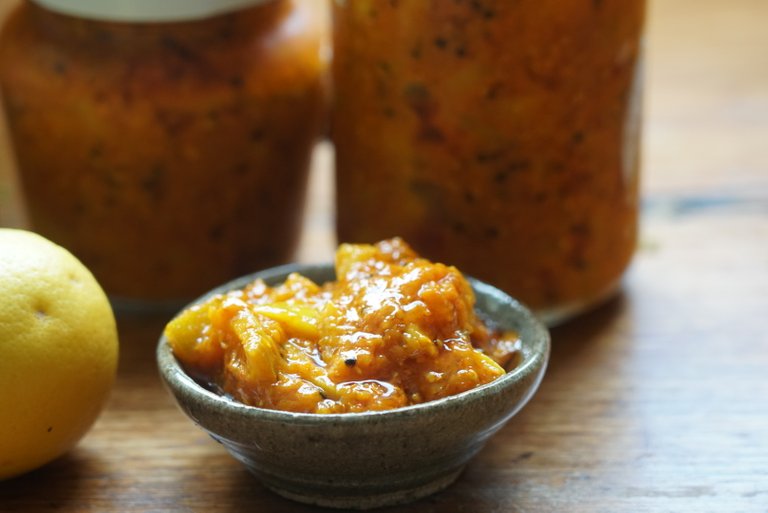 I have an abundance of limes in my garden. They tend to fall of the tree before they go green, but they are juicy and taste of lime. I'd be mad not to try this Nimbu ka Achaar, wouldn't I? fact is, you can make it with lemons or limes. The first batch I made was after a huge wind, and I'd collected both lemons and limes, and we weren't even sure which was which. The pickle was not ruined because of lemons, I assure you. If you don't have limes, and lemons are cheap or free, by all means, make lemon pickle. It'll work, I assure you.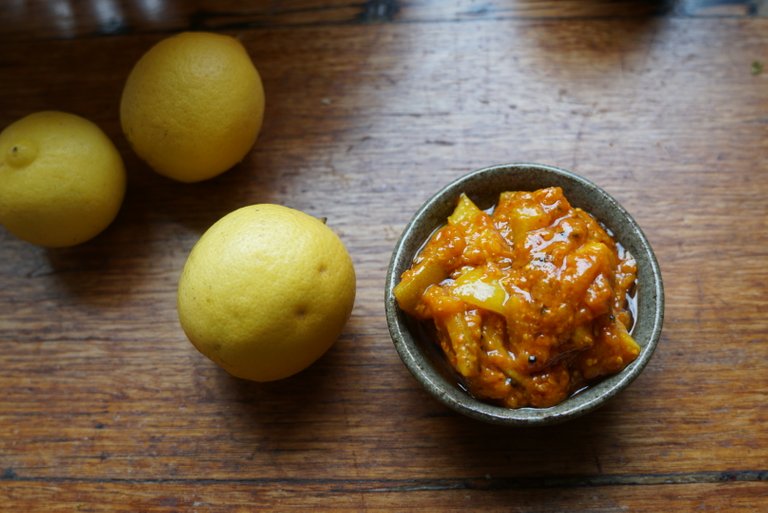 Step 1: Prepare your Limes
The first step is to soften the limes - hard citrus is not really nice at all. Recipes will tell you to cut them in quarters, but it's entirely up to you. In fact, I chopped them into fairly small pieces, as you can see in the bowl below.
Now, you CAN steam the limes first, meaning this pickle will be ready in days, not a month. Here's a recipe if you want to be quick about it. However, I wanted mine to be fermented, and in my understanding, anything heated isn't going to be fermented.
Now, as for measurements - most recipes will say a kilogram of limes, but I hate weighing anything. I read one guy's recipe that said for him, it was eighteen limes - so that's my measurement forever now. It's really not necessary to be precise, or worry about the size of your limes. Sure, if they are gigantic, try 14. Whatever, man. Chill your pickle.
Squish those limes with about 1/3 cup of salt - the juice will come out, heaps of it. If you've got cuts on your hands, use gloves. Ever heard the expression rubbing salt into the wound? Yeah - ouch.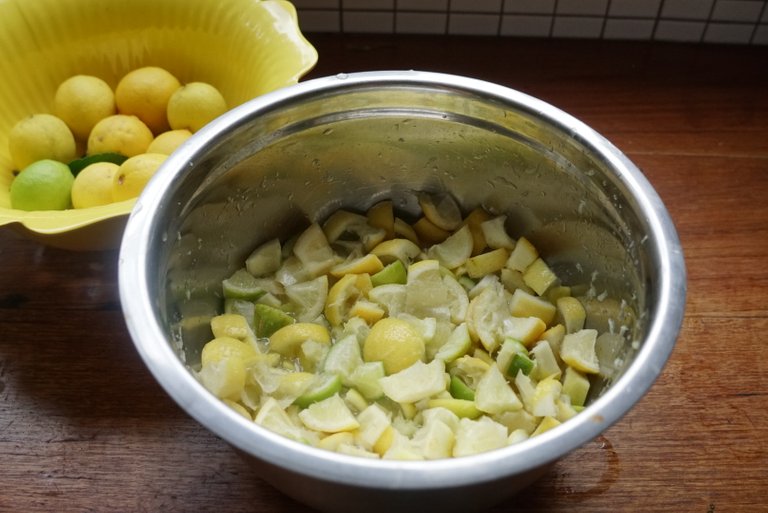 Step 2 - Leave to Ferment
Here's my second batch in a jar, lid on, weighted down, ready to leave for a month. Maybe it will take only three weeks - if you do check, make sure that you use a spoon that's sterile. I gently turned the jar every now and then so that the juice kept swishing over the lemons. The salt should stop any major bacteria forming. Some recipes call for some apple cider vinegar which would aid the fermenting and help this too, but I omitted that and it made no difference. I didn't think I needed any acidity apart from the lemon juice. Correct me if you think it's essential!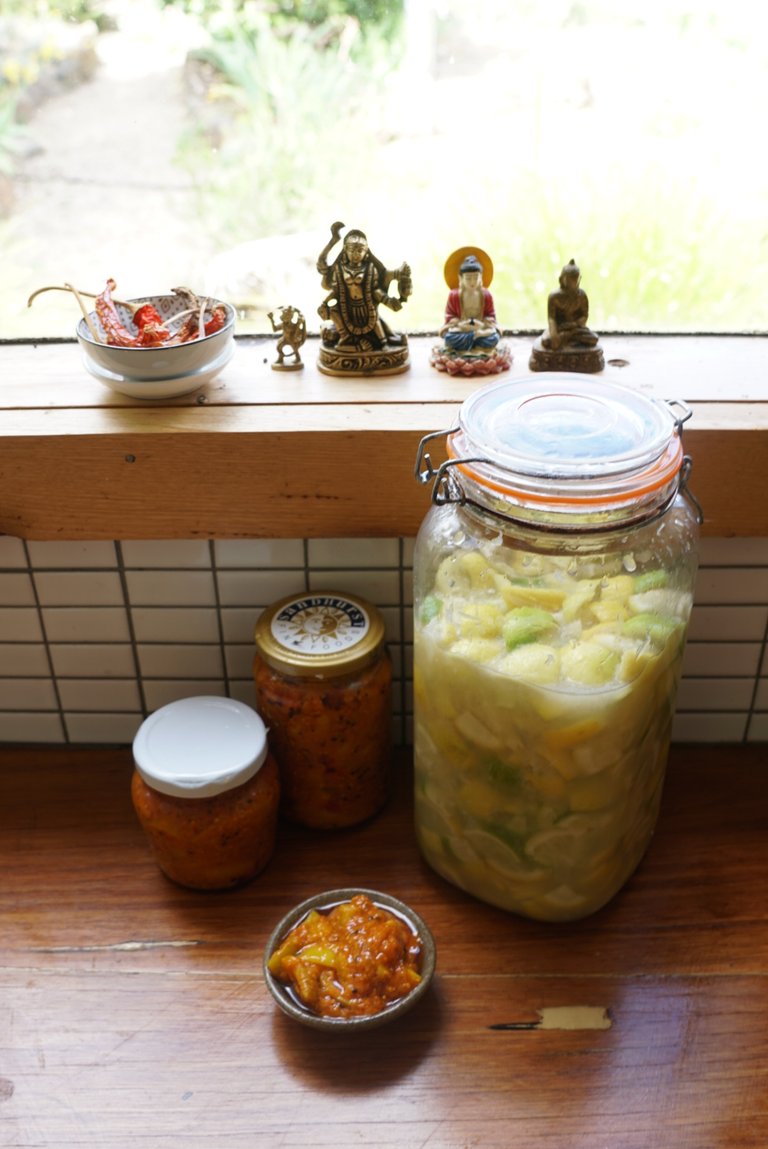 Step 3 - Spice it up baby
Some people add garlic in the fermenting stage, but I don't like a lot of garlic in my pickle, and Jamie can't eat it. I also find any preserves with olive oil and garlic a little risky. If not handled correctly, it can cause the growth of clostridium botulinum bacteria, which produces poisons that do not affect the taste or smell - too risky for me!
There are quite a few spice combinations you can use, and I suggest doing what I did and googling. What do other people use? However, I found a Achar Masala (pickle spice) at the Indian grocers which had exactly the same ingredients that were in nearly every recipe I read online. You could also make it yourself. Here's one recipe. My one concern was making it too hot - so I'm glad the mix I bought wasn't very hot at all.
Some recipes call for frying the spices in oil first, but I didn't bother - and it made no difference I could see. I added about 4 tbsps of my mix, but I suggest you add in small batches and taste it as you go.
Step 4 - Adding the Oil - and something optional
Heat about 1/3 of a cup of oil in a pan, and add about 2 tbsps of mustard seeds and a tsp of cummin seeds. Let them pop, then pour the oil over.
My optional was adding black onion seeds or kaloonji. I just love the taste of them in everything, so I added a generous shake. Once everything was fully mixed, I spooned it into sterilised jars, making about 4 jars full. Two days later, I've nearly finished a jar, and regret giving a jar to my son. I plan to make twice more before Christmas.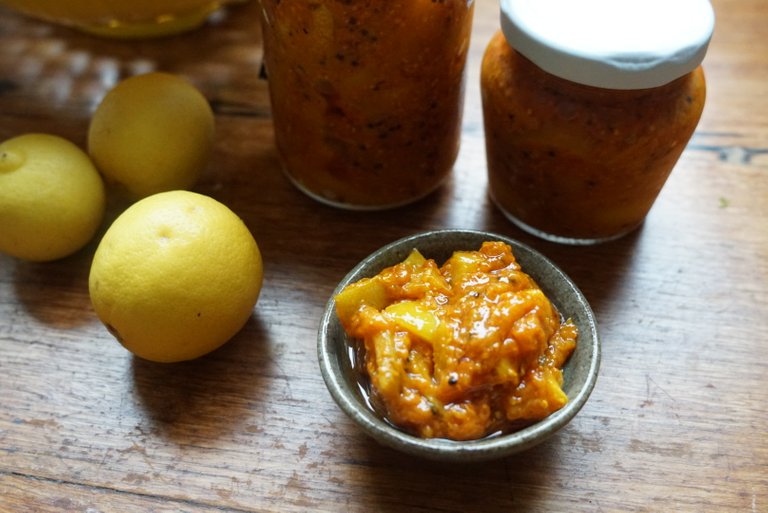 Enjoy with - everything.
Honest to goodness this makes the plainest of meals kick ass. One of our favourite dinners is brown rice, in which you stir in sauteed greens and onions (silverbeet, garlic tops, garlic chives, broccoli leaves, kale - whatever you have) and eat with lime pickle. Simple, but amazing.
However, today's recipe was moong dahl. Hubby always says moong dahl again as if it's the worst thing I could make, and he knows he'll be eating it for lunch AND dinner. But every time he has it, he loves it and goes back for seconds.
This one I topped with a 'salad' of home grown cabbage, coriander, pepitas and lots of lime juice. Absolutely divine.
Moong Dal
1 cup green mung beans, cooked in water til soft
1 litre water (add more as needed)
2 tbsp. turmeric powder, cummin powder, cummin seeds, garam masala
1 pinch asafoetida OR 1 onion or equivalent in garlic tops, spring onions or other allium
3 big slices of fresh root ginger
Coconut oil or ghee
Salt and pepper or vegetable stock to taste
Fresh coriander (optional)
Cinnamon stick (optional)
Silverbeet or spinach (optional)
Fennel tops, carrot, celery - optional. Use what you have.
Heat a liberal amount of coconut oil and add the onions and saute til soft. Add the spices and fry for a minute or two to release the flavour, then add the water, cooked mung beans and vegetables, root ginger and cinnamon stick. Simmer til very soft and creamy, stirring occasionally. You could add ghee or coconut cream towards the end for an extra creamy soup.
Top with a garnish - anything you like. I really like a crunchy salad that makes for a more complete meal, like the one I describe above. Squeeze extra lemon or lime onto the soup and you can even add kalonji and calendula flowers, like I did below.
Serve with lime pickle. And more lime pickle. And more lime pickle.
Do you have a lime pickle recipe to share? I'd love to hear it!
With Love,

Are you on HIVE yet? Earn for writing! Referral link for FREE account here