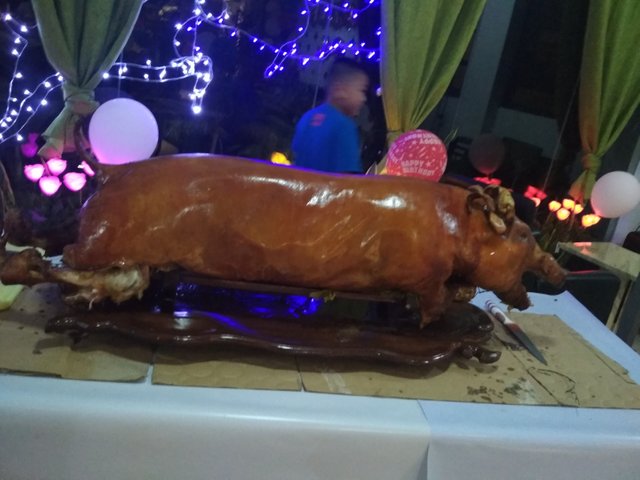 Hello Foodie lovers! What's new today? I'd like to show you our favorite delicacy: Lechon/Litson Baboy or Roasted Pig. It has been a tradition among Filipinos to prepare one whole roasted pig on special occasions. It seems that our table is never complete without one.
That photo was taken during my newphew's birthday held at my brother in-law's Tourist Inn Hotel right on their rooftop, where you can have a clear view of the volcano.
Lechon is prepared by inserting a long pole for the purpose of hanging and elevating the carcass with stand on both ends, and roasting it over a bag of charcoal and turning it gradually, until it is fully cooked. The ideal weight for this preparation is about 35-50 for best results, though some prepare the bigger ones for big events.
Preparation:
Internal organs are all removed. Different kinds of spices and seasonings as well as aromatic leaves are stuffed inside the belly, such as garlic, onions, spring onions, salt, black pepper, laurel, bell peppers, and young tamarind leaves.
One of the techniques to have the internal meat to be thoroughly cooked is to insert a thick bottle filled with water, in between the stuffed spices.
While turning gradually, the top part is brushed with young coconut juice and evaporated milk. This will make the skin, brittle and crispy.
The internal organs are cooked in various recipes such as Dinuguan (blood), bulaklak (fried instestine) and liver steak.
Thanking the Foodies Bee Hive for this Community and @beezdak for sponsoring this contest.
Keep safe everyone!
Till,
Sarimanok