(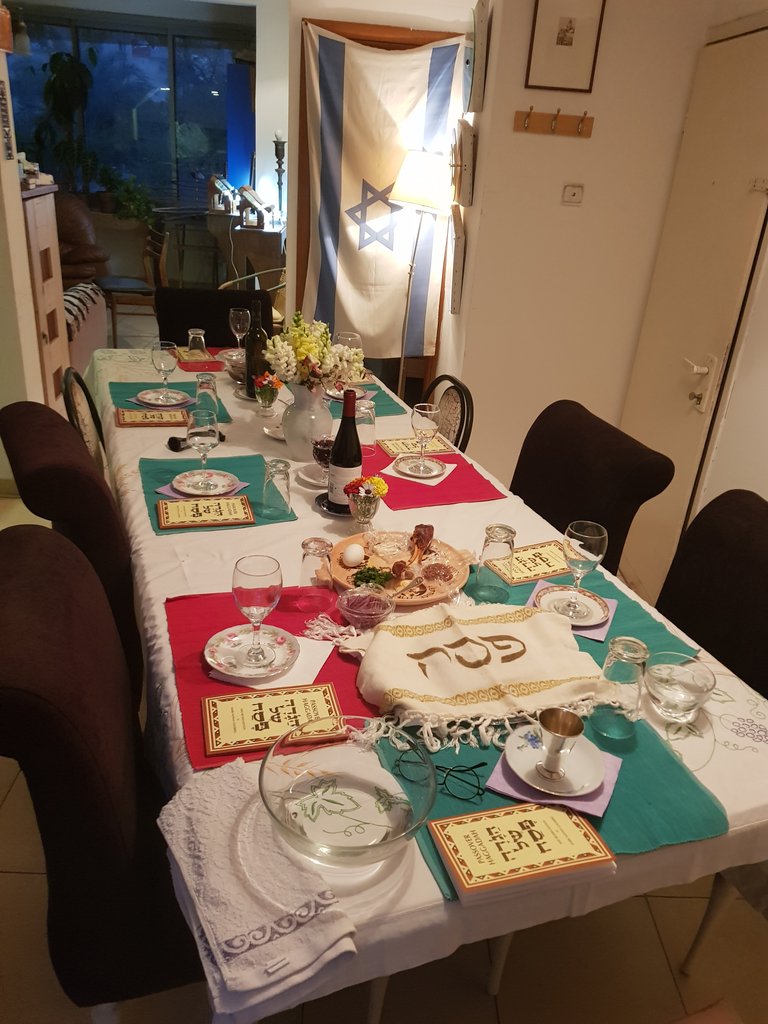 )
PASSOVER 2020 was rotten. Our government in Israel, ever the benevolent tyranny, proclaimed that Passover and all other holidays were canceled because of a bug (don't get me started on the Israeli Government's malpractice in 2020). Even though I knew that no one was coming to dinner, I cooked enough to feed 10. I had leftover brisket for a week! :)
THIS YEAR was different. This year was amazing.
For 3 days I cooked and baked and prepared for a proper Seder with friends and family around the table. We drank wine, read from the Passover Haggadah, and returned to some semblance of normality. We had a couple of vegans/vegetarians at the table so any recipe with a (V) is a vegan recipe.
Below is the menu for the blessed event, with links to the recipes I used:
Soups
Chicken Soup with Kneidlach
Chicken Soup: My chicken soup is a variation of my grandmother's recipe. Very simply, in a large stockpot, I add a chicken carcass, carrots, celery, peppercorns, and 2 bay leaves. Cover with water and bring to a boil, removing any scum that floats to the surface. Turn heat down to a simmer. After about 15 minutes, remove the celery. Then continue to simmer for an hour or two.
Kneidlach: I'm not good at making these. Every year, they end up hard as rocks, like little golf balls. My grandmother's recipe is from an old calendar:
4 eggs, beaten
1/2 cup of cold water (some use seltzer water, I didn't see much of a difference tbh)
1/4 cup of oil or melted shortening (I made the mistake of using chicken fat, which is much heavier and tends to make the kneidlach denser. I recommend using vegetable shortening instead)
1 cup of matza meal
Salt and pepper to taste
Beat eggs. Add water and shortening. Mix well. Add matza meal, salt, and pepper, and stir thoroughly. Let stand for 10 minutes only. Form into balls and drop into soup or 1.5 quarts of boiling water with 1 Tbs of salt. Cook for 20 minutes.
notes: The longer they rest, the denser they get. Try to make them as close to dinner time as possible.
Sides
Sweet Potato Salad with Moroccan Olives, Slivered Almonds & Orange Zest (V)
https://www.epicurious.com/recipes/food/views/bellas-moroccan-spiced-sweet-potato-salad-51151400
Beet Salad with Roasted Carrots (V)
Roasted Potatoes with herbs (V)
Boiled fingerling potatoes until a fork pierces easily. Drain and toss with olive oil, oregano, garlic powder, rosemary, thyme, salt, and pepper. Spread out on a baking tray and bake at 200C or 400C for 30-40 minutes or until nice and browned.
Main course
Roasted Lamb Shoulder
Ah, la piece de resistance!
I bought a bone-in lamb shoulder from a local butcher here in Israel, but you can use a boneless shoulder. The bone provides a lot more flavor to the dish. Try to get high-quality meat, that will make a huge difference in your dish. The day before, I rub the meat with the following rub: coriander, garlic, cumin, dried oregano, paprika, salt, and pepper. Wrap with aluminum foil and put in the fridge overnight.
The next day, pre-heat the oven to 160C or 300F. Place the lamb, wrapped in the foil, into the oven with the fatty part of the lamb facing up.
Bake for 3-4 hours, or until the meat easily pulls off the bone.
Turn the heat up to 200C or 400F, add some root vegetables to the pan (if you want), uncover the lamb, and bake for an additional 45min-1hr.

Chicken Thighs in a Lemon Honey Sauce
Marinade for the chicken (I don't have exact measurements, this is really up to individual tastes: 1 cup lemon juice, 1 cup date syrup (silan), 2 cloves fresh garlic, fresh ginger, 1/4 cup of vinegar (I use my own homemade mango vinegar, but you can use any kind of mild vinegar, like rice vinegar or apple cider vinegar), salt, and pepper. Marinate the chicken in the fridge for minimum 30 minutes, up to 2 hours.
When you're ready to bake the chicken, pre-heat the oven to 180C or 350F. Dry each piece of chicken using paper towels. Fry the chicken in a bit of oil until the skin is a nice, golden brown. Add to a baking tray with about 1/2 cup of the marinade and 1/2 cup of chicken stock. Bake for 45 minutes, or until a deep brown color.
Dessert
Lemon Almond Cake
https://www.simplyrecipes.com/recipes/flourless_lemon_almond_cake/
(Variation on this recipe: I add 1/2 cup of lemon juice to the egg mixture)
Dacquoise Cookies
150g egg whites (around 5 large egg whites)
40g icing sugar
125g almond powder
100g icing sugar (sifted)
30g flour (for Passover, I used matza flour)
1/4 tsp almond extract (optional)
Pre-heat the oven to 180C or 350F. Make a meringue (medium peaks) with the egg whites and 40g of icing sugar. Carefully fold in three batches the almond powder, icing sugar, and flour/matza flour. Be careful not to deflate the meringue. Using a pastry bag, pipe the batter into spiral cookies onto a tray lined with baking paper. Dust with icing sugar and bake for 20-30 minutes, or until golden brown.![20210327_190503.jpg]