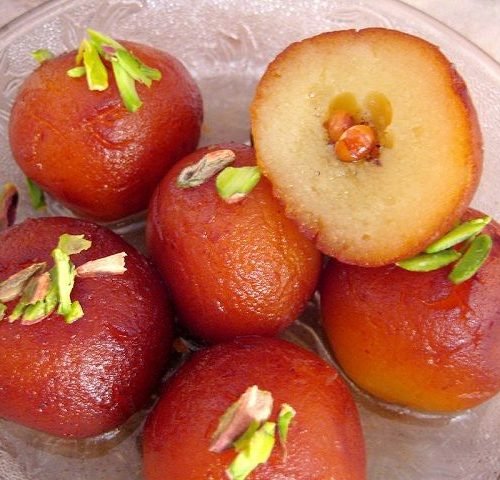 Hello readers, 
     Today I'm going to share with you a famous dessert of India  satisfying the tooth of millions of Indians" Gulab Jamun". The gulab is derived from Persian word 'gol'( flower) and 'ab'( water) referring to the rose water scented syrup. The gulab jamun originated in the Mediterranean region and Persian content, bought by Persians. It was known as" Luqmat Al Qudi" and come to India at the time of Emperor "Babur" in 1526AD.
Ingredients:-
For sugar syrup:-
1. Sugar- 1-1/2 cups.
2. Water-1-1/2 cups.
3. Green Cardamom Powder-1/2 tsp.
4. Rose water- 1 tsp.
5. Saffron-8-10 strings.
For Gulab Jamun:-
1. Khoya (Mawa)- 125g.(grated)
2. Plain all purpose flour- 1-1/2 tbsp.
3. Paneer (cottage cheese)- 100g( grated).
4. Semolina-1tbsp.
5. Baking powder-1/4 tsp.
6. Milk- 2 tbsp(add as required).
7. Vegetable oil- As required (for deep frying).
8. Saffron strings- 16-20.
Preparation Method:-
Sugar syrup-
Step 1-  Take a saucepan add add water, sugar and mix until became sticky,turn off gas before syrup reaches a one thread consistency.
Step 2- Add rose water, saffron and transfer syrup into a large bowl.( Before adding gulab Jamun make sure syrup should be warm).
Gulab Jamun:-
Step 1- Take a big bowl add grated khoya (Mawa) mash it very well once you sure that there is no lumps remain add grated paneer and again mash them well.(make sure there shouldn't be any lumps).
Step 2- Now add all purpose flour, semolina, baking powder, green Cardamom Powder and mash all ingredients together very well.
Step 3- Once all ingredients mixed well and there shouldn't be any lumps remain,add milk little by little to make a dough with it. Don't knead. Just generally mix.
Step 4- Now take small part of the dough and keep a saffron string between the small dough and make a ball with it. Follow the same process for the remaining dough, set aside for 30 minutes.
Step 5- Heat a large quantity of oil in a deep pan , once oil will became medium hot lower the flame and after few seconds gently place Gulab Jamun in the oil.
Step 6- Once they start to have tiny golden keep on rotating them in oil so that the jamuns are evenly browned.
Step 7- Remove the jamuns from oil once they will became golden brown and place them on kitchen tissues.
Step 8- Now place all Gulab Jamuns into warm sugar syrup and cook Gulab Jamun with syrup  for 1-2 minutes (don't over cook)
Step 9- Now it's ready to serve decorate with silver vark. Serve hot.
image credit : source
N.B. This article was also published on my personal blog :
https://sduttaskitchen.blogspot.com/