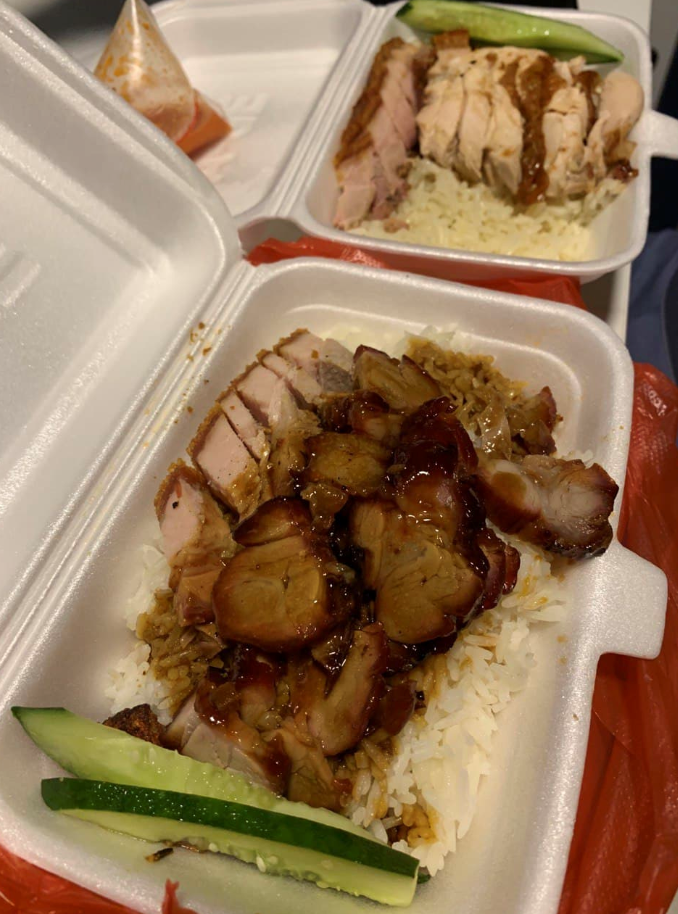 Hey Hive!
Recently, the Singapore government announced that there will basically be another lockdown, so unfortunately, we're unable to eat in restaurants and food courts/hawker centers now and can only do takeaways. We've also been limiting our time spent just being out in general, to be safe. So we've been ordering in and doing more takeouts nowadays.
And recently, we decided to finally give Roasted Master a try!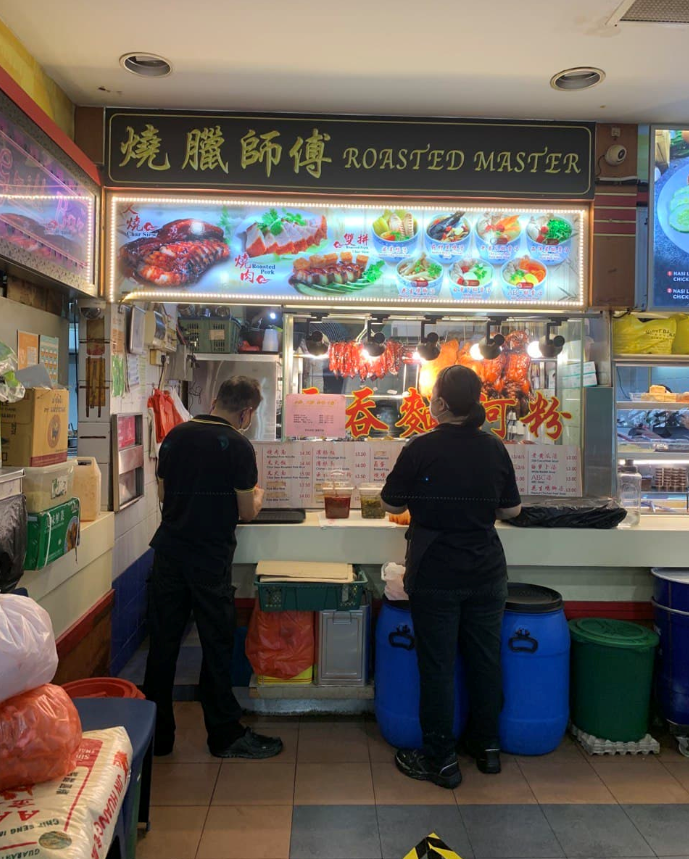 Roasted Master is a chain of stores specialising in Hong Kong style roasted meat dishes with both noodles and rice options. One of our favourite dishes from them is Roasted Pork Rice, also known as 燒肉飯 shao rou fan!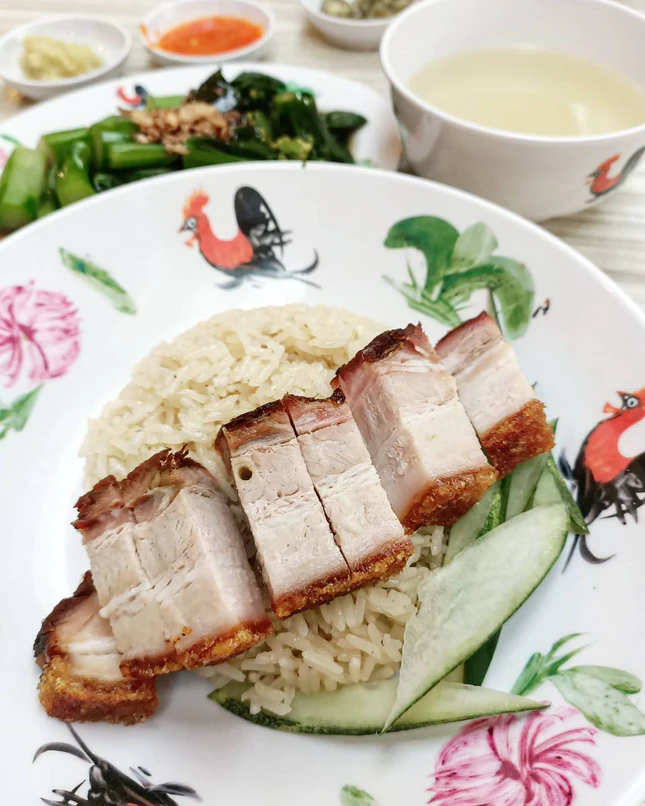 Source: Burpple
Called siu yuk/siew yok in Cantonese, this special roasted pork is made by roasting an entire pig seasoned with salt and vinegar at high temperature in a furnace. The pig will then have crisp skin and juicy and tender meat. The unique cut of meat to make this dish is known as 三成肉 san cheng rou (three-layered meat); consisting of streaky pork with layers of fat and lean meat. Although somewhat similar to the German roast pork knuckle, this Cantonese-style pork's crackling is more brittle as the skin's entire surface is pricked with countless holes and dried out before roasting, making it light and crispy.
We've actually tried Roasted Master before, but that was years ago in a different branch and they've since moved. We always remembered that they have the best and crispiest roast pork belly so we were curious to see if this branch had the same quality.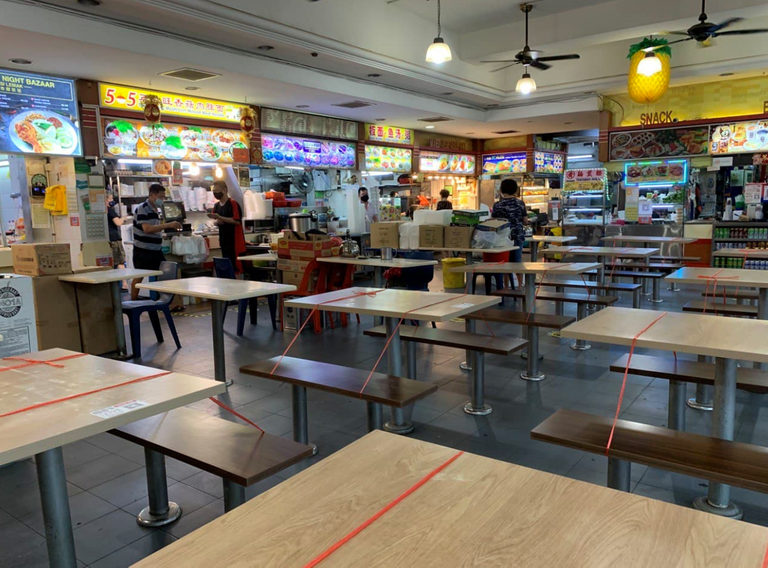 And they have a stall in this relatively small hawker center near Sembawang MRT station!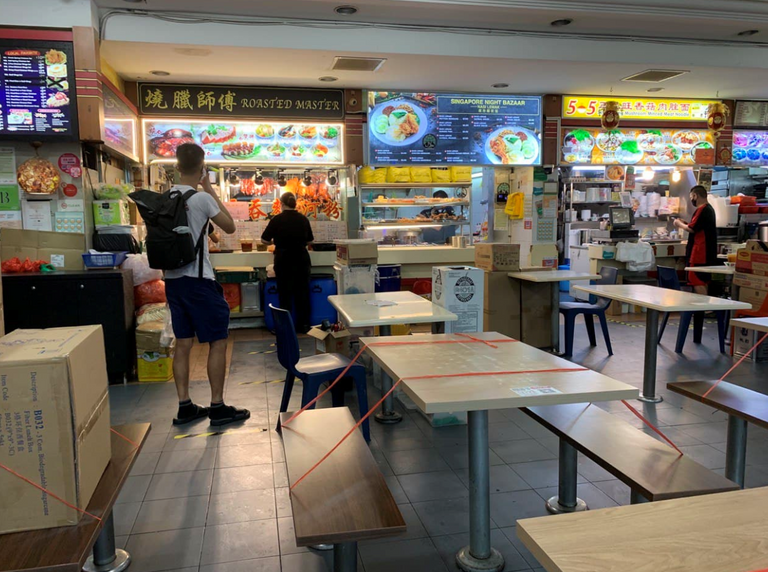 As you can see the tables and chairs are blocked off since we can't eat-in nowadays, so we had no choice but to order takeaway due to the new measures in place.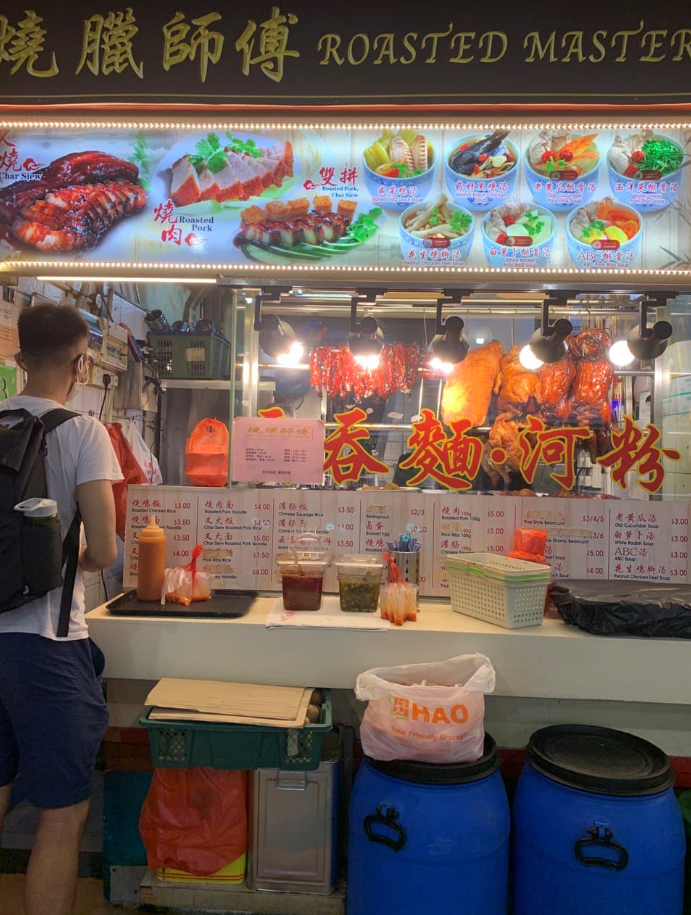 I'm not sure if the menu is clear from this picture, but they have roast char siew pork, roasted pork belly, roasted chicken rice, and various Chinese style soups like Salted Vegetable Duck Soup, ABC Pork Ribs Soups, Peanut Chicken Feet Soup, etc.
We decided to get one set of roasted pork and charsiew rice: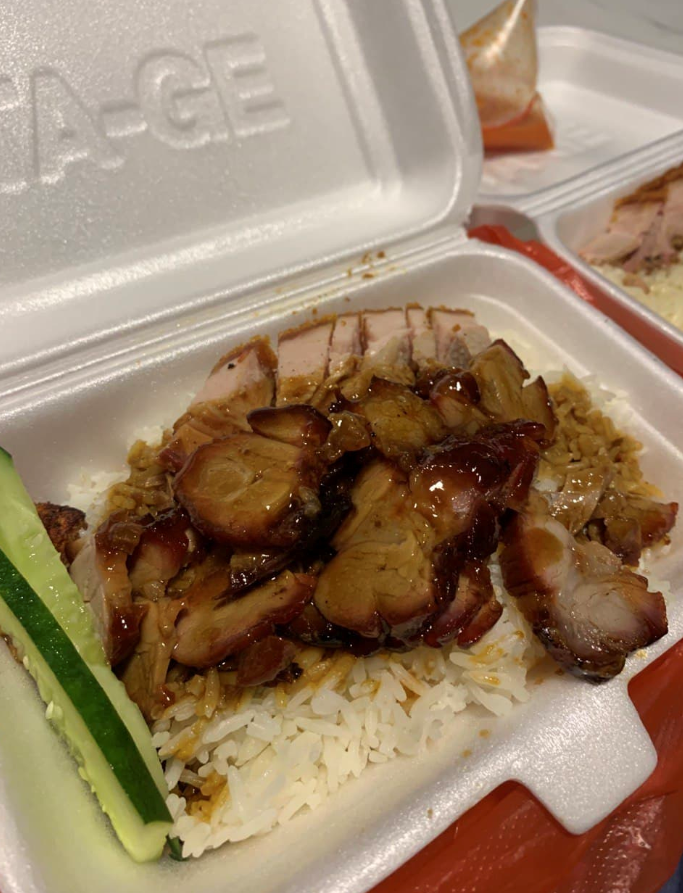 And one set of roasted pork and chicken rice: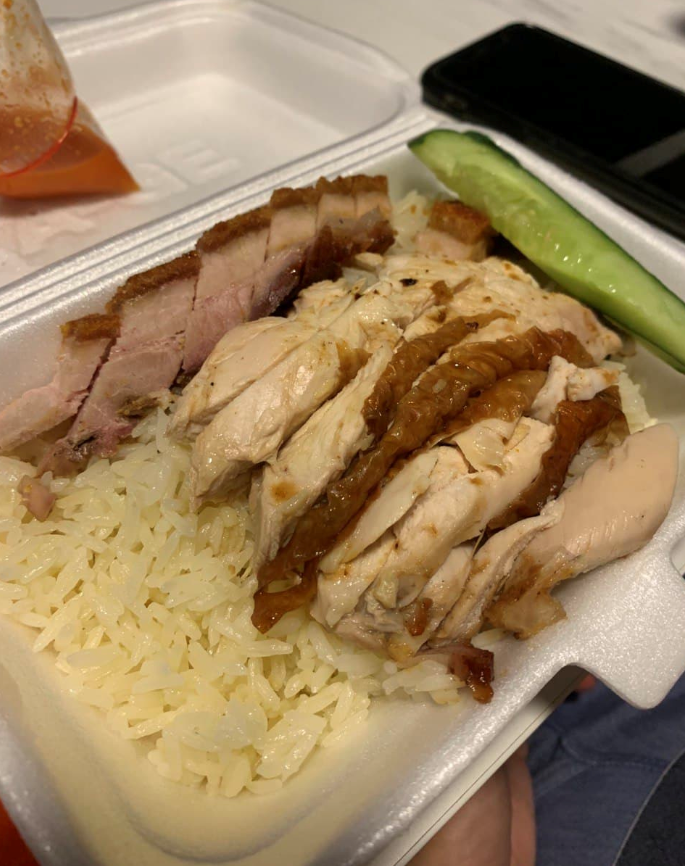 Each set comes with some cucumber and a pack of chili sauce as well.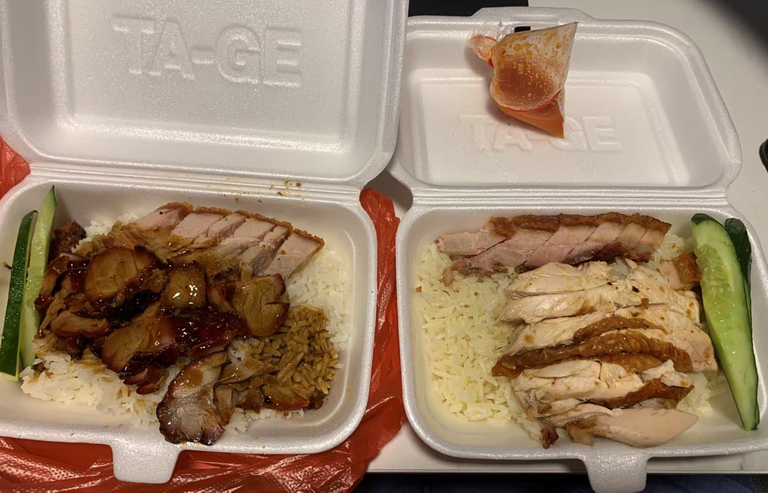 It was actually pretty good! I don't think it really lived up to my expectations from the last time we had Roasted Master. But tbf that was a long time ago so maybe my expectations are skewed. Overall though, I think it was still pretty good and definitely yummy!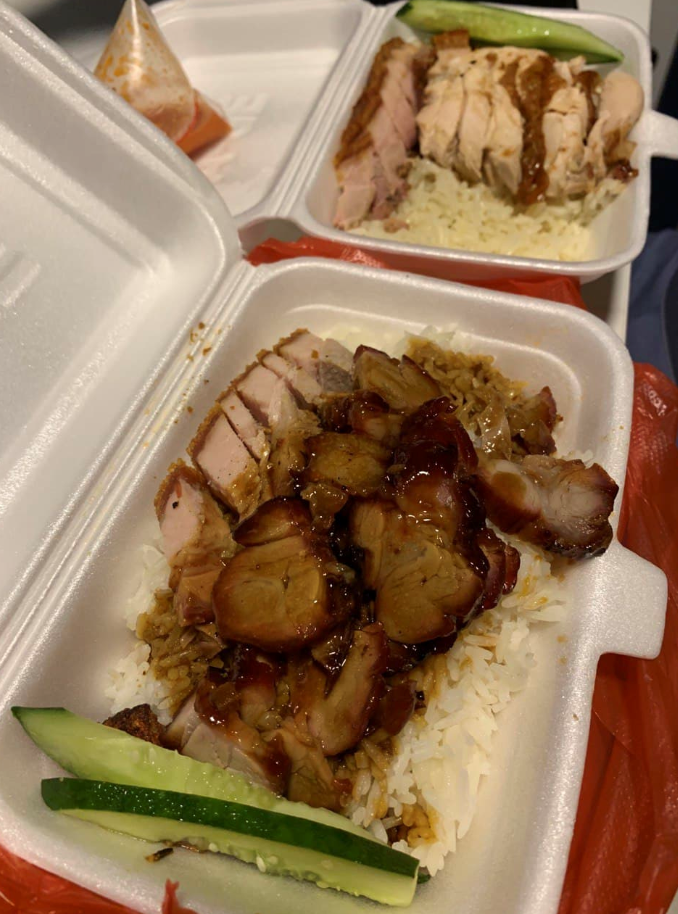 The roast pork was definitely crispy, but maybe the crispy skin on the top layer was not as thick as the other branch of Roasted Master. The char siew was actually pretty good; nice and tender and the sauce was just the right mix of sweet and aslty. The chicken rice was alright, pretty average; nothing to complain about.
I'd say this shop wasn't as overwhelming as I thought it'd be, and I won't deny it was a little bit of a letdown, but maybe it was the timing that we bought this or something. We had this at around 5:30pm; a very early dinner since we didn't really eat lunch. So maybe it wasn't that good at the time. I'm not sure though, but I'd say it's not really worth going out of your way for, sadly. Maybe the other branches are better, or they were just having an off-day. You never know, but it wasn't too far from our place so we might try it again sometime.
Thanks so much for reading!

To find out more about me, check out my intro post here!
---
[//]:# (!pinmapple 1.450270 lat 103.822419 long d3scr)
Check out my previous post in this series!
TacoCat's TrEats #103: Healthy & Tasty Tofu Bowls! 🍚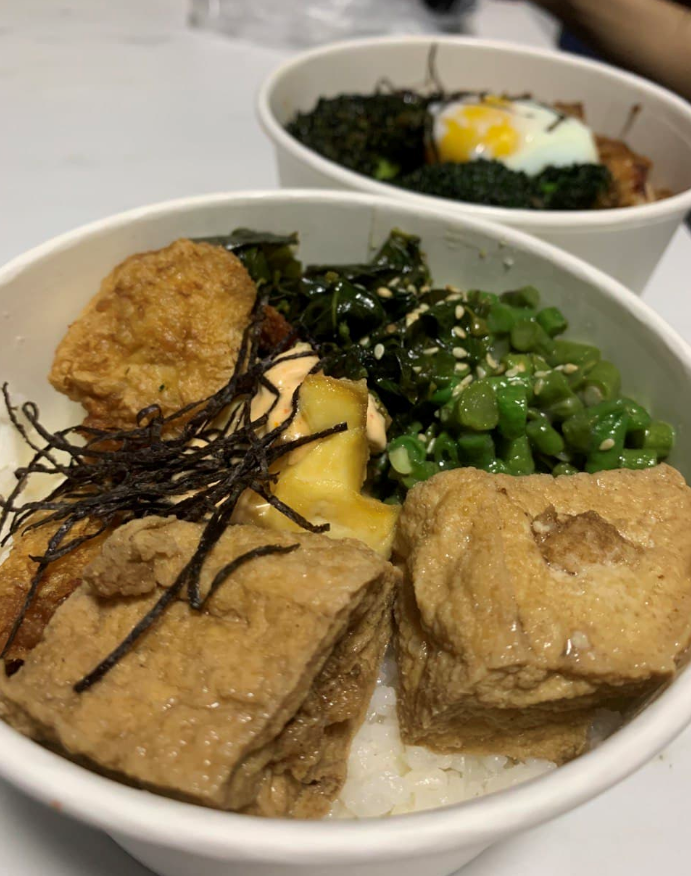 ---
Posted via foodiesunite.net