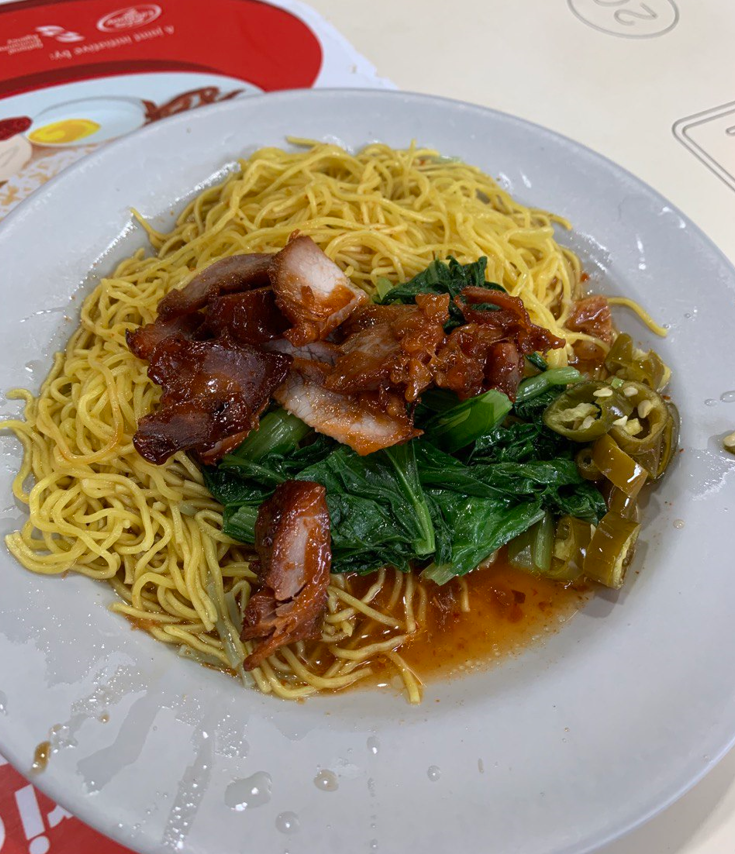 Hey Hive!
Now that a lot of people here have already gotten vaccinated, I'm very happy to hear that Singapore is now allowing in-house dining again but obviously you have to be vaccinated. But since there aren't any restrictions this allows us to try out different food places again!
So if you missed the last post, I started sharing about one of our hawker adventures where we revisited a hawker center here called Chomp Chomp Food Centre!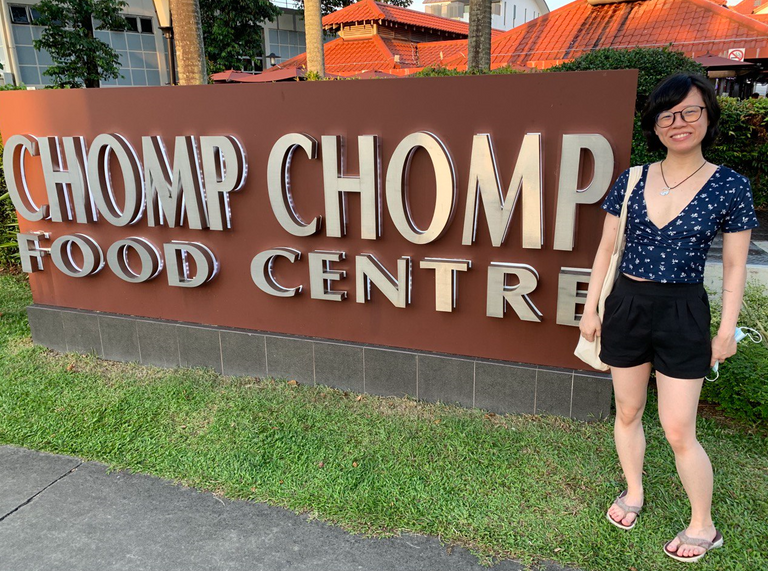 If you've never patronised a hawker center before, they are typically non-air conditioned buildings that house all kinds of food stalls specialising in one or two signature dishes. They're ubiquitous here in Singapore and Malaysia and are known for delicious and affordable food - the perfect combination!
This hawker centre first opened in 1972 and is pretty well known among locals, and is a popular supper spot since the stalls here tend to open til past midnight to cater to younger crowds and post-clubbers. But since covid I'm not sure if they still stay open that late.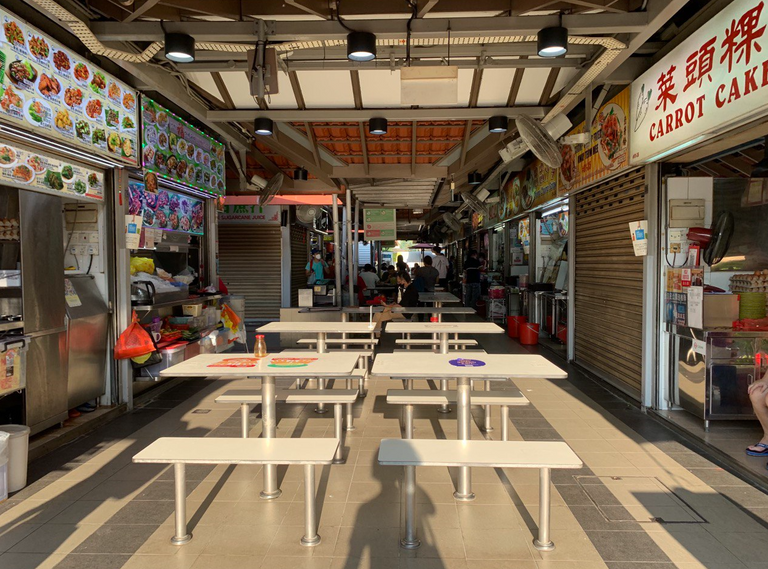 The hawker centre itself is not that big compared to some others we've visited. There are two aisles of tables with stalls on either side and some down the middle, with paths in between the middle section to walk across. Most of it is sheltered but the rain might come in since there's only a roof and it's mostly open on all sides other than the stalls.
I'm not sure about the full capacity of the hawker center but there are some additional seats with umbrellas in the back corner. It does tend to get quite crowded on weekends and at dinner time though, so we went there ahead of time before the crowds came in.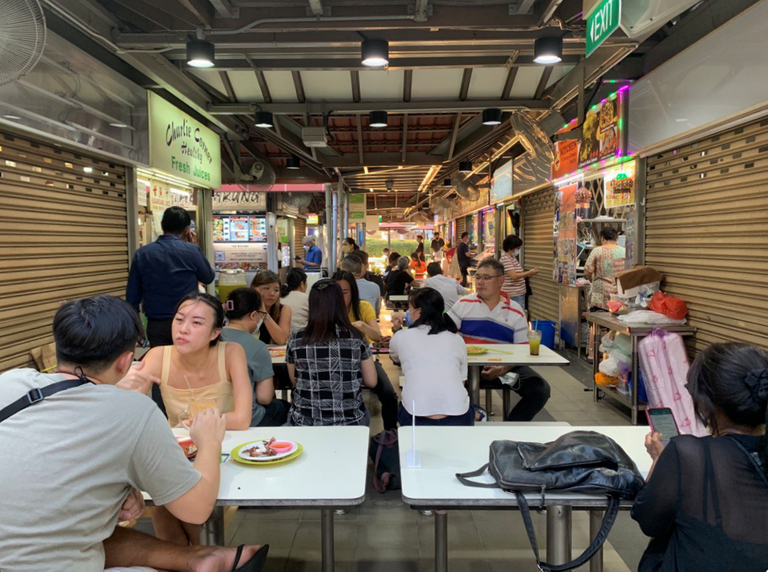 It was really sunny when we went though, so we had to buy some refreshing drinks from the drink stall to cool down.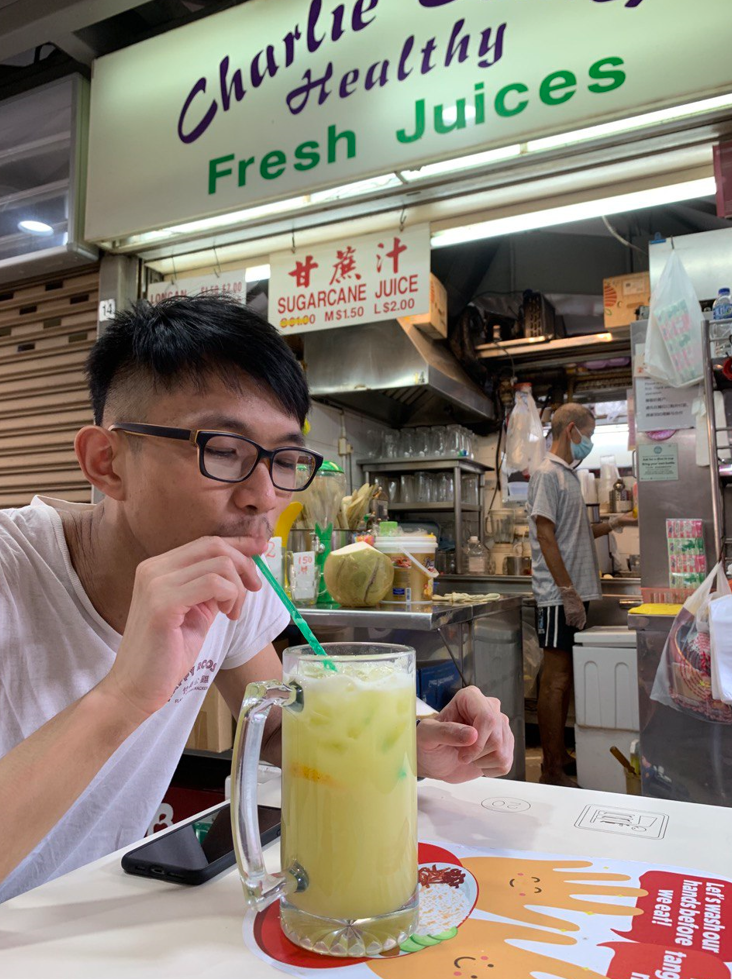 Last time, I shared about a sambal stingray dish and a carrot cake dish we tried which was delicious! The sambal stingray was definitely the dish to beat for now, but we weren't full yet and wanted to try more food!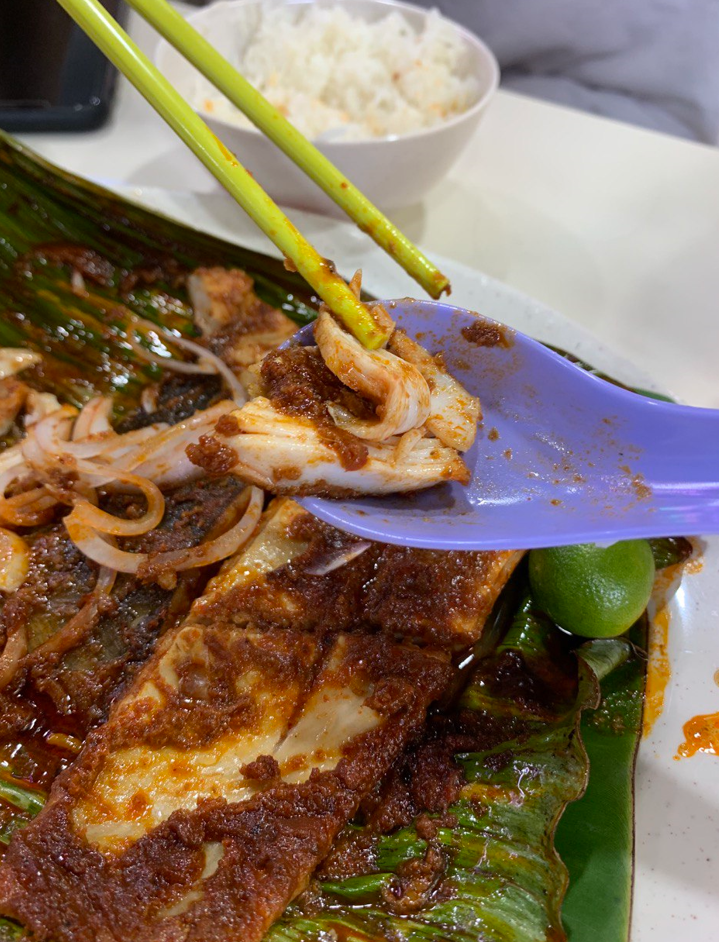 Another stall we tried was this one called Swee Heng Wanton Noodle! Because I used to work across the road from this hawker centre, I came here quite a bit and remembered ordering a wanton noodle dish from Chomp Chomp. I couldn't remember if this was the right stall but it was the only one there so wer decided to give it a try and see if it was as good as we remembered!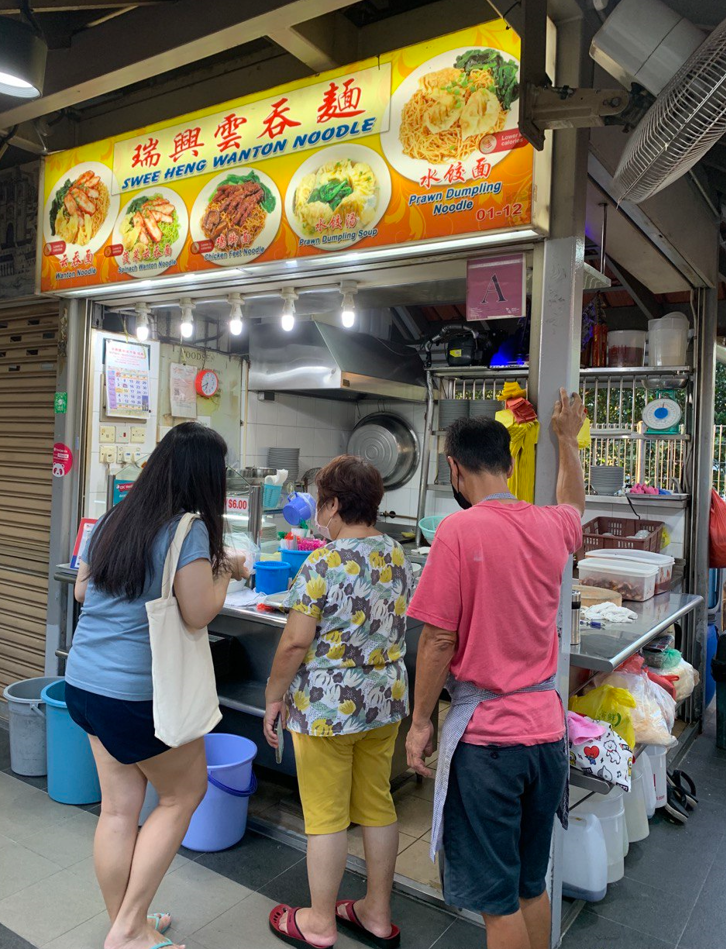 It was pretty interesting since they had three different types of noodles to choose from, including a spinach noodle! It was bright green and I imagine is made of spinach.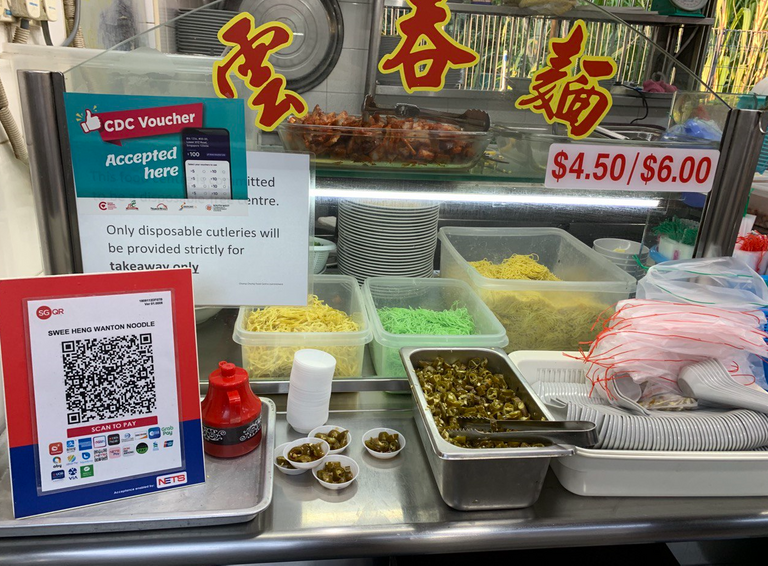 But we decided to order the usual wanton noodles just to see if it was the same. I remember this being one of my favourite noodle places; after a long day of work I would buy this home and it would still taste good and was a good treat to end the day.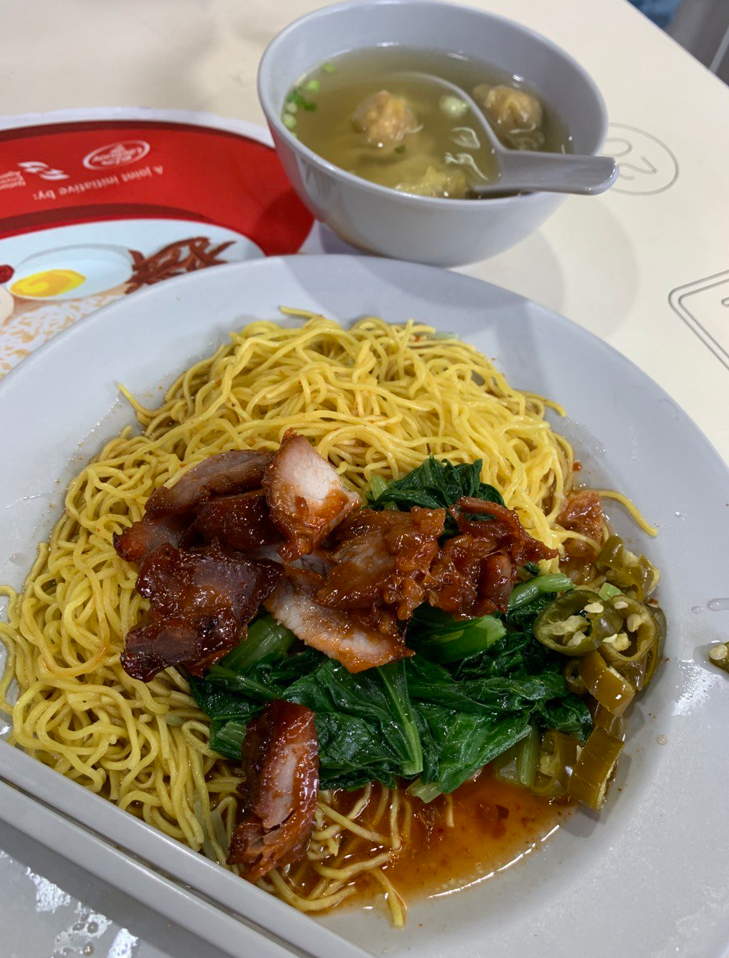 It definitely looked and smelled promising! But unfortunately it didn't really have the same taste that I remembered.. I'm not sure if I was blinded by nostalgia, but it tasted pretty average to me. It wasn't bad, but it wasn't fantastic either. It's too bad, since this was the few wanton noodle places that I thought were memorable.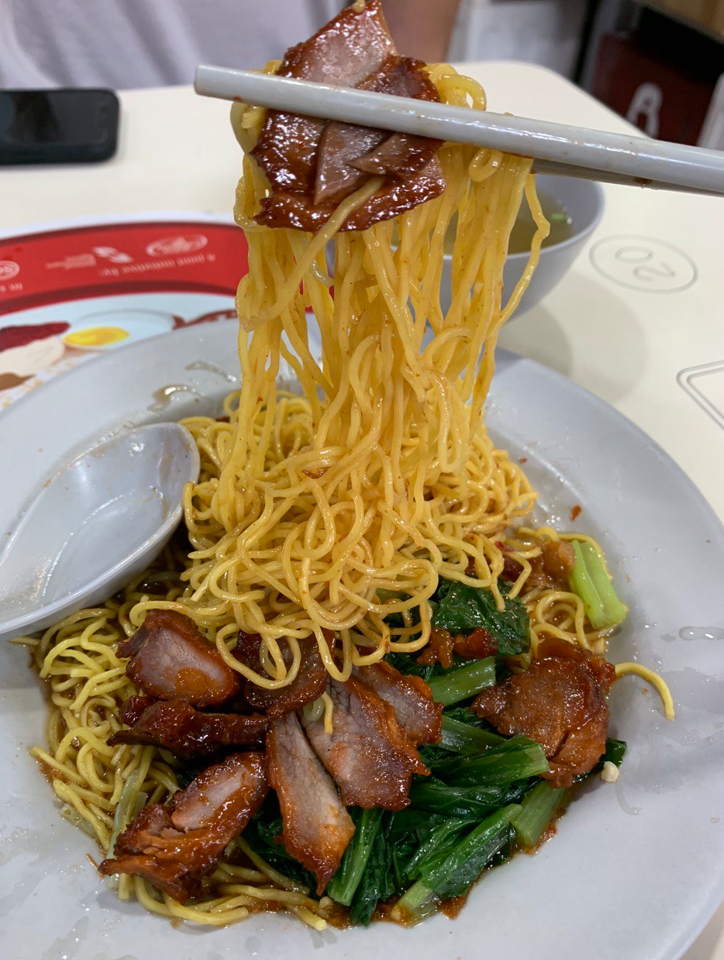 I'm not sure what it was that was different; maybe they used a different noodle, but the pork char siew was only alright too, nothing to write home about. The chili was okay too, but not as strong as I remember. The wanton noodle I coveted once had a spicier chili and was so tasty mixed with the sauce. This was alright though.
It was really warm in the hawker centre since there weren't big ceiling fans and the weather was really hot in the late afternoon so we had to get another drink! We tried a large grass jelly this time which was healthy and refreshing!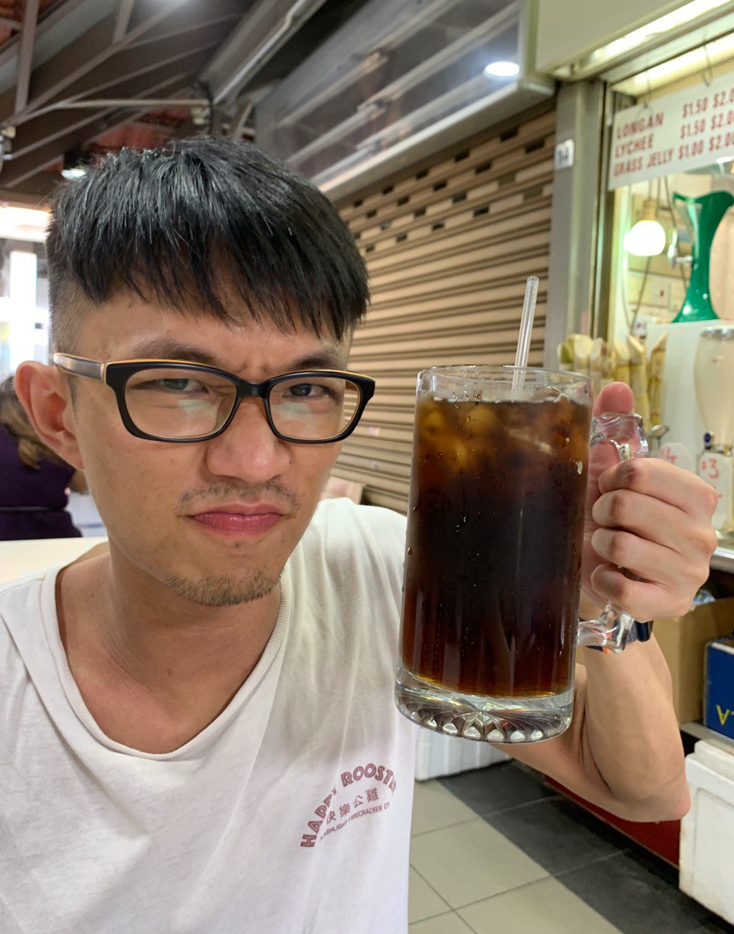 I could still go for one more dish, and since it had been a while I thought we should try this kebab stall! Sean and I like kebab and we used to eat it a lot when we were in Finland all those months.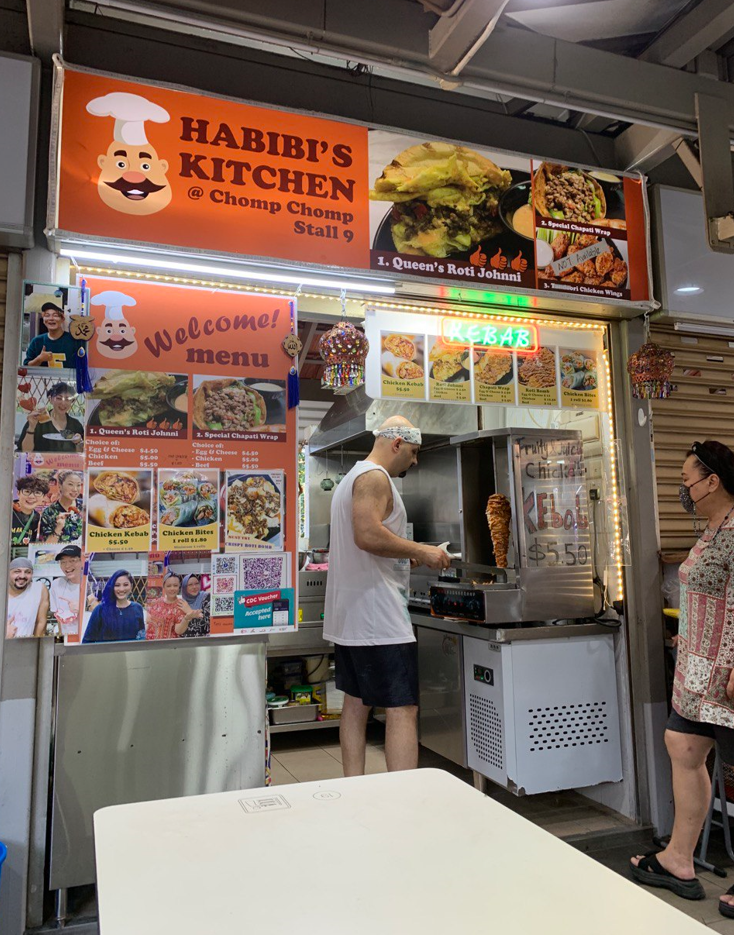 It was also curious to see a kebab stall in a hawker centre, since it's not your common Singaporean food. But apparently this stall was quite well known, and has been featured on many articles online! The owner is a self-taught Egyptian chef who went to work in Malaysia in a Middle Eastern restaurant where he met his soon-to-be wife who was there on holiday! Truly a meet-cute of the ages and now they run this little kebab stall together in Chomp Chomp!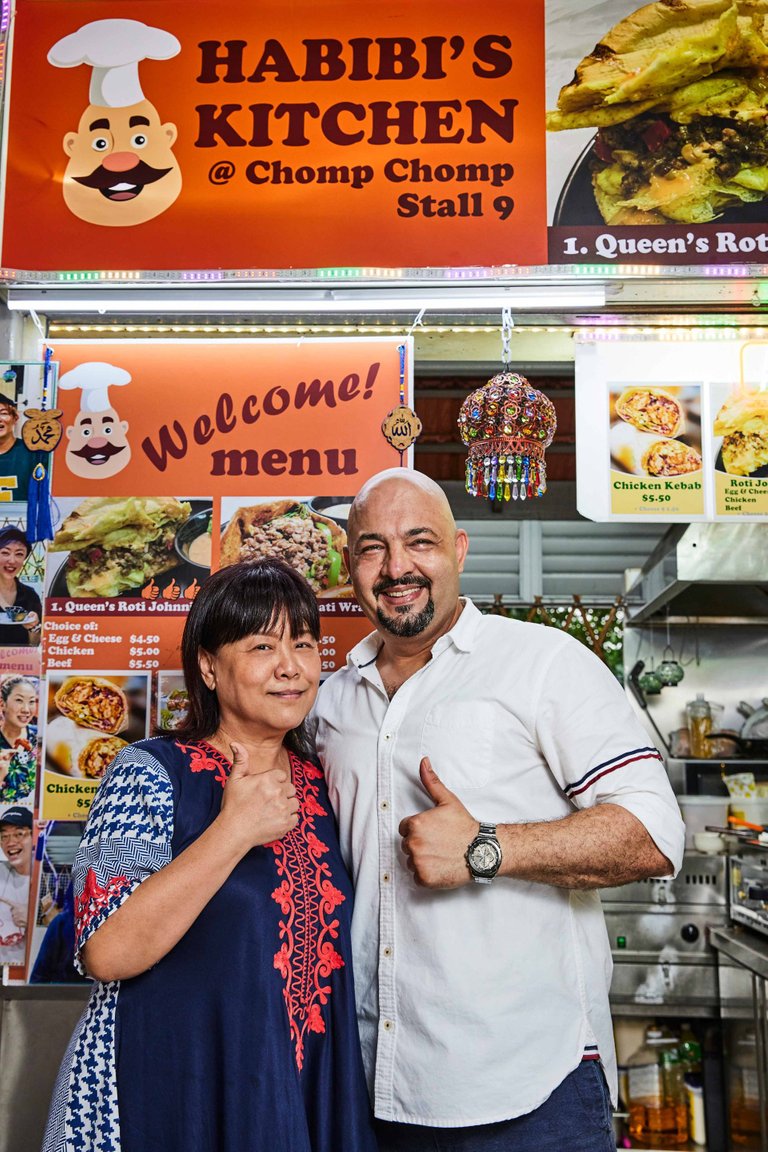 Source: 8days
The kebab meat smelled so good though, and I couldn't resist so we decided to try their special chicken roti johnni! It was interesting how they combined Middle Eastern kebabs with our Singaporean Malay dish - roti john (which is an omelette sandwich with meat and onions).
It had also been a long time since I had roti john and while I don't really like the sauces they use in typical roti johns, I did like kebab sauces so I thought this would suit my palate more. After about 10 minutes, our sandwich was ready!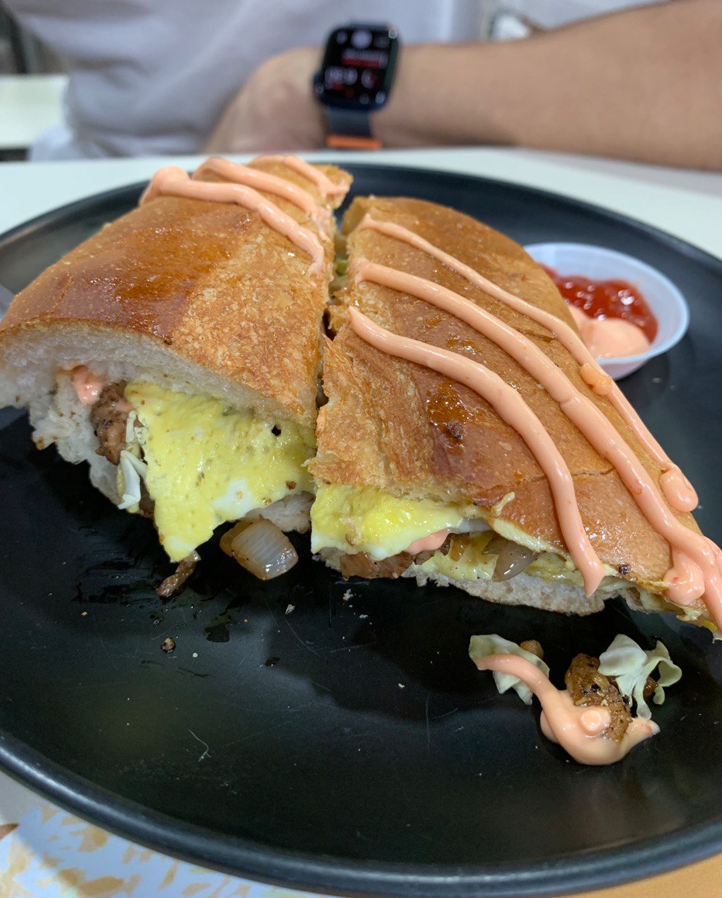 The chef kindly cut up the sandwich in half for us and the lady even gave us plastic gloves to wear so we wouldn't dirty our hands with the sauce! How convenient!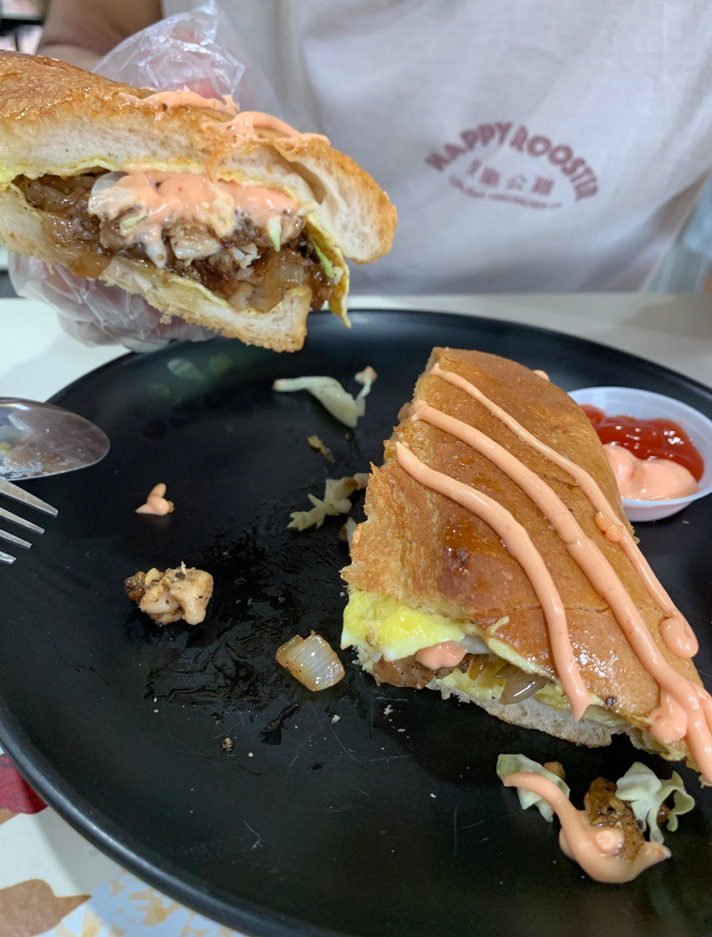 There was chicken kebab meat, egg, cabbage and some onions in the chicken roti john, sandwiched between two warm and crispy pieces of baguette bread. It looked and smelled really yummy! We were afraid the portion size would be too big for us since we were pretty full already but it was actually perfect; not too big and not too small.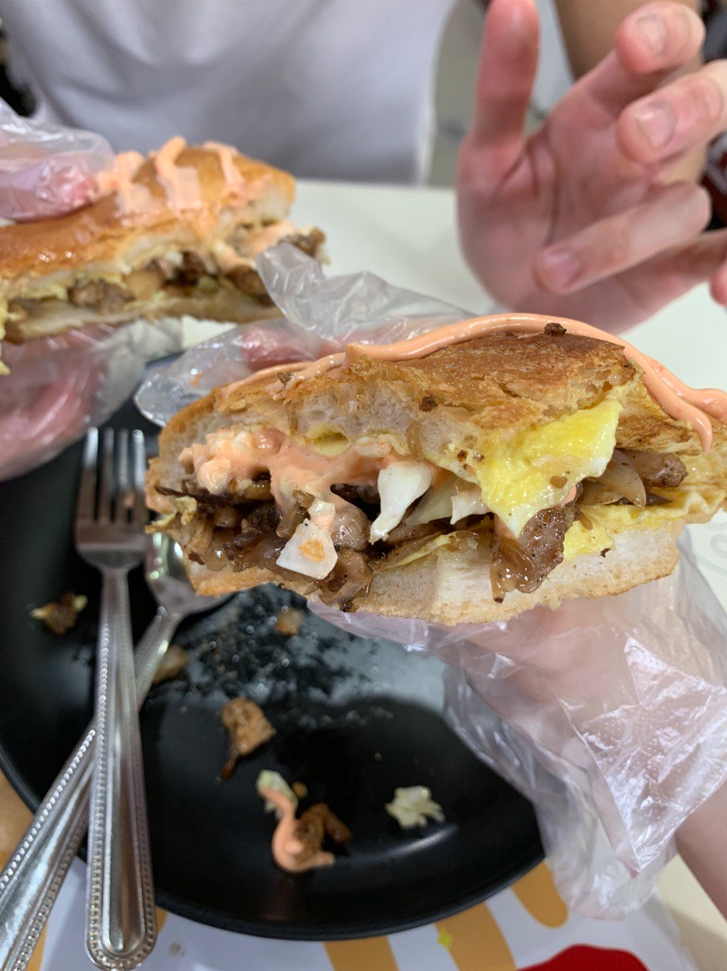 Overall it was pretty yummy! The chicken was tender and nicely seasoned, the sauces were interesting; like a lighter mayonnaise with a unique flavour. I can't remember what exactly but it complemented the sandwich well. I'm not sure if I would go out of my way to buy this since this place is pretty inaccessible, but it was a good snack nonetheless!
After 4 dishes and two drinks, we were pretty satisfied! And the dinner crowd was coming in by then so we started to take our leave.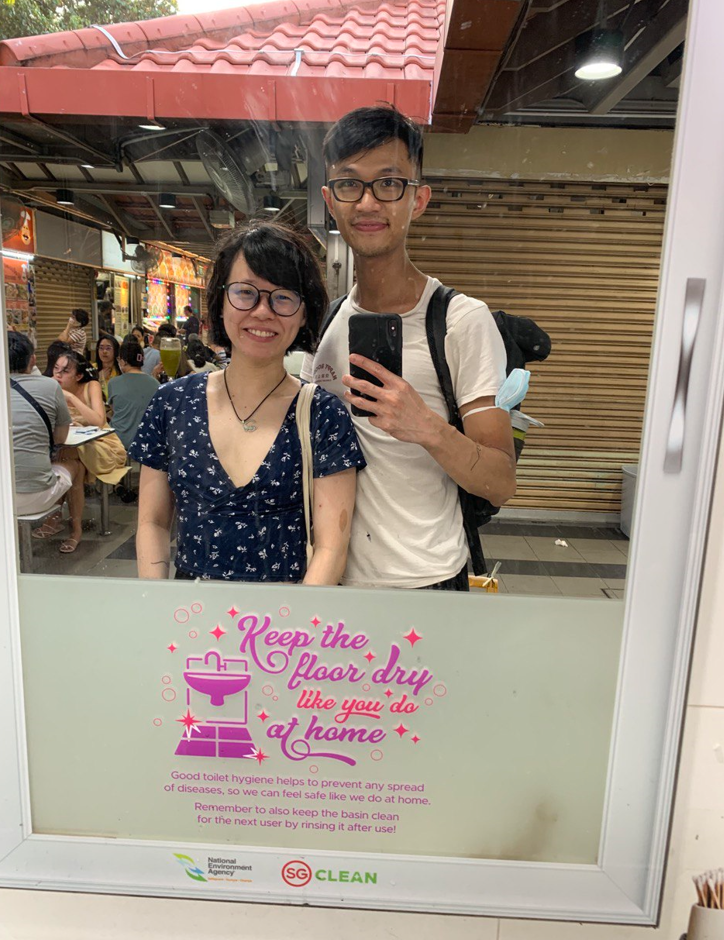 I think the sambal stingray was still the best dish out of all we tried here. And while some of the others didn't live up to our expectations it was still a really delicious meal! So if you're ever in the area looking for affordable and tasty eats, Chomp Chomp is still a good place to visit.
Thanks so much for reading!

To find out more about me, check out my intro post here!
---
[//]:# (!pinmapple 1.36454 lat 103.86639 long d3scr)
Check out my previous post in this series!
TacoCat's TrEats #147: Scrumptious Spicy Sambal Stingray! 😋!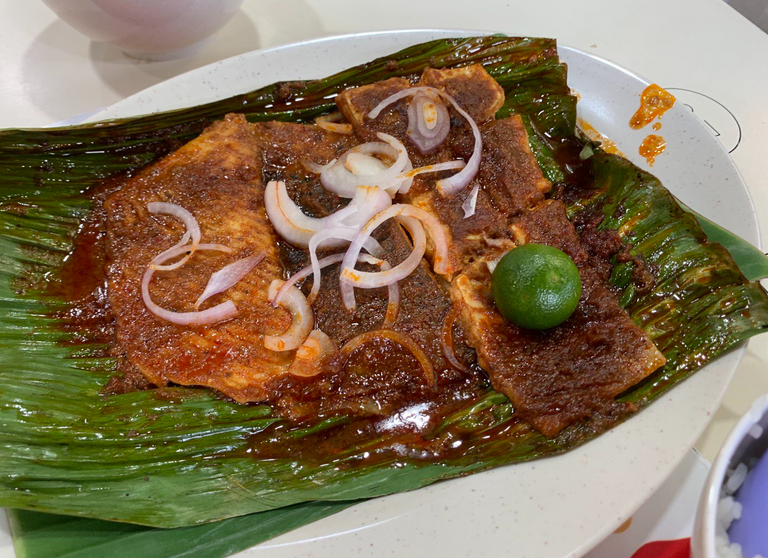 ---
Posted via foodiesunite.net