This series started with the question -
How can one possibly make eating a salad exciting?
Exactly half a month ago, we made a workaround of the notion that eating salads are boring. You can judge for yourself if the attempt was a success here - Battle of the Salads: SaladStop!
The rationale is since salads don't have feelings, I'd pit each salad against each other and rate them. These ratings are just based on my experience and personal observations which can vary based on my feelings and level of hunger. Gotta place that disclaimer out there.
I also explained why I prefer to order a salad meal. I am building my strength and I would like to know how far my physical limits will take me. The fullness that I get after eating plant-based food is satisfying - the kind that doesn't make me feel bloated and sleepy right after. I still eat animal-based food but as much as possible, I want fruits and vegetables to take up a huge portion of my plate.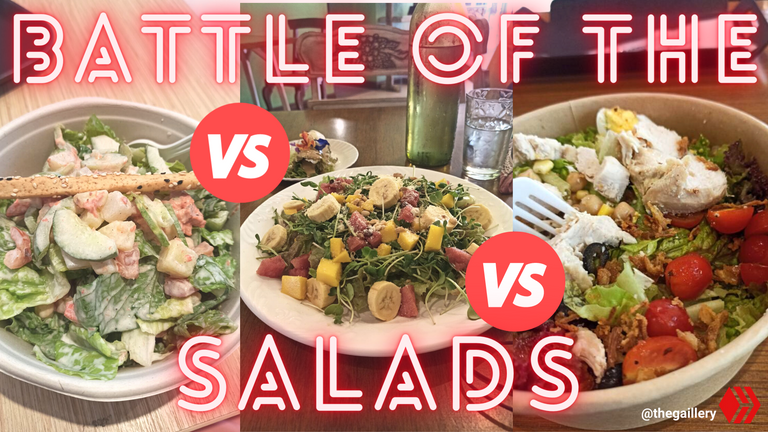 Part 2 😁

We're going to rate food places in Cebu that offer salad on their menu. We're going to rate them according to their interior, their food choices and of course, their salad.
This time we're featuring Tasty Kreme - a posh-looking cafe in 88th Avenue. My workmates and I initially intended to go to Tom N' Toms which is also a great cafe in 88th Avenue. We were to do a photoshoot for work when we decided last minute to change venues. It was a good thing that we did because not only did the shoot went great (I'll show a photo for proof) but we also got to eat this beauty: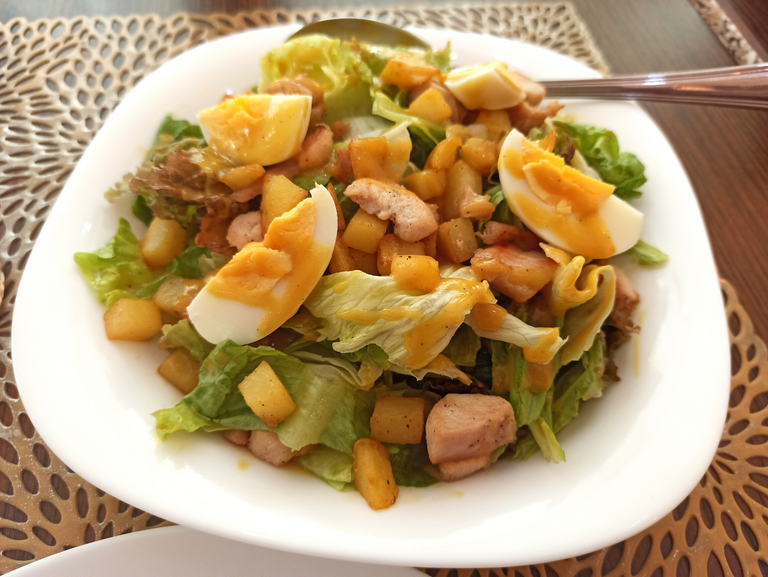 Grilled Chicken Salad in Mustard Potatoes
The day was productive and delicious! It had to be because we were in one of the most beautiful lifestyle destinations in Cebu [//]:# (!pinmapple 10.328171 lat 123.909089 long d3scr). Since the Tom N' Tom's cafe has become a favorite destination for me, I've passed by Tasty Kreme for a couple of times already as well. I assumed that the meals must cost much because of the cafe's posh interior. Let me take you inside...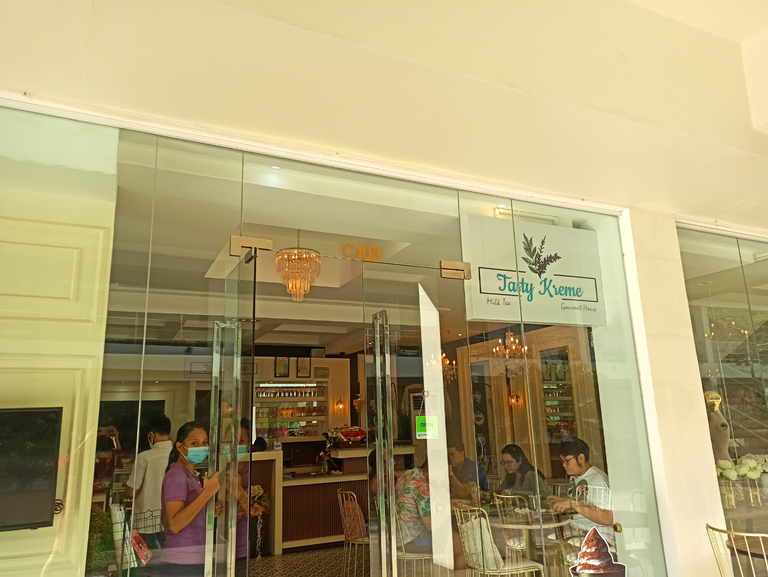 Outside Tasty Kreme


The Interior

⭐️⭐️⭐️⭐️⭐️/5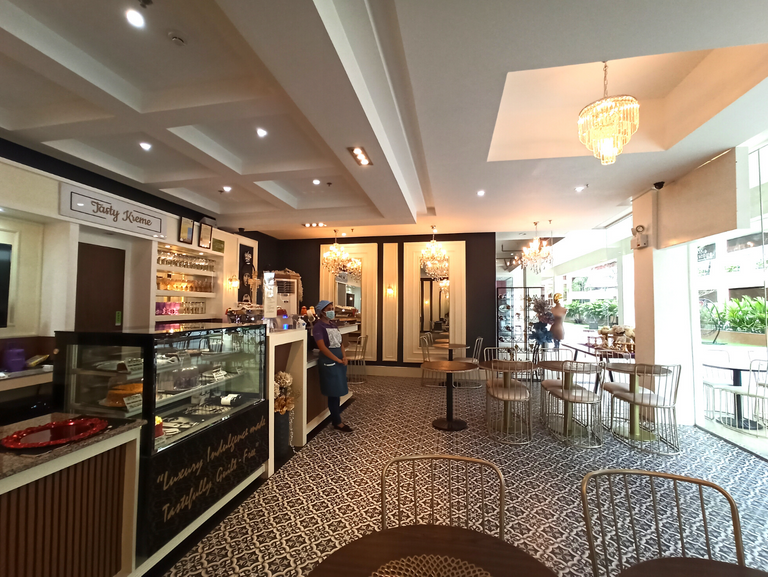 The posh interior - chandeliers, golden chairs, classy furniture may looks lavish on the outside but Tasty Kreme offers budget-friendly food choices
The interior of Tasty Kreme is a lavish display of chandeliers, mirrors, classy furniture, golden chairs - you get the picture. We got lucky because we were the only ones inside. It was the perfect opportunity to take our professional photos. The cash register and beside it the cake freezer are right in the middle of the place. I initially thought that Tasty Kreme was a dessert cafe until I asked for their menu.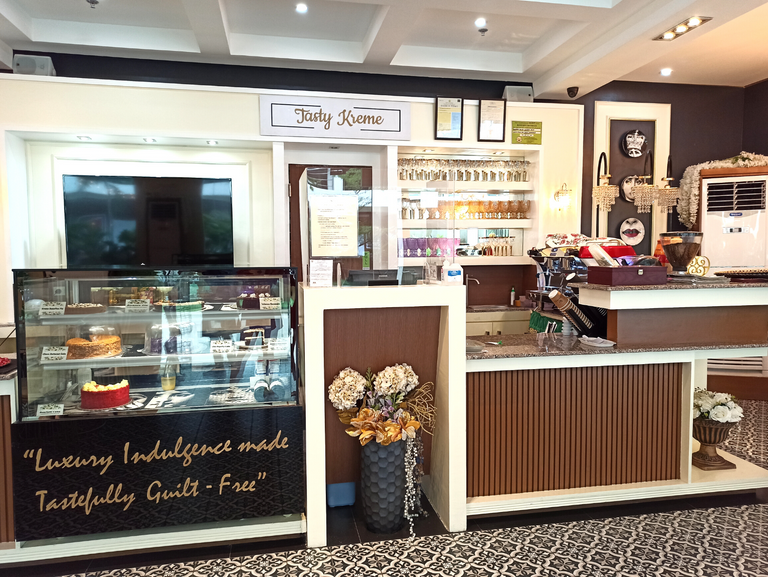 cash register view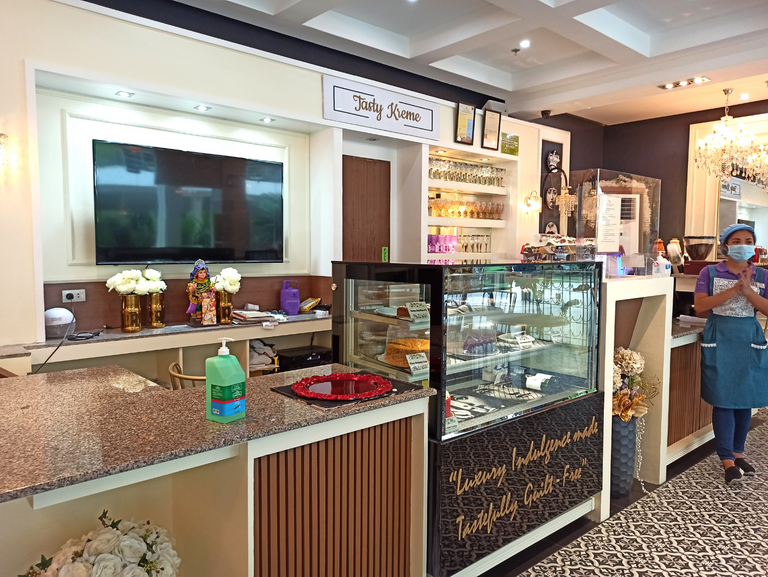 food counter view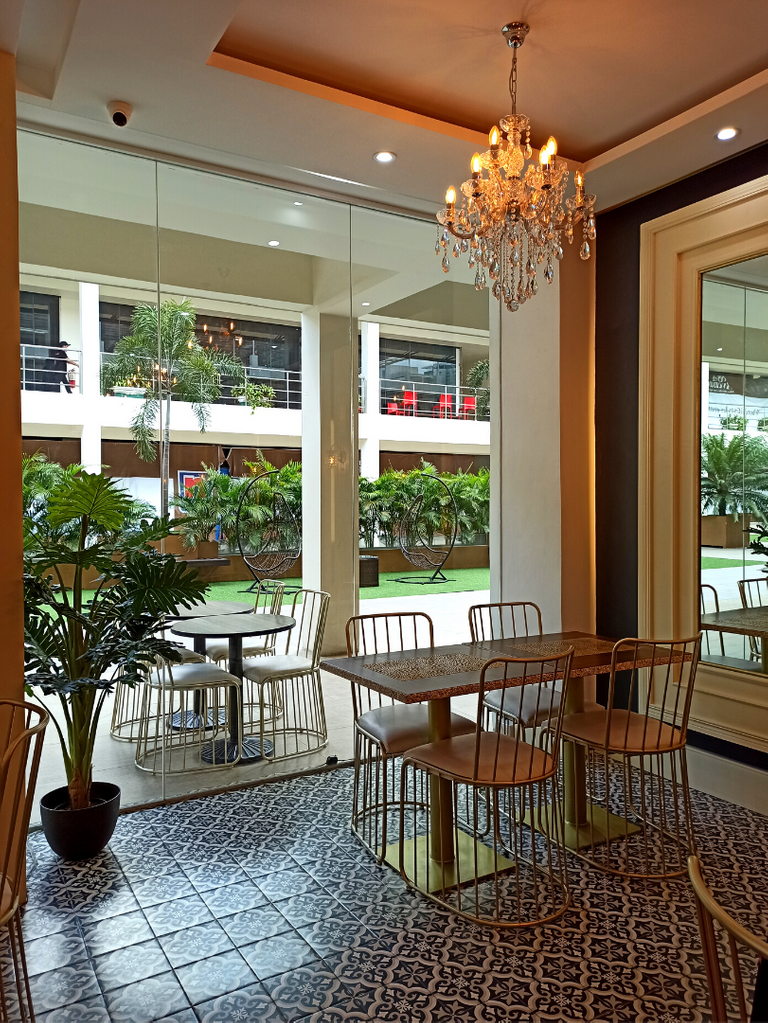 tables looking over to the 88th Avenue's exterior


Food Choices

⭐️⭐️⭐️⭐️⭐️/5
They offered a variety of meals ranging from krepes, pancakes, brunch meals, hearty meals, fusion dishes, tasty salads, pasta, pizza, cakes & pastries, ice cream, macarons, fruit teas, milk teas, hot tea, coffee and cocktails. This is why I gave them 5 stars for this category, because of the variety.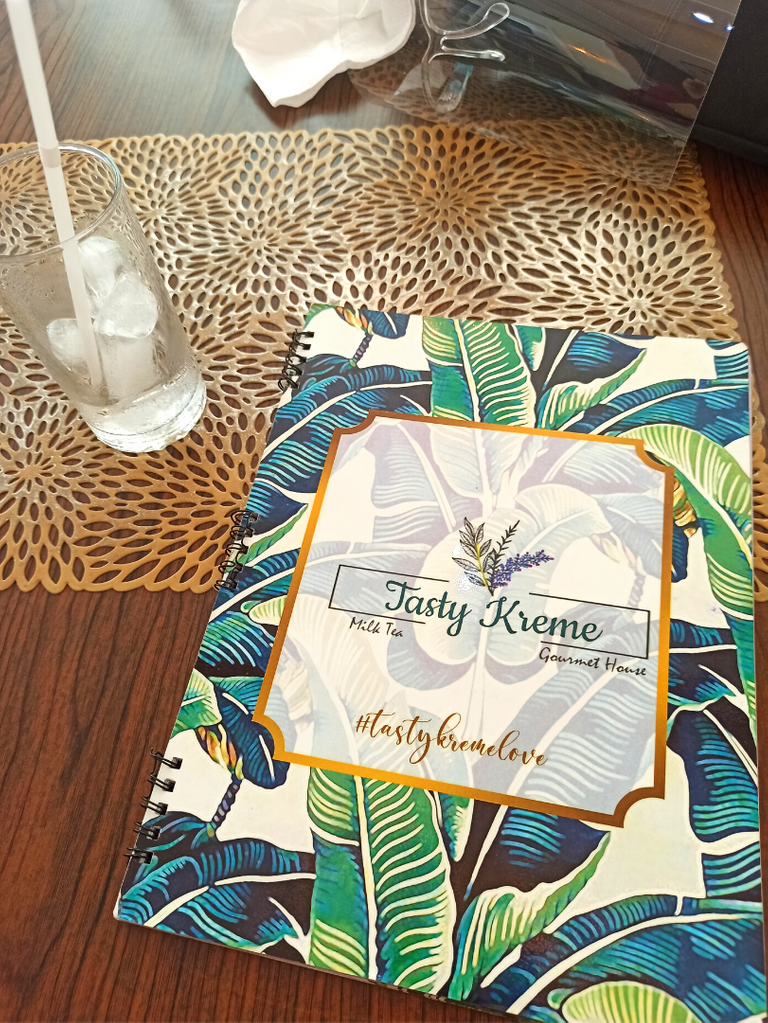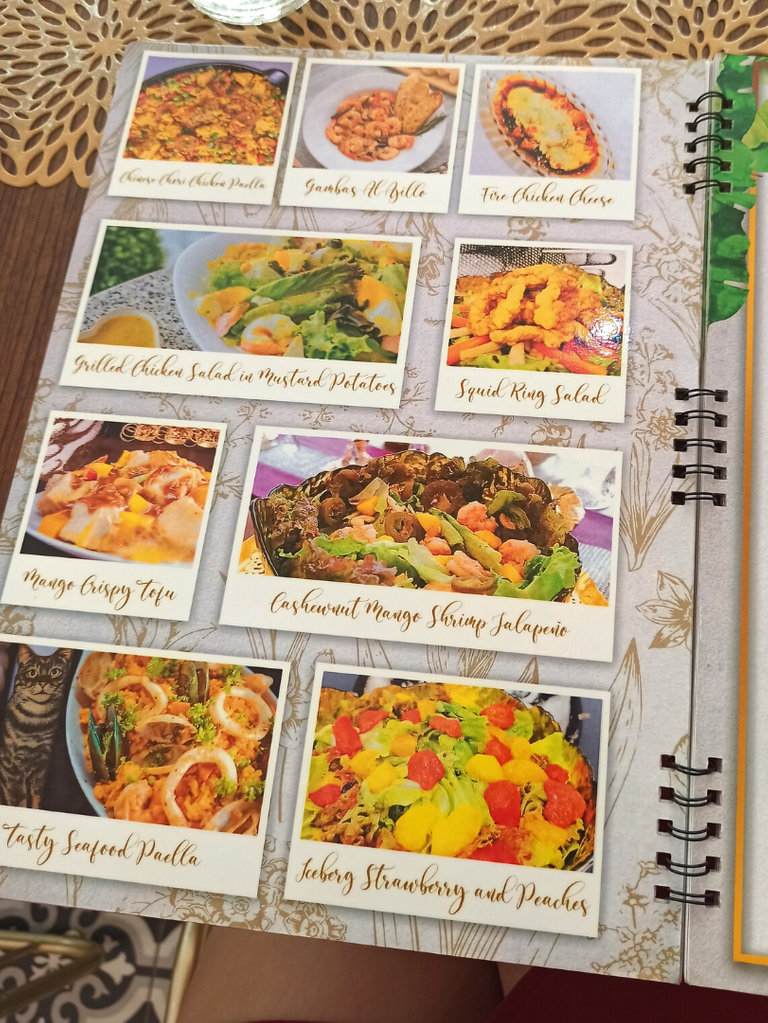 salad and hearty meals menu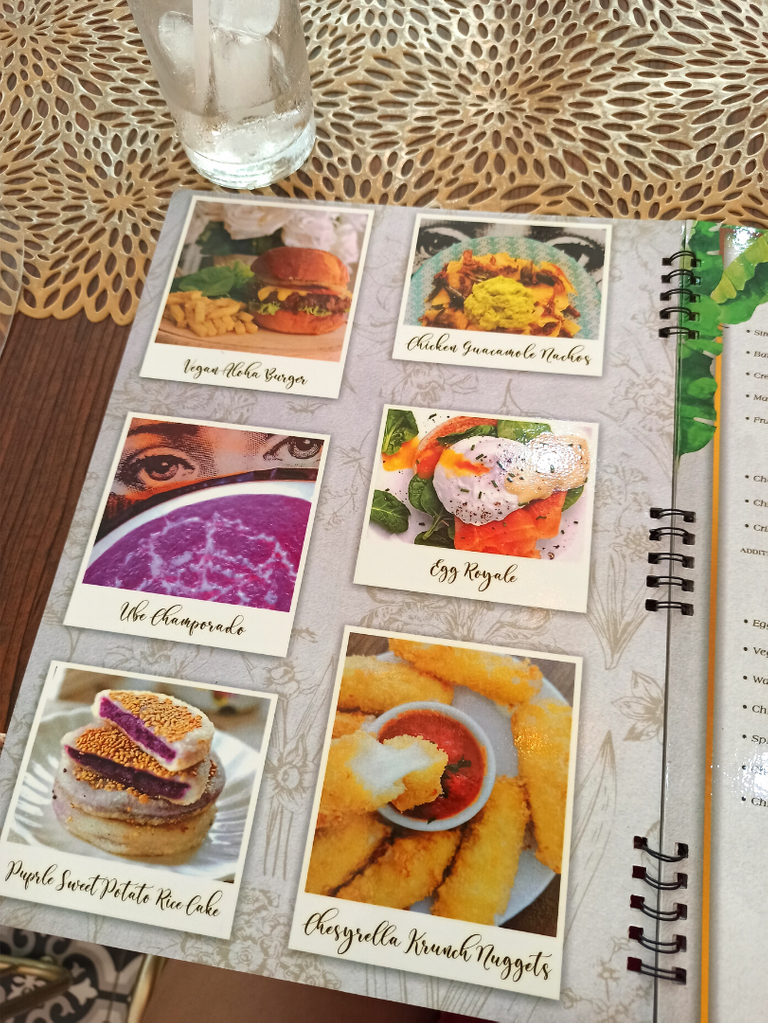 signature favorites
Their Tasty krepes and pancakes come in different flavors. They have strawberry banana, banana peanut butter, cream cheese strawberry, mango berry hazelnut, fruit medley caramel krepes. You can also get their breakfast pancake board, pancake sandwich, red velvet, chocolate velvet and purple velvet pancakes. They range from 255-375 PHP (6-8 USD).
Their all day brunch series are Filipino favorites: chorizo de Cebu, chili garlic corned beef, crispy danggit and vegan-friendly: vegan BBQ, vegan tocino, vegan crispy nuggets with the option to add plain rice, garlic rice, sunny side up egg, cheesy omelette, fresh milk, non-fat milk, almond milk, butter and honey. The price range from 415-455 PHP (9-10 USD) and 45-120 (1-3 USD) PHP for the add-ons.
Their signature favorites are egg royale, vegan aloha burger, wasabi salmon burger, chicken teriyaki burger, spicy chicken burger, cheese spinach dip, chicken guacamole nachos, purple sweet potato rice cake, peanut kreme rice cake, hazelnut kreme rice cake, puto maya set, ube champorado with chicken floss, cheesyrella krunch nuggets, friends fries platter and krispy gimarri which range from 320-475 PHP (7-10 USD).
The Tasty fusions included fire chicken cheese, chicken cordon bleu, mango crispy tofu in peanut sauce, salmon sashimi, salt and pepper squid, gambas al ajillo, grilled stuffed squid in mustard cream and BBQ chicken choppers. The prices range from 385-485 PHP (8-13 USD).
Their hearty meals include seafood paella overload, Chinese chori chicken paella, grilled salmon steak, lemon baked salmon, breaded pink salmon teriyaki, chicken teriyaki, kimchi fried rice, chicken bulgogi and vegan burger steak in mushroom gravy. The prices range from 385-595 PHP (8-11 USD).
When I said 5/5 on food choices, I mean 5/5 sis!


The Salad

⭐️⭐️⭐️⭐️/5
Of course, last but not least are their signature Tasty salads. I had to choose between iceberg strawberry peaches, cashewnut mango shrimp jalapeno, squid rings salad and grilled chicken salad in mustard potatoes. They range from 385-400 PHP (~8 USD).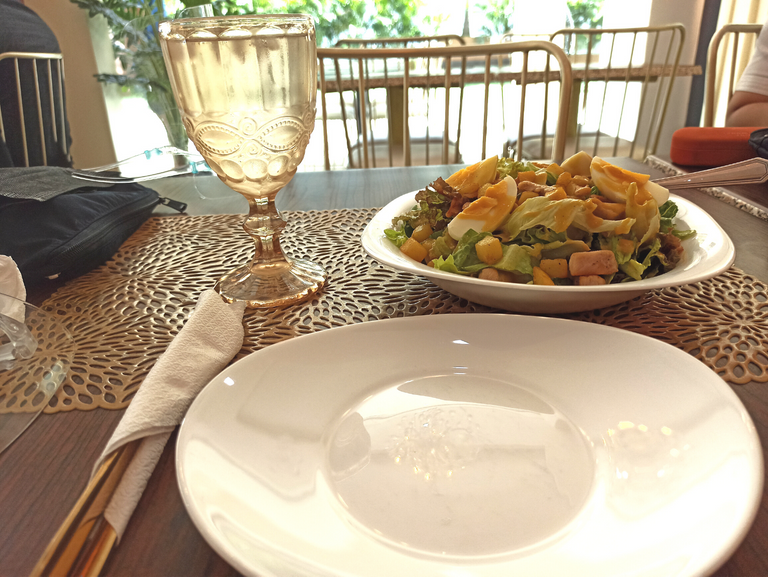 I chose the grilled chicken salad in mustard potatoes for my lunch meal because I felt like eating something sour for that day. The serving was good for 2-3 persons. It costs 395 PHP (~9 USD) which I split with a friend. We loved the salad that we finished the whole thing. It was a bit pricey for me but I was glad that my friend offered that we split the cost instead. It had a generous serving of mustard which made the salad juicy and flavorful. The portions were also bite-sized so it was easy to chew.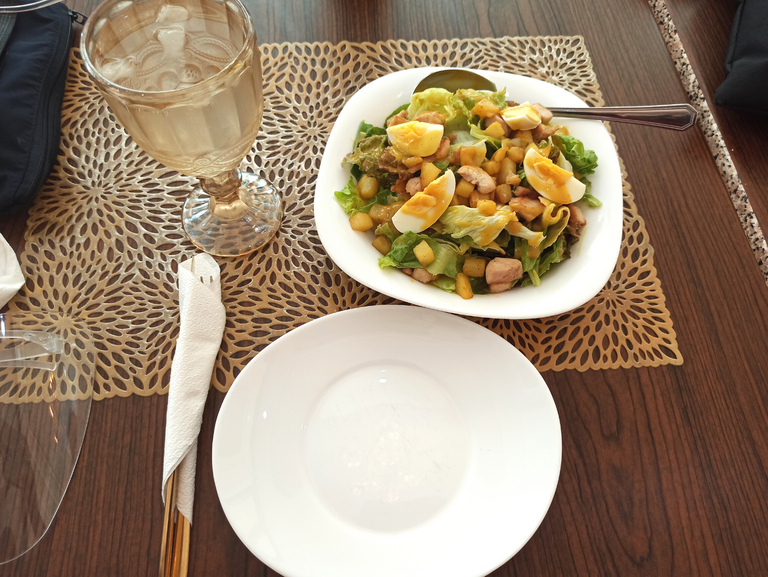 my posh flatlay
As can be seen here, I loved my salad so much that we were able to pose for our corporate photoshoot so well 😆. I would definitely recommend Tasty Kreme to you, dear readers. Especially if you're vegan, they have vegan-friendly choices as well.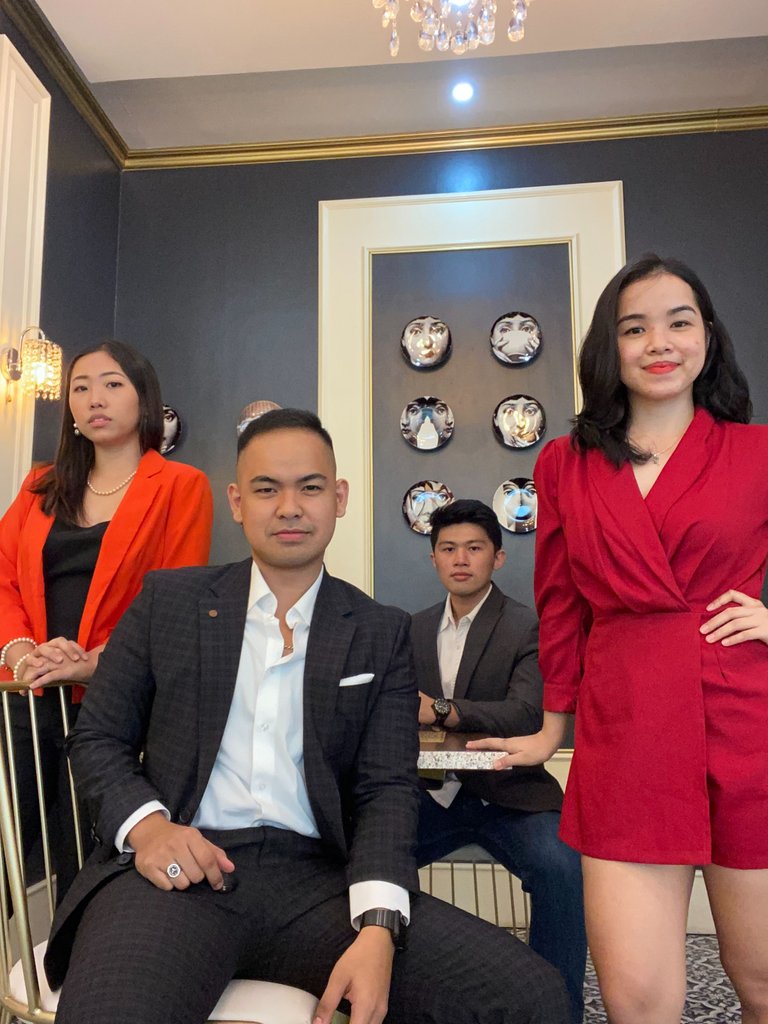 Here's a bonus photo of Tasty Kreme at night. Isn't she a beauty?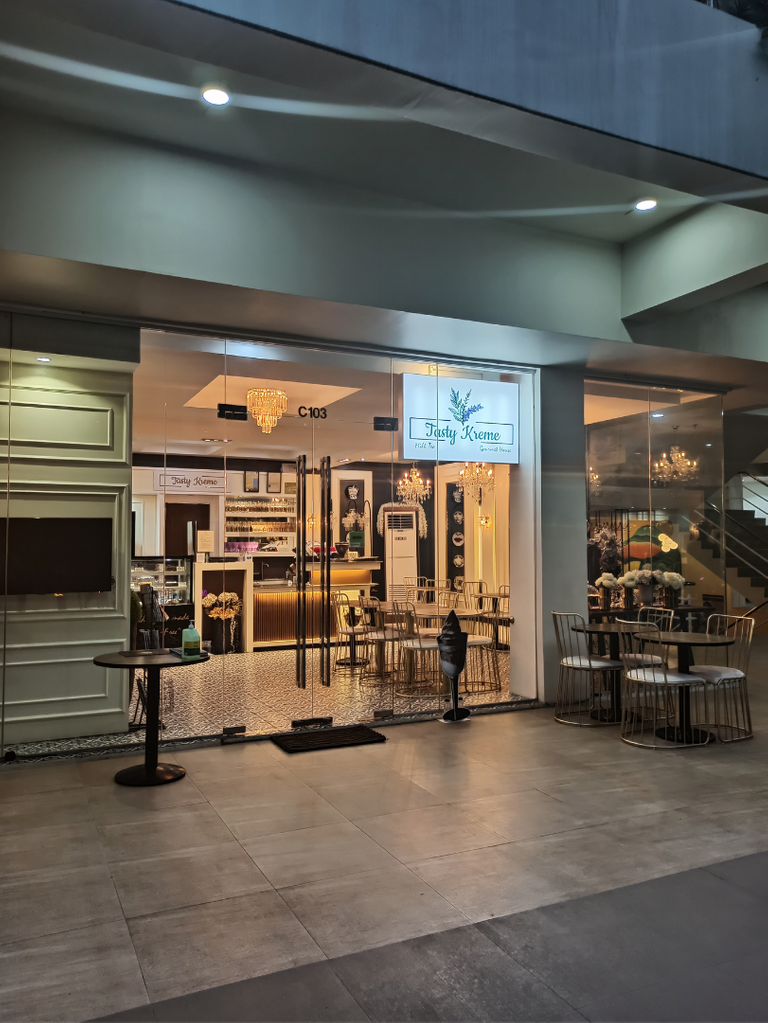 Tasty Kreme at night


Final Rating
If I didn't make it quite obvious, I loved Tasty Kreme. They offer a wide variety of dishes and they are vegan-friendly. Though I wasn't able to order drinks, they also offered a wide variety of drinks as well. For me, their meals are just within budget. If you find it a bit pricey, you can always split the bill with a friend, they have big servings 😁
In the next post of this series, I will be featuring our favorite cafe - Tom N' Toms still within the 88th Avenue. Thank you for reading all the way through! 'Til the next 🙂.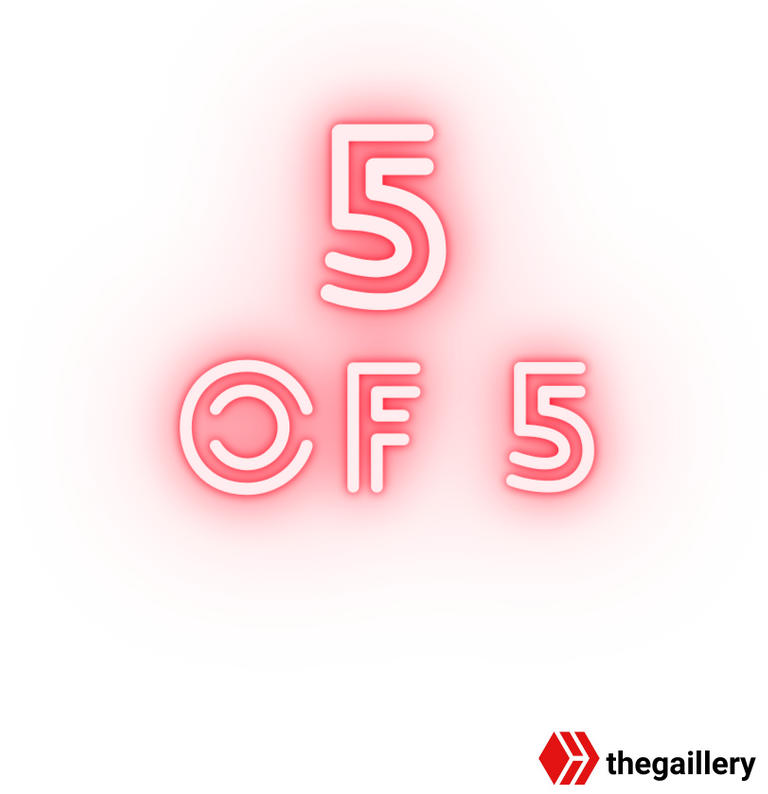 ---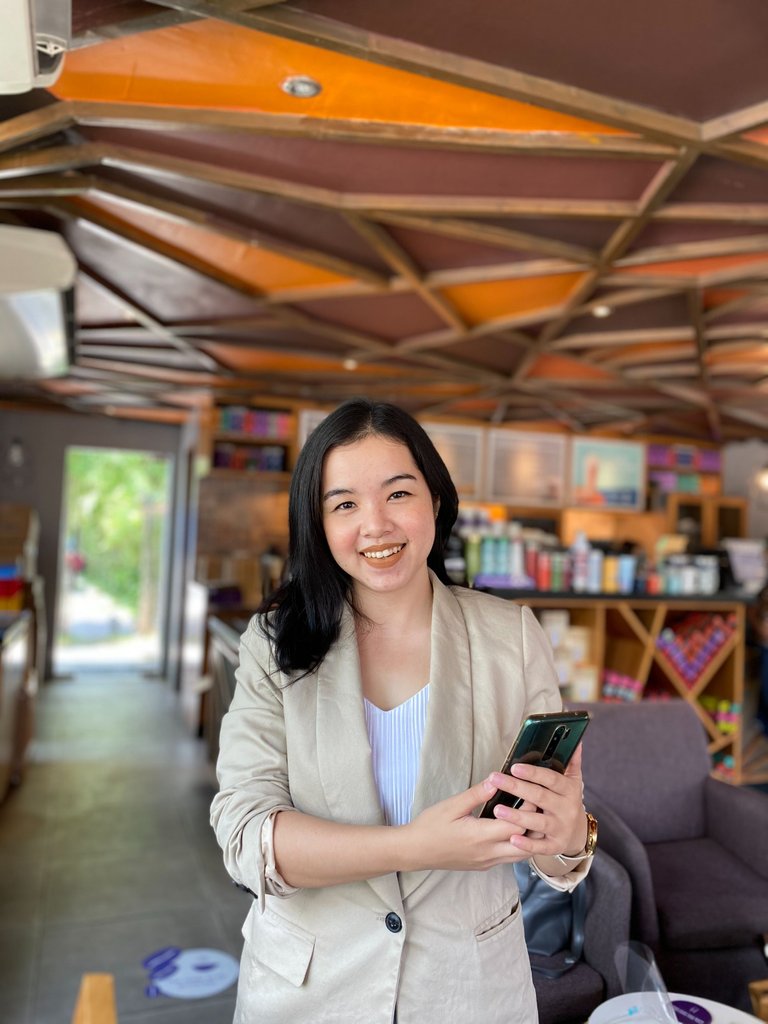 The Gaillery
She is on a mission to become better than who she was yesterday. A chemical engineer and a financial advisor, she hopes to give value to this space as a motivated individual. She found the perfect marriage of what she wants to do in life and her mission in financial advising. She balances her work and life at the comforts of her home. She loves to meet like-minded people and watch The Bold Type in her free time. Watch this space for tales of self-improvement and self-acceptance, per Mark Manson, "the philosophical tightrope."
If you like her content, don't forget to upvote and leave a comment and reblog if you can! She appreciates all forms of love!