Many will probably share all their success stories on their blog, boasting about how good their meals may be. Many times it's true, because we just wanna share that kind of thing with others. Ever since I got my new air fryer I have been making many different foods in the thing experimenting with it what I can cook in it. So far the best thing I've cooked in it is french fries. Not sliced up home made out of a russet potato french fry, I mean the frozen already seasoned fries from ALDI. It will take me many tries of trial & error to get recipes correct to my sanctification because I'm a high critique when it comes to my own expectations of how I should cook. Many times I think of how I could do it better next time & not that I did it perfect this time.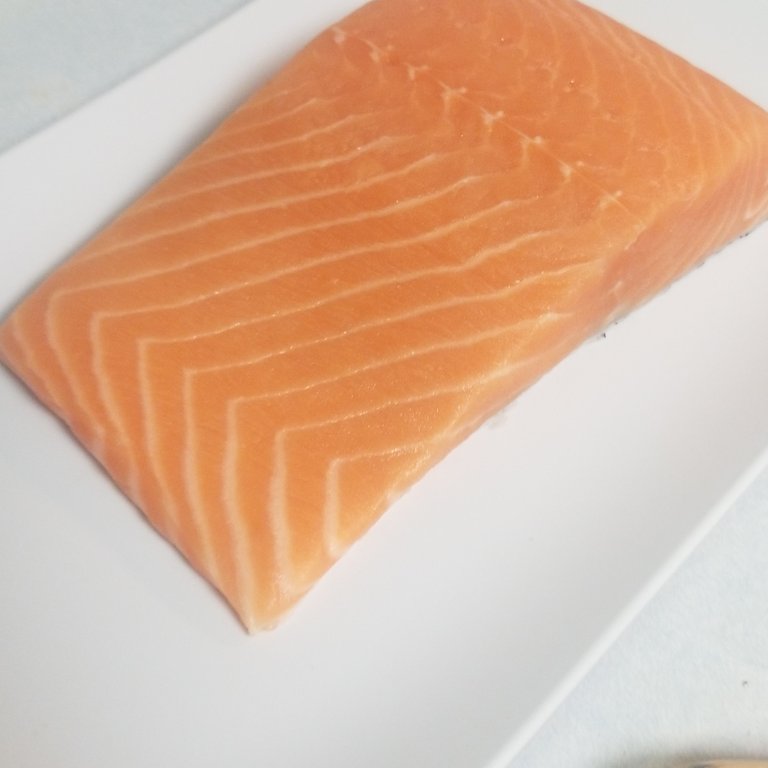 I come here today with a simple piece of salmon. Maybe this was the first mistake I've made in this recipe because I got this from ALDI. I like shopping at ALDI because they have good prices & most* of their products are of good quality however, their meat & fish section has always been lacking in the quality. This is a piece of farm raised Atlantic salmon.
On to the cooking portion. Today I wanted to make a lemon garlic buttery salmon in the air fryer. I have not cooked salmon in the air fryer so this was my first time. Even though I believe I've failed at meeting my satisfaction this time around, it won't be my last time; I'll get into that later.
Ingredients
Salmon
1 TBSP Butter
1 small clove of garlic minced
1/2 tsp parsley
1 tsp lemon pepper seasoning
Steps I took:
1: Open package of salmon & pat dry with paper towel.
2: Mince up garlic very fine.
Melt that 1 TBSP of butter & mix it with the minced up garlic. This made a garlic butter to pour over the salmon before cooking.
3: Add lemon pepper seasoning & parsley season to top of salmon.
4: Preheat air fryer to 360 for a few minutes. Once preheated I sprayed the basket with canola oil spray to avoid sticking to the basket. Once preheated I added the salmon & let cook for 15 minutes.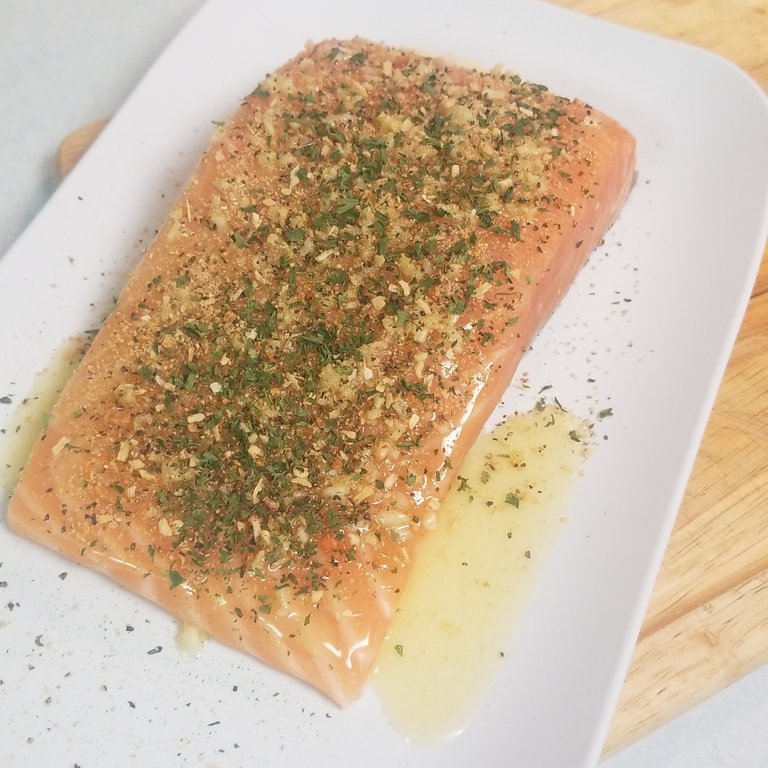 Here's where things started to go south. After that 15 minutes were up, I took the salmon out let it rest a few minutes & sliced it in half to check for doneness. Salmon was still raw in the middle. Go figure that the preset for the air fryer fish setting was too low & didn't cook it correctly. So, I crank the air fryer up to 390 & I let it cook for 5 minutes at the higher setting. With it sliced in half it gave it more air circulation around the fish to cook it more evenly. I should have done that in the beginning because it was for 2 people in the first place.
After those 5 minutes were up I took out the fish once again & let it rest. After another few minutes I flaked it with a fork to check for doneness again. This time it's cooked to about medium to medium well. I could have let it cook a little more but I felt I've made too many mistakes & I was hungry so I ate anyway. So during this experience I learned the do's & mostly don'ts of how to air fry salmon.
So here is what I learned so those reading (if anyone) can learn from my mistakes when cooking.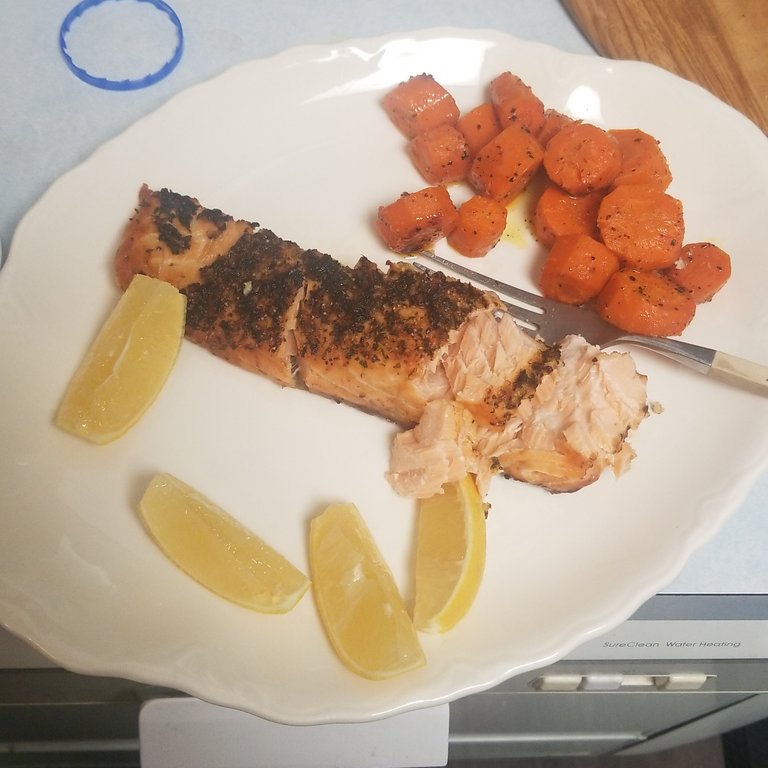 DO:
Cut fish into however many servings that'll be served. This will help with air flow & even cooking.
Cook at a higher temperature because the fish preset on my air fryer in my opinion is too low.
Not give up when cooking. Trial & error is what it takes to become better.
DO NOT:
Buy ALDI fish. Go to a better grocery store & buy some fresh preferably wild caught salmon.
Use so much garlic, because that was way too much.
Cook so long at different temperatures. Next time cook at 390 for 15 minutes & see how it turns out.
I sure would like the community's thoughts on what I did for dinner tonight. I am by no means a chef but am somebody who likes to cook for myself & my family. Someone who prefers to cook at home rather than go to restaurants because there is a learning curve, a basic human skill in cooking that I believe everyone should know how to at least cook basic good tasting meals for themselves rather than rely on that of others to cook for them.
I'll refine my skills on what I did tonight, however if someone out there has suggestions for me on what I could do better next time, please share with me.
If you've read it this far, thank you for taking the time to read all this. A appreciate it.