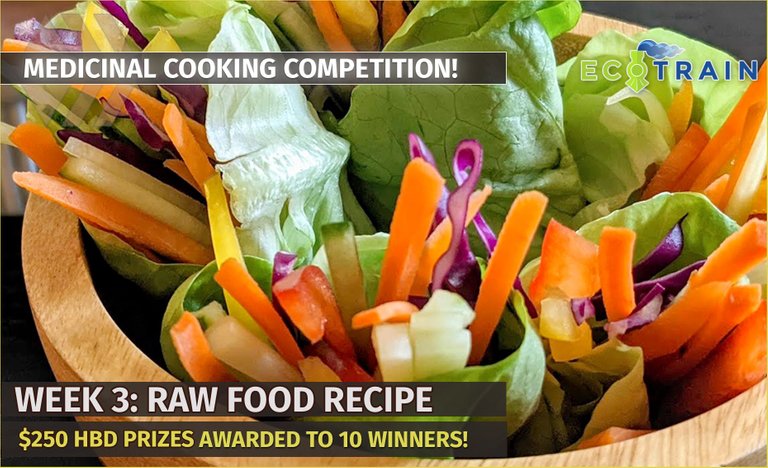 It's the end of Week 3 of the ecoTrain medicinal cooking competition! This week i gave you a recipe and a bit of wiggle room to improvise. I must say Im quite impressed with the quality of the entries this week, it was very hard to choose winners! In the end i decided to choose the recipes with most raw food and least meat. I hope you understand! Now that you have tried this dish you will im sure know how tasty it is, even without the meat.. as far as im concerned meat is not really that tasty on its own, which is why you usually have to season it and put a sauce on to really make it work. Vegetables on the other hand can taste truly amazing with a minimal of effort.. and lets be honest, they are much better for our body and mind.
If you have ever tried a raw rood diet you will understand how good you can feel eating only raw. I have tried it a few times and can testify that my energy levels we so much better over the day. It does take time to get used to eating this way, and at first you may well crave for something heavy, or oily. If you have never tried a raw food diet i encourage you to try it for a week and see for your self! If you would like some amazing inspiration please check out this website that has 39 Satisfying Raw Vegan Recipes. https://thegreenloot.com/raw-vegan-recipes-dinner. These are some crazy good recipes!
And now the moment you have all been waiting for!
🎁 THE 10 AWARD WINNERS ARE....
I have chosen 10 winners and awarded you all with $25 HBD each. You will find the awards in your wallet with a little note. THANK YOU for making so much effort, and also documenting your dish with fantastic photos and write ups. It so good to see the enthisiasm that you all have for these competitions. If you didnt win this time please do try again next week as i do like to award different people each week if I can. Its more about sharing the abundnace rather than just rewarding the same people all the time.. that way we all win, and we all have some fun!
---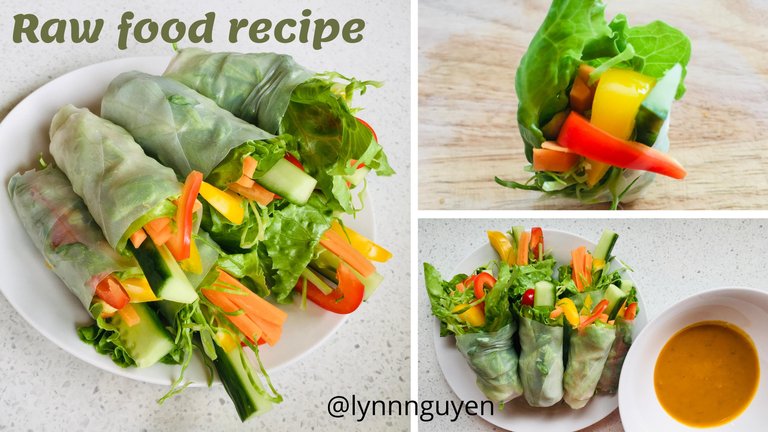 Hi everyone, this is my entry to ecoTrain Medicinal Cooking Competition Week 3. This week competition comes with the recipe for making Thai lettuce Springrolls and peanut satay sauce, a recipe made with veggie only and is totally raw food. What a great idea! I am not the person who often eats much veggie, so why not give it a try, it's time for healthy food 😊.
Let's start by chopping all the ingredients. I had tried to follow exactly the given recipe except for the tomatoes and using carrot instead as I love it's crunchiness.
---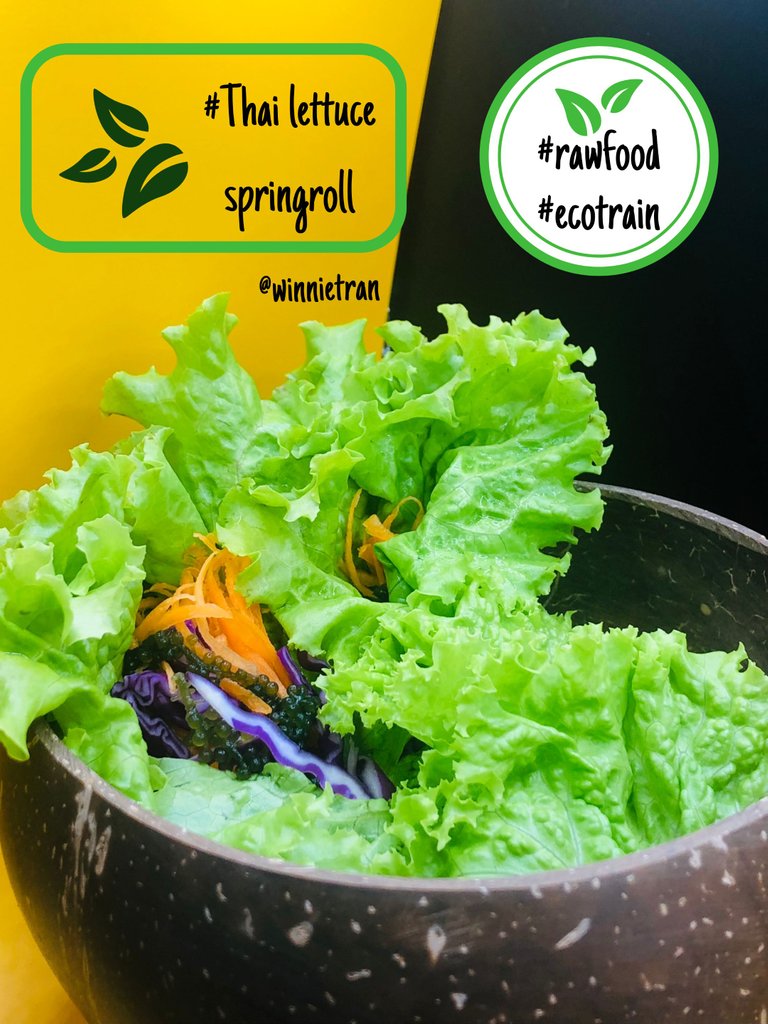 Hello my Hive friends,
Coming to the third week of the Medicinal Cooking Competition, I was so excited to try the recipe. Tell the truth, this is my first time trying Thai Lettuce Springrolls with peanut satay. Can't wait to make this and enjoy a healthy spring roll like this.
Raw food diet is a popular way that is used by many people and so am I. I always encourage myself to eat more vegetables and lettuce seems to be my favorite one. I usually combined it with tomatoes and avocados with the holy mayonnaise to help me to eat all the vegetables easily. Eating more vegetables not only helps us to diet but also helps our body stronger and decrease cholesterol. For people who are dealing with acne or skin problems, vegetables are a strong sidekick for us. And thank to @ecotrain, I knew one more recipe which let me can make for myself a healthy dish and replace it with my common salad.
As my first impression of the recipe, it's a combination of many vegetables and you can find it in any store.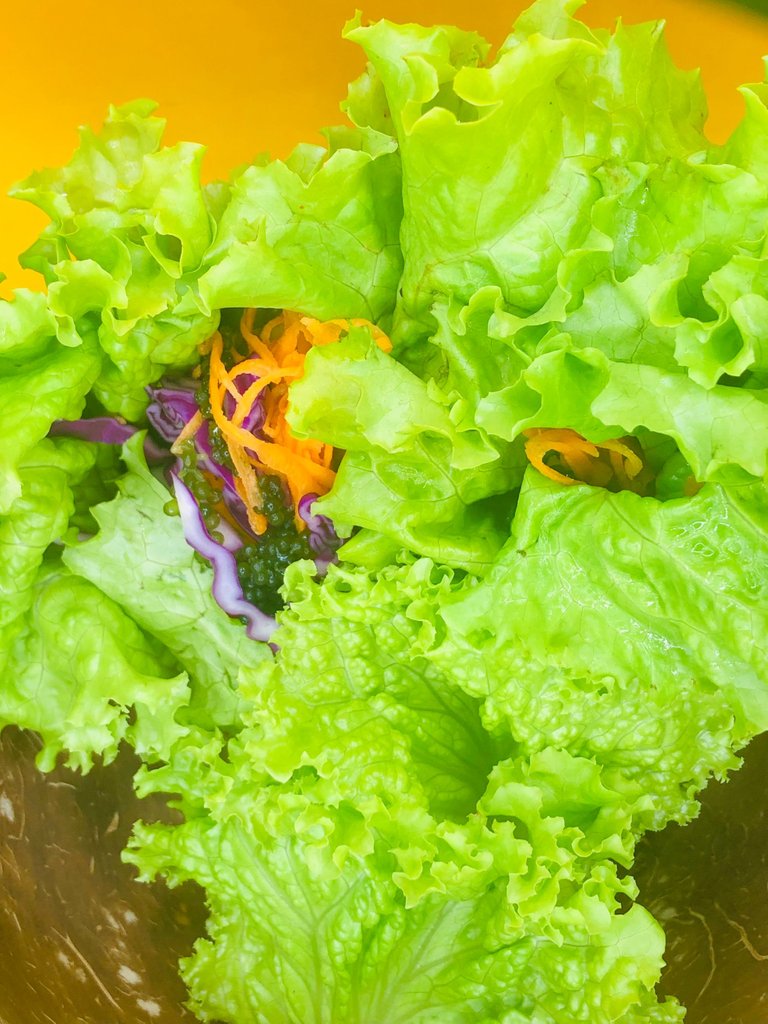 ---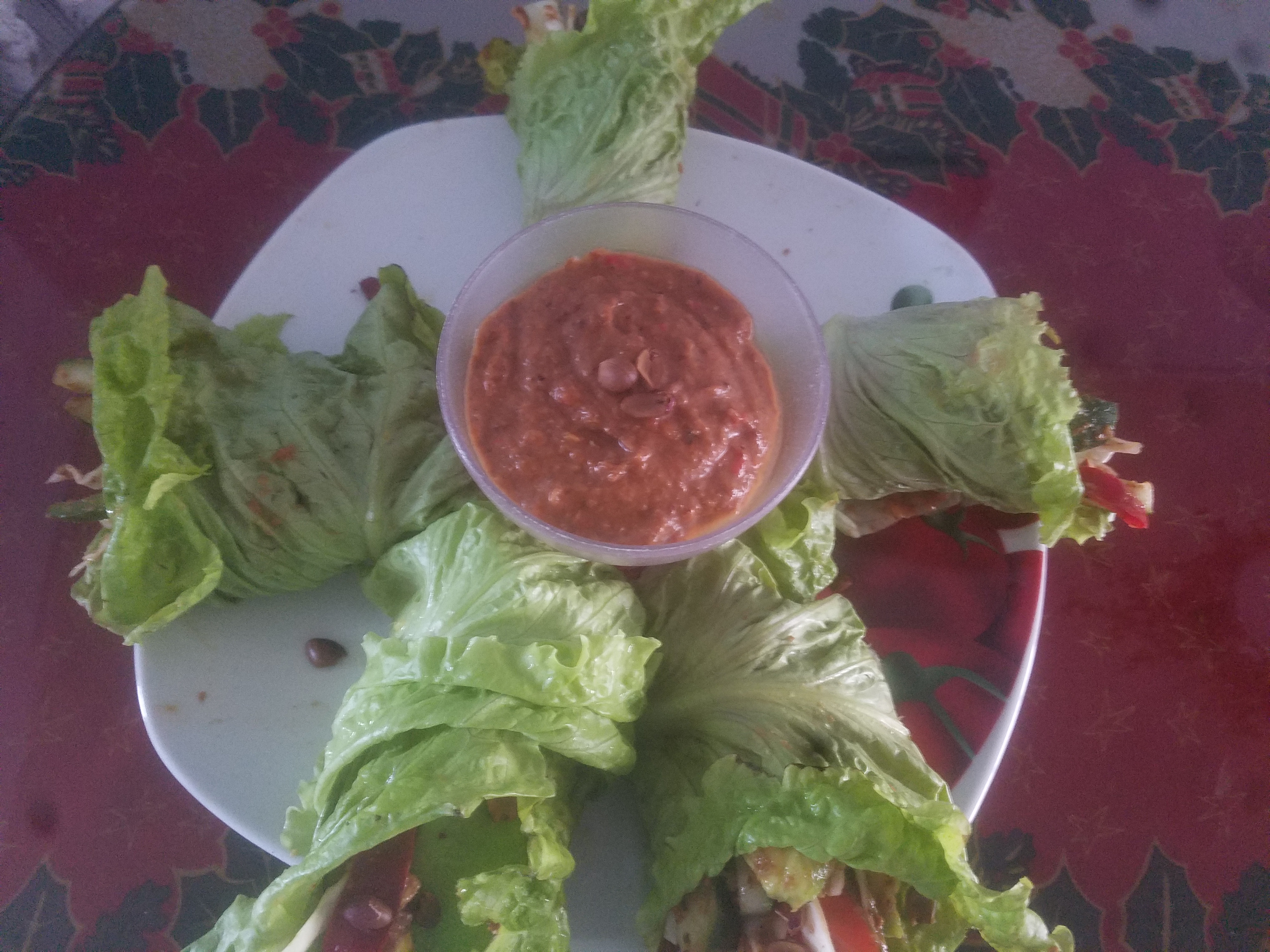 Doesn't it look like a doll similar to the scarecrows that are placed in the fields? Well, that's what my imagination suggested when I saw how this recipe turned out, which is actually lettuce spring rolls with peanut satay, a recipe proposed by @ecotrain within the framework of medicinal cooking, which in this third edition is based on rich and healthy raw food.
¿No les parece un muñeco parecido a los espantapájaros que colocan en los sembradíos? Pues, eso sugirió mi cabeza con la imaginación al mirar como resultó esta receta que en realidad son rollitos de primavera de lechuga con satay de maní, receta propuesta por @ecotrain en el marco de cocina medicinal, que en esta tercera edición se basa en comida cruda rica y sana.
I will show you the original recipe and then I will tell you what I added and what I had to delete: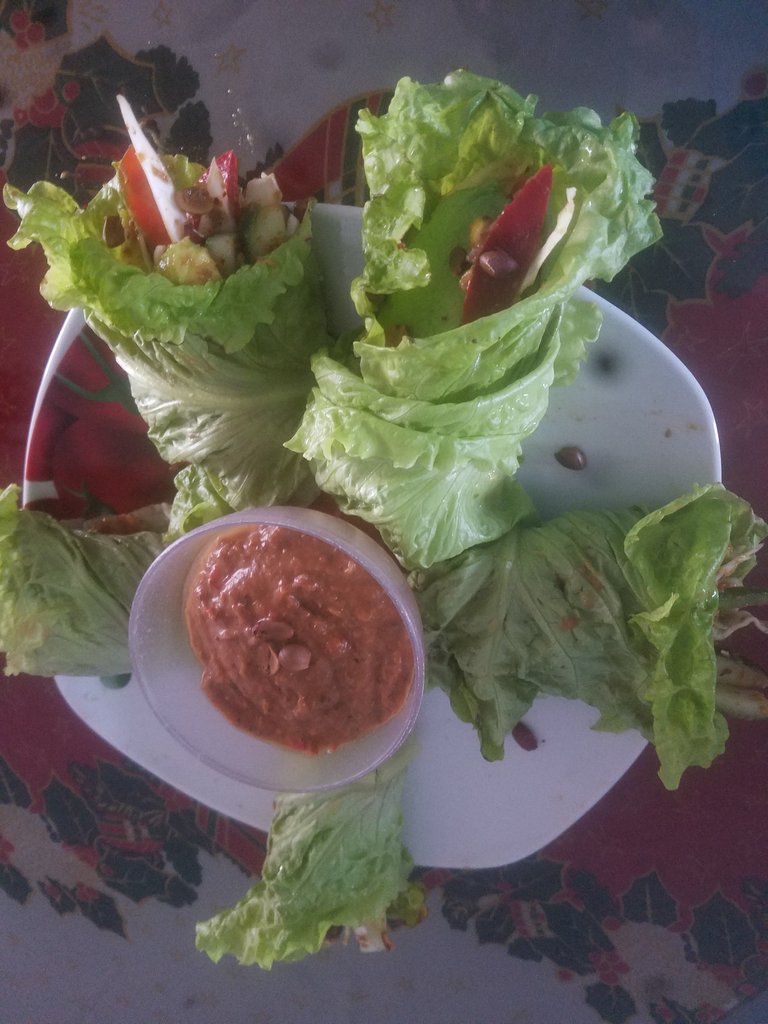 ---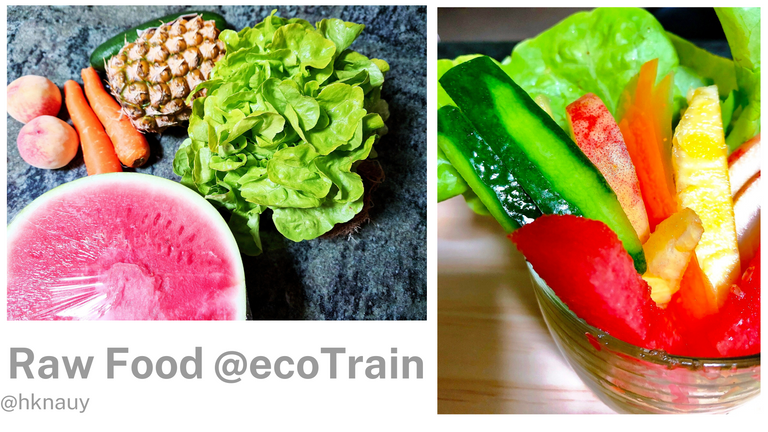 Coincidentally, one of my friends had recently posted about the "Raw Vegetables Diet" at the same time I knew about this contest. Her diet of raw vegetables resulted in a weight loss of four kilograms in one month, while she still felt healthy. That makes me curious about this type of diet because I haven't heard about that before. Last year, I tried the KETO diet which is a very low carb, high fat diet. It aimed to make my body use a different source of energy. Instead of relying on glucose from carbonhydrates, KETO diet relies on ketone bodies from stored fat. The result was quite impressive as I lost three kilograms within a month, but there are numerous risks which link to heart disease, liver, kidney issues. In addition, I felt sick after consuming too much fat, so I decided to stop after 1 month. My friend's post and this contest prompted me to look up more information about the Raw Vegetable Diet. A diet consisting mainly of raw, unprocessed whole foods. On the face of it, humans are the only animals who cook their food while all other animals eat raw. There are many benefits to the raw method, but there are also many risks. I don't think I'll be able to follow this diet for long, but I'll probably give it a try for a few days to see if I can. Even though I'm not overweight, but once a year I always want to have a few weeks of detox to cleanse my body. This is a zero cooking method so I will be happy to try it out on my busy working week.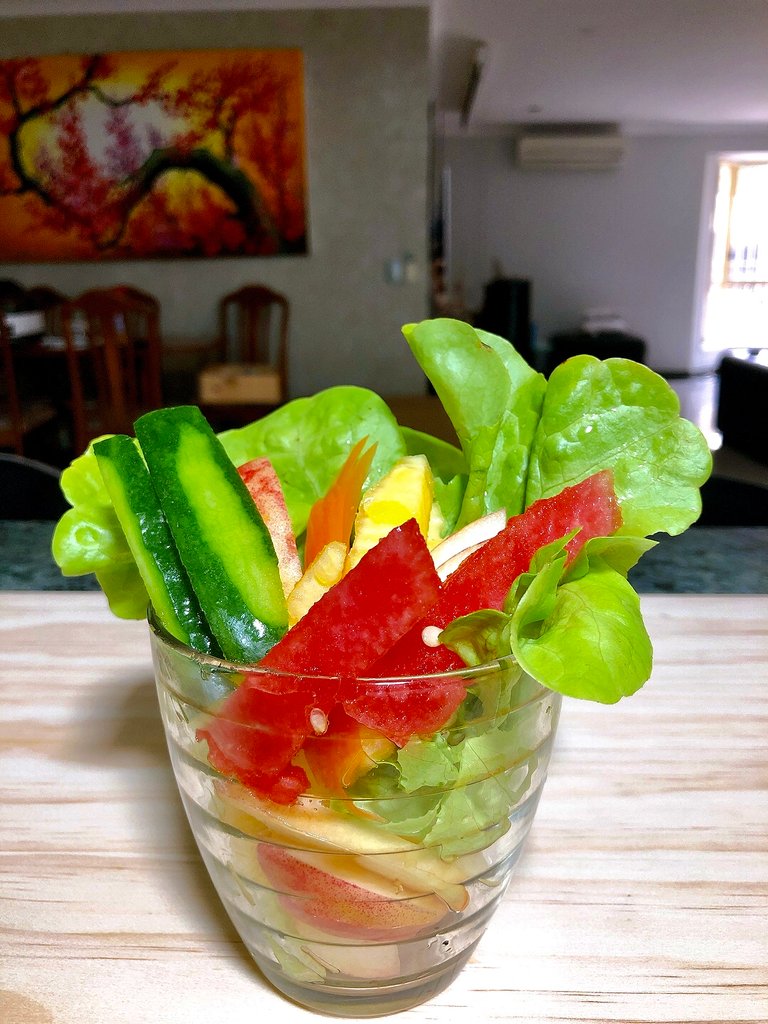 ---
Hello dear Ecotrain family. Once again I am pleased to participate in this contest, which is not only interesting for its practicality and ease of preparation, but also represents a challenge for me. I have high expectations since I saw the recipe proposed for this week. Because it is the first time in my life that I am going to make a spicy peanut sauce, and the first time in my experience to try it. And the other challenge is to make the rolls up to the requirements of the contest. But I love these kinds of culinary challenges. They help me grow, learn more about dishes, toppings, cooking techniques from other cultures and that's a good thing. And who doesn't like variety?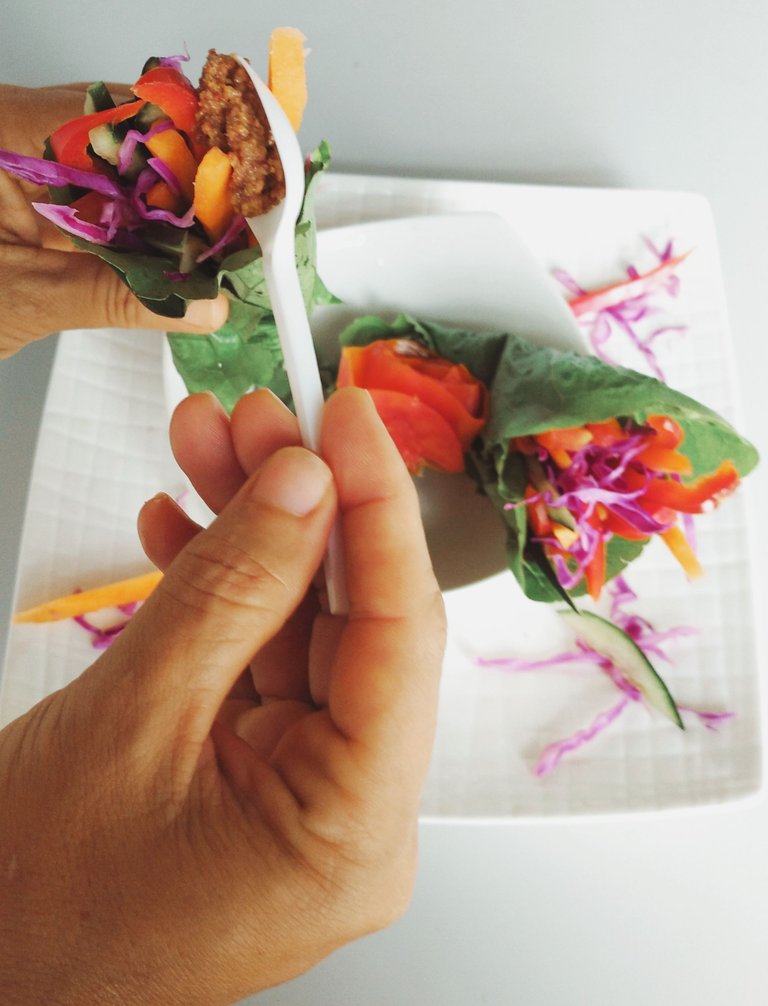 ---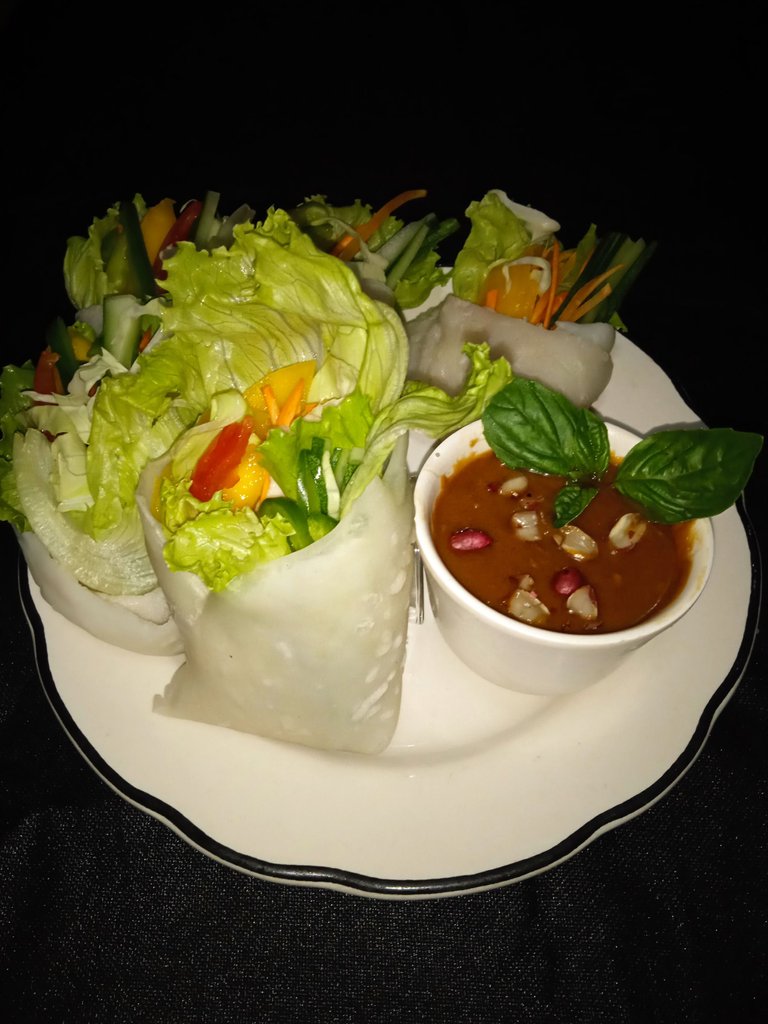 Greetings everyone,
It's always nice to engage yourself in every great activity like the @ecotrain competition. Aside from their exciting prizes, it's also about the great challenges that will try all the abilities of each active challenger.
I love fresh raw veggies especially the main ingredient for this competition which is lettuce, that's why when I know this I was constantly thinking to participate since it's my favourite. Today I'll be contributing my simple creation and honestly, it's my first time making this type of food and my first time having it with peanut satay sauce.
Growing up with my aunt and American uncle before I can always see them preparing fresh vegetable salads so no wonder that I am accustomed to eating raw vegetables. Today, living a simple life with my new surrounding and people around me it's funny to think what they think about having raw veggies they said that they don't like it because they have been thinking that it might give them stomach pain.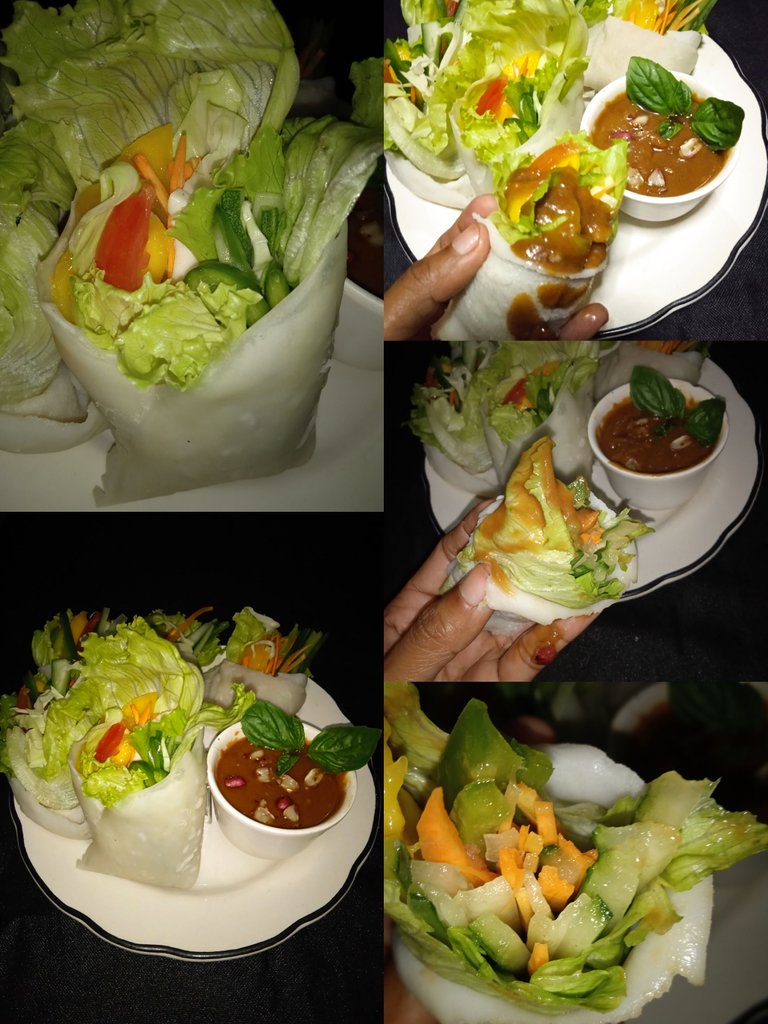 ---
Hello friends of this great community, once again we meet on this platform, to be part of this wonderful project organized by @ecotrain .

Since the start of the medicinal and healthy food project has been incredible the process of change in me, because I think I'm a little more aware of what I'm giving to my body. I love the Eastern culture and its food as they promote healthy habits , decreasing the consumption of processed foods , sugars , moderating the consumption of meats ,and really getting a varied and balanced diet In our western culture there is a huge need to promote health, from the most basic principles such as healthy eating, there are so many diseases that come from poor diet and we can see it even in children who today have diseases such as obesity, diabetes. For this reason I love this project and its call to be aware of what our body receives.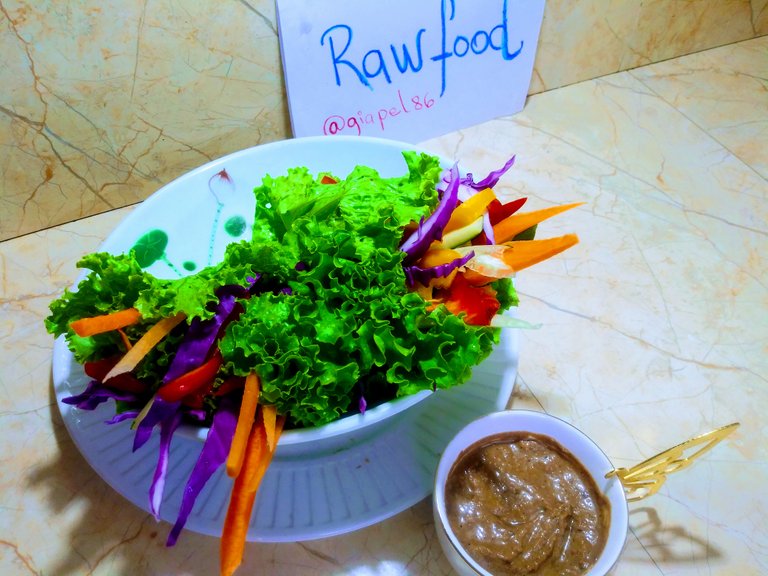 ---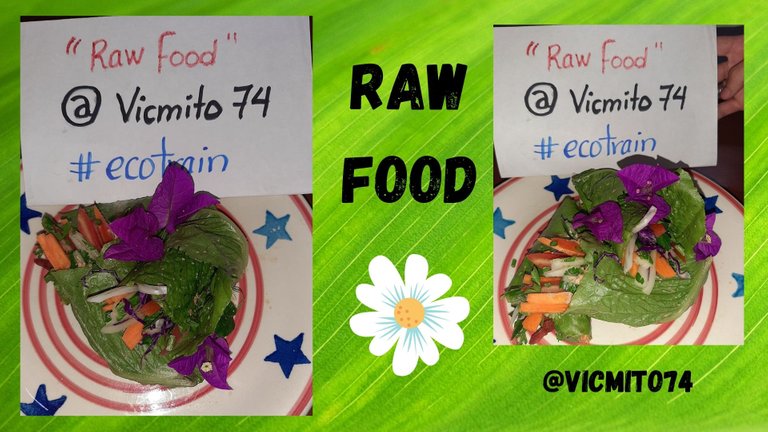 Hello to all my friends in this community, I join once again this great initiative that #ecotrain has had with its medicinal cooking contest in its third week; today I tried to make the Vietnamese recipe, but with my personal touch. I hope you like it, accompany me step by step.
Vegetables and vegetables are rich in minerals such as iron, zinc, phosphorus, potassium, calcium, magnesium or copper, essential micronutrients for the proper functioning of our body. In addition to all this, the original recipe for the contest has a rich peanut-based cream, which thanks to its content of proteins and amino acids, minerals such as potassium, magnesium and phosphorus, vitamin E and folic acid, contributes to lengthening life . Among the benefits it is mentioned that they improve heart function, are active in the fight against cancer, reduce the risk of Alzheimer's, among others.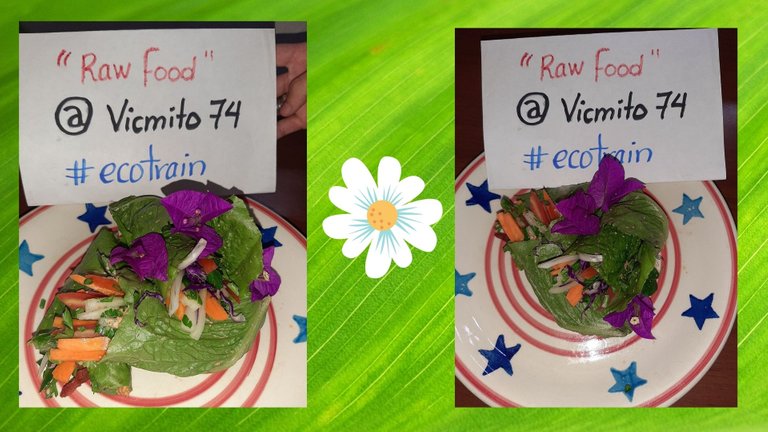 ---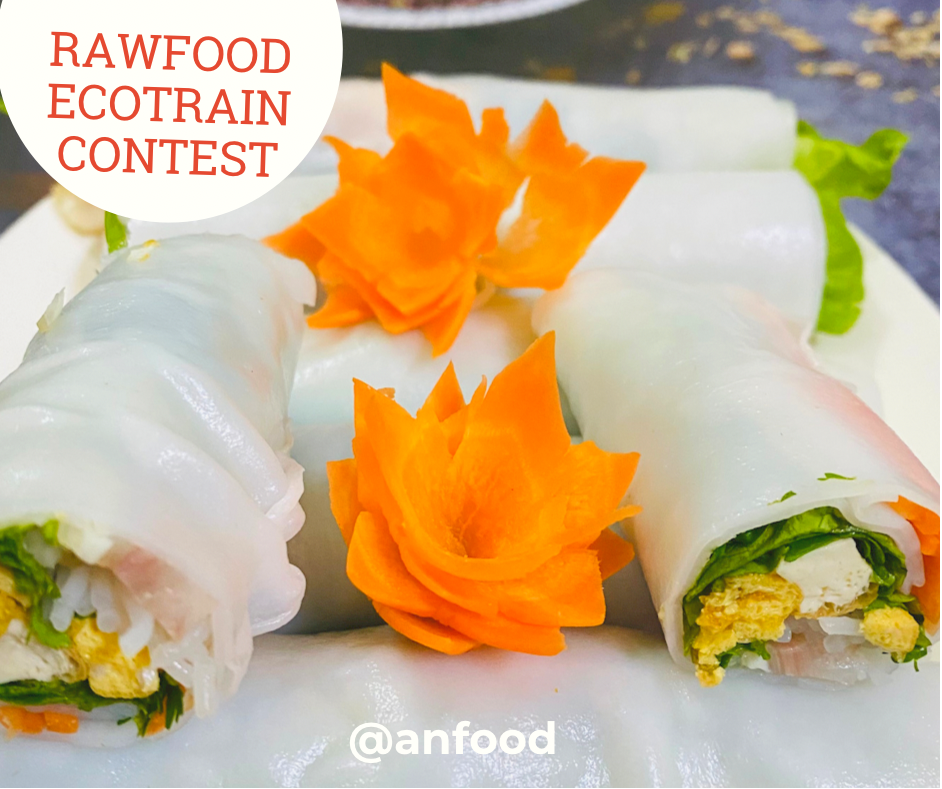 I'm so excited because @ecotrain posted a new contest today. This week's cooking contest theme is "Raw food recipe" - oh so lucky I got a raw dish today. I like to eat raw vegetables because it is very cool, good for health, good for the skin and good for the digestive system, now I will introduce the dish that I eat often in the summer and that's also my entry.
Thanks to Ecotrain for organizing this contest, through this contest I can share my recipes and I can see the cuisines of other countries around the world. If you want to join this amazing cooking contest, join with me here: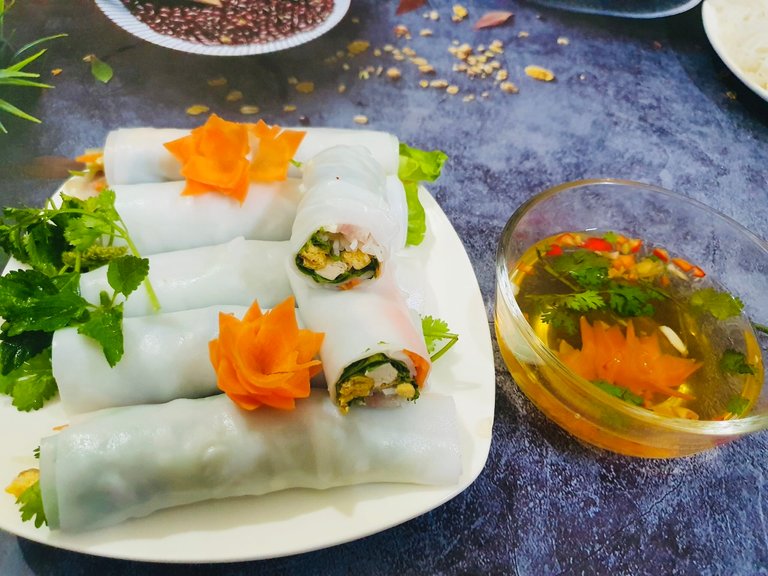 ---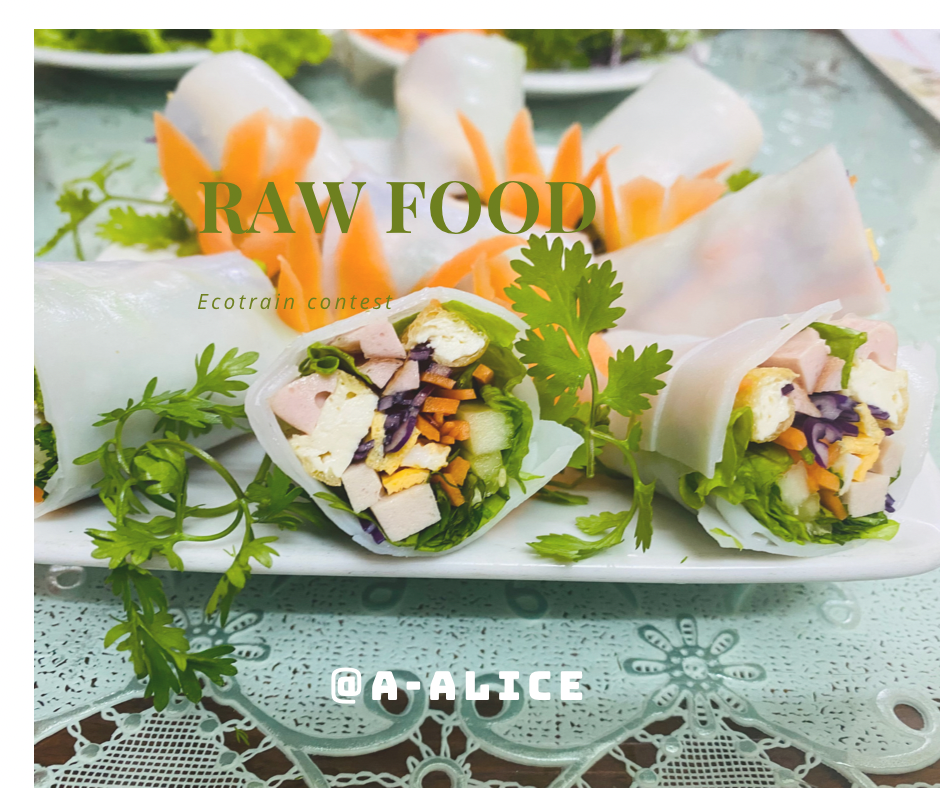 Today I made sausage roll pho and this is also my entry in @ecotrain contest. Thank you for creating this contest and theme because I am a big fan of raw roll. I have written about this dish too many times. This dish has many versions and different ways of cooking, I have written many recipes including: shrimp roll, vegetable roll, chicken roll, pork ear roll, beef roll, sesame barbecue roll,..However in this article this is the full version of the dish and I have compiled all my favorite ingredients in this recipe. This dish is the culinary soul of Vietnam, this dish appears everywhere from luxury restaurants to small shops and sidewalks.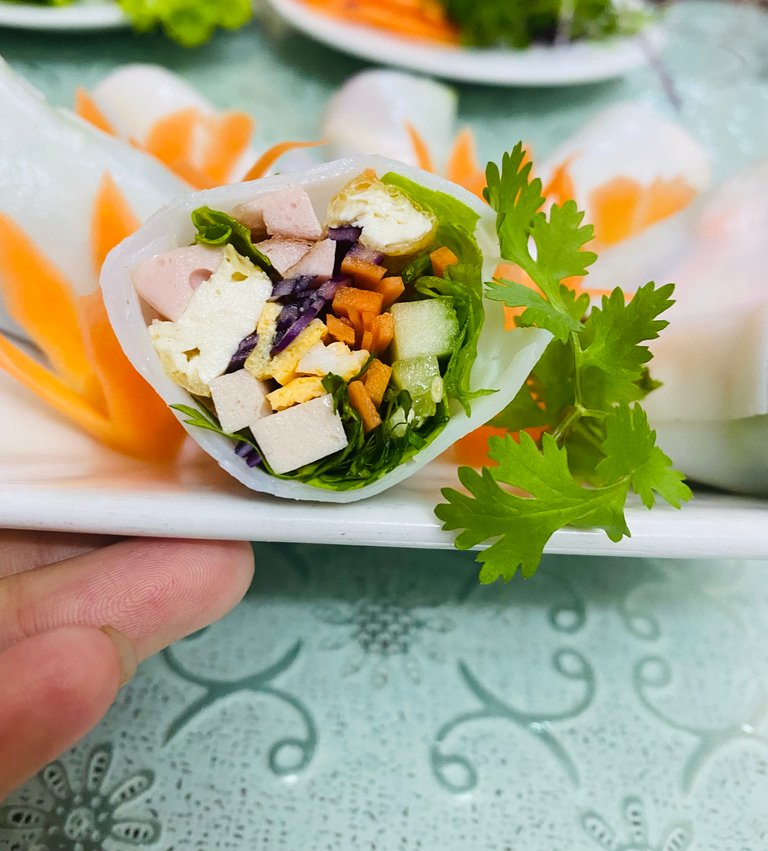 CHECK OUT PREVIOUS WEEKS AWARDS
🎁 ecoTrain Medicinal Cooking Competition Week 2 Awards : $250 in Prizes to 9 Winners!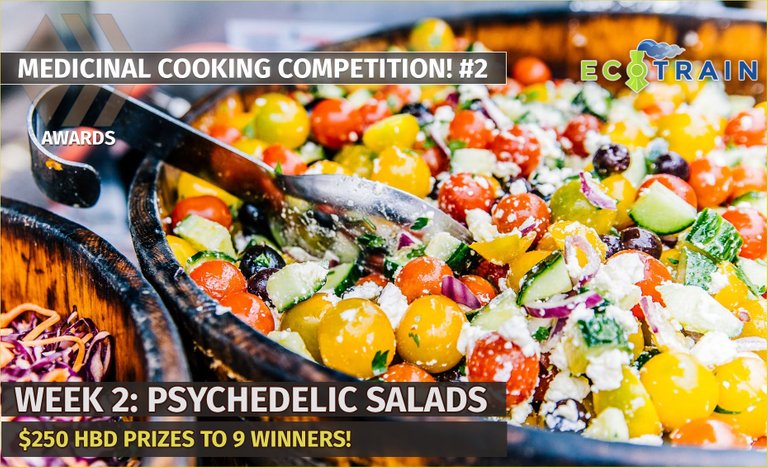 The Medicinal Cooking Competition Launch!🎁 $250 in Prizes! WEEK 1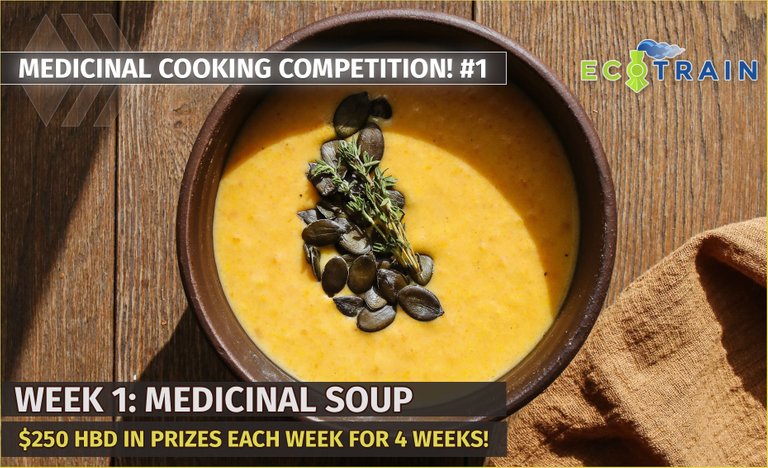 The 8 Pillars of Abundance Tribe

Supporting People Who Help
Make The World A Better Place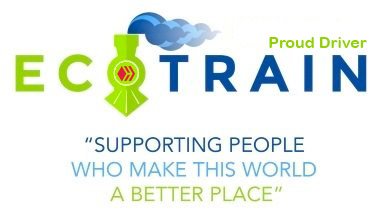 CLICK HERE TO SUBSCRIBE TO THE ECOTRAIN COMMUNITY