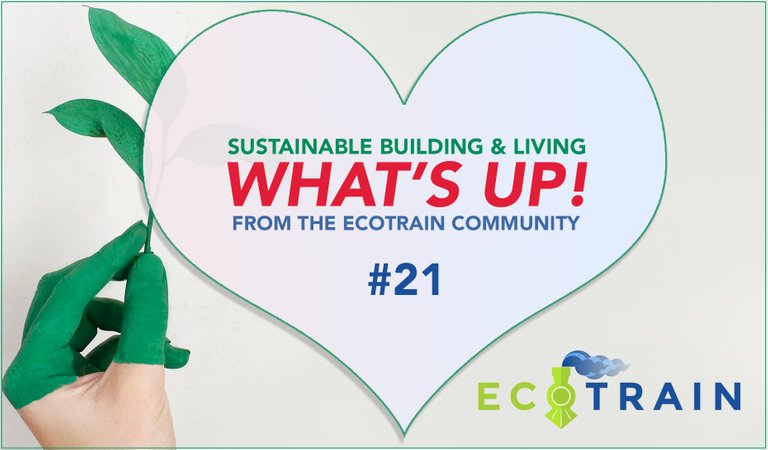 What's Up everyone! This weeks community curation is jam packed of goodies! We have a wide range of posts on all things sustainable, with a few amazing recipes as well as the deep and meaningful. We have such special authors writing that curating has never been so interesting! Our Question of the week has just launched, and we already have a handful of posts. If you would like to join us for the QOTW you can see the post here
Thank you to everyone who shares with us, its you guys who make our community what it is! Your posts will live forever on the blockchain to inspire and help us all. If you do post regularly and receive good upvotes please consider sending a bit of delegation to @ecotrain! We can barely keep up with the curating and really appreciate your support, which comes right back at you 100 fold!
It has been another abundant week for many of you who have posted to the ecoTrain community, with many posts receiving $10-$20 upvotes from our supporters... and especially with the support of OCD and their community support initiative. If you didn't know, OCD are now partnering with several communities on Hive to help to decentralise our communities and reward posts in niche communities that don't have many up-votes or support. This is a very special initiative and shows how Hive and the decentralised model is so very different to centralised capitalism. A normal capitalist attitude would consider having one popular community, and holding a huge amount of VP to be a great success.. but on Hive it is not what we want, and it is VERY good to see our witnesses such as @acidyo doing what they can to keep things decentralised. Click here for more info.

So to all of you who are either new to Hive, or post good content that is rarely noticed or rewarded.. now is a GREAT time to post to the ecoTrain community and start getting the kind of rewards your posts deserve.

This week I would like to share a few posts that have received our combined support, and touch on some of the subjects that ecoTrain support. These topics include:
"Sustainability, ecoVillages, Community, Self-sufficiency, Off-grid Living, Homesteading, Permaculture, Alternative Energy, Alternative Lifestyle, Natural Health, Cooking, Eco-Building, Earthships, Recycling, Esoteric, Inner Transformation, Spiritual, Nature"

Much love and see you for the next Question Of The Week which comes out tomorrow.

Tray with lentil falafe, pico de gallo salad, cabbage and pita bread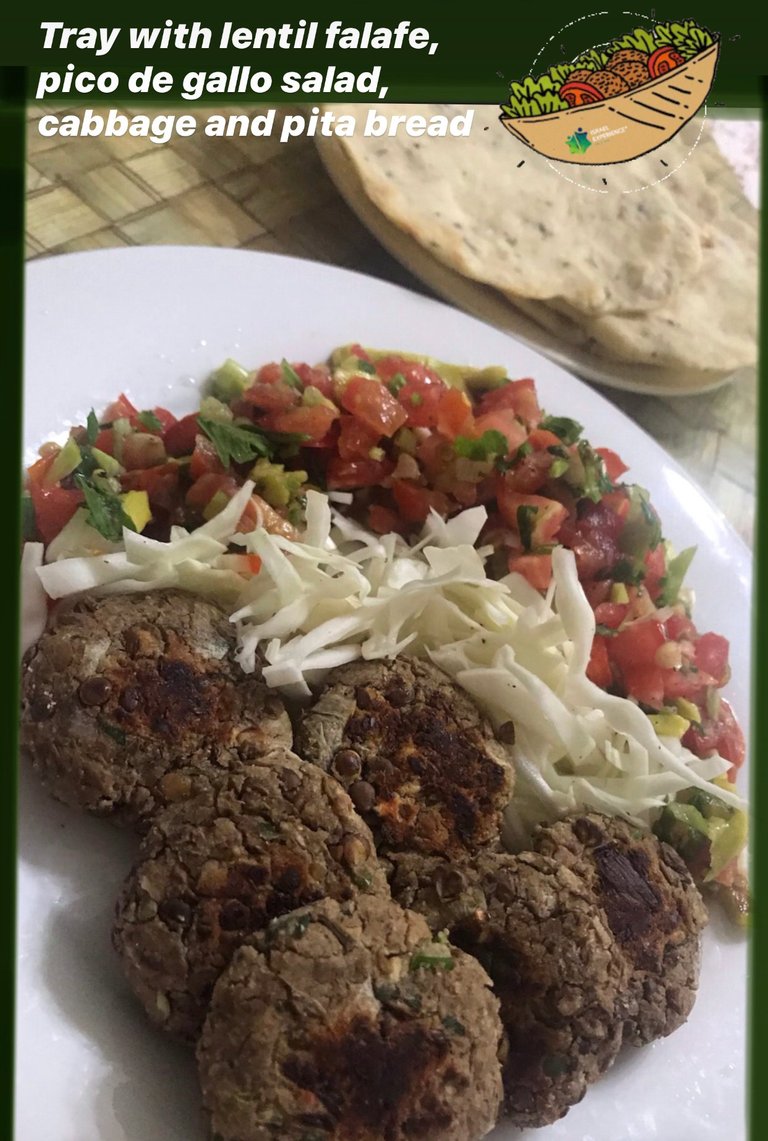 Good morning community !!
A well-balanced meal, with healthy proteins, vegetables and carbohydrates, is essential to maintain the balance in our diet, so that our body remains healthy and with a lot of vitality, an important factor to strengthen our immune system and remain free of diseases.
For this reason, today I bring you a proposal for a very complete dish, "a tray with lentil falafe, pico de gallo salad, cabbage and pita bread." This menu represents an inexpensive and easy-to-make option, which includes protein. in the lentil grains, vegetables in the salad, the cabbage and carbohydrates in the pita bread.


My Favorite community? #hivecommunities - communities discovery initiative
he first 5 minutes of this video is an introduction,talking about financial freedom, how long i've been on Hive, and a bit about me.
From 5 minutes on wards I talk about my favorite community and the possibility of starting a new community
Also check out this post: https://peakd.com/hive-187106/@leafoflife/we-are-supporting-permaculture-and-regeneration-projects-across-the-world-through-social-media


[ENG | ESP] Primitive style composting bin | Primitive style composter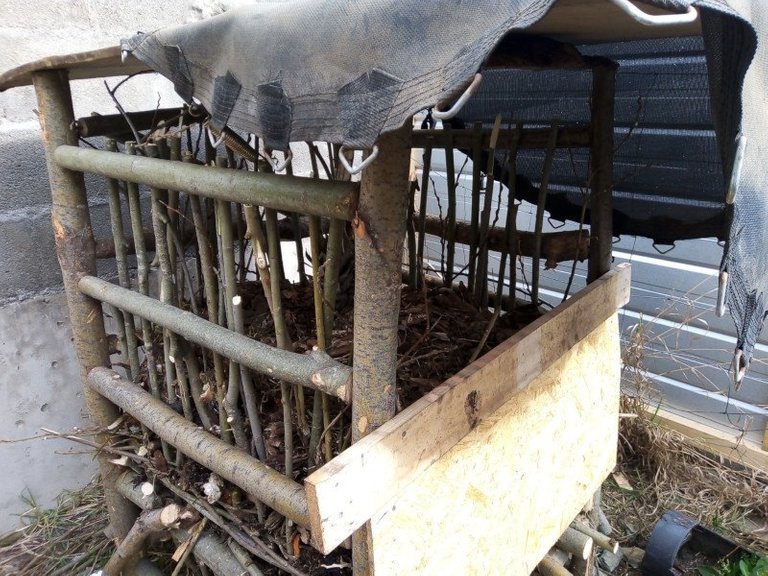 ENGLISH
Hey there Hive, it seems every day I have a harder time jumping in here and being able to put out a post. Since I'm trying to keep away from screens and being too much online, it's a bit challenging to get things done.
On the other hand, I've been quite active in doing things in many different places. Maybe some of you are curious as to what's been going on with the forest shelter, and I'm sorry to say it's a bit on standby for the moment being since I've been drifting along to the places where Life leads me.
SPANISH
Hola, Hive, parece que todos los días me cuesta más entrar aquí y lograr una publicación. Esto debido a que intento mantenerme alejado de las pantallas y estar demasiado en línea, lo que complica un poco hacer las cosas.

Por otro lado, he estado bastante activo haciendo cosas en muchos lugares diferentes. Tal vez algunos de ustedes sientan curiosidad por saber qué ha estado sucediendo con el refugio forestal, y lamento decir que está un poco en espera por el momento, ya que he estado a la deriva hacia los lugares a los que la vida me lleva.


♻ [ENG-ESP] ♻ ➡️ | Recycling banknotes and transforming them into accessories. ➡️ | ♻ Recycling banknotes and transforming them into accessories. ♻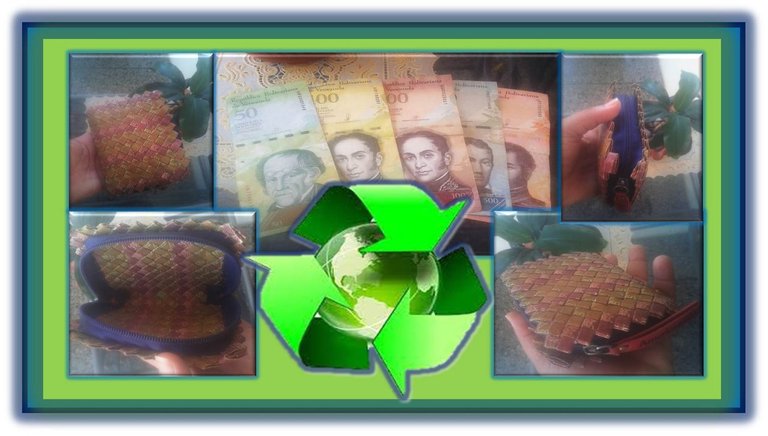 ENGLISH
Hello my dear readers, today I want to share with you how to recycle banknotes by transforming them into useful accessories for daily use, especially a purse.
They will wonder: How? Tickets? And it is! Banknotes, in my country in recent years there have been a few changes in our economic system where the government due to the devaluation have added and removed zeros from the coins and the monetary cone is modified and then the previous banknotes are discarded, Many throw it away, others keep them as souvenirs and a minority take advantage of it by making art such as birds, baskets, belts, bags, wallets, checkbook holders, purses and everything that creativity allows them, taking advantage of the useful life of the material of paper money that is being discarded.
SPANISH
Hola mis estimados lectores, hoy quiero compartir con ustedes la manera de reciclar billetes transformándolo en accesorios útiles de uso diario, especialmente un monedero.
Se preguntaran: ¿Cómo? ¿Billetes? ¡Sí! Billetes, en mi país en los últimos años se han dado unos cuantos cambios en nuestro sistema económico donde el gobierno a razón de la devaluación han agregado y quitado ceros a las monedas y el cono monetario se modifica y luego ya los billetes anteriores son desechados, muchos lo tiran a la basura, otros los guardan como recuerdo y una minoría lo aprovecha haciendo arte como lo son pájaros, cestas, correas, bolsos, carteras, porta chequeras, monederos y todo lo que la creatividad le permita aprovechando la vida útil del material de papel moneda que está siendo desechado.


Fasting, Prasadam & Fiesta !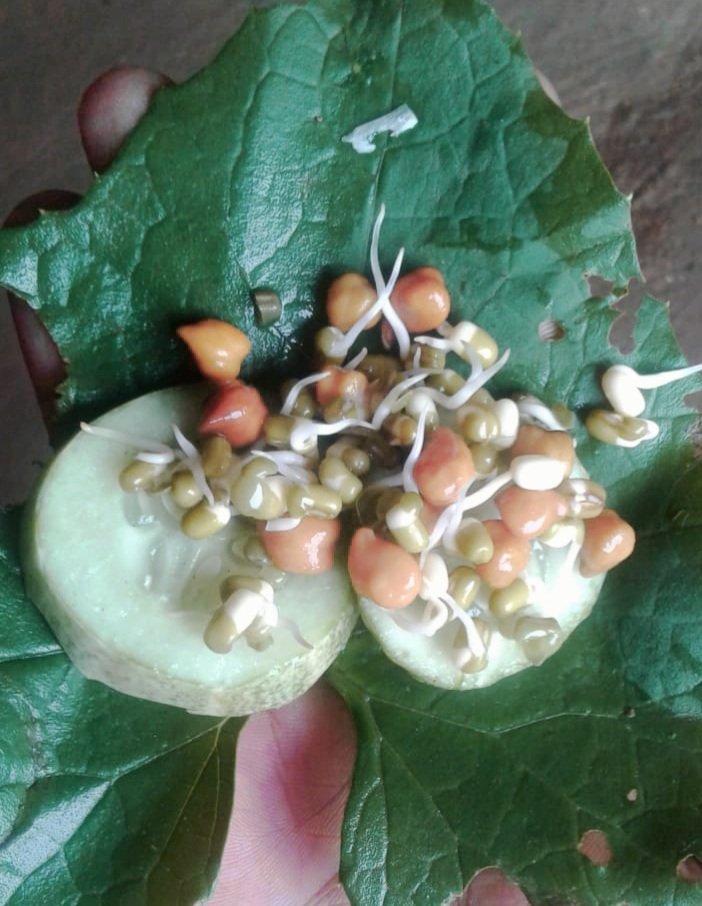 It might sounds awkward, but this is generally the cycle of event,that happens whenever there is any festival ocassion in India.
Multi culture, multiple tradition but every ocassion ends with common way that revolve around, firstly with Fasting, which generally implies of abstaining from food, Secondally, Prasadam which means distribution of sacred offering among people and Thirdly, having a family Fiesta to enjoy the life.
Yesterday, it was the ocassion of Jitiya Festival in India, which is generally related with the happiness and prosperity of the children. Fasting is done the women and then next day, it was the Prasadam distribution. This time the main items is the sprouts either from black chick peas or Green mung.


Zucchini Burger 🍔🥒🥒
Today I want to share with you one of my favorite recipes, a delicious zucchini burger. I am a fan of zucchini because it is very healthy, it barely has few calories, 95% of this food is water, it is rich in fiber, it has cellulose, pectin, it contains vitamin B3, C, provitamin A; as well as minerals and trace elements such as phosphorus, calcium, potassium and magnesium. It is also versatile and very useful in the kitchen because with it you can prepare delicious recipes.


Agroecology and its Sustainable Practices/Chapter I. Crop and cover crop associations.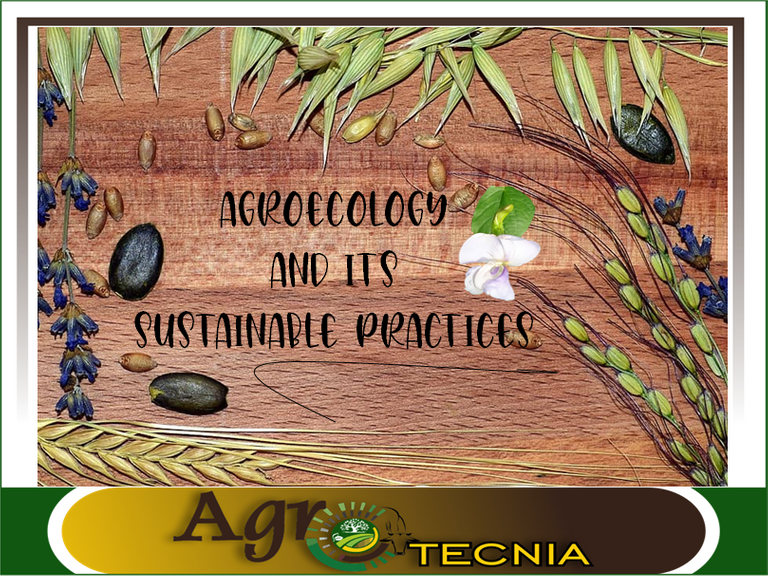 Dear readers, in the previous issue we addressed some aspects related to agroecology and some sustainable practices that can be implemented in agricultural production units, all in order to seek self-sufficiency with the production of agricultural items based on techniques that are friendly to the environment.
Based on these premises, it can be said that a self-sufficient production unit, according to Alvarado (2009), is one that has diversified its production with agricultural, livestock and forestry items and, in addition, seeks to efficiently manage existing resources through correct technology or sustainable practices to improve production.
Therefore, from this issue, we will begin to describe and explain some of the sustainable practices that can be implemented in agricultural ecosystems, such as the association of crops and cover crops that is the subject of this paper.


The Yoga Dairies 03 - Kundalini Yoga & Chakras 02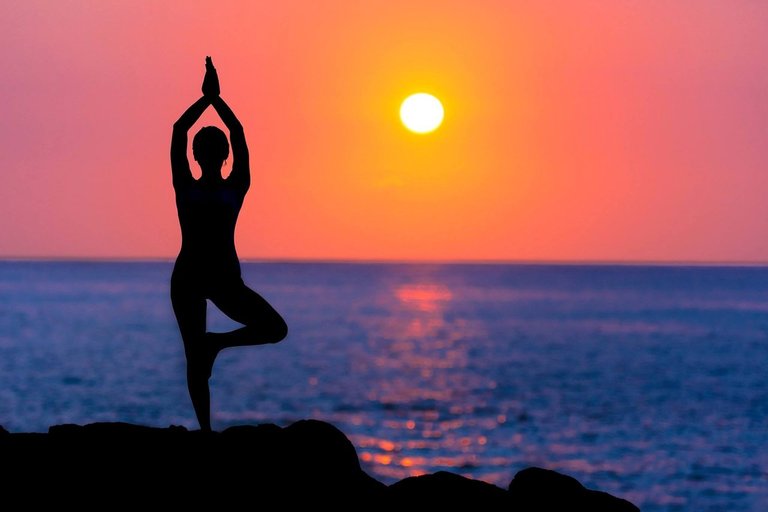 In our last post we discussed about kundalini energy and how the energy moves through various Nadis to the chakras. Nadis are energy routes in our bodies. They are subtle and thus not visible to the human eye.
Our body has a few clusters where these Nadis congregate. We have over 114 such energy clusters. Two of them are located out side the body so what is left is 112 in the body. Out of this 112, there are a few chakras that don't need any working on. If the rest function at full potential these 4 clusters open up on their own. So basically what a human is left with is 108 energy clusters in the body. These clusters can also be called "Chakras".


Week 1 In the Yurt - Back Off The Grid.. more or less!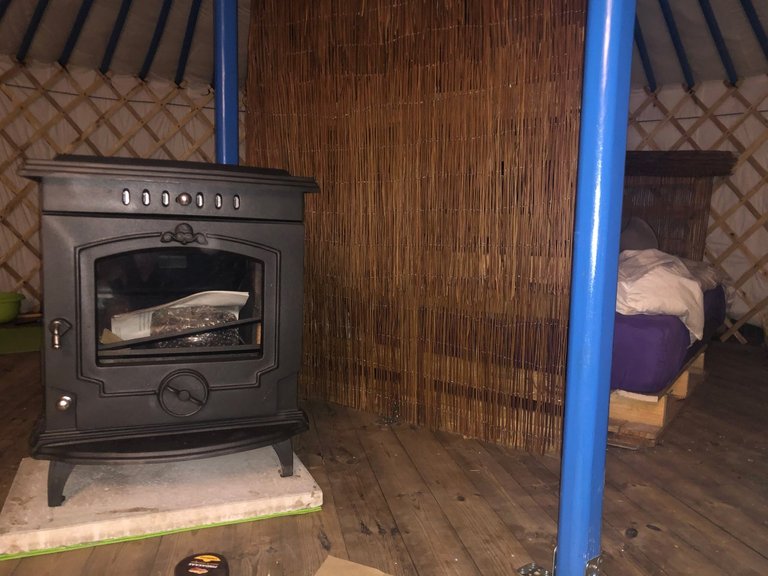 WOw what a week! I have transitioned from living in an unfurnished apartment in the small town of Penamacor to living in a mostly unfurnished and amenity free Yurt! Luckily i have made a liion battery, and have a small solar panel and inverter so i have enough power for laptop, fan, and have some lights at night. I also have a nice mattress and made a bed frame out of some old pallets.. I prettied it up with some screening. All in all it is very nice in the yurt, even without any furniture. I just tonight brought my new gas cooker and gas cylinder here so i can finally cook again! I have been eating not so well this past week, although i did discover a really good sushi place that has a nice plate of food for just 5 Euros. Ive also just bought and brought a wood burning stove to its designated spot in the yurt.


A Vegan Dragon Fruit Dessert Recipe, Super Simple To Make It!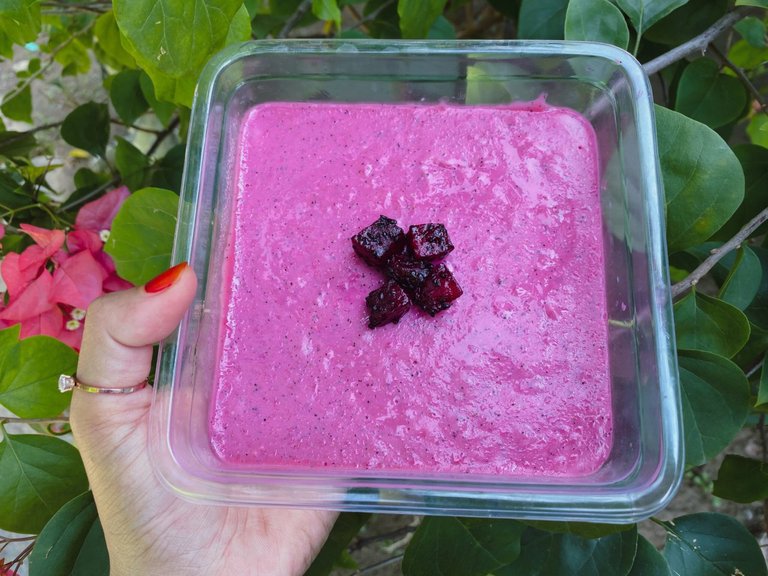 Dragon fruit-based desserts are simple to make. You don't need to be afraid you can't do it. It's as simple as making pudding from Agar powder or cold gelatin that has a chewy texture.
The ingredients needed are not many. I'm not using any special toppings here. I only use the dragon fruit itself to keep this dessert box looking simple.
For those of you who like cream, you can add cream and fruit as toppings. However, many people don't really like cream as a dessert topping.


The Gift Of Consciousness; How Often Do We See The Dependability Of The Mind On Our Fragile Bodies?
https://images.hive.blog/0x0/https://images.hive.blog/DQmUajyuotft7D8rUrpcarwMLRpuHB4b8Yx1Q4hwRjiexFB/images%20(13).jpeg
Life's beautiful, the feeling of having this consciousness that allows us to express freedom, dominion and freewill is what we always want to cling on to, irrespective of the difficulties that actually comes with it. One of the many reasons why we fear death is because we don't know how it feels like to be stripped away of our consciousness, to be stifled, lose the ability to breath to be away fro our loved ones. The moment we're born, our mental awareness of our environment begins to mature, take shape and store in our memories, becomes part of our essence so much that we wouldn't really be us it it's totally stripped away. Life is huge and our mental connection with our physical state makes up our consciousness and this is of course the core self that we project.


Let's Talk About Addiction - Part 2.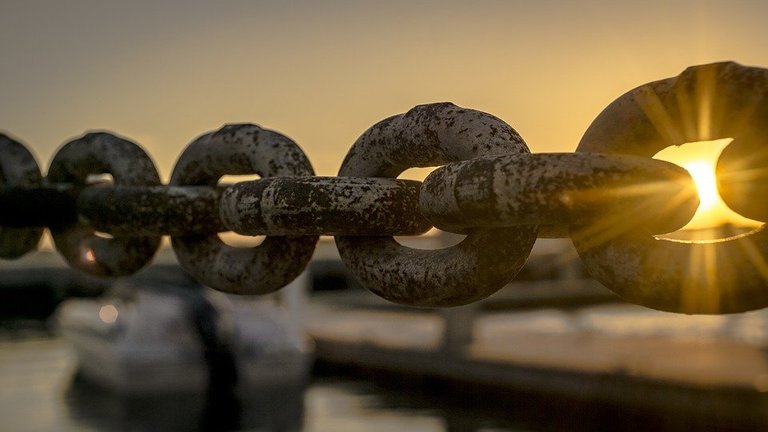 A week ago I did a post about my coffee addiction and how I was able to quit drinking coffee, also about how I've been coping with the lack of it. The main reason I shared my experience with you is because it's been two years since I quit drinking coffee and secondly because I wanted to address a very important issue regarding addiction.
What Does Addiction Mean?
Addiction is a disorder of the brain's reward system which arises through transcriptional and epigenetic mechanisms and develops over time from chronically high levels of exposure to an addictive stimulus (e.g., eating food, the use of cocaine, engagement in sexual activity, participation in high-thrill cultural activities such as gambling, etc.). source
This is (probably) the scientific definition of addiction but if I were to explain what addiction means with my simple words, I'd say it is the state in which you think you can't live without something, you need it desperately every day in order to exist.




The 8 Pillars of Abundance Tribe

Supporting People Who Help
Make The World A Better Place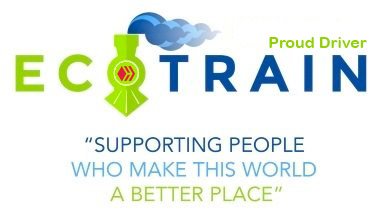 CLICK HERE TO SUBSCRIBE TO THE ECOTRAIN COMMUNITY