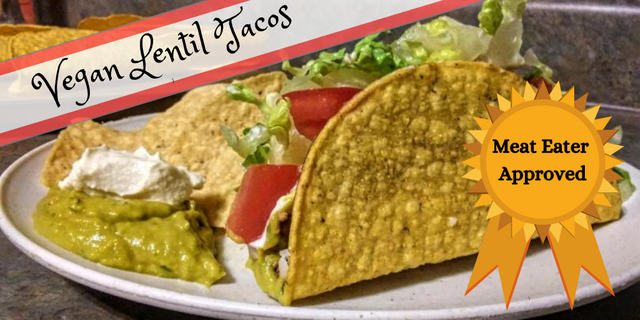 Picture this...
It's late in the day. The family is getting hungry, and everyone is craving tacos. But I never put the pinto beans into the crockpot!
Panic! There will be an uprising! We might not make it out of this situation!
But my survival instincts kicked in, and I searched the pantry for an alternative solution. And there lying among the other random dry goods, was a bag of lentils!
Oh lentils, the sweet rescuer for countless dinners when I don't have time to cook other beans. You beautifully delicious meal saver.
And I knew we would live to see another day.
However, I still needed to make them into taco innereds, so I did what any savvy person would do, I turned to Pinterest.
Sure enough, a quick search gave me loads of vegan taco lentil ideas. The best one, by far, was a recipe for an instapot. Completely perfect minus the part of not owning an instapot. But that's okay, it would only take some slight conversions.
After making it, the family and I agreed, it was the BEST tacos we had ever had. Ever. Ever.
I really wanted to get it to a point where it was easy and fool proof as it's original recipe. Where I would only have to put everything into one pot and voila! It would be done in no time. No mid-making tweeks, just wam-bam!
It was taxing having all of those taco dinners...but we finally got there!
Then as a great tester, I fed them to some friends...some meat eating friends...and they loved them! They said that if they hadn't known it was lentils to start with, they would have thought it was hamburger. Some people are really anti-veg, and to know that you could have this for dinner and it please everyone? Huge win!
Of course, after all of this success, I definitely wanted to share the recipe! So here we go...
Vegan Lentil Tacos
(Serves our family of 5 but we eat a lot)
1 lb. green lentils uncooked
1 cup finely chopped walnut
1 onion diced
8 cloves of garlic diced
9 cups of water
2 tablespoons chili powder
2 teaspoons salt
3 tablespoons cumin
2 teaspoons oregano
½ teaspoon garlic powder
1 small can tomato paste
sprinkle of cinnamon
salt & pepper to taste
Saute onions until golden brown and translucent, then add garlic for a minute or two, don't over cook or it could turn bitter.
Once the bottom of the pan is a nice brown from the onions and garlic, add water, lentils, walnuts, tomato paste and all of the seasoning.
Bring to a boil, then turn down the heat and let simmer for 45 minutes. Remove from heat and let sit 10 minutes.
That's it! The whole process takes about one hour. You can top your tacos with your favorite toppings! For a little variety, we've even added a can of black beans or some chipotle peppers in adobo sauce.
Thanks for sharing this with me!
Much love,
Stacie D

---

---

---