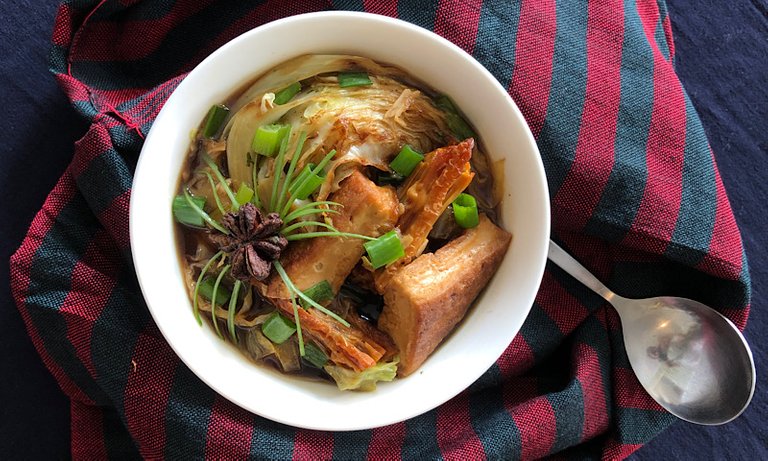 Happy Saturday everyone, I come again with this amazing soup full of good flavor. I am never tired to eat this soup and my family also. Normally this soup I eat with brown rice.
But when I make too much, we can't eat all and keep it in refrigerator for tomorrow and I heat it and add noodles. It's delicious together, and my little girl likes to eat bean curd more than tofu.

👩‍🍳 Roasted Cabbage Tofu Soup (Ital) Recipe 🔪
វិធីធ្វើស្ងោស្ពៃក្ដោមតៅហ៊ូបួស

Ingredients
1/2 cabbage
200g tofu
a few sticks of bean curd skin
3 small star anise
1 cinnamon
3 cloves garlic
2 green onion
2 coriander roots
1 tbsp brown sugar
1 tbsp + 1 tsp soy sauce
1 tsp black soy sauce
1 tsp salt
1 tsp black pepper or taste
3 cup of hot water or cold
Cut cabbage and tofu like that, then fry tofu and bean curd skin. After I spread oil on the pan little and put the cabbage. You can roast it in the oven.
Crush garlic, coriander, salt, and black pepper.
I put pot on the stove and pour a little water and put sugar stir it until brown. Then add paste, star anise, cinnamon stir it little. After I pour soy sauce and black soy sauce, then stir it.
I pour hot water and put cabbage, bean curd skin and tofu, then simmer it 7-10 minutes. After I taste it and add green onion, it's ready.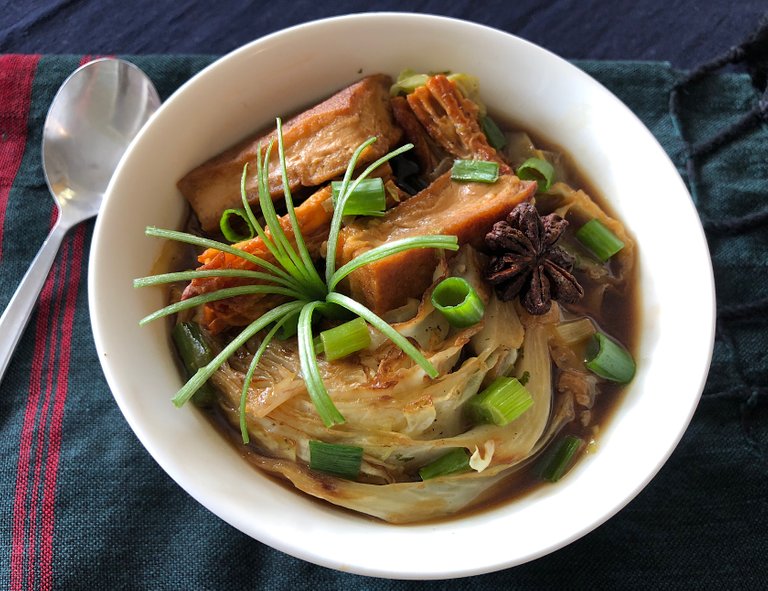 Hmmmm...it smells very good. Have a nice week everyone.😊

🙏 THANKS FOR READING 🙏
If you enjoyed this post, please upvote and reblog.