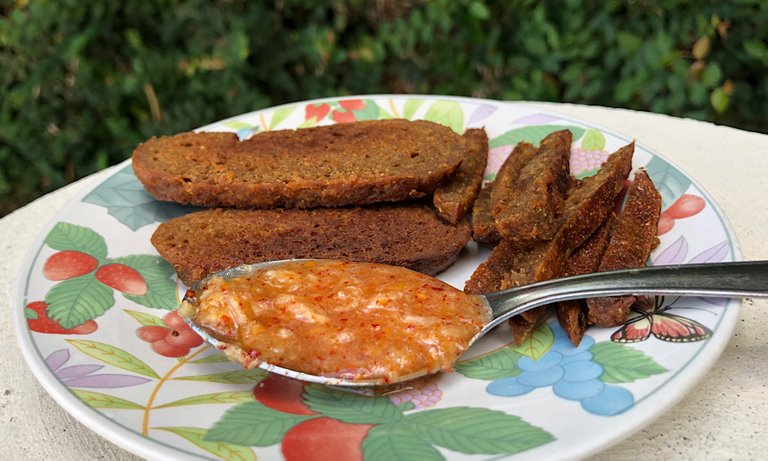 This is a vegan recipe I miss from my country. In Cambodia we make something similar from fish, seasoning, and other ingredients, then we fry it. We eat with special sauce and cucumbers.
I watch FB have a man cook vegan food, he made green beans with power and so many ingredients. I try it but I forgot already what ingredients that man use. I only remember green beans and some powder, but I don't know what powder so I put all ingredients by my idea.
This recipe is not the same. In our home in Suriname only eat like Ital rasta people food, so I always change for to make food Ital.
I made this recipe the first time but our family like it so much, so I want to share this vegan recipe with you all. I think Java and China people in Suriname can eat this too. I hope you enjoy it this recipe.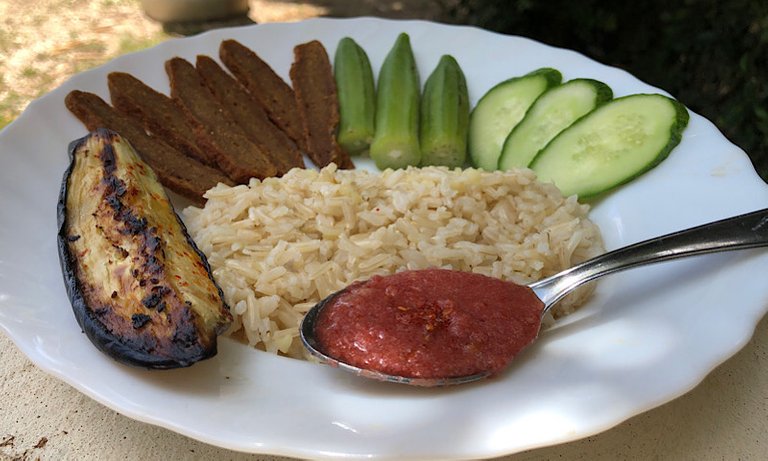 👩‍🍳 Vegan Khmer Steak (Ital) Recipe 🔪
វិធីធ្វើប្រហិតសណ្ដែកចៀនបួស

Ingredients
1 cup soaked chickpeas
1 cup chapati flour or whole wheat flour
1/2 tsp red chili powder
1/2 tsp paprika
1/4 tsp turmeric
1 tsp coriander powder
1/4 tsp black pepper
1/2 tsp salt
1 tsp brown sugar
1 tbsp soy sauce
1 tbsp black soy sauce
4 cloves garlic
2 tbsp olive oil
4 tbsp water
Soak chickpeas 6 hours or until soft.
Step 1

Grind chickpeas very well.

Then add all ingredients grind it more very well.

Step 2

After grind put oil on plastic bag a little and put it on the plastic and do like that then boil it maybe 15 minutes.

Step 3

After I boiled it.

Step 4

Cut and fry it same like steak.

🧄 Koh Kong Chili Sauce 🌶️
ទឹកម្ទេសកោះកុង

I want to show you about to make Khmer style chili sauce to eat with this also. I don't know you are like it or not but I like it.
Ingredients
1 small lime's juice or taste
1/2 tsp salt or taste
1 tbsp brown sugar
2 red chilies or taste
4 cloves garlic
Crush garlic, chilies, salt, and brown sugar very well, and put lime juice. Stir it very well and taste, it's ready.

🙏 THANKS FOR READING 🙏
If you enjoyed this post, please upvote and reblog.