Deliciosa receta/ Delicious recipe.
A veces me da mucha ansiedad y la verdad la única manera de acabar con eso es comiéndome algo muy rico, hoy quise experimentar algo nuevo pero que fuera muy fácil, así que aproveche algunos ingredientes que tenía en mi nevera e hice una galleta al estilo americano gigante y lo mejor es que no tuve que usar el horno, lo hice en microondas. Al principio estaba indecisa si hacerlo en microondas o al sartén pero tenía el presentimiento de que en el sartén se me iba a pegar y que no se cocinaría bien por el material del cual está hecho mi sartén.
Sometimes it makes me very anxious and the truth is that the only way to end it is by eating something very tasty, today I wanted to experience something new but it was very easy, so I took advantage of some ingredients that I had in my fridge and made an giant American-style cookie and the best thing is that I did not have to use the oven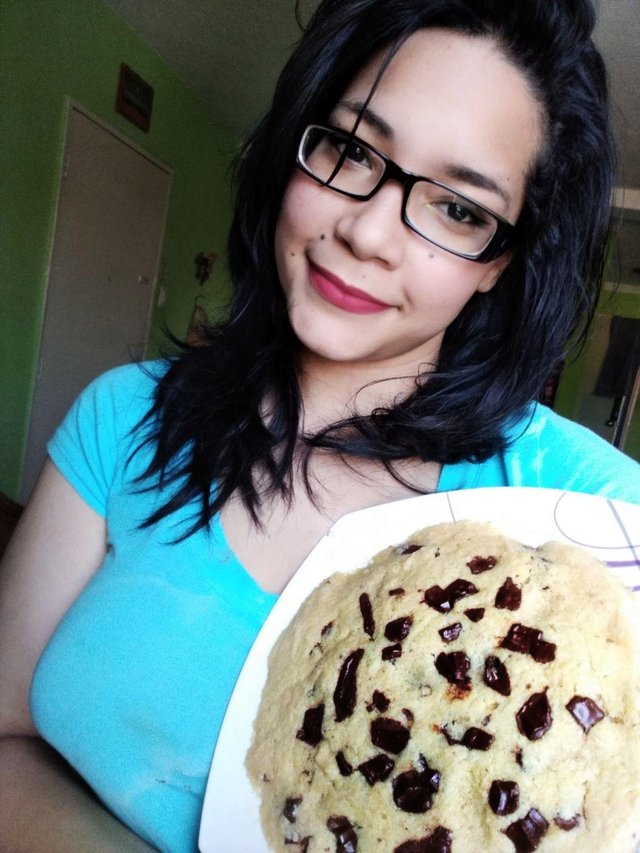 Aquí están los ingredientes que use:
7 Cucharadas de harina de trigo
1 Huevo
Media cucharada de vainilla
2 Cucharadas de azúcar
2 Cucharadas de mantequilla
Una barra de chocolate
Here are the ingredients I use:
7 tablespoons of wheat flour
1 egg
Half a tablespoon of vanilla
2 tablespoons of sugar
2 butter spoons
A chocolate bar.

Lo primero que hice antes de comenzar fue picar el chocolate en trocitos, también pueden usar gotas de chocolate depende del gusto de cada quien.
The first thing I did before starting was to chop the chocolate into pieces, you can also use chocolate drops depending on the taste of each person.

Ahora sí, comenzamos la preparación de esta galleta gigante, vamos a mezclar los ingredientes por parte así que primero colocamos las dos cucharadas de mantequilla en un recipiente junto con las dos cucharadas de azúcar la vamos mezclando hasta que se revuelvan estas dos, el siguiente paso será agregar la media cucharada de vainilla, continuamos revolviendo hasta que se integre, en un recipiente aparte vamos a batir el huevo para luego proceder a colocarlo en nuestra mezcla en este caso no use todo el huevo solo use tres cucharadas, volvemos a mezclar y finalmente vamos a agregar las 7 cucharadas de harina revolviendo hasta que todo esté completamente unido, nos quedara una masa bastante pegajosa no debe quedar dura. En ese punto ya está lista así que le vamos a añadir el chocolate cortado y volvemos a revolver.
Now yes, we begin the preparation of this giant cookie, we are going to mix the ingredients on the part so first we place the two tablespoons of butter in a container along with the two tablespoons of sugar we mix it until these two are stirred, the next step it will be to add the half tablespoon of vanilla, we continue stirring until it is integrated, in a separate container we will beat the egg and then proceed to place it in our mixture in this case do not use the whole egg just use three tablespoons, we mix again and finally We are going to add the 7 tablespoons of flour, stirring until everything is completely united, we will have a rather sticky dough, it should not be hard.
At that point it is ready so we are going to add the cut chocolate and stir again.

En un plato grande vamos a agregar un poco de mantequilla a la base para que no se nos pegue nuestra galleta (puse a mi esposo a llenarme el plato de mantequilla y lo hizo bastante desordenado y con exceso de mantequilla pero bueno jajaja)
In a large plate we are going to add a little butter to the base so that our cookie does not stick (I put my husband to fill my plate with butter and he did it quite messy and with excess butter but… well lol).

Colocamos nuestra mezcla encima del plato en forma de una bola, y luego vamos a proceder a colocarle más chocolate por encima.
We place our mixture on the plate in the form of a ball, and then we will proceed to place more chocolate on top.


La llevamos al microondas por un minuto y medio, yo lo puse con un poquito más de tiempo porque mi microondas no es muy potente.
We took it to the microwave for a minute and a half, I put it with a little more time because my microwave is not very powerful.

Así es como se ve nuestra galleta la verdad quedo riquísima muy suave por dentro y el chocolate se sentía muy intenso.
This is how our cookie looks, the truth is delicious very soft inside and the chocolate felt very intense.



Y como me sobro algo de mezcla realice una mini torta con chocolate y más chocolate jajaja no pude evitarlo pero quedo riquísima, y combinando estas dos cosas estaba muy feliz el intenso sabor a chocolate y galleta era fabuloso y el olor que tenía mucho más.
And since I have some mix left over, make a mini cake with chocolate and more chocolate hahaha I couldn't avoid it but it was delicious and combining these two things I was very happy the intense flavor of chocolate and biscuit was fabulous and the smell had much more.