Yesterday was a rainy day, and on rainy days what our body asks us for is something to keep us warm, and my body yesterday asked me for a good soup or as they call it in my country, a good sancocho, but the sancocho is tastier if we make it over the coals, with that living flame that makes everything taste better. So I told my mother about the idea and we got to work.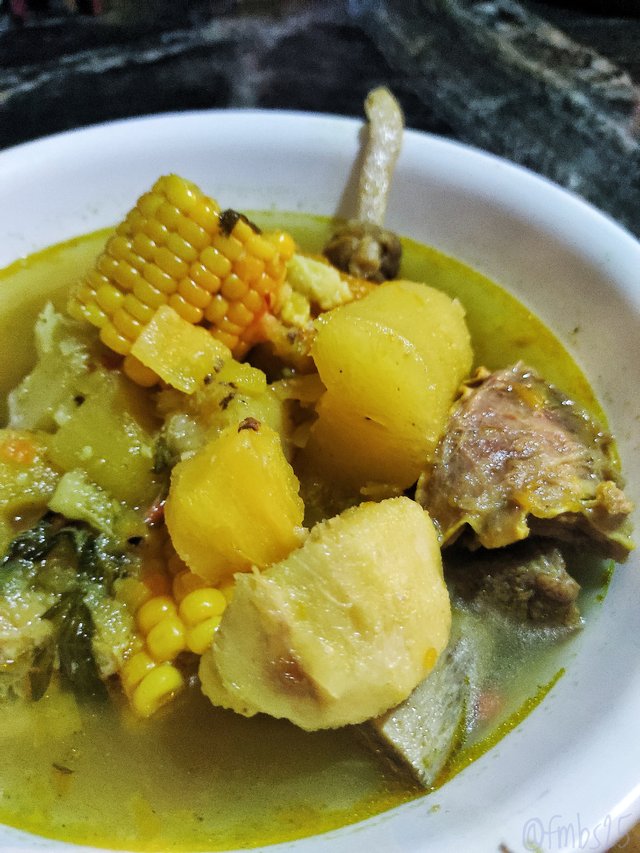 I had beef ribs and some belly or tripe in the fridge reserved for such an occasion, and we had no buts to make a good pot of soup, even my little Mathias had days asking me to make him a soup so the opportunity was perfect, we warmed up with the soup and the heat of the flames in the fire, although the smoke is not something I like very much, because I avoid it as much as possible, but once a year it doesn't hurt.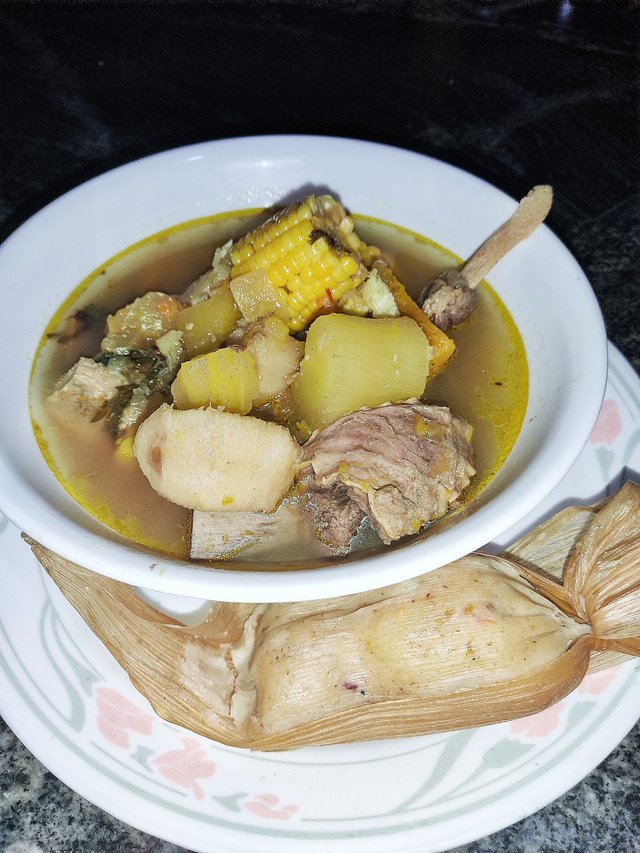 Making a good wood-fired soup really takes time and let's say some work, so I always try to make it in a good quantity, so that I can even stay for storage or repeat the next day. Come with me and I'll show you how I made this simple wood-fired soup.
Enjoy!

Ingredients
2 kg of beef ribs
1 Kg of beef belly (mondongo).
500 gr of ocumo.
500 grams of celery root.
500 grams of pumpkin.
4 ears of corn.
500 grams of sweet potato.
500 grams of yucca.
500 grams of yam.
1 large onion.
1 medium pepper.
2 big chilies.
1 celery stalk
1 piece of garlic joint.
Six cloves of garlic.
4 tablespoons of salt.
1 tablespoon of ground cumin.
1 tablespoon of sugar.
1 tablespoon of vegetable or meat stock.
1 Tsp of turmeric powder.
1 tablespoon of vegetable oil.
10 liters of water.

Preparation

Preparation time: 15 minutes
Cooking time: 120 minutes




The first thing we must do is put to boil about 8 liters of water on the stove, while we take to the fire in a pressure cooker or express the ribs previously washed and cut, this will take about 20 minutes to be tender, and repeat the same operation with the belly, which clean very well and cut into pieces to our liking, this will be cooked in the pot express for about 30 minutes, in this time the water we have on the stove should already be about to boil.














While we had the water boiling and cooking the ribs and belly, we peeled and cut our vegetables to taste, including the corn cobs, which we will then add to the boiling water, so that they are cooked. Once the ribs and belly are tender, we will also add them to the pot we have on the stove, cover it and let it cook for at least 30 minutes














On the other hand, while the vegetables and meat are cooking, we are going to cut our vegetables, and take them to a pan with the oil, to fry them, we add the condiments, cumin, powdered vegetable broth, turmeric, salt, and sugar, we fry for about 5 minutes and add it to our soup, we let it cook covered for about 30 more minutes.














To finish the soup after 30 minutes I add a handful of celery leaves and coriander, whole and raw, this is optional, but it is certainly what gives it a touch of extra flavor, now we just have to let our soup rest a bit so that the flavors are concentrated and well integrated to enjoy it. Accompanied by delicious tamales or hallaquitas, bread or even cassava. The truth is that this soup was delicious and everyone at home with their bodies warm and satisfied.



























Images of my property, taken with my Xiaomi Redmi Note 9S camera Edited with PowerPoint 2016 and Snapseed .



Thank you for taking the time to read this post, if you have any questions, criticisms or suggestions, I'd appreciate it if you put them in the comment box, and remember, you too can make magic in the kitchen wherever you go!


[ES]








Ayer fue un día lluvioso, y en los días de lluvia lo que nuestro cuerpo nos pide es algo que nos mantenga calientes, y mi cuerpo ayer me pedía una buena sopa o como le llaman en mi país, un buen sancocho, pero el sancocho es más sabroso si lo hacemos a las brasas, con esa llama viva que hace que todo tome un mejor sabor. Así que le comenté a mi madre la idea y nos pusimos manos a la obra.

Tenía en la nevera costillas de res y algo de panza o mondongo reservado para una ocasión así, y no tuvimos ningún tipo de peros para hacer una buena olla de sopa, incluso mi pequeño Mathias tenía días pidiendo que le hiciera una sopita así que la oportunidad fue perfecta, nos calentamos con la sopa y con el calor de las llamas del fogón, aunque el humo no es algo que me agrade mucho, pues lo evito en lo posible, pero una vez al año no hace daño.

Realizar una buena sopa a leña realmente es algo que lleva su tiempo y digamos que algo de trabajo, por lo que trato siempre de hacerlo en una buena cantidad, de manera que me quede incluso para guardar o repetir al día siguiente. Acompáñame y te muestro como hice esta sencilla sopa a leña.

¡Disfruta!

Ingredientes

2 Kg de costillas de res.
1 Kg de panza de res (mondongo).
500 gr de ocumo.
500 gr de raíz de apio.
500 gr de calabaza.
4 Mazorcas de maíz.
500 gr de batata.
500 gr de yuca.
500 gr de ñame.
1 Cebolla grande.
1 Pimiento mediano.
2 Ajíes grandes.
1 Tallo de apio
1 Trozo de ajo porro.
6 Dientes de ajo.
4 Cdas de sal.
1 Cda de comino molido.
1 Cda de azúcar.
1 Cda de caldo de verduras o carne.
1 Cdta de cúrcuma en polvo.
1 Cda de aceite vegetal.
10 litros de agua.

Preparación

Tiempo de preparación: 15 minutos.
Tiempo de cocción: 120 minutos.

Lo primero que debemos hacer es colocar a hervir unos 8 litros de agua en el fogón, mientras llevamos al fuego en una olla exprés o de presión las costillas previamente lavadas y cortadas, esto nos tomara unos 20 minutos para que queden tiernas, y repetimos la misma operación con la panza, que limpiamos muy bien y cortamos en trozos a nuestro gusto, esto lo cocinaremos en la olla exprés por unos 30 minutos, en este tiempo el agua que tenemos en el fogón debería ya estar por hervir.

Mientras teníamos hirviendo el agua y cocinando la costilla y la panza, hemos pelado y cortado nuestras verduras a gusto, incluyendo las mazorcas de maíz, que luego agregaremos al agua hirviendo, para que se cocinen. Una vez tiernas las costillas y la panza también las agregaremos a la olla que tenemos en el fogón, taparemos y dejaremos cocinar por al menos unos 30 minutos

Por otro lado, mientras se cocinan las verduras y la carne, vamos a cortar nuestros vegetales, y los llevaremos a un sartén con el aceite, para sofreírlos, le agregamos los condimentos, comino, caldo de verduras en polvo, cúrcuma, sal y azúcar, sofreímos por unos 5 minutos y se lo agregamos a nuestra sopa, dejamos cocinar tapado por unos 30 minutos más.

Para finalizar la sopa luego de los 30 minutos le agrego un puñado de hojas de apio y cilantro, enteras y crudas, esto es opcional, pero es sin duda lo que le da un toque de sabor extra, ahora solo nos queda dejar reposar un poco nuestra sopa para que los sabores se concentren y se integren bien para disfrutar de ella. Acompañada de unos ricos tamales o hallaquitas, pan o incluso casabe. La verdad es que esta sopa quedo deliciosa y todos en casa con sus cuerpos calientitos y satisfechos.

Imágenes de mi propiedad, tomadas con la cámara de mi Xiaomi Redmi Note 9S Editadas con PowerPoint 2016 y Snapseed .



Gracias por tomarse el tiempo de leer esta publicación, si tiene alguna pregunta, crítica o sugerencia, la agradecería que la pusiera en la caja de comentarios, y recuerda, ¡Tú también puedes hacer magia en la cocina ya dondequiera que vayas!


Created by @robinsonlgil
























---





Come and support @Cervantes as Witness in https://peakd.com/me/witnesses

---




Come and supports @Aggroed as Witness in https://peakd.com/me/witnesses





Join @gems-community's Discord









A proud member of






Created by @derangedvisions