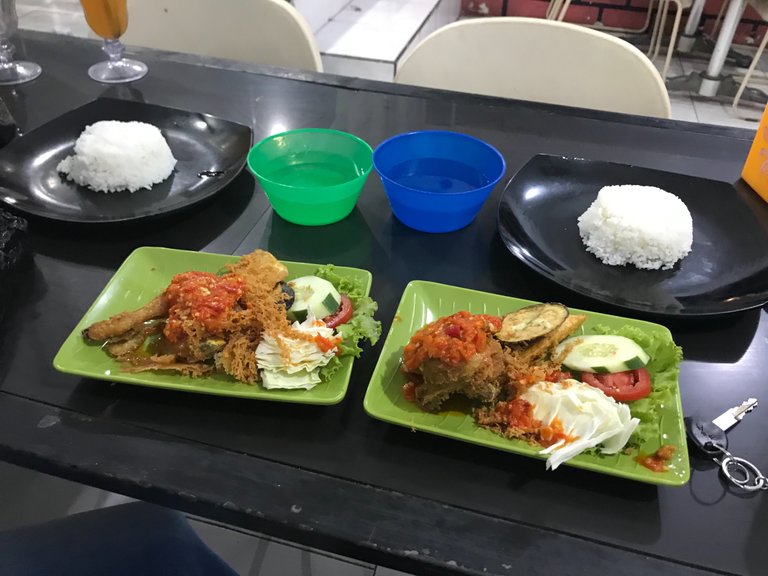 photo by me
Yooo hello my fellow hivers and the whole hive community. Come back again with me Jodi Pamungkas. Thank you for those of you who have read and stopped by my previous post regarding the culinary dumplings in one of the villages in Langsa city. Happy Thursday to all of you, tomorrow I will take a vacation to one of the cities in Aceh for the next 2 days. Keep following my blog hive and there will be a lot of interesting things in the city. Today, ema and I are hunting for culinary delights in Langsa city. I saw one restaurant was very quiet and almost no customers came. I was curious and invited ema to have dinner at the restaurant. Around 8 pm I headed to the restaurant and happened to be not far from ema's house.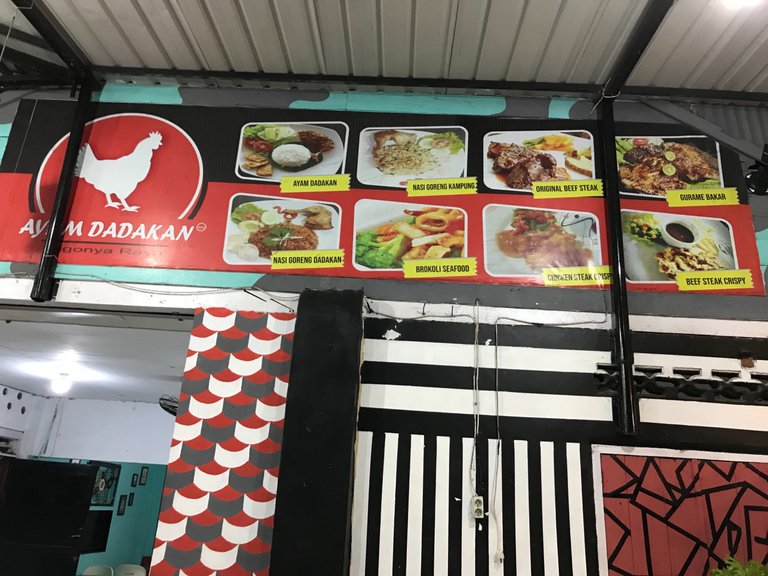 photo by me
Welcome to the Ayam Dadakan restaurant. This place is located on a city street that is quite crowded by people. This restaurant is open from noon to 11pm. You can see the photo above, there are 8 menus available and quite popular at this restaurant. One of them is the Ayam Dadakan, village fried rice, crispy beef steak, original beef steak and the last one is grilled carp. I'm still confused about what menu choices I will try at this place.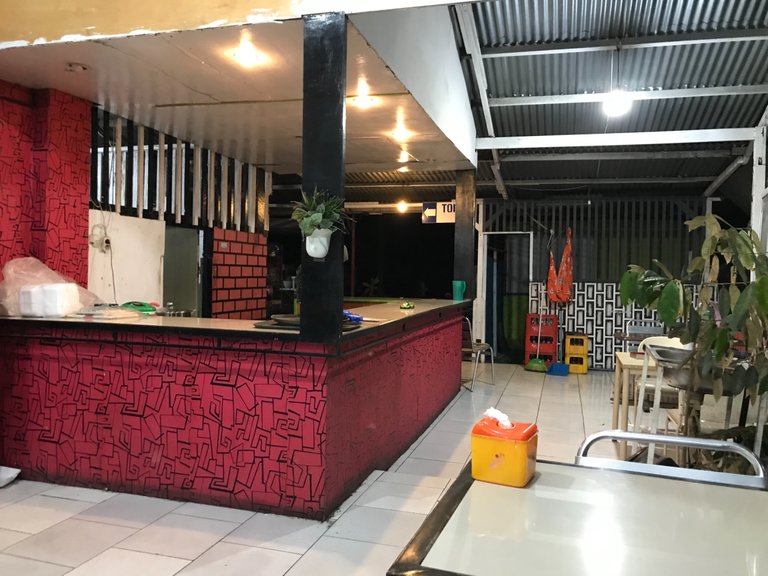 photo by me
I asked one of the waiters to leave the menu book above. I looked around this place, it was quite nice and well-maintained. The design of the place is very comfortable with nice furniture. Everything is well organized and the floor is quite clean. Each table is given a tissue and some mineral water. Now I will look at the menu book and what foods are provided at this restaurant.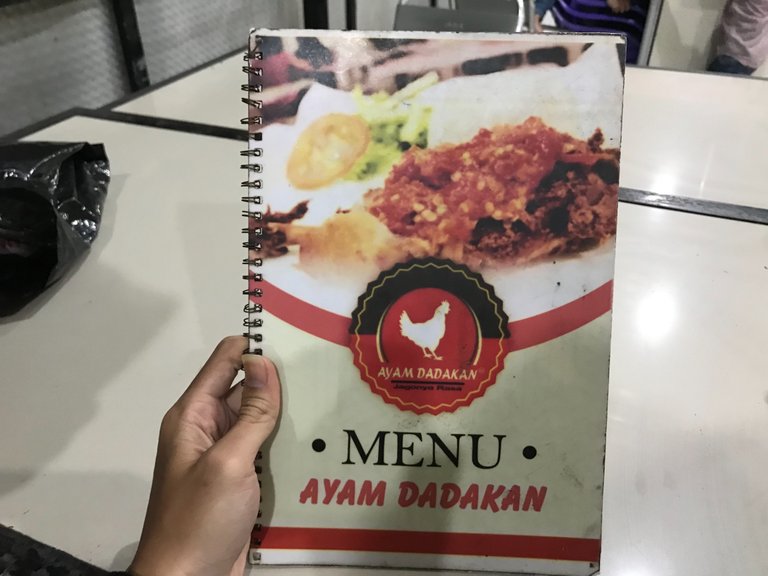 photo by me
The front of this menu book looks very nice with the picture of the chicken and the name of this restaurant. The picture of chicken with chili sauce is also very clearly visible on the front cover of this menu book. I will now look at the first page of this menu book. Is the food in this place interesting enough or just average.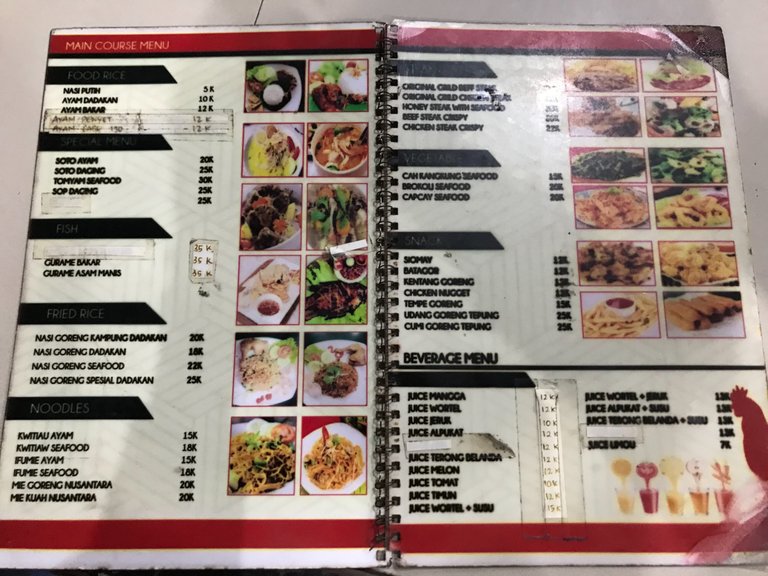 photo by me
It turns out that there are so many variants of food provided at this restaurant. Starting from various types of noodles, snacks, vegetables, fish, fried rice and special menus. The price is quite varied depending on the menu you want. They also provide a fairly complete variety of fruit juices. Because it's my first time to this place. So I will order the signature menu at this place, Ayam Dadakan. I asked the waiter, is the Ayam Dadakan like chicken penyet? They answered, of course not, this menu uses a different sauce from Ayam Penyet. I ordered the Ayam Dadakan menu and Ema also ordered the same menu. For drinks I ordered orange juice and ema ordered cold fruitea.
photo by me
Furthermore, this restaurant also provides various types of ice cream variants. One of them like ice cream vanilla, chocolate, strawberry, banana, melon, corn and durian. Not only ice cream, they also sell a fairly complete menu of other fresh drinks. I think this place provides a very complete menu. So far, I'm quite comfortable in this place and I will give this restaurant a 9/10 rating. But my question is, why is this place so quiet? I think the price of food in this place is affordable and not expensive. I'm still very curious about it.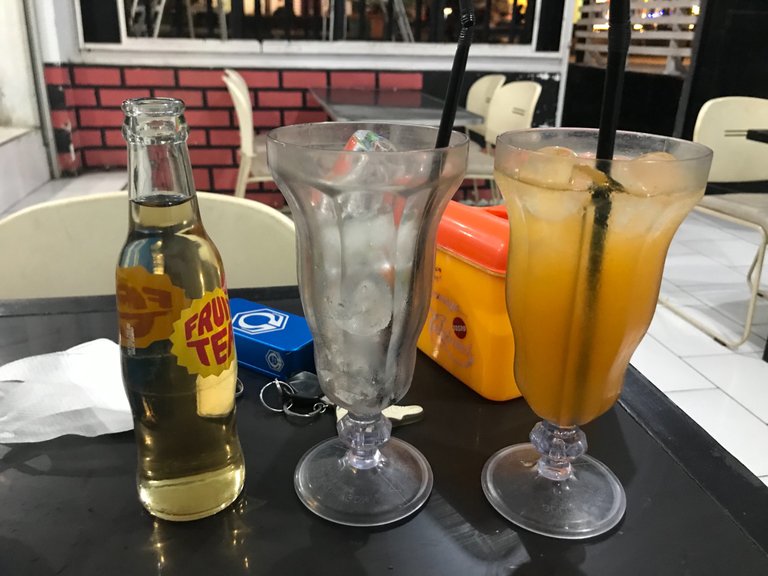 photo by me
After waiting a few minutes, Emma's cold orange and fruitea juice arrived at the table. Now I have to wait for my food first. The orange juice at this place is really good and not too much sugar. Because usually orange juice uses a lot of sugar than the orange fruit. I don't understand why it's like that. Consuming too much sugar is very dangerous and can trigger diabetes. Do you agree ? .
photo by me
Well, finally my Ayam Dadakn has arrived. They gave me chicken breast and ema chicken wings. It looks like the color and texture of the Ayam Dadakan Sambal is very different from the others. They also provide pieces of cabbage, lettuce, tomatoes and cucumbers. Without lingering, I immediately ate this impromptu chicken with white rice that I ordered. Honestly, the sambal is really very tasty and sweet, the level of spiciness of the chili is also very good and the taste of the chicken breast is very soft and not hard. I will give 10/10 for this Ayam Dadakan food menu. You must try this impromptu Chicken. All I had to pay in total was about 5$ and I was really very full. Thank you for reading and stopping by my post today. Give your suggestions and support for this post. See you in the next post.