Hola amigos de HIVE, hoy mientras me enfocaba en la preparación del almuerzo, pensaba que los primeros días del mes de enero son algo lleno de frustración para las amas de casas. Debido a que realice algunos gastos extras motivada a las festividades navideñas, mi despensa se encuentra algo vacía.
Hello friends of HIVE, today as I was focusing on preparing lunch, I thought that the first days of January are something full of frustration for housewives. Due to spending some extra expenses motivated by the Christmas festivities, my pantry is somewhat empty.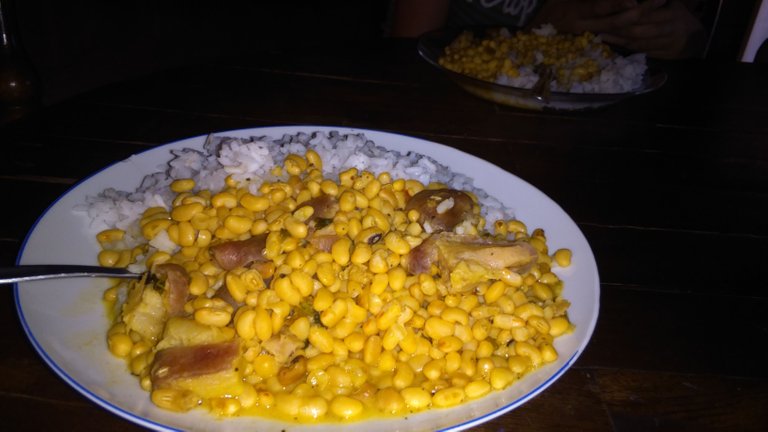 frijol con pellejo de cochino
¿Que preparar para el almuerzo? fue mi pregunta de la mañana de hoy, me sentí algo aturdida, y preocupada, porque no contaba con las proteínas tan acostumbrada en mi almuerzo. Revise varias veces mi refrigerador y solo encontré unos 200 gr de carne los cuales no eran suficiente para las 5 personas que viven en mi casa.
What to prepare for lunch? was my question this morning, I felt somewhat dazed, and worried, because I did not have the proteins so used in my lunch. I checked my refrigerator several times and I only found about 200 grams of meat which was not enough for the 5 people who live in my house.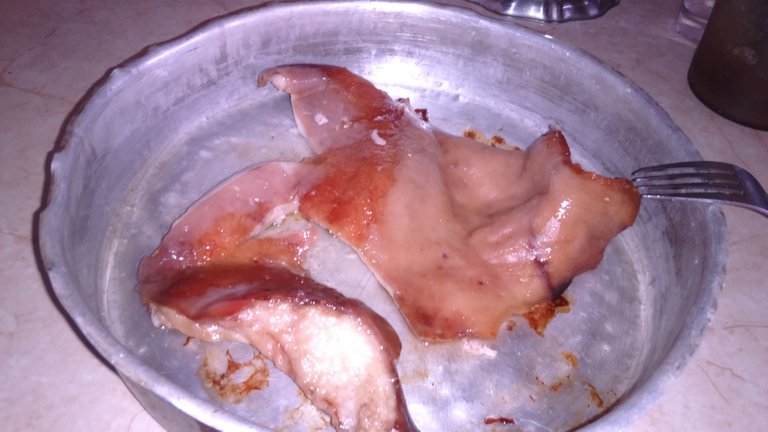 Así que no me quedó otra opción que optar por el pellejo que desprendí del pernil, durante la preparación de las hallacas, pellejo de cochino, les confieso que era mi primera vez, primera vez que preparaba frijoles con pellejo de cochino, ya lo había comido, pero nunca lo había preparado.
So I had no other option but to opt for the skin that I detached from the leg, during the preparation of the saca, pig skin, I confess that it was my first time, the first time that I prepared beans with pig skin, I had already eaten it , but had never prepared it.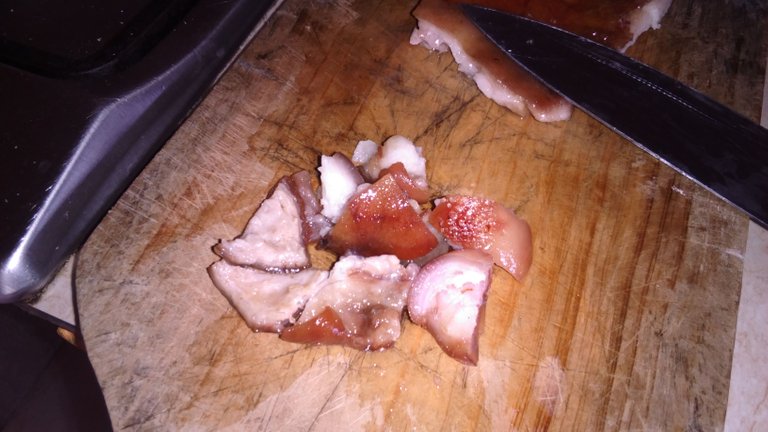 No quise indagar mucho en esta preparación, ya que solo era un pellejo de cochino o cerdo, para que complicarme la vida, tome el pellejo, lo coloque en una bandeja de aluminio y lleve al horno a unos 180 grados celcius, durante unos 45 minutos, luego pique este pellejo en trozos pequeños y se lo agregue a uno frijoles blancos los cuales había preparado unos días antes.
I did not want to delve much into this preparation, since it was only a pig or pork skin, so that it complicates my life, take the skin, place it on an aluminum tray and bake at about 180 degrees celcius, for about 45 minutes Then chop this skin into small pieces and add it to one of the white beans that I had prepared a few days before.
Para acompañar estos ricos frijoles con pellejo de cochino use de contorno arroz blanco. Mientras servía cada plato, mi hija me comentó, que por estos platos de comida es que existen las madres, ya que si a ella le hubiese tocado preparar el almuerzo, nunca se le hubiesen ocurrido los frijoles con pellejo de cochino, lo más seguro era que preparará arroz con huevos revueltos.
To accompany these rich beans with pig skin, use white rice. While serving each dish, my daughter told me that because of these food dishes there are mothers, since if she had had to prepare lunch, the beans with pig skin would never have occurred to her, the safest thing was which will prepare rice with scrambled eggs.
Para culminar mi post, les quiero contar que los frijoles con pellejo de cochino son exquisito, algo grasoso, pero muy delicioso. Así que no se nieguen la oportunidad de disfrutar de este plato lleno de mucha energía y proteínas. Solo faltan dos días para cobrar mi quincena, así que mañana sera otro día de magia en mi cocina, para lograr degustar a mi familia.
To finish my post, I want to tell you that the beans with pig skin are exquisite, somewhat greasy, but very delicious. So don't deny yourself the opportunity to enjoy this energy-packed, protein-packed dish. There are only two days left to collect my fortnight, so tomorrow will be another day of magic in my kitchen, to be able to taste my family.
@Safiro
Si te gustó el Post, no olvides votar, comentar y compartir. Sí quieres saber más, no dudes en visitar mi perfil. Todas las fotografías son propiedad de la Autora.
@Safiro

If you liked the Post, don't forget to vote, comment and share. If you want to know more, do not hesitate to visit my profile. All photographs are property of the Author.