Hello everyone,
For today's meal, let's cook vegetable noodles. We originally used canton noodles for this dish, but since i do not have, I used pasta for this recipe, an ideal alternative if you don't have the right noodle. It's simple, easy and tasty.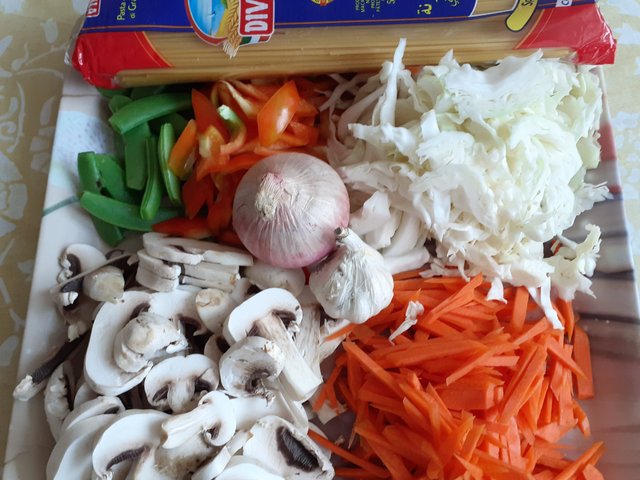 Ingredients
Pasta, 300gm
Onion, diced
Garlic, minced
Soy sauce, 2-3 tbsp
Carrot, julienne
Cabbage, chopped
Capsicum,sliced
Snap peas or sugar snaps
Mushrooms, sliced
Parsley
Preparations
Boil the pasta according to the instructions and set aside.
In a preheated wok or pan, Add a little oil and saute garlic, celery and onion until fragrant.

Add the carrots, capsicums and sugar snaps. Stir fry for a few minutes.

Add the soy sauce and let it sit for a minute
Next, add the drained Pasta and Stir well to combine.

Add the remaining vegetable. Cabbage and mushrooms and cook until the vegetables are soft but tender.

Top with fresh parsley to give a zingy and peppery taste.

Season with salt and pepper.
You can also add lemon or lime juice on top to balance the flavor of the dish. Feel free to include other vegetables like, cauliflower, broccoli, zucchini, scallions and etc.
I would love to hear from you and will be glad to get back as soon as i can.
Thank you.