Rich chicken broth
Rico caldo de pollo
Greetings to all my friends of Hive today I woke up with a lot of desire to eat a good chicken broth and I really did not think much and went to the supermarket to buy vegetables and what is needed to make this delicious broth, they say that the broth helps lift the spirits of the sick I am not sick but I really need this good broth to gain energy and move forward with the day to day.
Saludos a todos mis amigos de Hive hoy me levanté con muchas ganas de comer un buen caldo de pollo y realmente no lo pensé mucho y me fui al súper a comprar verduras y lo necesario para realizar este rico caldo, dicen que el caldo ayuda a levantar el ánimo de los enfermos yo no estoy enferma pero realmente necesito este buen caldo para ganar energía y seguir adelante con el día a día.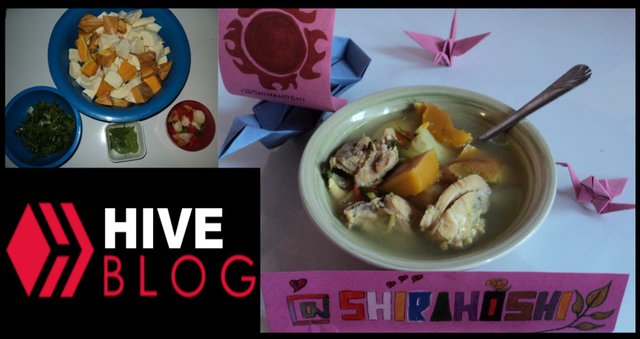 The ingredients to be used for this exquisite chicken broth are the following that I will name:
Los ingredientes a utilizar para este exquisito caldo de pollo son los siguientes que nombraré:

2 Kilos of vegetables
30 Grams between chives and aromatic twigs
3 Onions
8 Chili
7 Basil leaves
500 grams of chicken.
Salt to taste.
Turmeric
2 Kilos de verduras
30 Gramos entre cebollín y ramitas aromáticas
3 Cebollas
8 Ají
7 Hojas de albahaca
500 gramos de pollo.
Sal al gusto.
Cúrcuma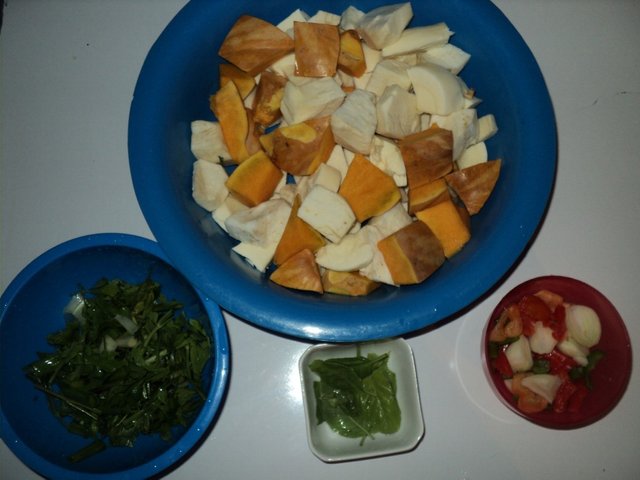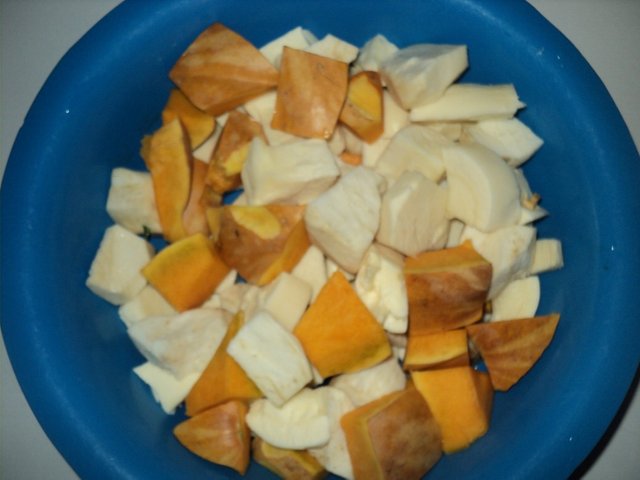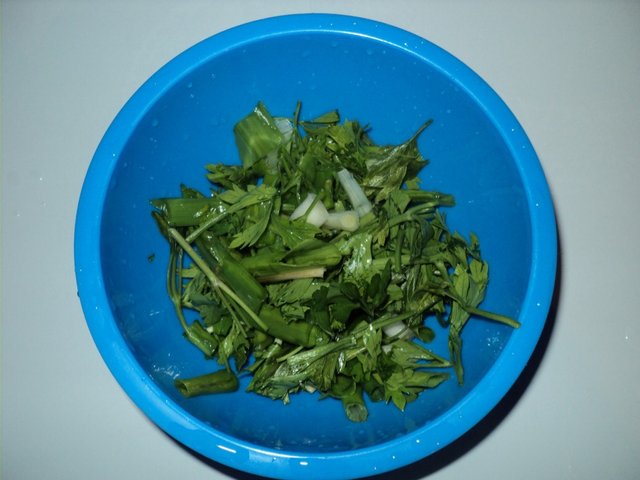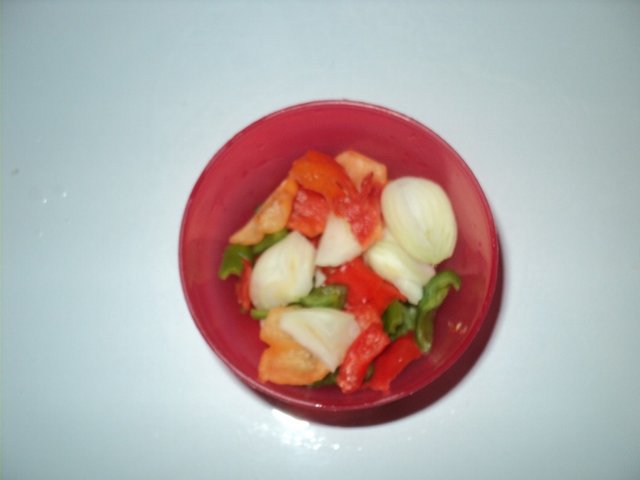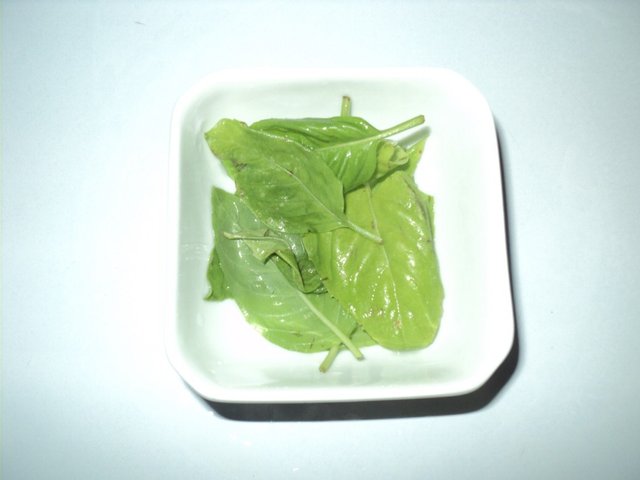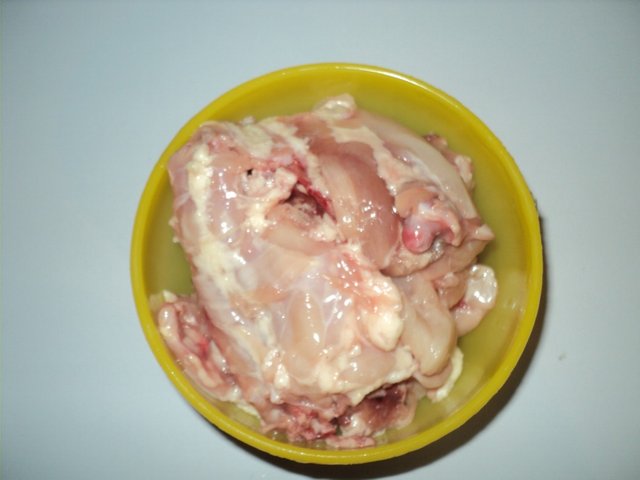 This was all I needed to indulge in a good chicken broth for lunch, I hope you like it here I will leave you with the step by step I made to get a super cool ending.
Esto fue todo lo que necesite para darme el gusto de almorzar un buen caldo de pollo, espero que les guste aquí les dejare el paso a paso que hice para llegar obtener un final súper genial.
Put a pot of water on the stove to start boiling.
Se coloca al fuego una olla con agua para que comience a hervir.

Then the vegetables are added.
Luego se le agregan las verduras.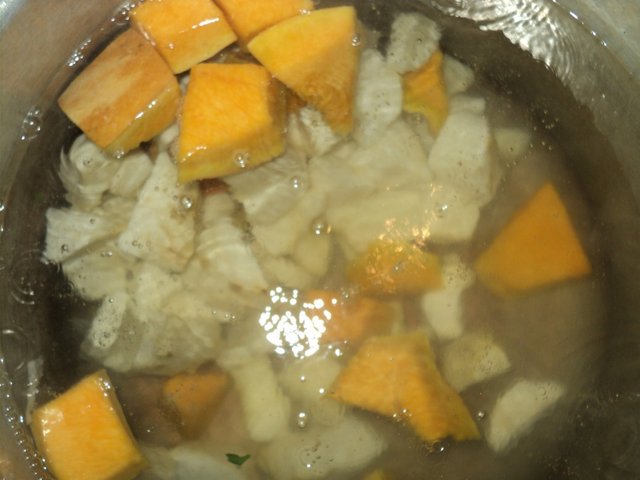 We continue placing the chives, the aromatic branches and the basil leaves.
Continuamos colocándole el cebollín, las ramas aromáticas y las hojas de albahaca.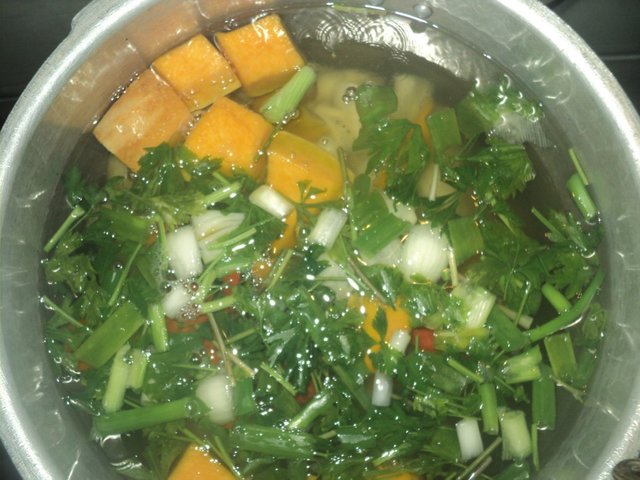 Then the chicken is placed.
Seguidamente se coloca el pollo.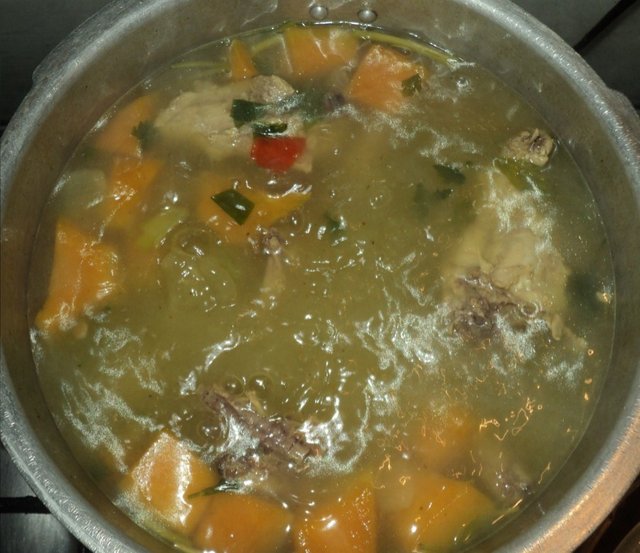 We let it boil a little bit so that the vegetables begin the process of softening and in this way the flavors of the plants and seasonings that were placed on them are concentrated, here I leave a video of the broth in the fire.
Dejamos que hierva un poco para que la verdura comience el proceso de ablandarse y de esta manera se concentren los sabores de las plantas y aliños que se les colocaron, aquí les dejo un video del caldo en el fuego.

Salt is added to the taste of each person. There are people who like to eat salty foods and others like me who cook under salt.
Se le coloca sal al gusto de cada persona hay personas que les gusta consumir comidas saladas y otras en cambio como yo que cocinamos bajo de sal.

Finally, add half a spoonful of turmeric to the broth to give it some color.
Por último le coloque media cucharada de cúrcuma al caldo para darle un poco de color.

When we see that the broth is concentrated and with good taste we turn off, we let it rest and then taste the rich chicken broth.
Cuando veamos que el caldo este concentrado y con buen gusto apagamos, dejamos reposar para luego degustar el rico caldo de pollo.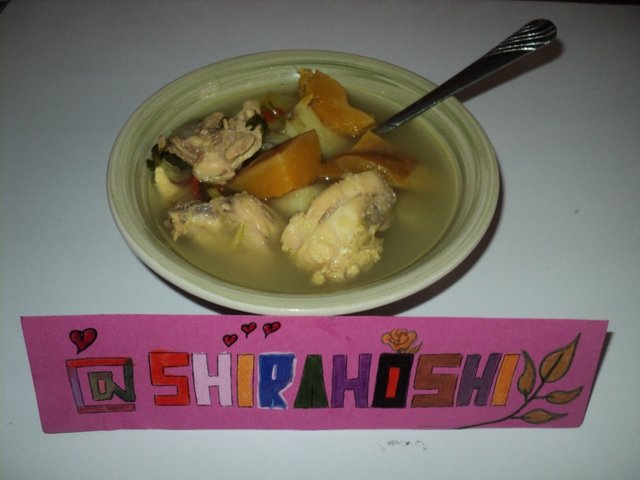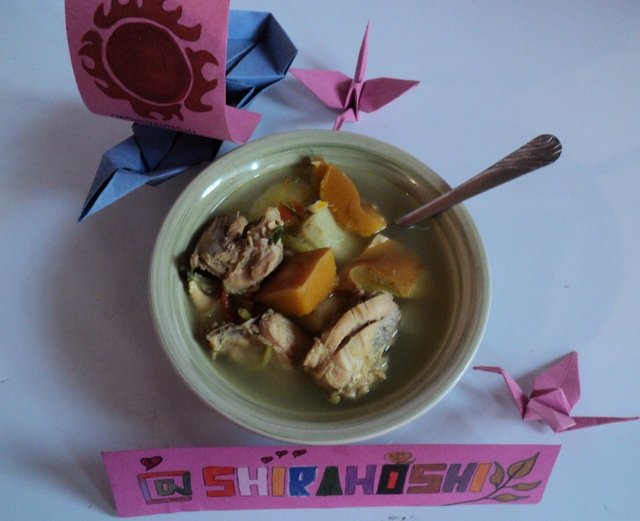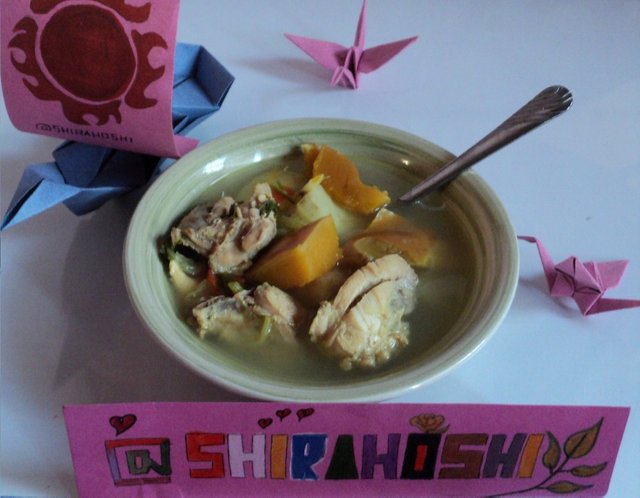 I hope this post is to your liking and remember you can visit my blog, there you will find various works of art, crafts, recipes among others says goodbye
@shirahoshi
.
Espero que este post sea del agrado de todos y recuerden pueden visitar mi blog, allí se encontrarán con diversos trabajos de arte, manualidades, recetas entre otros se despide @shirahoshi.

The photographs are my own and were taken by me with a sony cybershot DSC-S2000 and were edited in powerpoint.
Las fotografías son de mi autoría y fueron tomadas por mí con una camara sony cybershot DSC-S2000 y se editaron en powerpoint.

The Step by Step Gif was made by me in AdobePhotoshop CC2014.
El Gif de Paso a Paso fue realizado por mi en AdobePhotoshop CC2014.

The image of HIVE used on the cover (initial image) was taken from here:
La imagen de HIVE usada en la portada (imagen inicial) fue tomada de acá:


Source--Fuente