---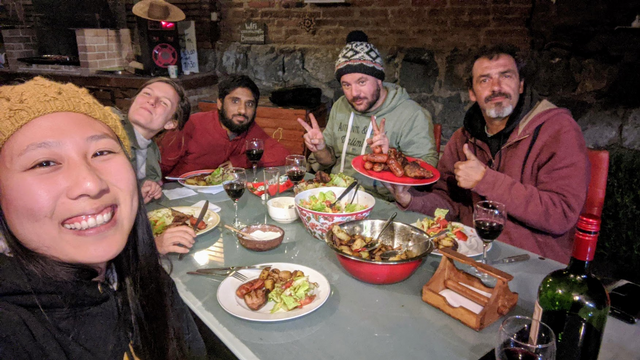 ---
My quarantine is too lonely and most importantly, it's delicious!
Last night we decided to have a small party in house. Homemade dinner, a big bottle of Chilean red wine and music! It was fun and it went on quite late that I didn't have a chance to share the fun here with you all.
We all started cooking around 8 PM..
Vino from India prepared the fried potatoes
He started by cutting the potatoes into good size pieces. Boil them for a bit then was going to put them in the oven. Suddenly changed his mind, let's put it on the stove and turn on all 4 stove head. Ooooh.. New trick!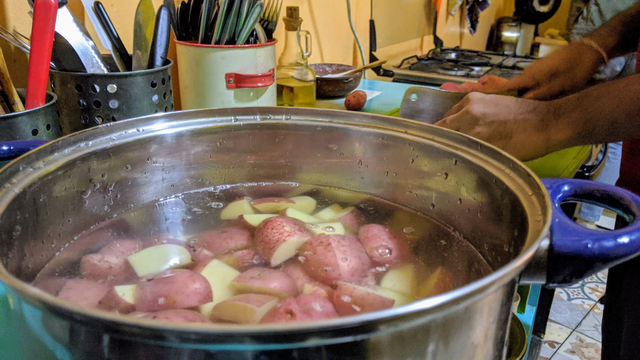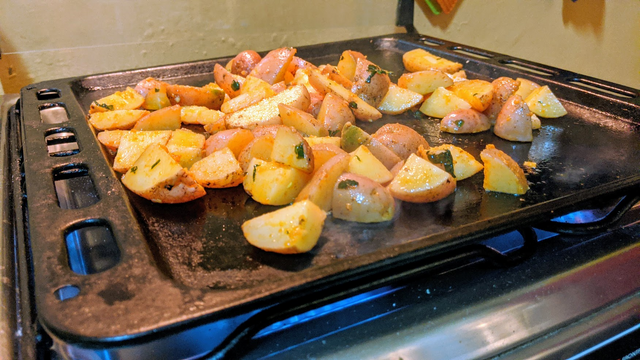 Clementina from France prepared a big bowl of salad & Mo from Thailand prepared salad dressing
Lettuce, red pepper, tomatoes, onions, and lemon seeds. All the veggies we have. It's a salad, you get an idea. Me myself, besides just walking around taking photos, I ended up making a salad dressing. Olive oil, balsamic vinegar, honey, salt and chopped garlic. Yum! Honestly, honey is a must.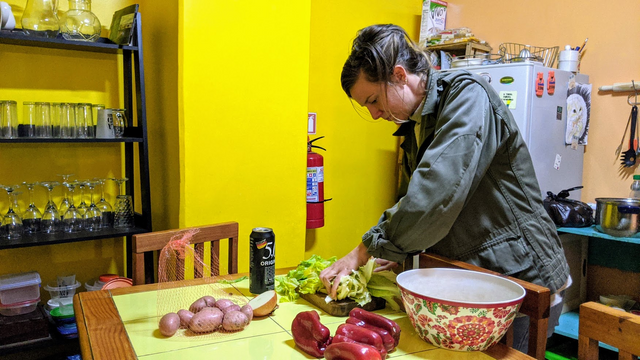 Dany from France prepared the BBQ
Oooh! Exciting part. Glad we all staying here love meat! So so much meat. Pork, sausages: longanisa, chorizo and pieta. Admit it, you also think the grill looks darn cool!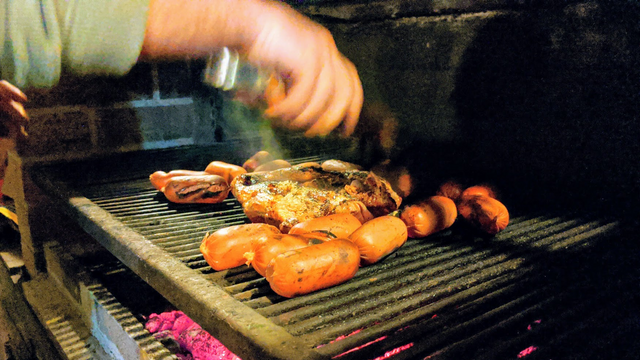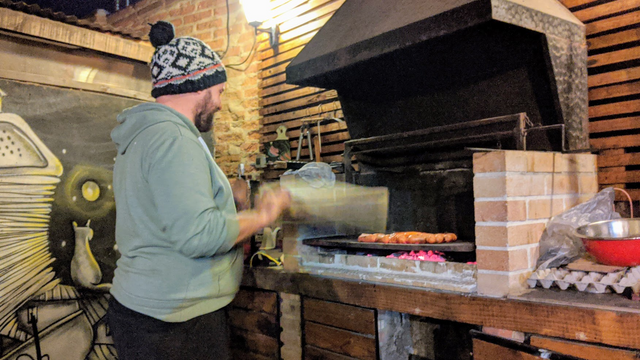 Antuan from France suggested putting eggs in the red pepper shells
Honestly, I had never tried it this way. Usually, they put the whole eggs but yesterday, we're lack of eggs so we stired it and put in a bit in each shell then grill them all. Interesting, isn't it? Once on the grill, it soft, juicy and sweet. The eggs give a nice eggy touch which I think it's quite a delicious combintation.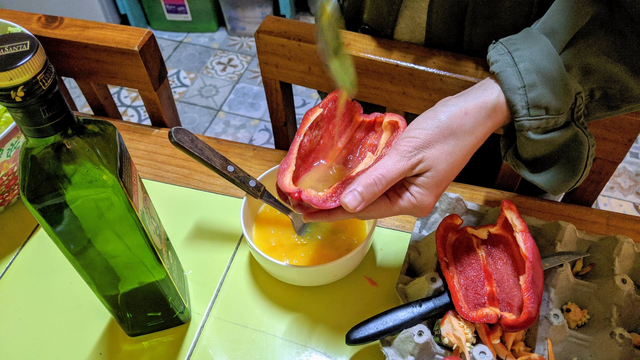 Good food, good time!
5 of us from 3 different countries spending time together during this difficult time of quarantine. It's amazing how traveling can make this happen. A great company is always good but hey.. Good food, good time! Can't beat it!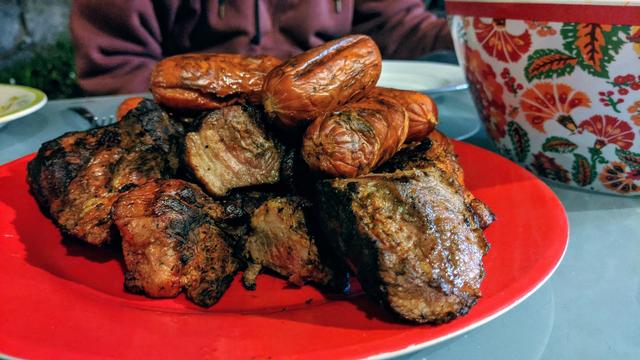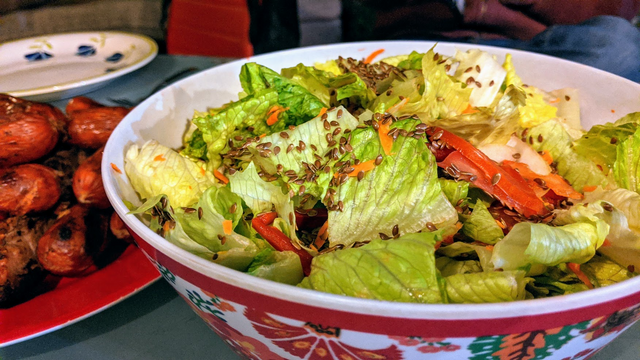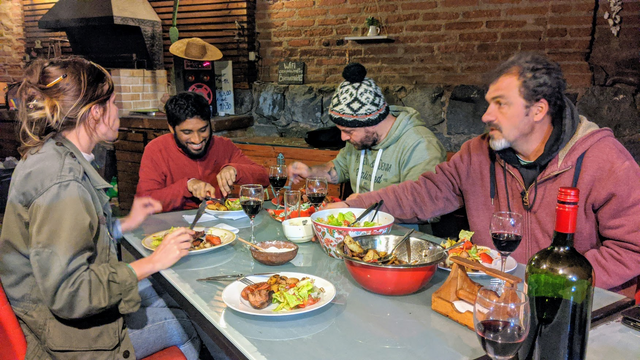 The most beautiful dish in a while!
A few plates of this and a few glass of red wine in a nice cooling weather among friends and good in the background .. Best feeling ever!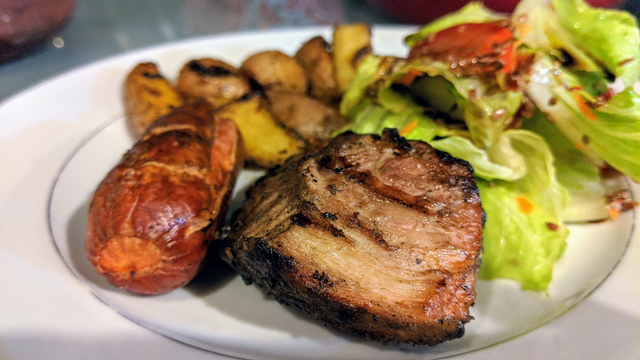 ♡ Get $55 TRAVEL CREDIT
♡ EARN CRYPTO while browsing
🎥 Check out all MY GEAR
---
All copy and photos are original content by me.

TO SUPPORT WITH LOVE ♡ PLEASE SUBSCRIBE!!! TO MY SUPER DUPER FOOD CHANNEL