At the beginning of the month I had the pleasure to visit the most amazing zoo of the country. If you're interested, I've had two posts already, check it out: 1, 2.
My main destination was the zoo, but the place is much more than that. It is called Platoul Cornesti (Somostető in Hungarian) and it is basically on the top of a hill in Targu Mures (Marosvásárhely), Romania.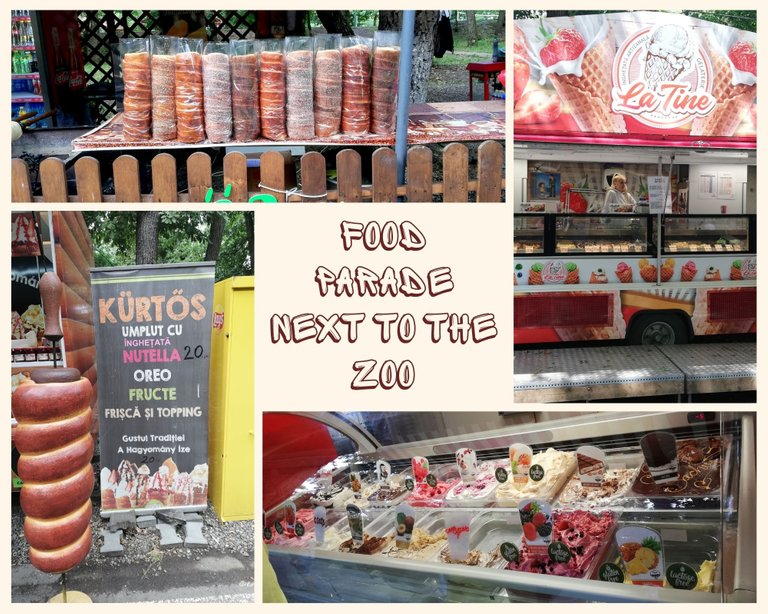 Visiting the zoo itself takes about a couple of hours at least and if you're with kids, it will take even more. There's a huge playground outside the zoo and when I say huge, I mean it, it is full of swings, slides and other playground stuff for kids.
Basically a trip to this place requires a full day, therefore the food offer is amazing too. There is a restaurant that was closed at the time of our visit, but the others were wide open, welcoming everyone who was eager to taste the local specialties. So let's see what you can eat if you're planning to visit the place.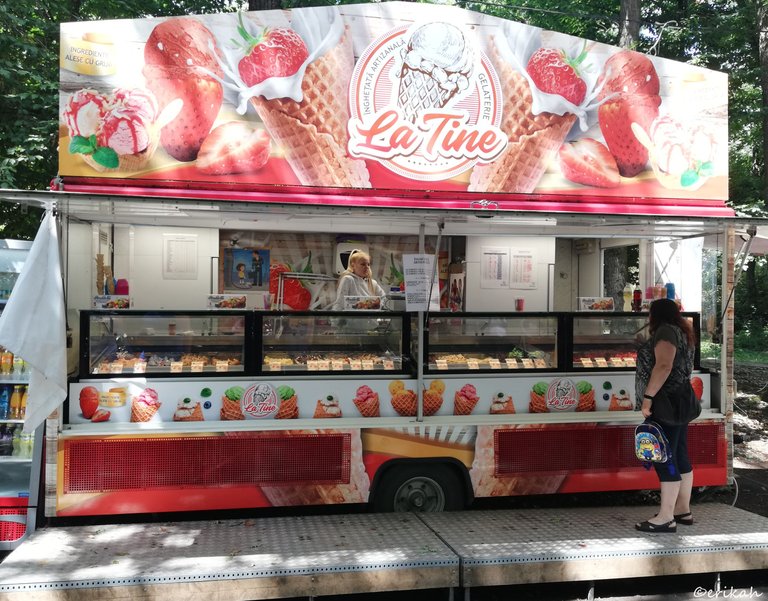 Ice cream is something you can never go wrong with. Regardless of the weather, there's always someone who are ready to taste the great variety they have to offer. This truck was selling mainly ice cream and you can see the great variety they had, just by looking at the size of the truck. How can you resist that?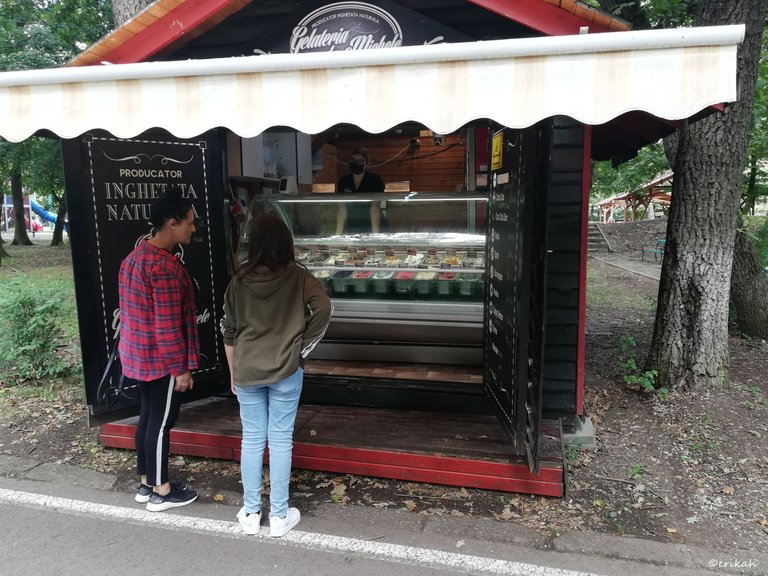 Another ice cream vendor, if the first temptation wasn't convincing enough. Look at the two ladies. This is how you stand in front of the offer, undecided as you want to taste them all.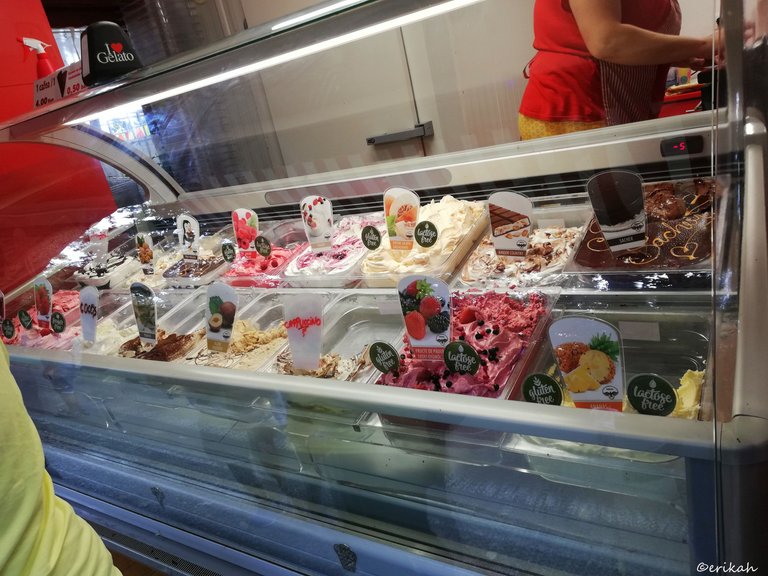 I couldn't resist, so I bought strachatella, chocolate-orange and Sacher. I know, it's too much but once a year I think I can afford that.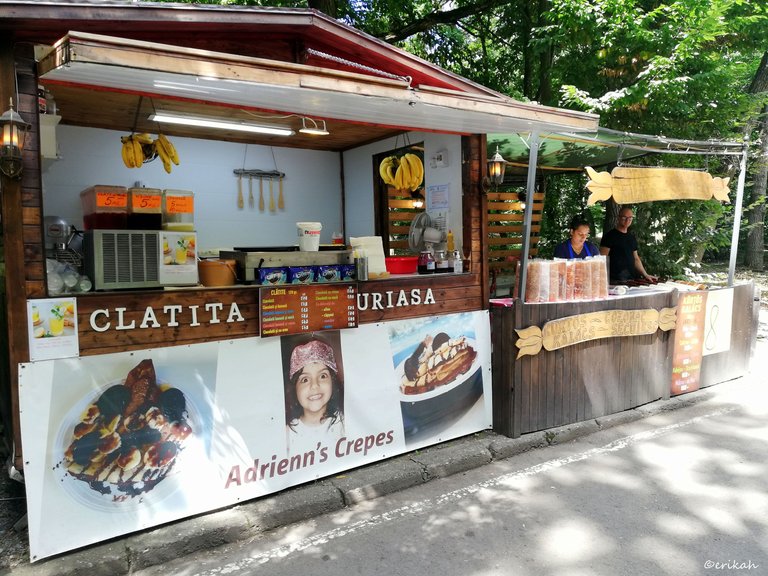 Crepe is very popular in Europe, you can find it in most of the major cities, here as well. The offer was very tempting, the price not so tempting. This is what happens when you know people will buy regardless of the price, because there's no one to sell it at a lower price, plus when kids are screaming, you can't resist. So you could choose between banana-chocolate, chocolate-banana-oreo, chocolate-banana-walnut, chocolate-banana-coconut, chocolate-oreo, chocolate-coconut, chocolate-walnut and different jams. What would you choose from here?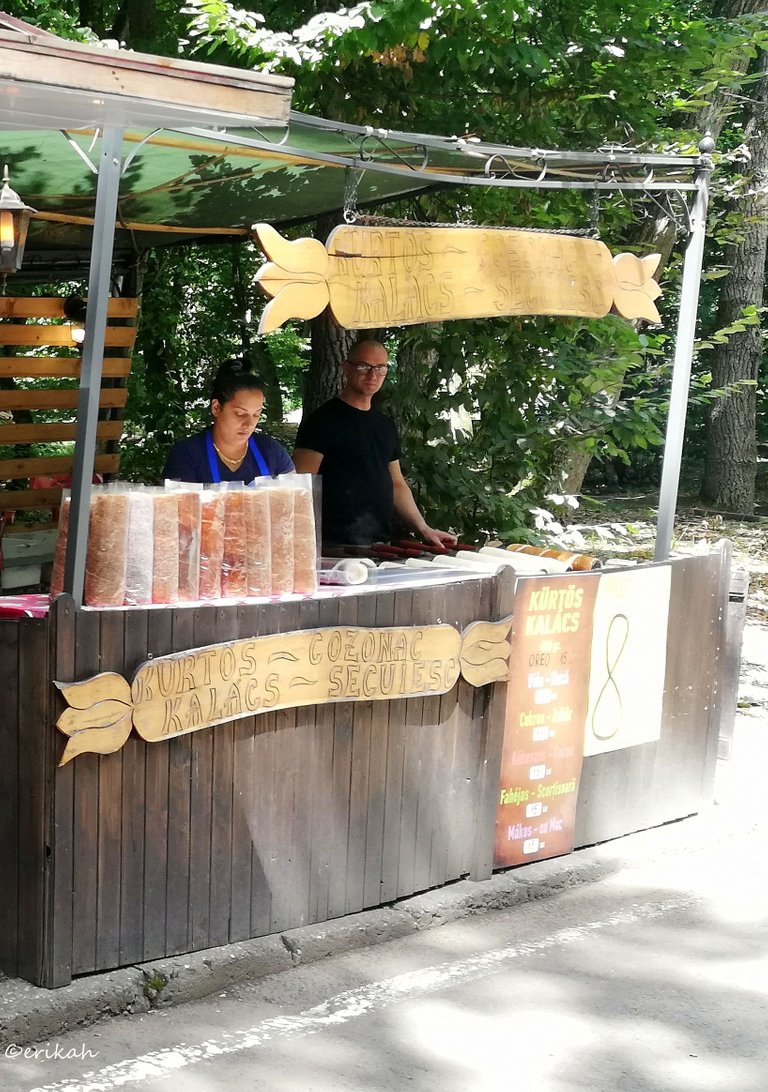 The other specialty they had is the famous kürtöskalács, which you can only find in Transylvania, or in case you see it somewhere else, that means the vendor is from Transylvania :)
Kürtőskalács is made from sweet, yeast dough (raised dough), of which a strip is spun and then wrapped around a truncated cone–shaped baking spit, and rolled in granulated sugar. It is roasted over charcoal while basted with melted butter, until its surface cooks to a golden-brown color. During the baking process the sugar stuck on the kürtőskalács caramelises and forms a shiny, crispy crust. The surface of the cake can then be topped with additional ingredients such as ground walnut or powdered cinnamon. source
The name can be confusing as it's a Hungarian name. If I were to translate it I'd say it can be called chimney bread as it is empty inside, it is like a chimney.
The name refers to a stovepipe (kürtő), since the fresh, steaming cake in the shape of a truncated cone resembles a hot chimney. source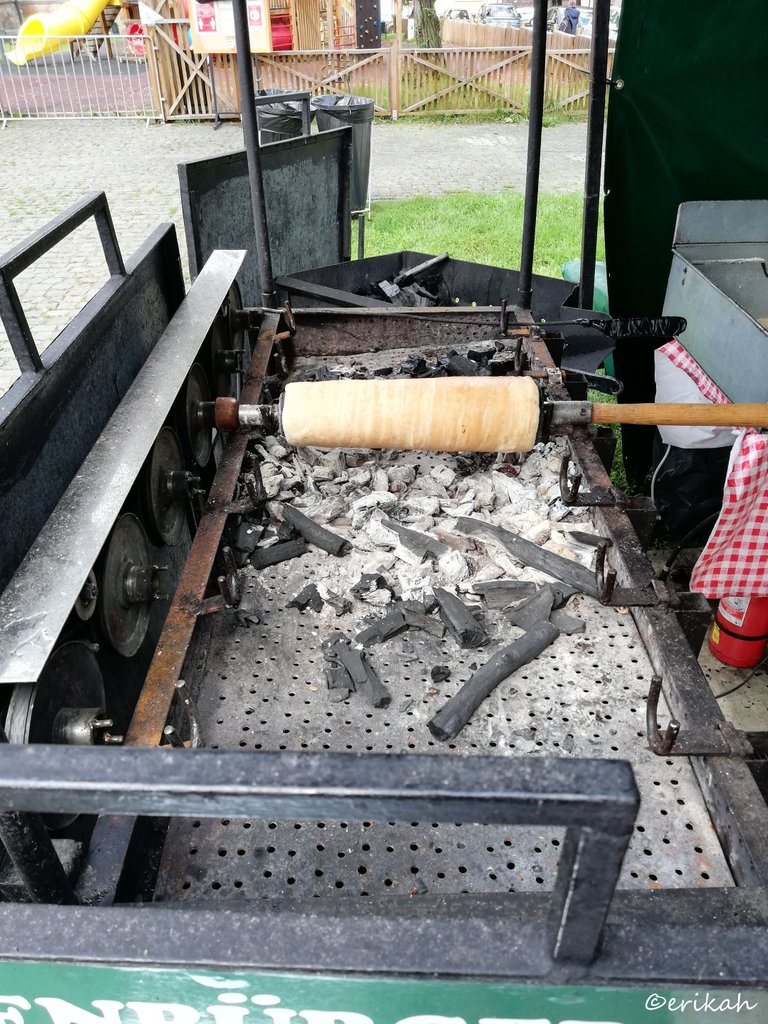 This is a photo I took last year in a market somewhere and it's possible it has been posted before. I just want to show you how it is made, so you can understand the process better. So the dough is rolled into a long and narrow string, that is then rolled on the wooden tool, that serves for baking. It is then rolled constantly, till it is ready. Then till it's still hot, it is rolled into sugar and then baked or grilled till the sugar melts. The comes the walnut coat or grated coconut, or whatever they have to offer.
It is really good and you have to try it if you are in Transylvania. This is a must!
I bought one as I can't even remember when I had one, I guess it was two years ago. A chimney bread (as i have named it in my post) usually costs 15 lei, which is the equivalent of almost $4. It is not expensive, but in a slow day when visitors are not many, sales can be also slow. There were two kürtöskalács vendors at the time of our visit. The other one was selling it at 15 lei, this one had it as at a discount and I was able to buy it at almost half price, 8 lei.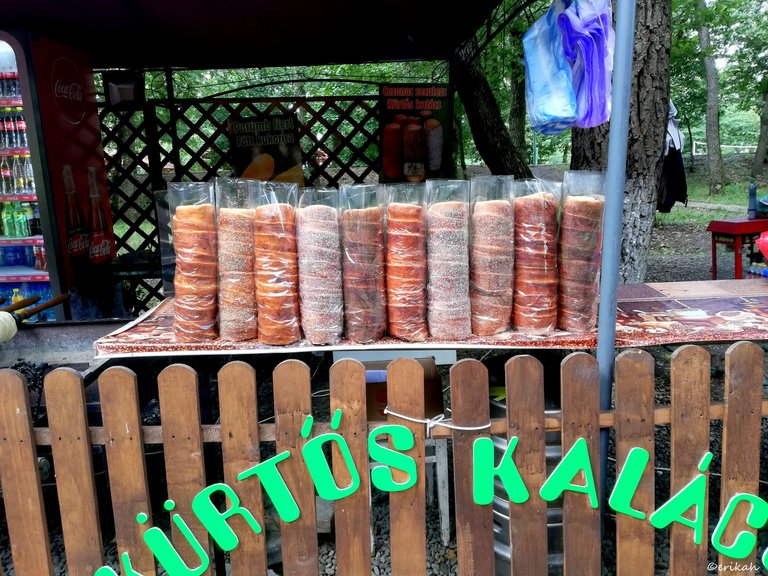 This photo was taken at the other one. He was offering walnut, coconut and sugar coated ones. All yummy!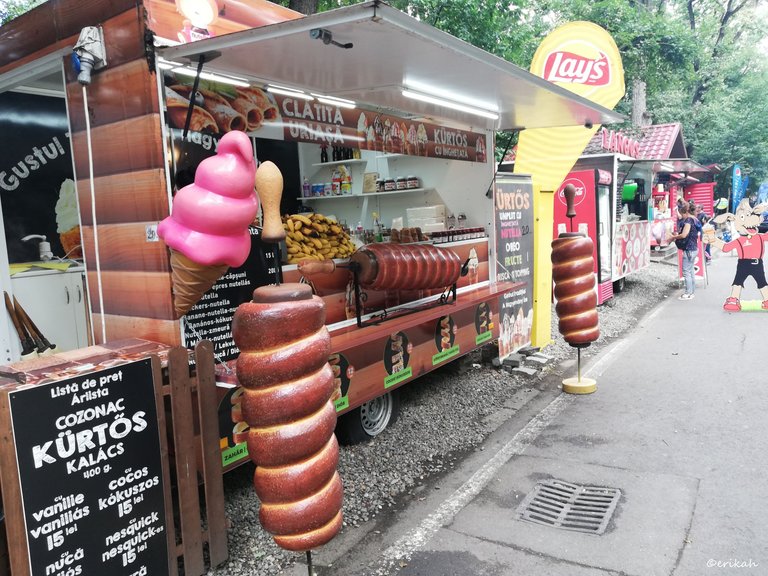 This is the next trap set to your bank account of wallet. If you've though the chimney bread is the maximum they can offer, well, you couldn't have been more wrong. These people had chimney bread and chimney bread filled with ice cream!!!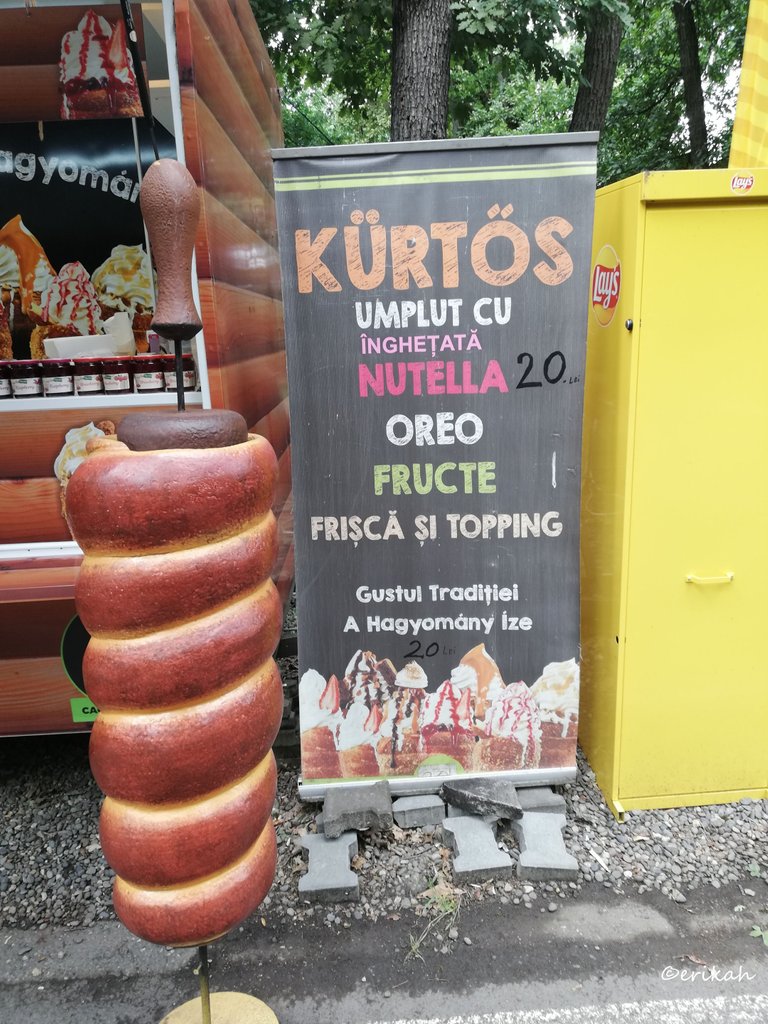 This chimney bread (kürtöskalács) is smaller than the original one, as it serves as ice cream cone. The filling they were offering was ice cream with nutella, oreo, fruits and sour cream, plus some toppings. The price was 20 lei, which is around $5.
The idea is very original, but if you look at the amount of calories you're getting, you may think twice before buying one. I've never tried it and I guess that is how it's going to be, but regardless of my choice, feel free to taste it :)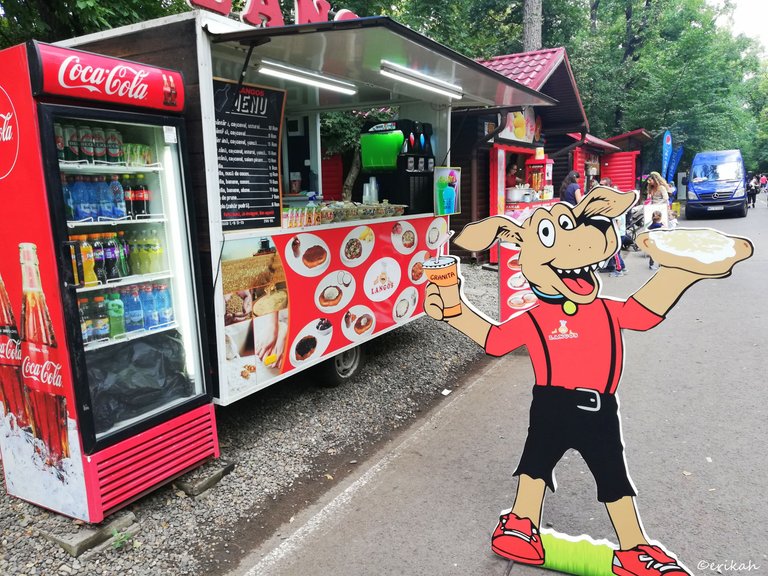 Another traditional dish you can find in Transylvania and Hungary as well is lángos.
Lángos is a typical Hungarian street food. Today it is a deep fried flatbread, but in the past it was made of the last bits of the bread-dough and baked at the front of the brick or clay oven, to be served hot as the breakfast of the bread-baking day. The name comes from láng, the Hungarian word for flame. source
Lángos is also a must if you're visiting the area, especially if you've never had it before. We usually have one as it's hard to resist, but this time we went for a healthier option, which I'm going to show you later in this post.
The best thing about lángos is that the variety of toppings is endless. You can have it sweet or salty. Let's see what you can usually choose from: ham and cheese, ham and cheese and sour cream, plus garlic sauce if you want, cheese and sour cream, nutella, chocolate cream, jam, you name it.
Lángos is popular all year long. As it is a rather affordable and simple food, it is often sold around bus stations, fairs, local markets and all over Eastern European countries during local celebrations or sport events. It is sold at many fast-food restaurants not only in Hungary but also in Austria. In Austria, especially in Vienna, lángos is very popular as a fast food at fairs and in amusement parks like the Prater. Lángos is known in the Czech Republic, Slovakia and Croatia as langoš, in Serbia as languš (although it is commonly called "Mekike"). In Slovenia it is known as Langaš and in Bulgaria as Mekitsi. It is also popular in Romania (especially in Transylvania) as langoși. It is also extremely popular in Poland where it is known as "langosz" and in the UK where it's called "langos" or "Hungarian Fried Bread." source
Looks like it's popular across Europe, so if you see one in your city, you can have one, try it out. If they know what they are doing, you won't regret it.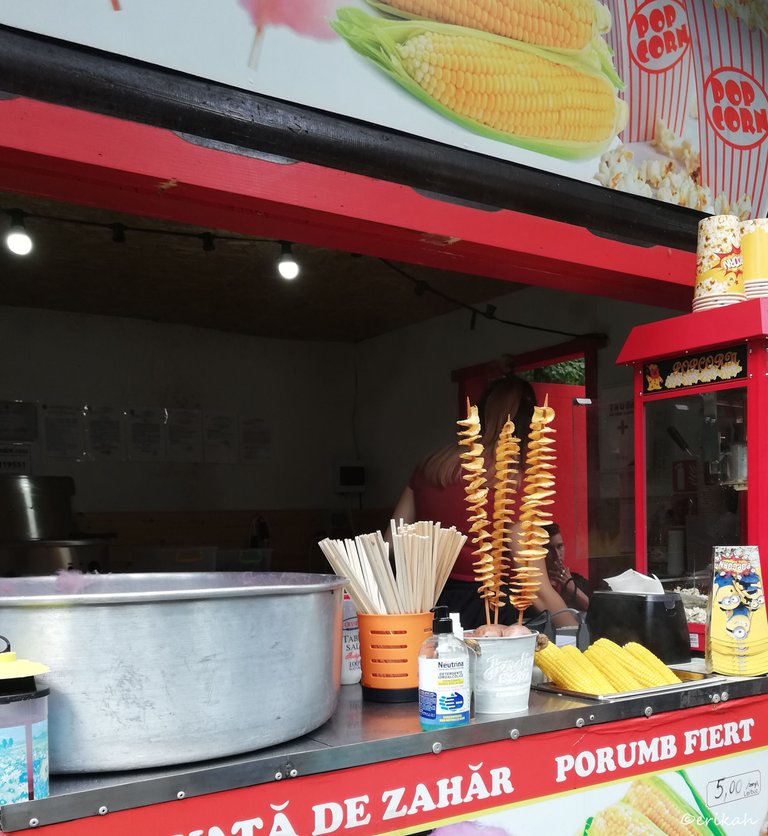 Fried sweet corn is also something you can buy at places like this. Sometimes the price is 5x of the raw one, so I never buy any as I can have it 5x cheaper at home.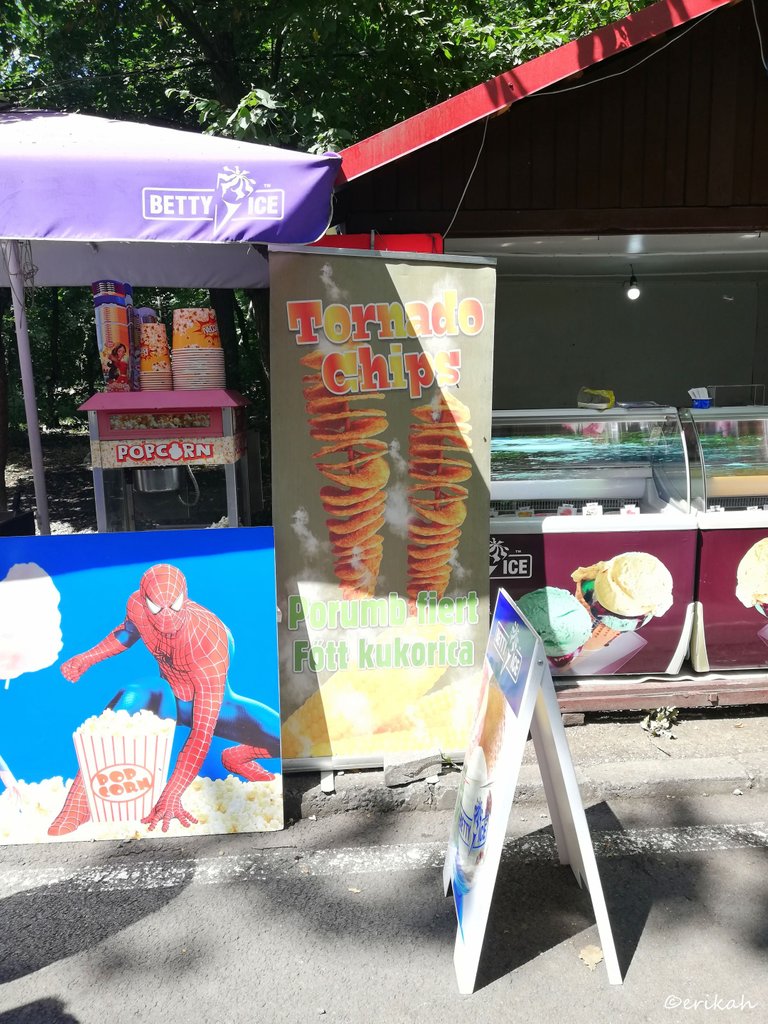 The other so called trap to your wallet you can see here is the spiraled potato on a stick, called tornado chips. Basically it's a regular, normal potato, cut in a spiral shape, placed on a long stick and fried. That also costs 5 lei, which is $1.25. This is the biggest robbery as kids love it and parents can't say no. 1k of potatoes cost around $0.5, just to have a comparison base 🙂.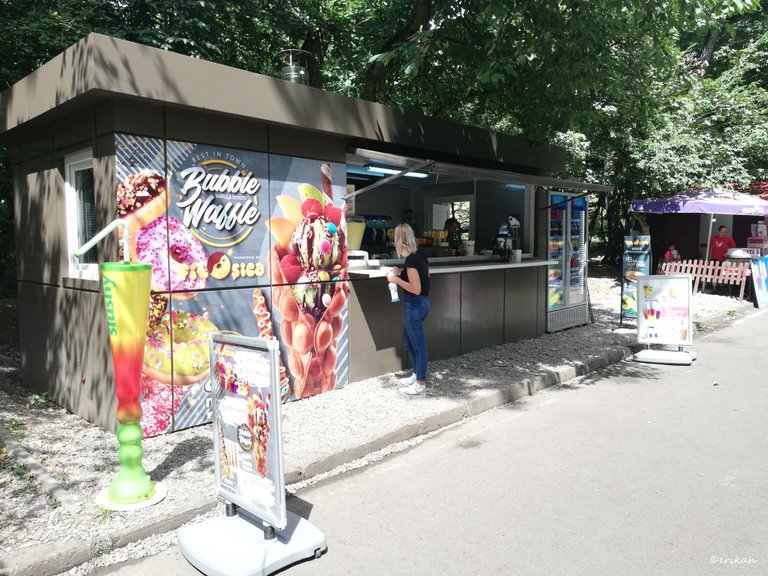 Next was the bubble waffle, which is filled waffle, also something very attractive and full of calories :))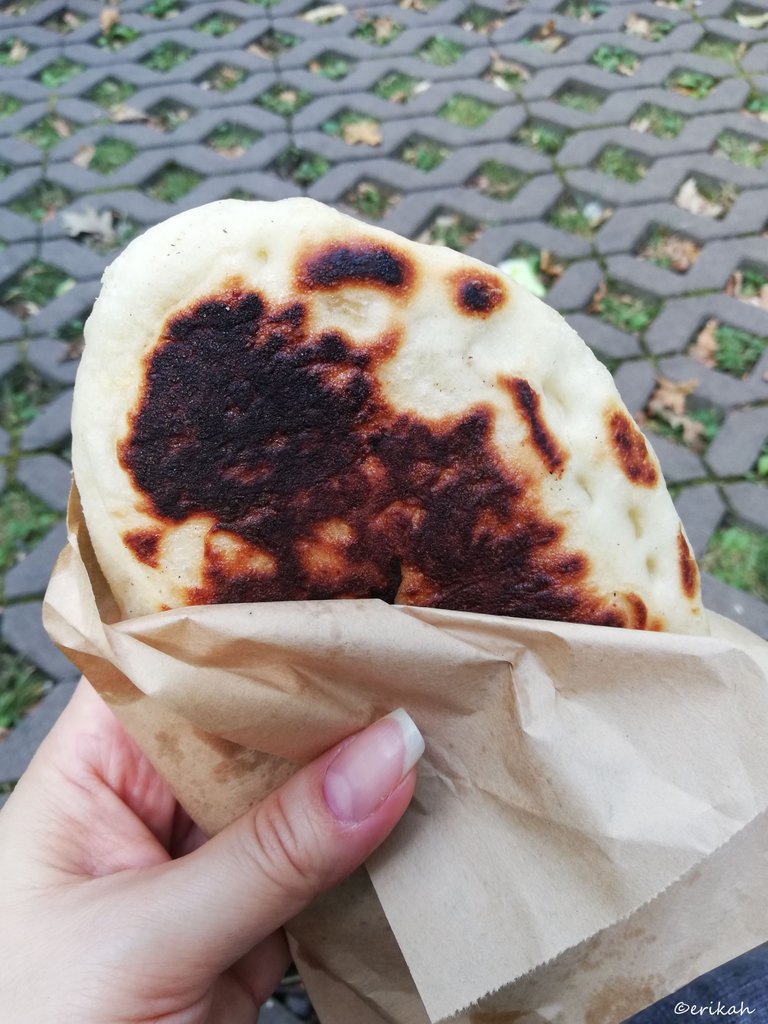 This was the lángos I opted for. This is basically bread dough, filled with ham and cheese and baked on an open oven.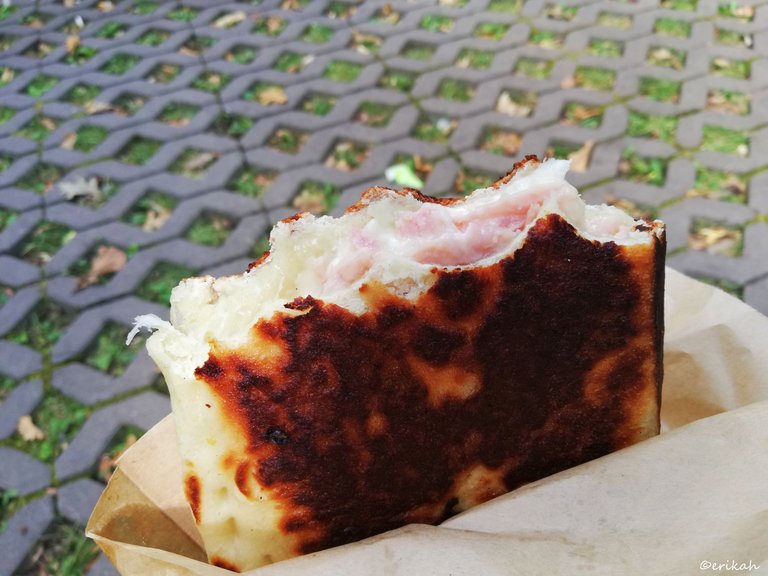 As far as calories go, I don't know if there's a difference between this and the original one, that is fried in oil, but this is definitely healthier. It was heavenly good though.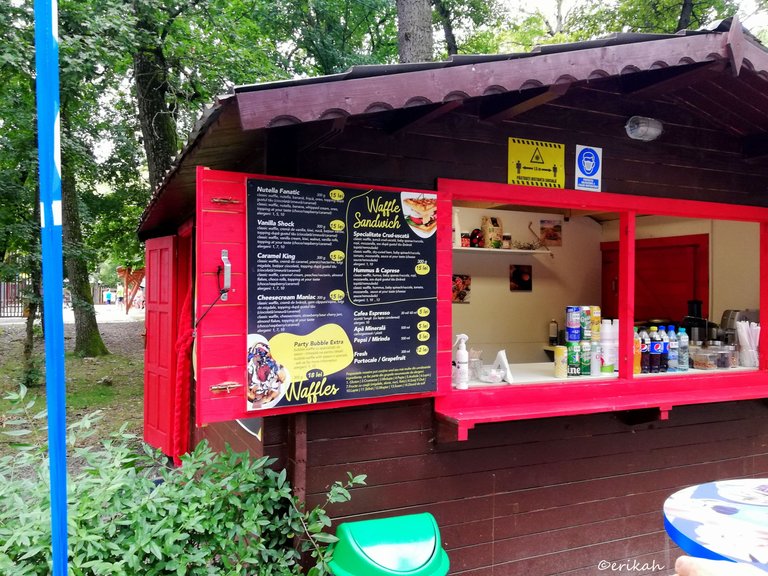 Have you ever heard of waffle sandwich? Here you go, you can buy some here. They are offering nutella fanatic, vanilla shock, caramel king, cheese cream maniac, humus & caprese and so on.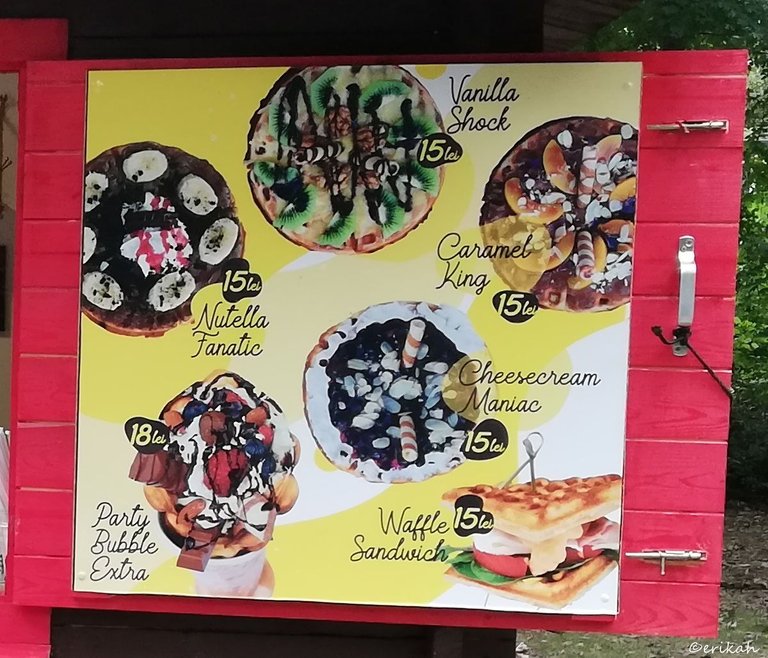 Have a look 😁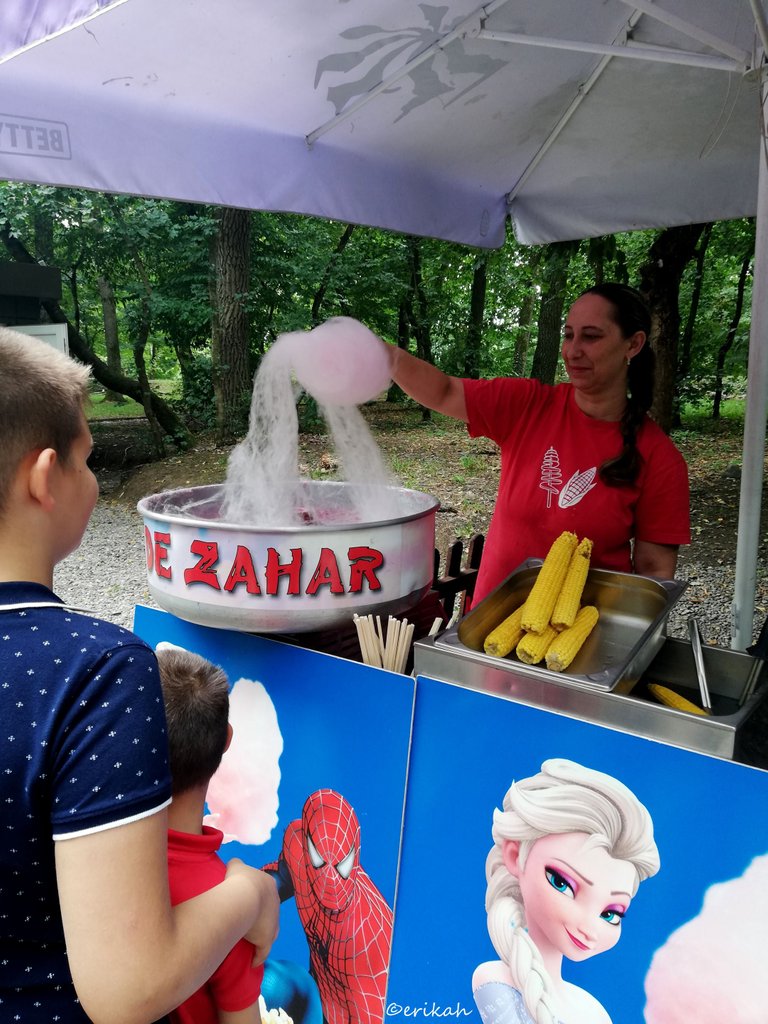 Last, but not least, cotton candy, which is always present in places like this. Kids love it.
In conclusion, you need to have a thick wallet and at least 4 or 5 stomachs to buy and taste everything. That is why it is smart to go with your stomach full, or start early to have time to try out everything.
I hope you liked my food parade. Stay tunes as next is another episode of the zoo.