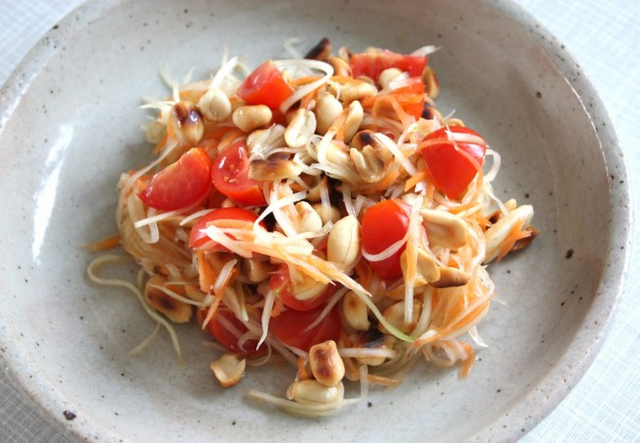 I believe it was Homer (of the Simpson variety) who once said "You don't make friends with salad." In fact, as is his wont, he made it into a rather charming little ditty as I recall, but on this occasion, he was wrong. I'd be the first to admit that Homer is right about many things but you see, friends, you do make friends with salad, oh yes, you surely do.
I don't actually remember the first time I ate somtum but when I'm in Thailand, it's something I eat nearly every day: in the deliciously sticky heat of a Bangkok day, the hot crunch of the chilli flecked green papaya and the salty orange pop of the dried shrimp combine with the sensation of a bead of sweat rolling lazily down my back to make a perfect 10 food moment for me (can you tell I love summer?) God, I love summer.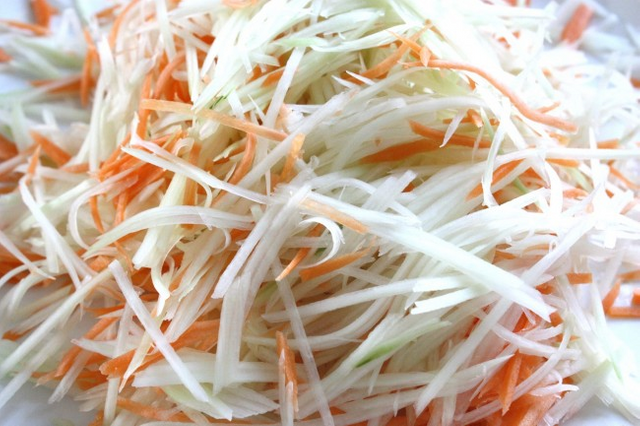 It's something I never bothered to make though, because there was always a lady close to hand with two baskets of ingredients slung on a pole over her shoulder ready to squat down gracefully and make it for me; even when I lived on sleepy Koh Lanta, there was a travelling somtum lady who'd roll 'round on her scooter at a quarter to snack time with her somtum gear and some fried chicken to boot.
John and I used to share a paper plate of it at a stall behind the "Sewen Elewen" when he came to visit during rainy season, huffing and puffing at the chilli, tears and sweat streaming down our faces and then walk home before the afternoon rains which we'd watch, necks craned through the tiny cut outs in the wall that served as windows.
When F. and I lived in Chiang Rai Children's Village though, we were far enough out of town that we couldn't just duck into a nearby stall for a snack but sometimes, the kids and their mums would spread plastic sheets on the ground under the trees and sing along to the pok pok of the mortar and pestle: "Somtum malako somtum! (pok pok!) Somtum malako somtum!" Which, naturally, made it taste all the better.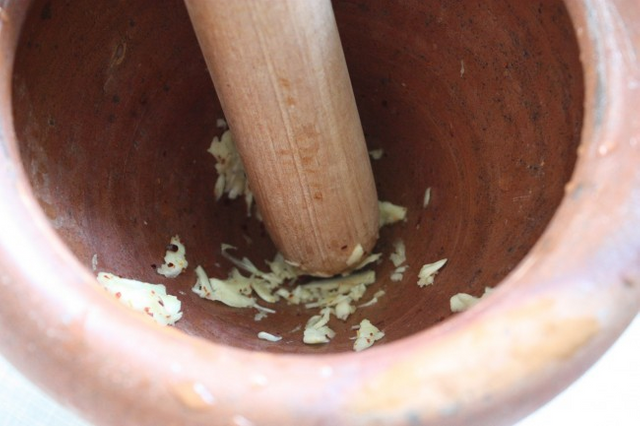 Though at first the idea of papaya in a salad seems a bit repugnant (well, if you're me and hate sweet stuff in salad), green papaya is far more vegetable than fruit. It's kind of like a firm, less juicy cucumber.
Get thee to an Asian market, buy a green papaya and make somtum, your friends will thank you for it, and I can guarantee that if you share, you'll make new ones too.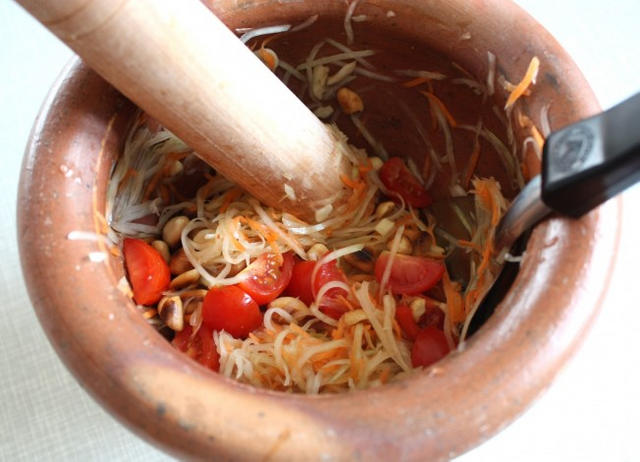 Are you good at making friends?
Somtum Thai
This is somtum Thai as opposed to somtum bpuu which has fermented crabs in it and is, I think, pretty gross. I shredded my papaya on the medium setting of a mandolin – Thai ladies do it with their knives but unless you're a whizz at that sort of thing, I don't recommend it if you like your fingers. I think a grater might not really do the trick though, but if you try it let us know how it goes – if you really can't find papaya, try all carrot. This serves 2 or 3.
1/2 GREEN PAPAYA, SHREDDED
1 CARROT, SHREDDED (OPTIONAL, THE PAPAYA AND/OR CARROT SHOULD ADD UP TO ROUGHLY 2 CUPS)
2 GARLIC CLOVES
1 TABLESPOON GRATED PALM SUGAR (IT COMES IN SMALL BROWN BLOCKS, CLICK THE LINK TO SEE A PICTURE AT THE BOTTOM OF THE POST IN A GREEN BOWL) OR USE WHITE SUGAR
1 BIRD'S EYE CHILLI (OR AS MANY AS YOU CAN HANDLE)
THE JUICE OF ONE LIME
2 TABLESPOONS FISH SAUCE
2 TABLESPOONS RAW PEANUTS, TOASTED IN A DRY PAN UNTIL BROWNED IN PATCHES
1 TABLESPOON DRIED SHRIMP (I COULDN'T GET ANY)
4-8 CHERRY TOMATOES, HALVED
GREEN BEANS, THAI BASIL, YOUNG CABBAGE LEAVES, CUCUMBER SLICES (TO SERVE ALONGSIDE).
Pound the garlic, sugar and chilli together. Mix in the lime juice and fish sauce.
Add the papaya and/or carrot and mix by scooping up from the bottom with a large spoon and mushing down from the top with a pestle to force the juices into the vegetables.
Mix through the peanuts, shrimps if using and cherry tomatoes.
Serve with sticky rice and the other vegetables to take the edge off the heat of the chilli. Enjoy!