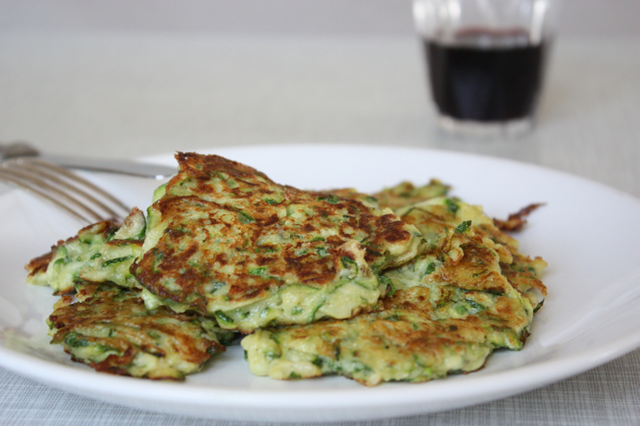 Once my great aunt (who incidentally is otherwise a lovely person) made me eat a piece of raw zucchini when as a child I insisted I didn't like it. It did nothing to endear said vegetable to me further and though I never went as far as to pick them out of things on the rare occasions on which they were served to me, I didn't ever really grow to love them.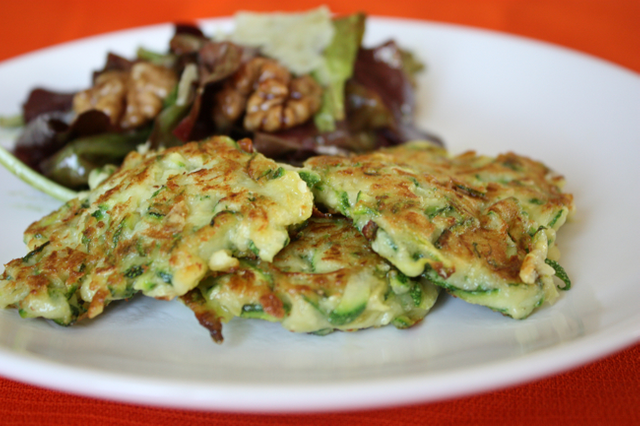 Strangely though, when I think about it now, I do love them. I have decided therefore, that zucchinis must be in the curious category of creeper. You know, those things or people you either hate or don't much like and suddenly one day you realise that for no reason at all, you've changed your mind; they're not so bad after all, or even rather nice. Creepers are good for stubborn people like me who make snap judgements, because the process is so gentle you never realise it's happening until it's over – painless!
What did you used to hate and now love, or vice-versa?
Zucchini Fritters
I had some zucchinis on the fridge and since we were due to go away, decided we must use them, all, and quick. The result was these fritters, vegetable-y enough to make you feel virtuous but cheesy enough to feel like a treat, make 'em for lunch with some salad and bread and you're set. This should feed two.
2 OR 3 ZUCCHINIS, COARSELY GRATED
1 EGG
4 TABLESPOONS OF FINELY GRATED PARMESAN
4 TABLESPOONS FLOUR
1/2 TEASPOON SALT FOR DEWATERING (FOR WANT OF A BETTER WORD) THE ZUCCHINIS
1/2 TEASPOON SALT, A GRINDING OF NUTMEG AND LOTS OF PEPPER FOR SEASONING
Put the grated zucchinis in a colander, sprinkle over the first quantity of salt and leave for 5 minutes, squeeze out the water.
Put all the ingredients in a bowl and mix, use a bit more flour if it looks very wet but it shouldn't be at all dry.
Heat a pan to medium high and add enough oil to cover the bottom of the pan very thinly.
Drop tablespoon sized dollops of the batter 2 cm apart in the pan and fry until golden, turn.
The cheese makes them a bit gooey in the middle so they might be done but still look a little wet, just eat one and see.