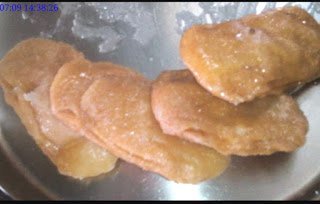 Hello readers,
Today I'm going to share my first recipe with you, before that I will share you the story of this dish, this is a sweet dish and very popular in Odisha (an eastern Indian state on the Bay of Bengal), they devoted this dish to Lord Jagannath (Hindu GOD), the dish named Jibhey Gajaa. This name was given because this sweet dish looks like a tongue (jiv in Bengali), you can keep this sweet in air tight container for long period & don't need refrigerate, so let's start.
ngredients:
Flour (250gm)
Sugar (500gm)
Vegetable oil (250ml)
Salt (As needed)
Ghee (2 table-spoons)
Water (100 ml)
Cardamom powder (1/2 table-spoon)
Preparation:
First take a bowl , give 70% flour in it, add pinch of salt, 1 tea spoon sugar & 2 teaspoon vegetable oil. Stir continuously until mix it properly with spoon, now add some water and make a medium soft dough.

Now keep it aside, take a pan keep it on gas oven add some water and sugar and make thick sugar syrup, when syrup is ready keep it only 1-2 minutes for cool-down. Add cardamom powder to the sugar syrup.

In another oven you need to heat the vegetable oil for frying these raw gajaa. Take the dough and make small balls and turns them to thin roti. Add ghee over this and sprinkle dry corn flour in it. Now from one side you need to roll it. Take a knife and cut this roll 1 inch thick , now take a roller pin and make a rectangular shape with these 1 inch cutting dough. Fry them until they became golden brown in colour.

Once they became golden brown in color take out and soak them in sugar syrup for 2-3 minutes then take out them from syrup and let them cool. Your favourite delicious Jibhey Gajaa is ready. Now you can keep it in air tight container for long time preservation.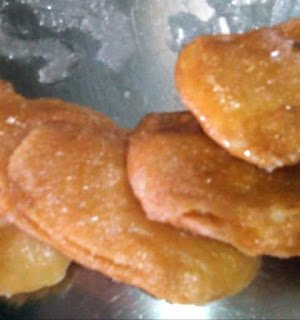 N.B. This article was also published on my personal blog : https://sduttaskitchen.blogspot.com/